This post is sponsored by Duke's Mayonnaise and includes tracking links. For more information about tracking links and how to opt out, please visit All About Do Not Track (https://allaboutdnt.com) prior to clicking any links found in this post.
Spicy Beef Sliders are moist, juicy and incredibly flavorful. These miniature burgers are loaded with jalapeño peppers and topped with an easy-to-make spicy mayonnaise. They are perfect for your next party, get together, or to enjoy during the big game!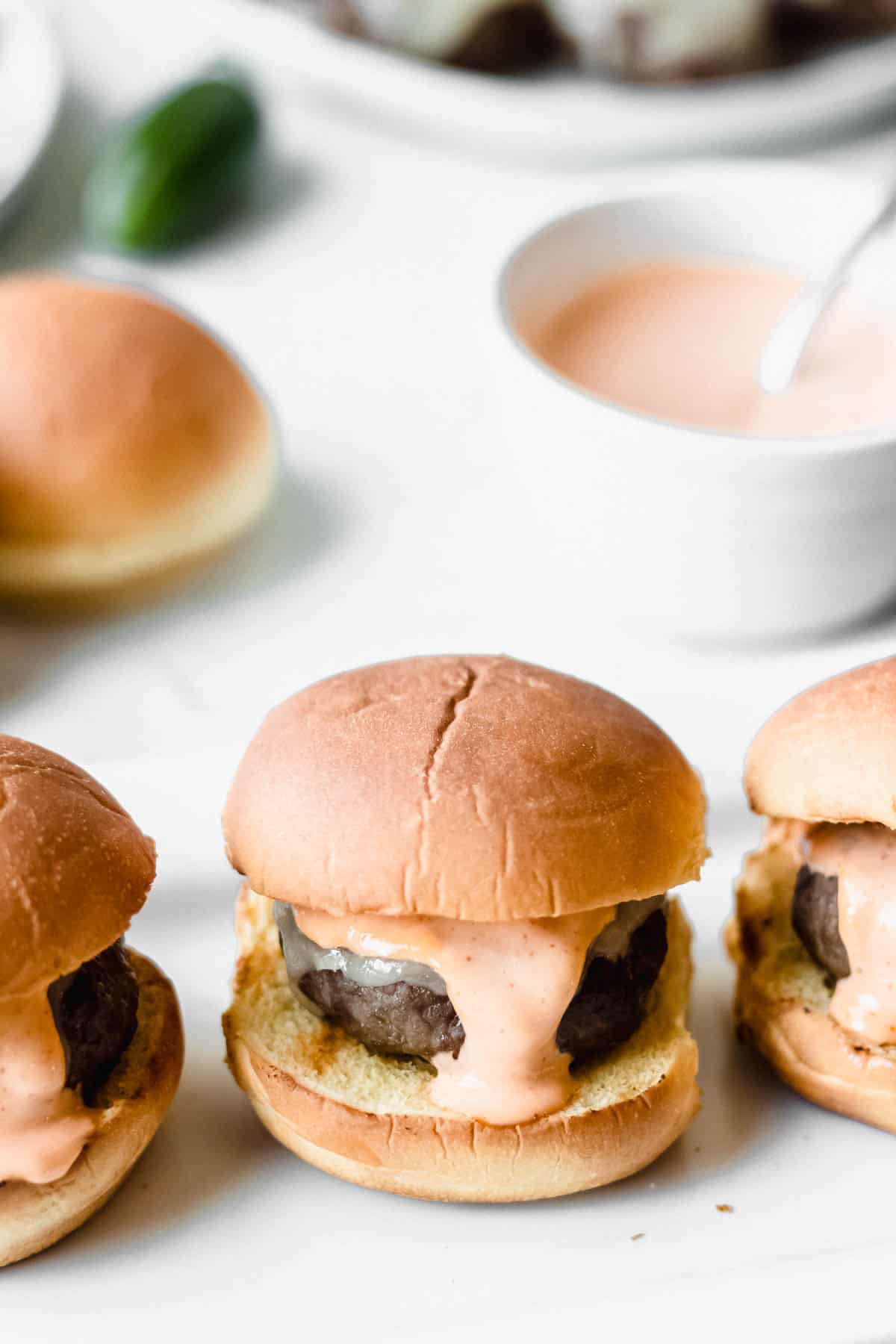 Burgers are one of my family's favorite recipes all year long. I think a lot of people tend to think of burgers as more of a summer recipe. With indoor grills becoming more popular, you really can enjoy them even if the weather isn't ideal for firing up the outdoor grill.
Because sliders are smaller and cook faster, it can be easy to overcook them. To help keep them moist and juicy, I add 1-2 tablespoons of Duke's Real Mayonnaise to the ground beef mixture. Duke's is known for its southern "twang" and is even more perfect in this recipe because it gives the burgers even more flavor and it's sugar free.
I also use Duke's Real Mayonnaise in the spicy mayonnaise portion of this recipe. It's spicy, yet tangy – the perfect topping for these Spicy Beef Sliders.
Why This Recipe Works
Making sliders is actually pretty quick and very easy to do.
This recipe will give you moist, juicy sliders with a little heat. You can easily adjust the spice level by using more or less peppers, sriracha, or by swapping in a spicier cheese.
Sliders are a great choice for appetizers, snacks, lunch, and parties – especially homegating or tailgating for the big game.
How To Make Spicy Beef Sliders
Ingredients
I use a 90% lean ground beef, but you can use any ground beef that you prefer.
Adding Duke's Real Mayonnaise to the burger mixture itself will help keep the burgers moist and juicy.
For even more spice, you can swap out the cheddar cheese for a spicier variety like pepper jack.
The entire recipe and instructions can be found in the recipe card at the bottom of this post. You can also print the recipe from the card, if needed.
Prep!
Mince the jalapeño peppers and slice the cheese into 8 pieces.
Create!
Combine the ground beef, seasoned salt, mayonnaise, and minced jalapeño peppers until just evenly blended.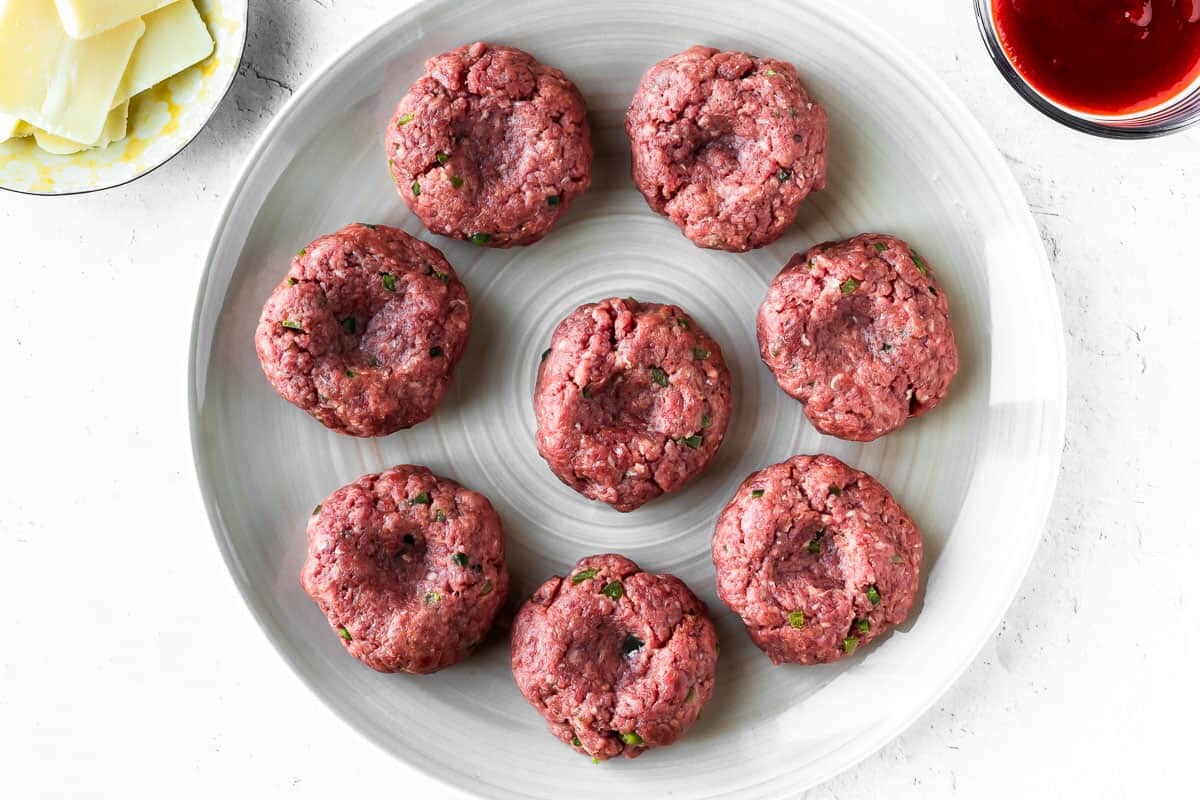 Form into 8 half inch thick patties with a slight indent in the center. The indent in the center will help your burgers cook more evenly and they will be flatter, rather than rounded, when done.
Grill, on an outdoor or indoor grill, on high for 2-3 minutes, then flip and grill another 1-3 minutes, until done to your preference.
Top each burger with a small piece of cheese while hot, then transfer to the buns.
Chef's Tip: you can toast the buns for a minute or two on the grill, if preferred. Be mindful to keep a close eye on them to prevent burning.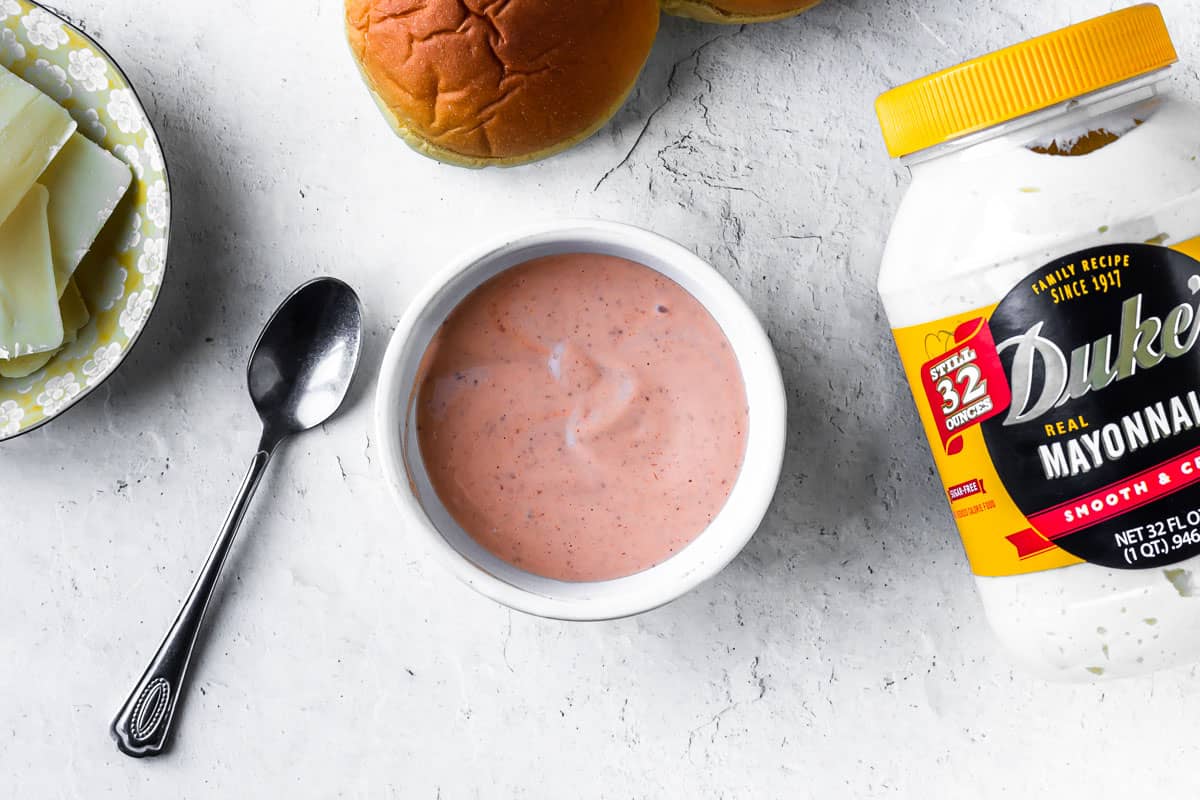 To make the spicy mayonnaise, combine mayonnaise and sriracha until well blended.
Present!
Top each slider with a dollop of the mayonnaise and any other burger toppings that you like.
Other toppings that work great with this recipe are:
lettuce
tomato
onions
pickles
peppers
onion straws
bacon
Be sure to follow Duke's on Instagram, Facebook, Pinterest, and/or Twitter for more recipe inspiration!
Tips and Techniques
For the spiciest sliders, use 2 jalapeño peppers and leave in some of the membrane and seeds. You can also substitute a spicy cheese like pepper jack for the cheddar in the recipe.
If preferred, you can toast the buns on the grill for a minute or so. Be sure to keep a close eye on them to prevent burning.
Store leftover sliders separate from the buns and spicy mayonnaise in an airtight container in the refrigerator. Use within 3-4 days.
FAQ's
What's The Difference Between a Burger and a Slider?
Sliders are simply smaller hamburgers. They are approximately half the size of a regular burger. Sliders are great for snacks, appetizers, parties, and children.
What Rolls Do You Use For Sliders?
You can often find rolls in the bread aisle of the grocery store that are specifically labeled as slider buns. If not, you can use any package of smaller dinner rolls or buns.
Can You Freeze Sliders?
Yes. You can freeze sliders after cooking. Once cool, tightly wrap the sliders in plastic wrap. Freeze up to 4 months.
More Ground Beef Recipes
Love this Spicy Beef Sliders recipe? Follow me on Pinterest, Instagram, and Facebook for more!
If you try this recipe, I would really appreciate it if you would please leave a comment and star rating. Thanks!