These Sesame Turkey Lettuce Wraps are easy to make and so delicious that you'll want to keep eating more!
I love Asian food, whether it be truly authentic, fusion, or with any other modern twist, it's all delicious in my book!  I've shared quite a few ethnic-inspired recipes on the blog, but I do believe this is my first of this type.
If you've ever been to P.F. Changs, you know how popular their lettuce wraps are!  Heck, even if you haven't been, you most likely have still heard someone rave about them!  I haven't had them in so long, but I make a few different versions of my own.  These Sesame Turkey Lettuce Wraps are a bit healthier spin on this popular dish.  You can serve them as an appetizer, side dish, or even for the main meal, which is what I do often.  They are super quick and easy to make so this recipe is one of my go-to recipes when I know I won't have much time to cook.
This post contains affiliate links.  See our Disclosure Statement for more information.
Sesame Turkey Lettuce Wraps
For me, sesame oil is a must whenever I create a recipe that's Asian-inspired.  In these Sesame Turkey Lettuce Wraps, I brown the turkey in a good bit of the oil so that it really comes through in every bite!  For veggies, I use diced water chestnuts (Jaxon despises them) and carrots (Jaxon loves them – see what I tried to do there!).  I'm not a big fan of onions, but you could go ahead and finely chop one up to add in if you like them.  I did sprinkle the turkey with onion powder while it was cooking.  Why I like onion powder so much yet despise onions makes no sense! I even like the smell of it!  Strange, I know.
The sauce…ahh the sauce.  It's so good.  I used hoisin sauce, soy sauce, rice wine vinegar, lots of garlic and ginger!  Just about every staple ingredient you'd imagine for this type of dish.  Hoisin sauce has a ton of flavor.  I didn't think I had made quite enough as I was mixing everything together, but it turned out perfectly.
After picking out about 7 little pieces of water chestnuts, Jaxon gave up and polished off two wraps without a single complaint.  I drizzled on some siracha and had three myself, not including all the extra bites I had to take of the filling – you know, to make sure the flavors were just right!
I'm not saying these are an imitation of any other popular lettuce wraps out there.  But, what I am saying is that they are good.  They are quick and easy to make.  And, if you have kids, they just might like them too!
Let me know what you think if you give these Sesame Turkey Lettuce Wraps a try!
Enjoy!
 Love this recipe?  Follow me on Pinterest, Instagram, and Facebook for more!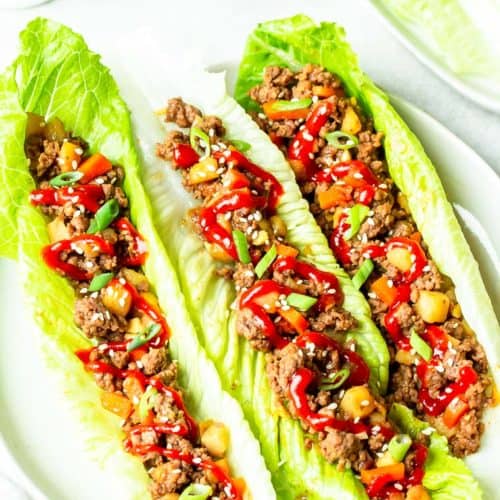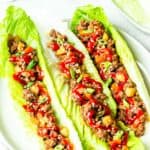 Print
Ground Beef Lettuce Wraps
These Ground Beef Lettuce Wraps are easy to make and deliciously addicting!
Instructions
Heat the sesame oil in a large skillet over medium heat.

Add the shallot, carrots, and water chestnuts and cook, stirring occasionally, until the shallots begin to soften, about 2-3 minutes.

Season the ground beef with salt and pepper and add to the pan.

Cook, breaking up, until the meat is no longer pink in the center, about 5-7 minutes. Drain any excess grease from the pan.

In a separate bowl, combine the hoisin sauce, soy sauce, rice wine vinegar, garlic, and ginger. Mix well.

Add the sauce to the pan and stir to combine. Cook 1-2 minutes or until heated through.

Serve by filling leaves of lettuce with the ground beef mixture and top with sriracha, sesame seeds, and/or slices of green onions, if desired.
Notes
Tips and Techniques for the Best Ground Beef Lettuce Wraps
Use ground turkey to make these wraps a bit healthier. You can also use ground pork or chicken, if you prefer.
You can drizzle on sriracha, if you prefer them to be spicier.
Store leftovers in an air-tight container in the refrigerator. Use within 3-4 days.
** Nutritional information is an estimate and may vary.
Nutrition
Serving:
1
serving
|
Calories:
587
kcal
|
Carbohydrates:
26
g
|
Protein:
32
g
|
Fat:
39
g
|
Saturated Fat:
14
g
|
Cholesterol:
122
mg
|
Sodium:
1228
mg
|
Potassium:
666
mg
|
Fiber:
3
g
|
Sugar:
12
g
|
Vitamin A:
2696
IU
|
Vitamin C:
3
mg
|
Calcium:
51
mg
|
Iron:
4
mg