This vegetable spaghetti sauce is a savory and delicious way to eat your veggies. It's an aromatic pasta sauce that you can make with various vegetables and ground meat.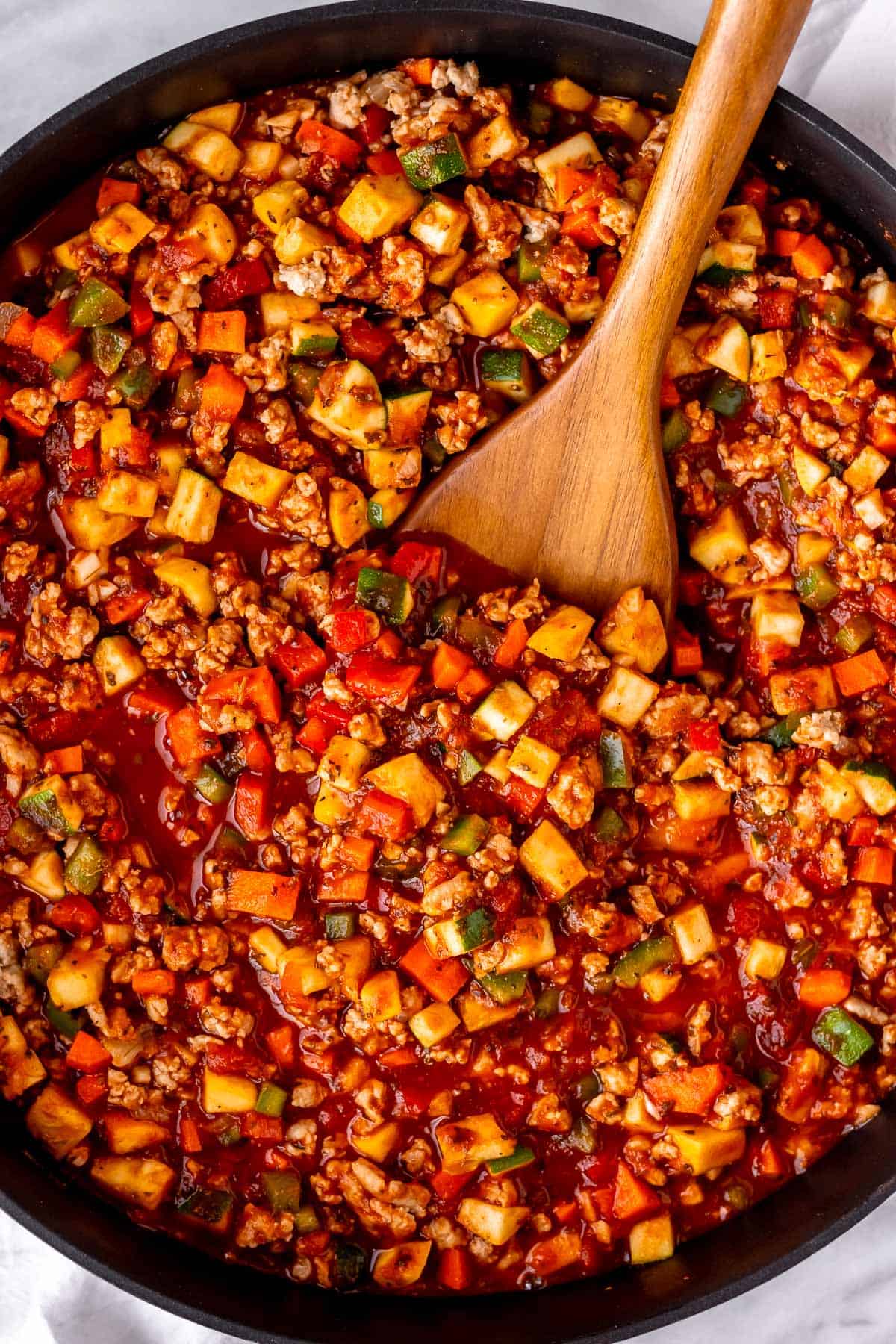 This post contains affiliate links. See our Disclosure Statement for more information.
This easy recipe uses garden vegetables for added flavor and nutrition. I adore this recipe because it was the first dinner my husband ever made me when we were dating. Neither my husband nor I are professional chefs, so if he could cook this for me while he was a bachelor (and impress me enough to marry him), then you know this is a winning pasta sauce recipe!
It's also a perfect family recipe because you can make it ahead of time, freeze the pasta sauce, and use it months later.
Is someone in your house picky? Just swap out the veggies and use your favorites. I rely on this sauce when I have extra vegetables from the garden and don't have any other recipes planned to make with them.
Serve this on top of your favorite type of pasta and add ground beef or even ground chicken. Add a Roasted Apple Arugula Salad on the side with some Homemade Potato Dinner Rolls for a hearty and filling family meal.
Why This Recipe Works
This recipe is loaded with healthy vegetables, making it a simple way to get more veggies in your (or your kiddo's) diet.
It has the most incredible flavors you can smell as it simmers on the stove.
This pasta recipe can be made gluten-free simply by using gluten-free pasta.
Step-By-Step Instructions
Ingredients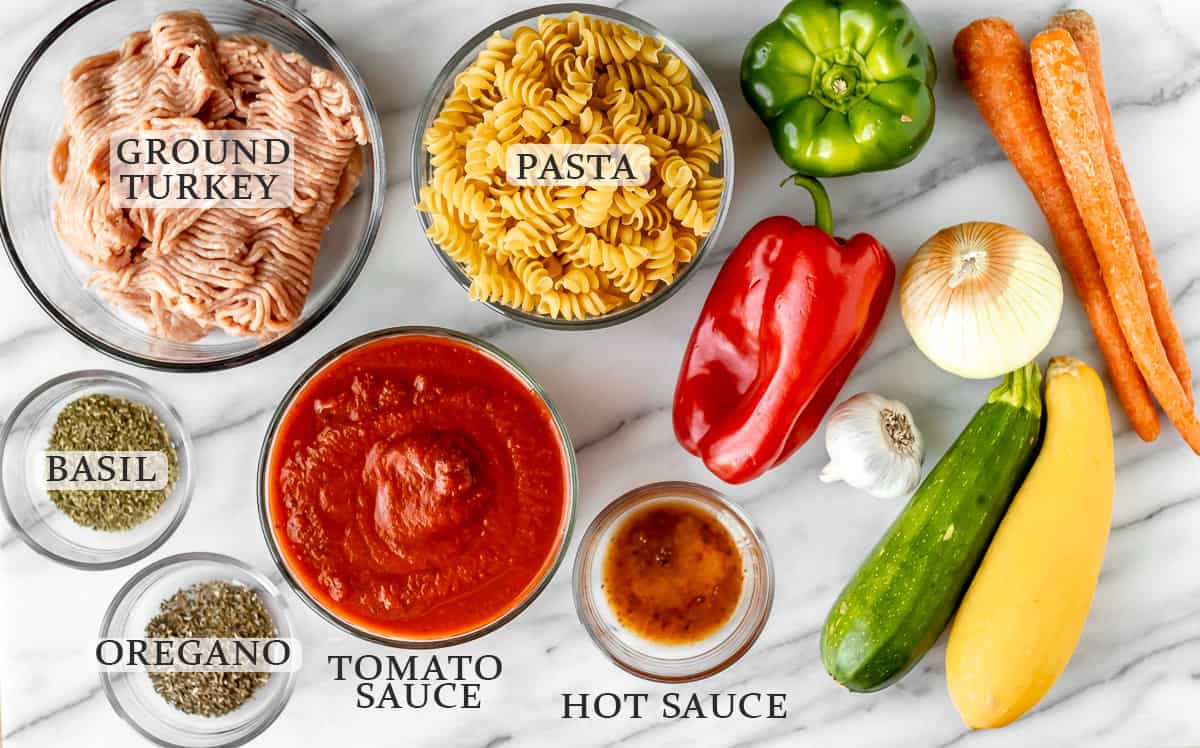 1 pound of dried pasta: you can use any type of pasta that you like.
1 tablespoon extra virgin olive oil
1 onion
6 cloves garlic
salt
pepper
1 1/2 pounds ground turkey: you can use any ground meat that you like. Beef, venison or bison would also work great in this recipe.
32 ounces pasta sauce: we like Prego Traditional, but you can use any store bought sauce you like or make your own.
1 tablespoon dried basil
1 tablespoon dried oregano
1 tablespoon hot sauce (optional)
1 red pepper
1 green pepper
1 yellow squash
1 zucchini
3 carrots
The entire recipe and instructions can also be found in the recipe card at the bottom of this post. You can also print the recipe from the card, if needed.
Prep!
Prep the vegetables before you begin. Mince the garlic and cut the onion, peppers, squash, zucchini and carrots into a small dice.
Create!
Cook the pasta according to the directions on the package. The pasta should be al dente.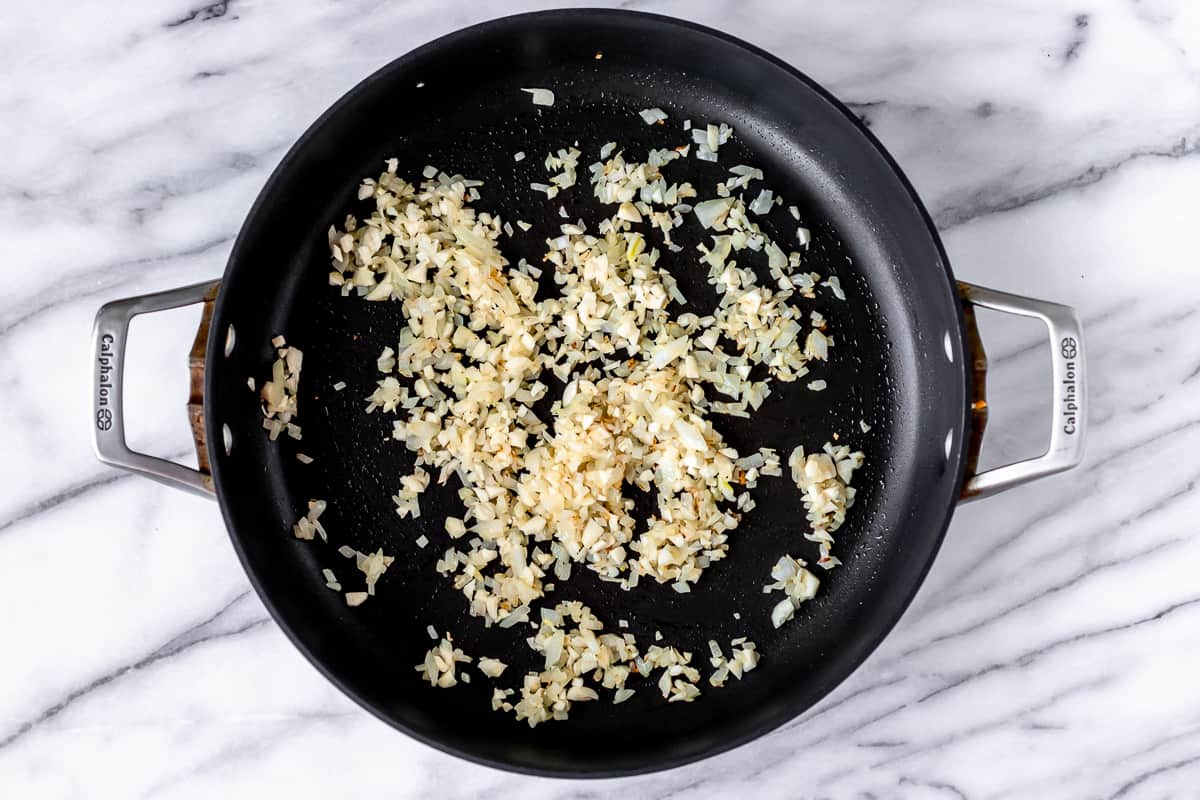 Meanwhile, heat the olive oil over medium heat in a large skillet. Add the onion. Cook, stirring occasionally, until starting to brown, about 10 minutes. Mix in the garlic and cook about 1 minute longer.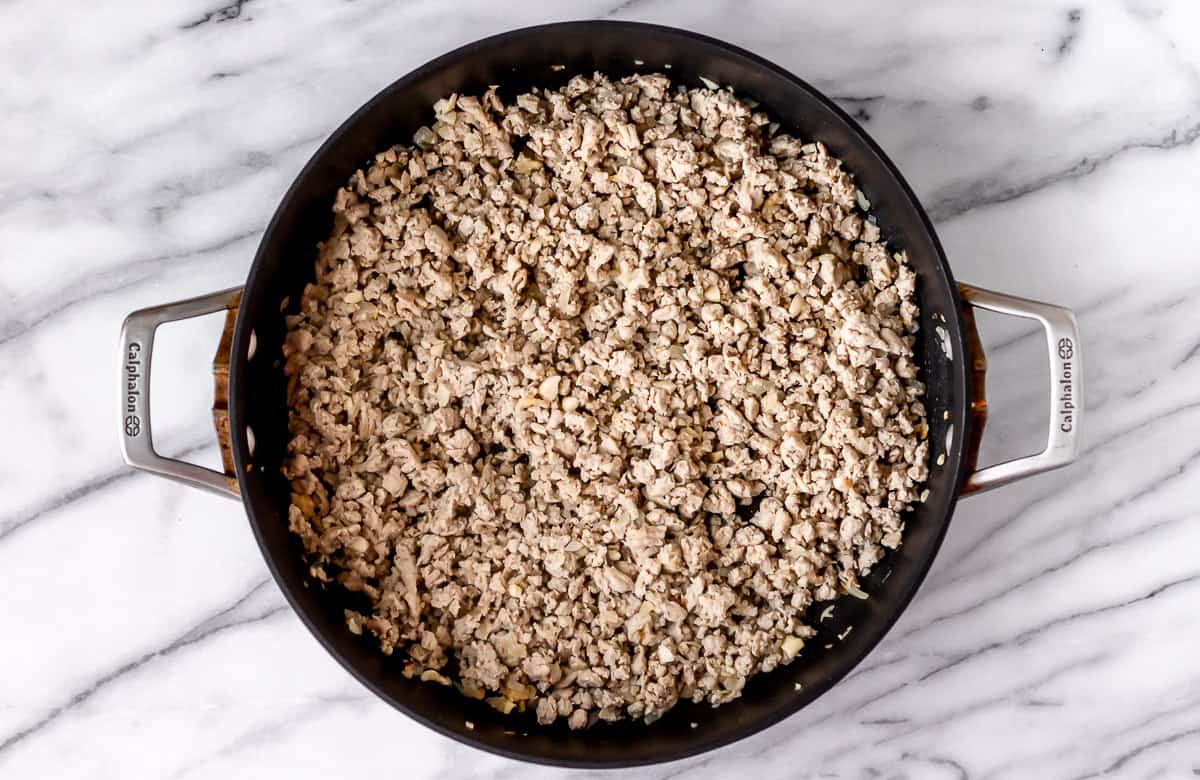 Season the ground turkey with salt and pepper and add it to the pan. Cook, breaking up the meat into fine pieces until it is no longer pink, about 5-7 minutes. Set it aside.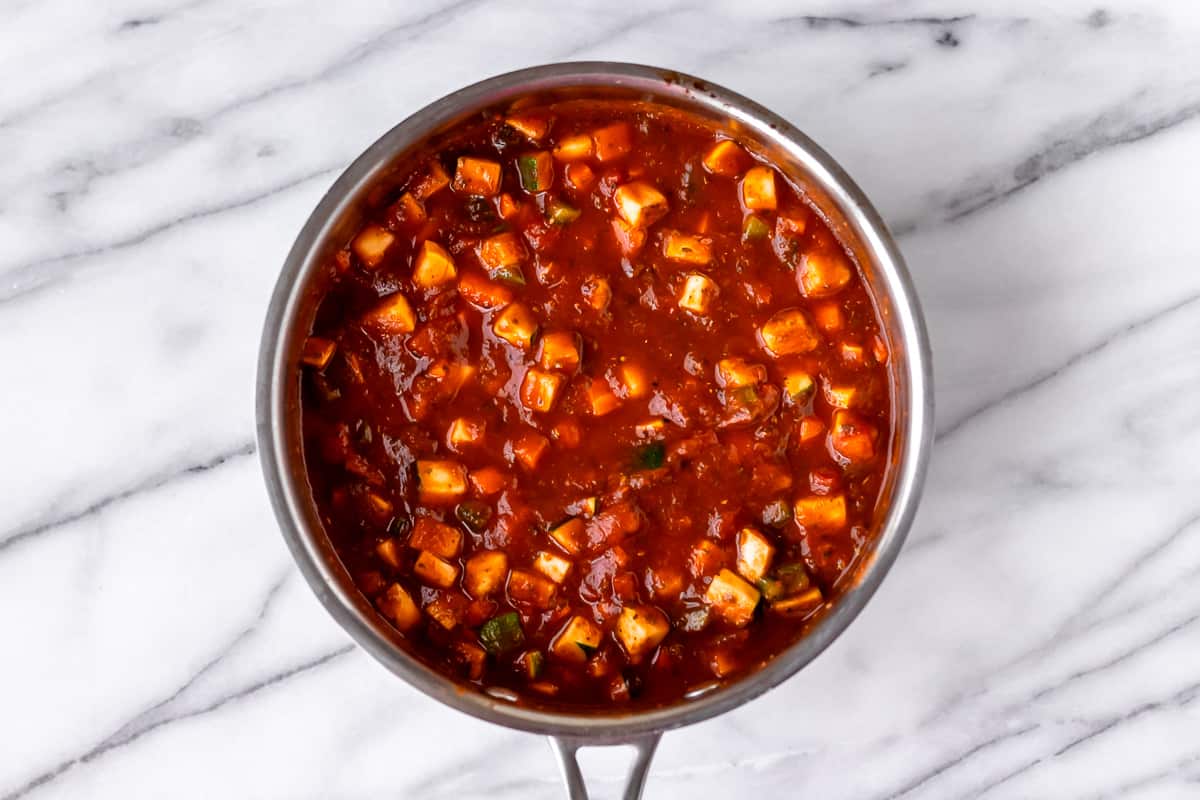 In a large pot, heat the sauce over medium heat. Add the dried basil, oregano, and hot sauce (if using). Let simmer for a minute or two until heated through.
Add the red pepper, green pepper, yellow squash, zucchini, and carrots, and cook about 10 minutes longer or until the peppers and carrots are crisp-tender.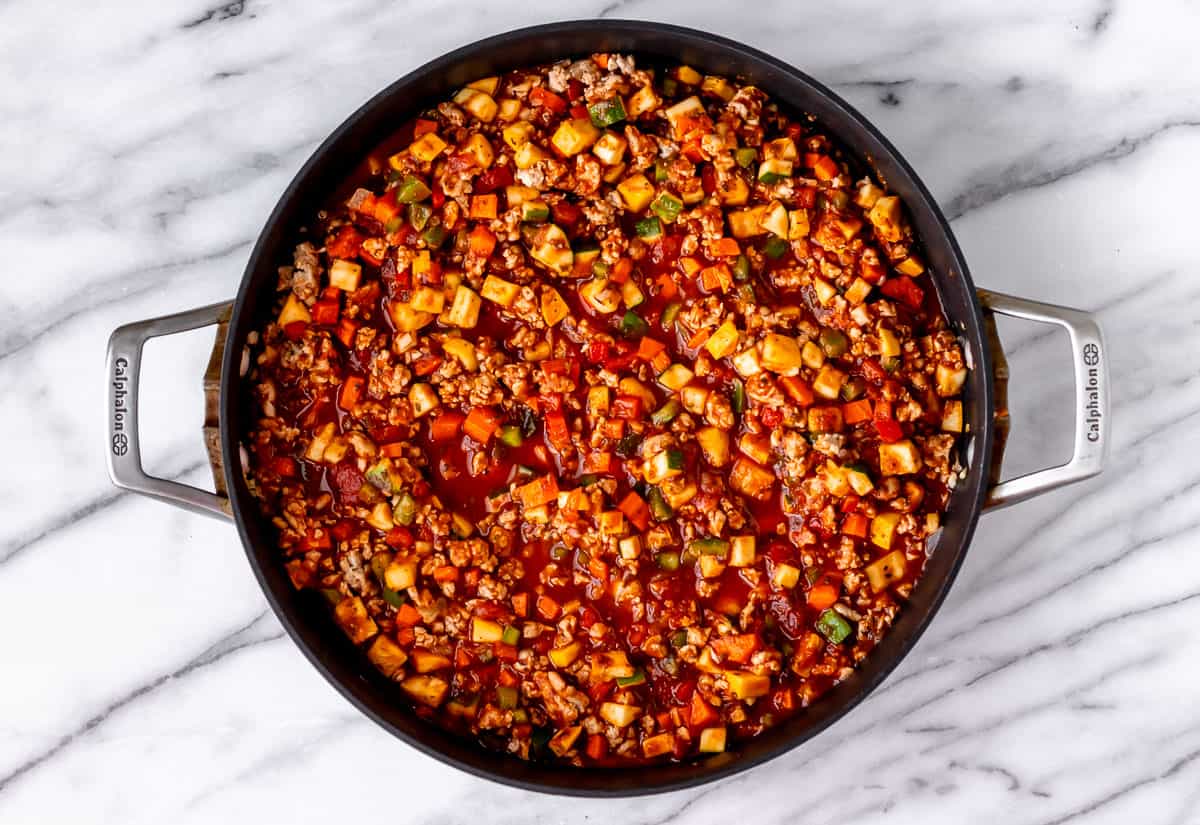 Stir in the cooked turkey and mix to blend all the ingredients together thoroughly.
Present!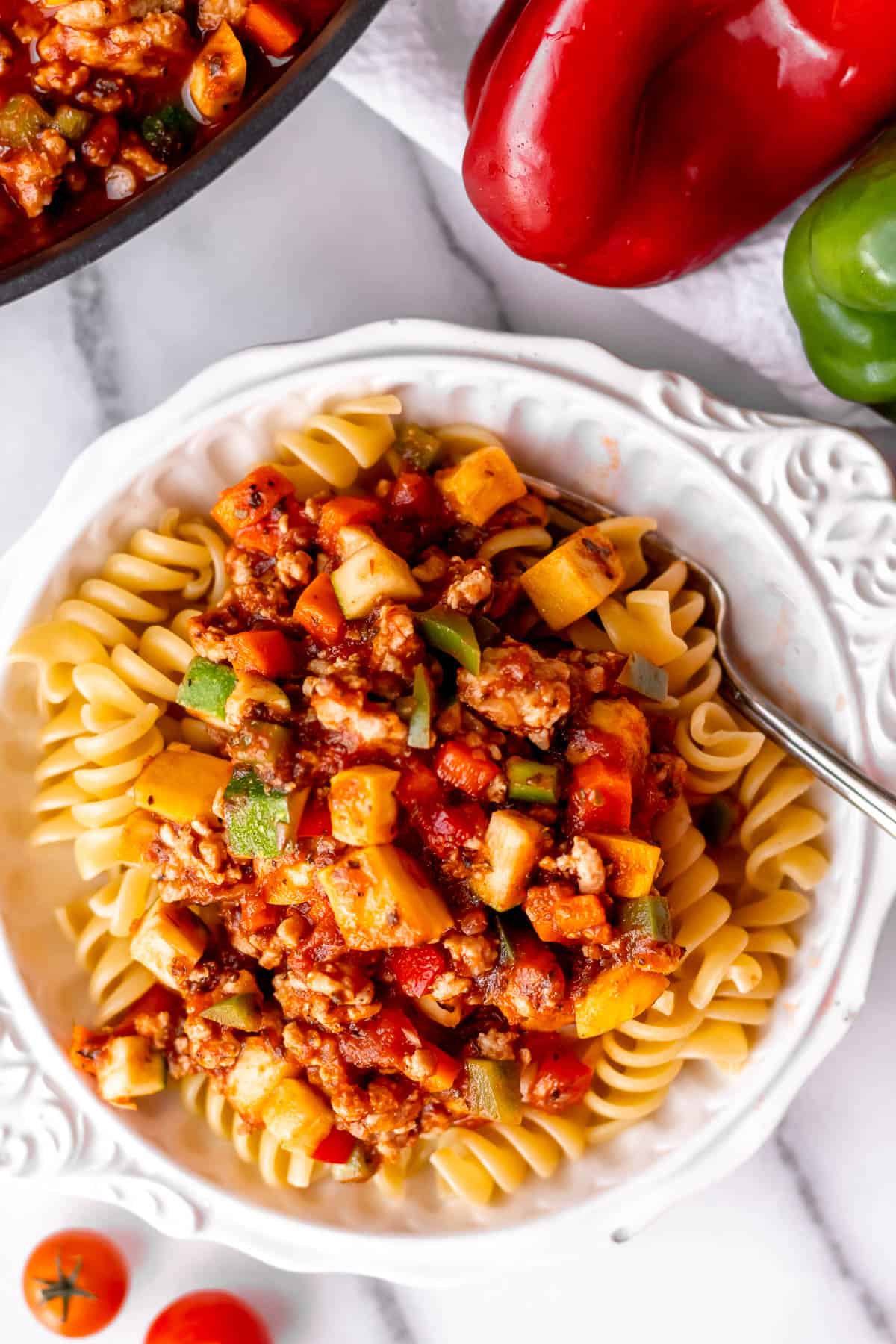 Serve over hot pasta.
Tips and Techniques
You can serve this pasta sauce over any type of pasta that you prefer. To make this recipe gluten free, simply serve it over your favorite gluten free pasta.
The vegetables can be swapped out for others or left out of there is one or two that you don't like. You can always increase the amount of the other vegetables, if desired.
Store leftovers in an airtight container in the refrigerator. Consume within 3-4 days.
FAQ's
What Vegetables Can You Add To Spaghetti Sauce?
You can use any type of soft or small vegetable to your spaghetti sauce. If the veggies are too big, they will be difficult to eat with your pasta, so make sure they are finely diced. Try it with carrots, squash, zucchini, cauliflower, broccoli, bell peppers, or asparagus.
Vegetables like brussels sprouts might not work since they are too large to mix into the sauce really well.
Is Vegetable Spaghetti Sauce Good For You?
Yes, this vegetable spaghetti squash is really nutritious. The more veggies you add, the better for you it will be. These vegetables are high in fiber, which is amazing for your gut health.
It's also high in vitamin A, vitamin C, and plenty of antioxidants. If you use a low-sugar (or sugar-free) pasta sauce, then it will be even healthier for you.
What Can I Add To Pasta If I Have No Sauce?
Cheese or butter are two delicious options to add to pasta if you don't have a tomato sauce. Sprinkle lots of your favorite cheese on the pasta and mix it in with some garlic powder, salt, pepper, and your favorite veggies.
Or, make butter noodles. Melt some butter on the noodles, mix the cooked veggies, and sprinkle with your favorite Italian spices.
More Pasta Recipes
Love this Vegetable Spaghetti Sauce recipe? Follow me on Pinterest, Instagram, and Facebook for more!
If you try this recipe, I would really appreciate it if you would please leave a comment and star rating. Thanks!
This recipe was originally published on March 16, 2016. It was updated with new images, tips, techniques and FAQ's in August 2022.