This delicious recipe for Cheesy Taco Skillet uses simple ingredients such as turkey, rice, black beans, and vegetables – so it is an extremely filling, well-rounded dish. Many people will enjoy the taco flavors found in this easy one pan skillet meal, since they are reminiscent of well-loved Mexican and Southwestern cuisines.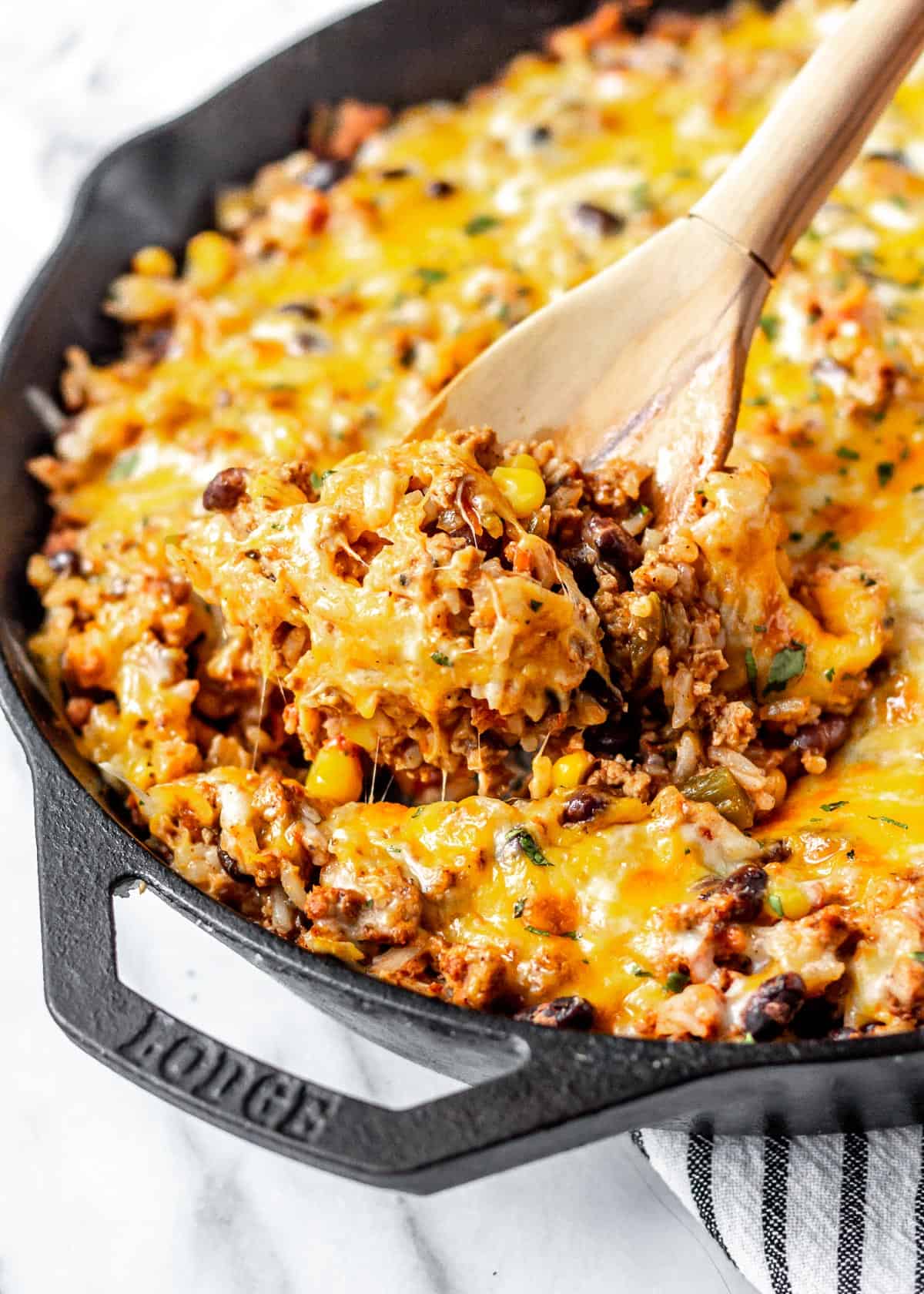 This post contains affiliate links. See our Disclosure Statement for more information.
This simple recipe for Cheesy Taco Skillet is loaded with turkey, rice, beans, and vegetables – making it a very filling, but relatively healthy dish.
The traditional taco flavors found in this dish lend a scrumptious Southwestern and Mexican flair. It is a one pan skillet meal loaded with flavor, vegetables, and protein.
This fun, flavorful dish is perfect for last minute dinners, when you're short on prep time, but searching for a gratifying meal, which appeals to most people's tastes.
It is also gluten free and may be modified to be keto friendly, as well.
Try making this dish for your next party or as an easy gameday snack. Cheesy Taco Skillet tastes delicious paired with White Queso Dip and Vegetarian Nachos too.
Serve a Cheesy Taco Skillet to a crowd and they will likely sing your praises when they're not busy stuffing their faces.
Why This Recipe Works
Cheesy Taco Skillet is a 30-minute meal. It is quick to prepare, easy to clean up, and requires only one pan. This skillet dinner is a great dish for weeknight dinners and entertaining.
This dish is super flavorful and versatile. It makes a great group dinner or may be served as an appetizer, as well. Additional serving suggestions are listed later in this post.
Taco Skillet is naturally gluten free, but this recipe may also be easily modified to make it low carb (see notes in recipe card).
How To Make A Cheesy Taco Skillet
Ingredients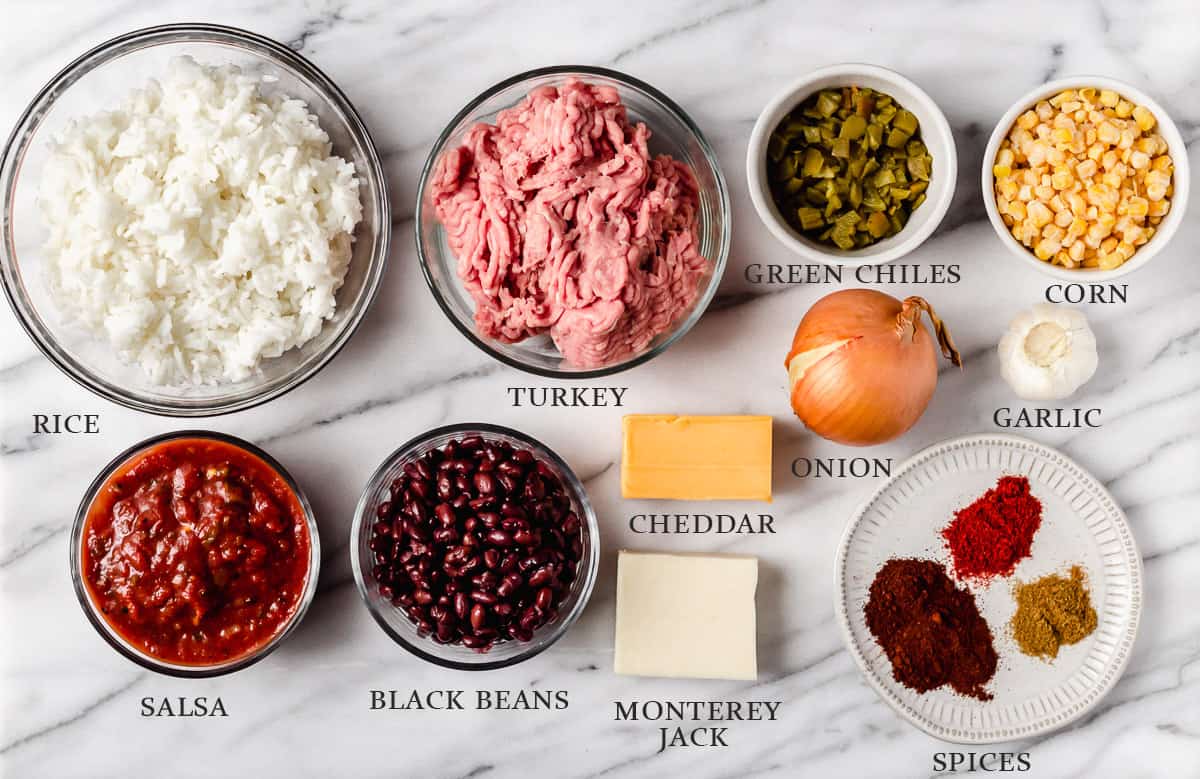 Ground Turkey: you can also use ground beef, ground chicken, or ground pork.
Cooked Rice: you can cook rice, use leftover, or even use a pre-cooked microwavable packaged rice.
Salsa: in this recipe, I always use Herdez Roasted Salsa Roja. You can make this dish mild or spicy depending on which type of salsa you use.
Spices: chili powder, cumin, and smoked paprika.
Vegetables: onion, garlic, diced green chiles, and corn (canned, frozen or fresh).
Cheese: cheddar and Monterey Jack.
Black Beans: drained.
Chef's Tip: for a low carb taco skillet, replace the rice with cauliflower rice and omit the black beans and/or corn to suite your own dietary needs. If following a keto diet, eliminate both the black beans and corn and replace the rice with cauliflower rice.
The entire recipe and instructions can also be found in the recipe card at the bottom of this post. You can also print the recipe from the card, if needed.
Prep!
If you are not using leftover or pre-cooked rice, you will want to start cooking the rice first.
Finely dice the onion, mince the garlic, and shred both cheeses. Open the diced green chiles and black beans and drain the excess liquid out.
Chef's Tip: shred the cheese from a block for the best melting and texture. Pre-shredded cheeses have starch added to them which doesn't melt as nicely and can leave a grittier texture.
Create!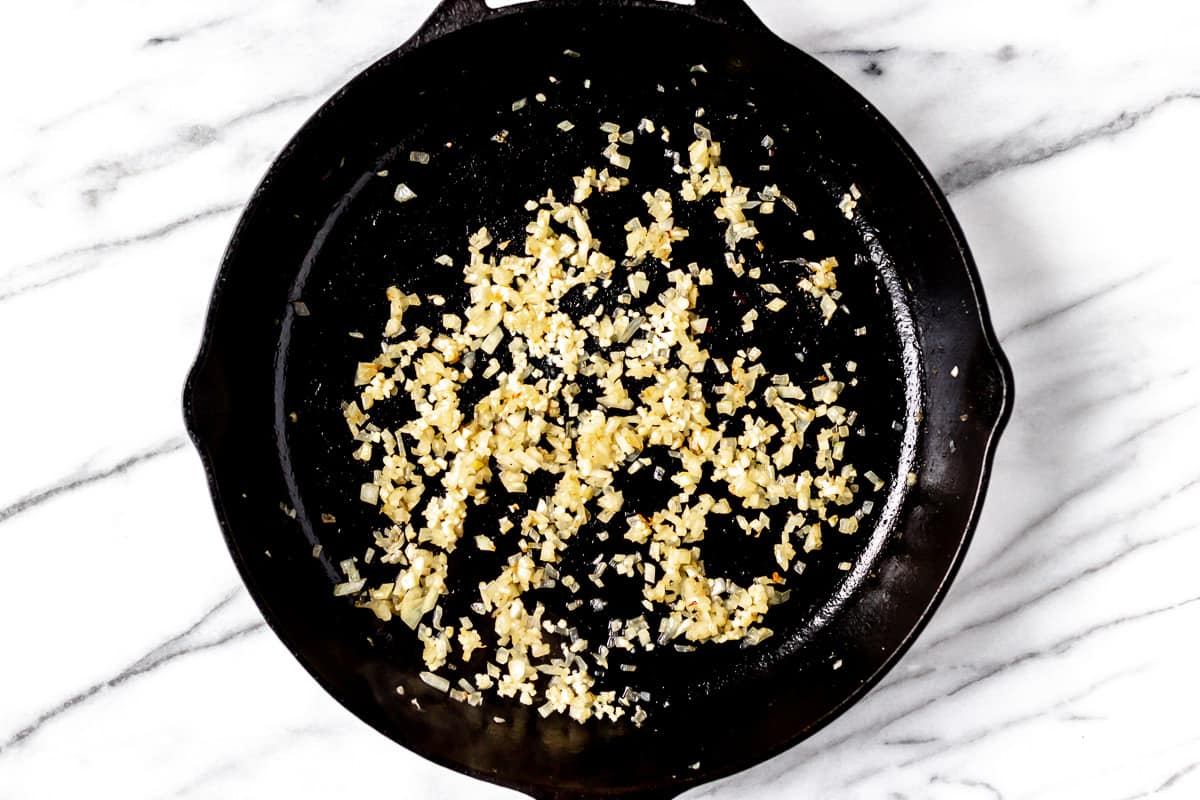 Heat olive oil in a large, deep skillet on medium heat.
Add the onions and cook until soft and translucent, about 3-4 minutes, stirring often.
Stir in the garlic.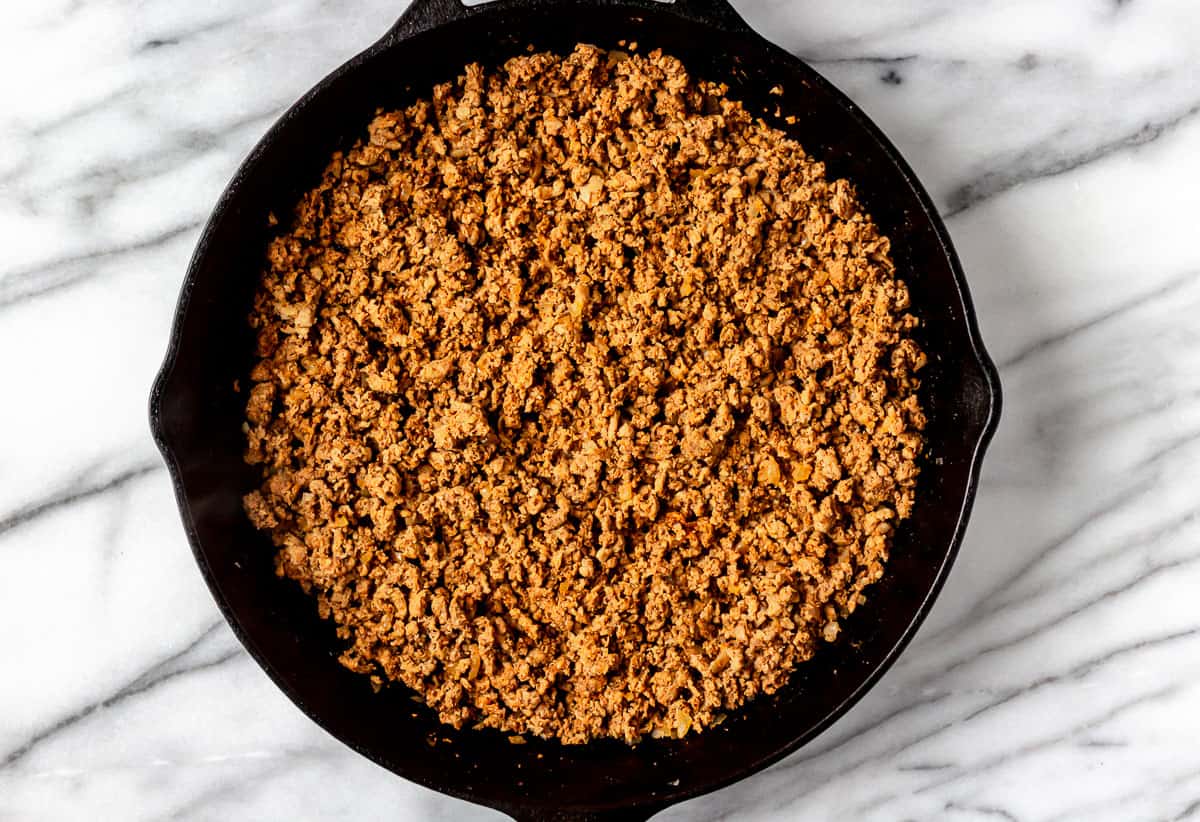 Add the ground turkey and season with salt, pepper, chili powder, cumin, and smoked paprika. Cook, breaking up, until no longer pink, about 5-7 minutes.
Mix in the salsa, diced green chiles, black beans and corn. Cook another minute to warm through.
Add the rice to the skillet and stir until well combined.
Top with cheese.
Cover to let the cheese melt, or place the pan under the broiler for 1-2 minutes, watching closely to melt and brown. Be sure you are using an oven-proof skillet if using the broiler method.
Present!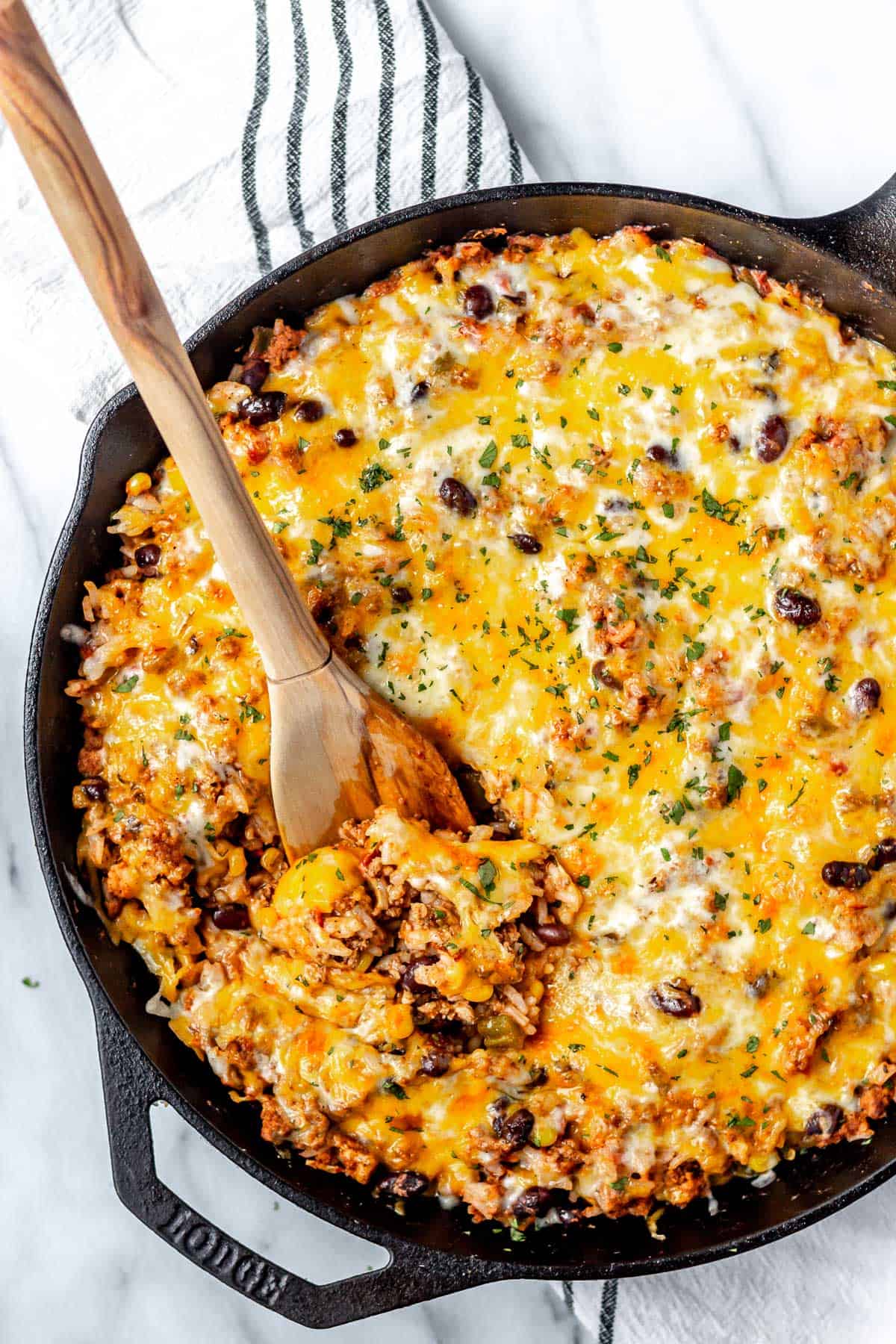 Top with minced fresh cilantro, if desired.
Serving Suggestions
We usually eat this meal right from the pan as it is, but there are so many different ways you can serve it:
With sour cream, cilantro lime sauce, or extra salsa.
Topped with lettuce, slices of jalapeño peppers, and/or pico de gallo.
As a topping for bell pepper nachos or traditional nachos.
As the filling for stuffed peppers or zucchini boats.
In burritos or taco shells or bowls.
In lettuce wraps.
With chips for scooping.
Tips and Techniques
Shred the cheese from a block for the best melting and texture.
For a low carb, keto friendly version, replace the rice with cauliflower rice and omit the corn and/or black beans depending on your dietary needs.
Store leftovers in an airtight container in the refrigerator. Consume within 3-4 days.
FAQ's
Can You Freeze A Taco Skillet?
Yes, you can freeze a taco skillet. Cover tightly and store in the freezer for up to 3 months. Allow to thaw in the refrigerator before reheating in the oven. Be sure to reheat food to an internal temperature of 165°F.
More Mexican Recipes
Love This Cheesy Taco Skillet recipe? Follow me on Pinterest, Instagram, and Facebook for more!
If you try this recipe, I would really appreciate it if you would please leave a comment and star rating. Thanks!