This Gingerbread Yule Log is made with a gingerbread sponge cake that is filled with a rum flavored cream cheese frosting. When decorated with rosemary, cranberries and even small pine cones, it makes the most beautiful holiday centerpiece.
This post contains affiliate links. See our Disclosure Statement for more information.
This gingerbread yule log roll-up is as tasty as it is beautiful!
It has all the same spices and flavors as my very popular Gingerbread Cupcakes, but it's rolled up and sliced like bread.
This yule log roll-up has a different type of cake, but the frosting from the gingerbread cupcakes can be used on top or in the filling, if preferred over the rum frosting included in this recipe.
In French, this roll-up dessert is called bûche de Noël. It's also known as a Christmas cake or a gingerbread cake roll. Basically, you decorate it to look like an actual log (that's why there is rosemary and berries on top).
Why This Recipe Works
Set aside enough time to turn on some Christmas songs and bake – this sweet and spicy yule log is a lot of fun! It's easier to make than you might think.
It has a delicious flavor – with sweet brown sugar, molasses and all over the traditional gingerbread spices.
This dessert makes a stunning centerpiece to your dessert table. It has a beautiful presentation for Christmas or Thanksgiving.
Step-By-Step Instructions
Ingredients
Gingerbread Sponge Cake
3/4 cup all purpose flour
1 teaspoon baking powder
1 teaspoon cinnamon
1 teaspoon ground ginger
1/4 teaspoon ground cloves
1/4 teaspoon ground nutmeg
1/4 teaspoon salt
4 eggs
1/4 cup brown sugar
1/2 cup molasses
2 teaspoons unsalted butter (melted)
1 teaspoons vanilla extract
Spiced Rum Cream Cheese Frosting
2 tablespoons spiced rum: you can use a little rum extract instead of alcohol, if preferred.
8 ounces cream cheese (room temperature)
3 cups powdered sugar
3 tablespoons heavy cream
Optional Decoration Ideas
2 tablespoons cinnamon sugar (for dusting): you can use store bought or make your own.
Cranberries (garnish, see below for how to sugar cranberries)
Rosemary (garnish, see below for how to sugar rosemary)
Small pine cones (for decoration only)
The entire recipe and instructions can also be found in the recipe card at the bottom of this post. You can also print the recipe from the card, if needed.
Prep!
Preheat your oven to 350°F.
Line a standard size half sheet pan (approximately 12 x 18 x 1 inches) with parchment paper and spray with cooking spray. Ensure that the parchment paper extends about two inches longer on the each end.
Create!
In a small bowl combine the flour, baking powder, ginger, cinnamon, cloves, nutmeg and salt. Set aside.
Add the eggs and brown sugar to the bowl of an electric mixer fitted with a paddle. Beat on high speed for 4-6 minutes or until light and fluffy.
Slowly mix in the molasses, melted butter, and vanilla extract.
Reduce the speed to low and gradually add the flour mixture until just incorporated, being careful not to over-mix.
Pour the batter into the prepared pan and spread out evenly with a spatula.
Place the cake into the oven and bake for 9 to 11 minutes, or until the middle of the cake springs back when lightly touched.
Remove the cake from the oven and fold one end of the parchment over the cake and roll up. Place the rolled cake on a cooling rack and cool completely, about an hour.
While the cake is cooling, prepare the frosting.
In the bowl of an electric mixer fitted with a paddle, beat the rum and cream cheese together on high speed until soft and smooth. Reduce the speed and mix in the powdered sugar.
Add the heavy cream a little at a time until you reach a medium stiffness that can still easily be spread.
Unroll the cooled cake and spread half of the frosting over the cake, then re-roll it back up. Transfer to a serving plate.
Cover the outside of the cake with the remaining frosting and using a fork, drag along the icing to create a bark like appearance.
Present!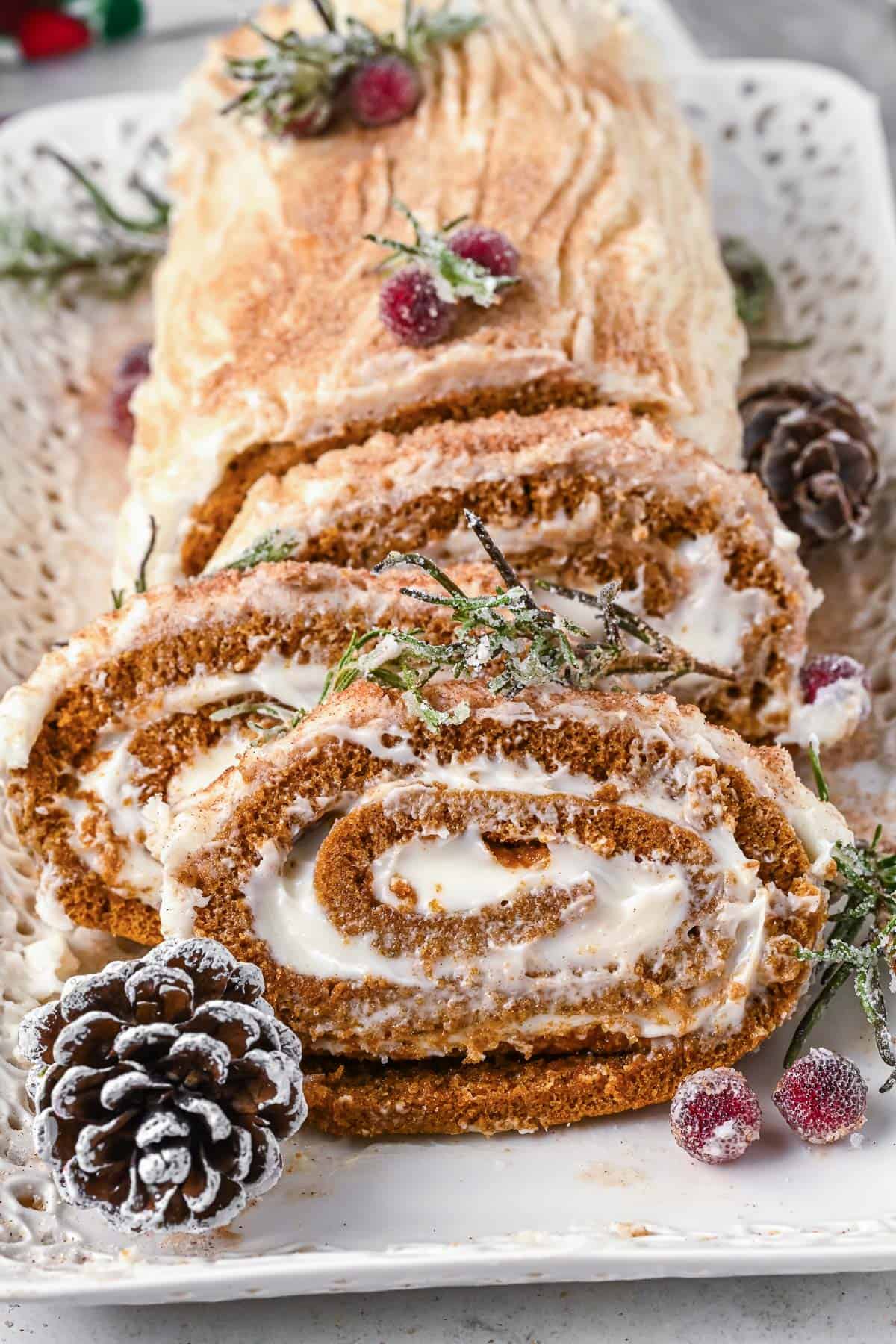 To decorate, sprinkle with cinnamon sugar and add cranberries, rosemary and pinecones where desired.
How To Sugar Cranberries and Rosemary
Add ½ cup water and ¼ cup sugar to a pot and heat on medium until the sugar is fully dissolved.
Turn off the heat and cool slightly, then dip the cranberries and rosemary into the syrup.
Place on a parchment lined pan and allow to dry for at least 2 hours. To speed up the process, you can also heat your oven to 200°F then turn it off and place the pan in the oven, leaving the door cracked open. Allow the cranberries and rosemary to dry in the warm oven for 30 minutes.
Roll the sticky cranberries and rosemary in sugar until coated.
Tips and Techniques
Rum extract can be used in place of the spiced rum in the frosting. Start with 1/2 teaspoon, then adjust to suite your tastes.
Be sure to leave excess parchment paper on the ends of the sheet pan. This makes it much easier to roll the cake up as soon as it comes out of the oven.
Store leftover cake in an airtight container in the refrigerator. Consume within 5 days.
FAQ's
What Does A Yule Log Cake Represent?
Yule logs were very large logs that were brought in to burn in the fireplace through the Christmas season. A yule log cake is a symbol of this past tradition.
What Is The Difference Between Ginger Cake And Gingerbread Cake?
There isn't any difference between the two. Gingerbread cake and ginger cake both describe the same kind of dessert.
What Can I Use To Roll The Cake If I Don't Have Parchment Paper?
If you don't have parchment paper, you can carefully transfer the cake to a tea towel or cheesecloth to roll. Anything that is really thin and light will help you roll it.
More Gingerbread Recipes
Love this Gingerbread Yule Log recipe? Follow me on Pinterest, Instagram, and Facebook for more!
If you try this recipe, I would really appreciate it if you would please leave a comment and star rating. Thanks!