Sweet, crunchy apples, savory cheese, buttery crackers, and toasted walnuts combine to create an enhanced, grown-up version of a quintessential snack, which everybody knows and loves: cheese and crackers. This quick and easy recipe is versatile, delicious, and makes a wonderful appetizer as well.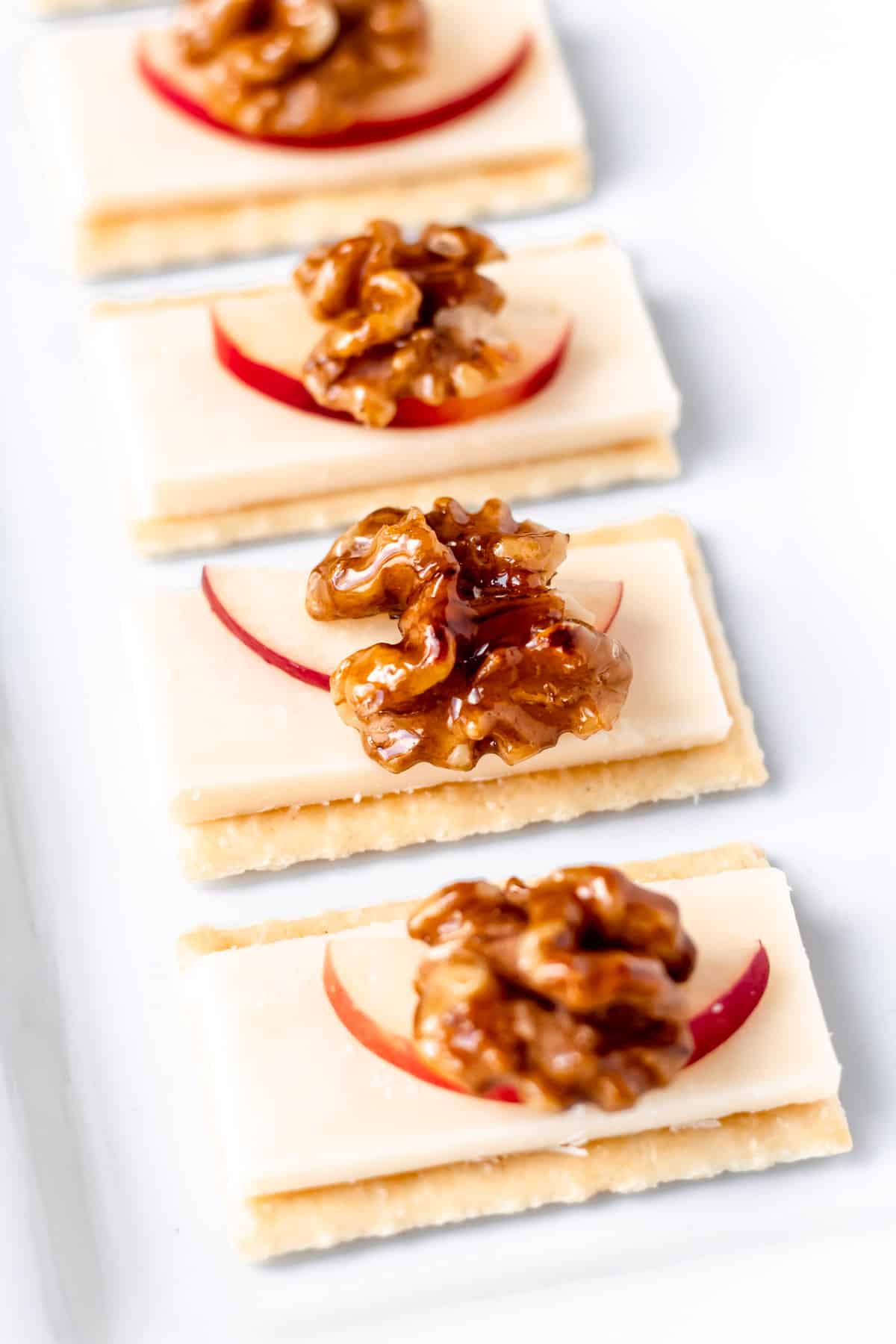 This post contains affiliate links. See our Disclosure Statement for more information.
This simple recipe for cheese and crackers is enhanced by the addition of toasted, honeyed nuts.
It's a simple and fast recipe to prepare, but it's also extremely versatile too. You can use your favorite cheese, instead of sharp cheddar, or try topping it off with pecans, rather than walnuts; it's fun to experiment with new ingredient combinations and flavor profiles.
Cheese Crackers with Apples and Honey Walnuts is the perfect snack or appetizer. It's something everyone is familiar with but has a bit of a twist too.
There is a very limited amount of prep work required; all you need to do is slice up the apples and cheese, heat up the honey and walnuts, and assemble. Try making this quick dish for a midday snack, after-school snack or even as an appetizer for a gathering of friends or family.
If you love fun cheese and cracker combinations like me, be sure to check out my other recipes such as Jam Crackers with Asiago Cheese and Walnuts, Herbed Cream Cheese Cucumber Crackers, and Strawberry Goat Cheese Crackers.
Why This Recipe Works
Preparing Cheese Crackers with Apples and Honey Walnuts is a very easy, straight-forward process. It's also a quick recipe to make.
This is a delicious snack or appetizer. The sweet, thin apple slices pair perfectly well with buttery crackers, savory cheese, and nuts.
This recipe is super versatile. You can swap any of the ingredients out to make the recipe your own creation! Try using different types of cheeses or nuts if you like.
Step-By-Step Instructions
Ingredients
15 crackers: club crackers work really well because they are about the same size as a brick of cheese, but any type of cracker that you like can be used.
15 slices of sharp cheddar cheese (about 4 ounces): or any other cheese that you prefer.
1 medium apple: cut into thin slices.
1/4 cup walnuts
1 tablespoon honey: or maple syrup
The entire recipe and instructions can also be found in the recipe card at the bottom of this post. You can also print the recipe from the card, if needed.
Prep!
Cut 15 thin slices of cheese and 15 thin apple slices.
Line a small baking sheet with parchment paper or foil.
Create!
Add the walnuts and honey to a small skillet on medium heat. Cook, stirring constantly, until the walnuts are completely coated in the honey, about 1-2 minutes. Turn out onto the prepared baking sheet. Let cool.
Lay the crackers out on a serving tray and top each one with a slice of the cheese.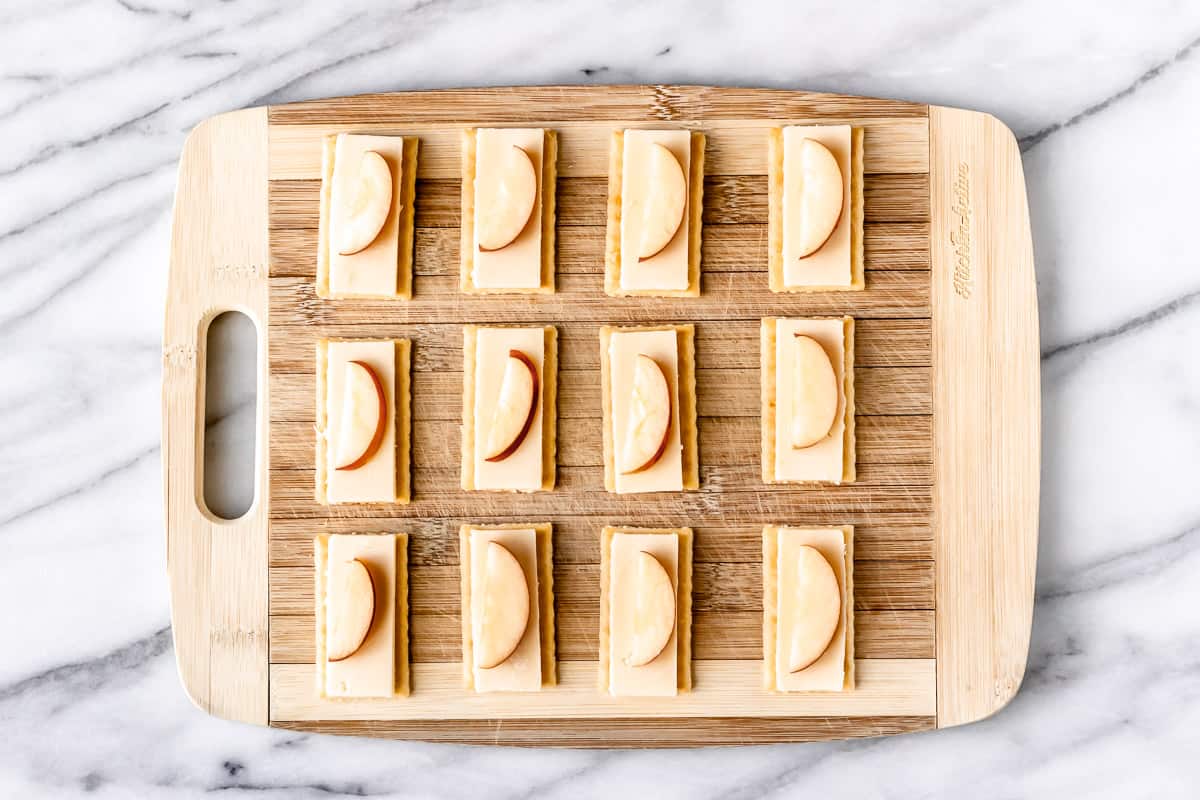 Top each slice of cheese with an apple slice.
Top each apple slice with some of the honey walnuts.
Present!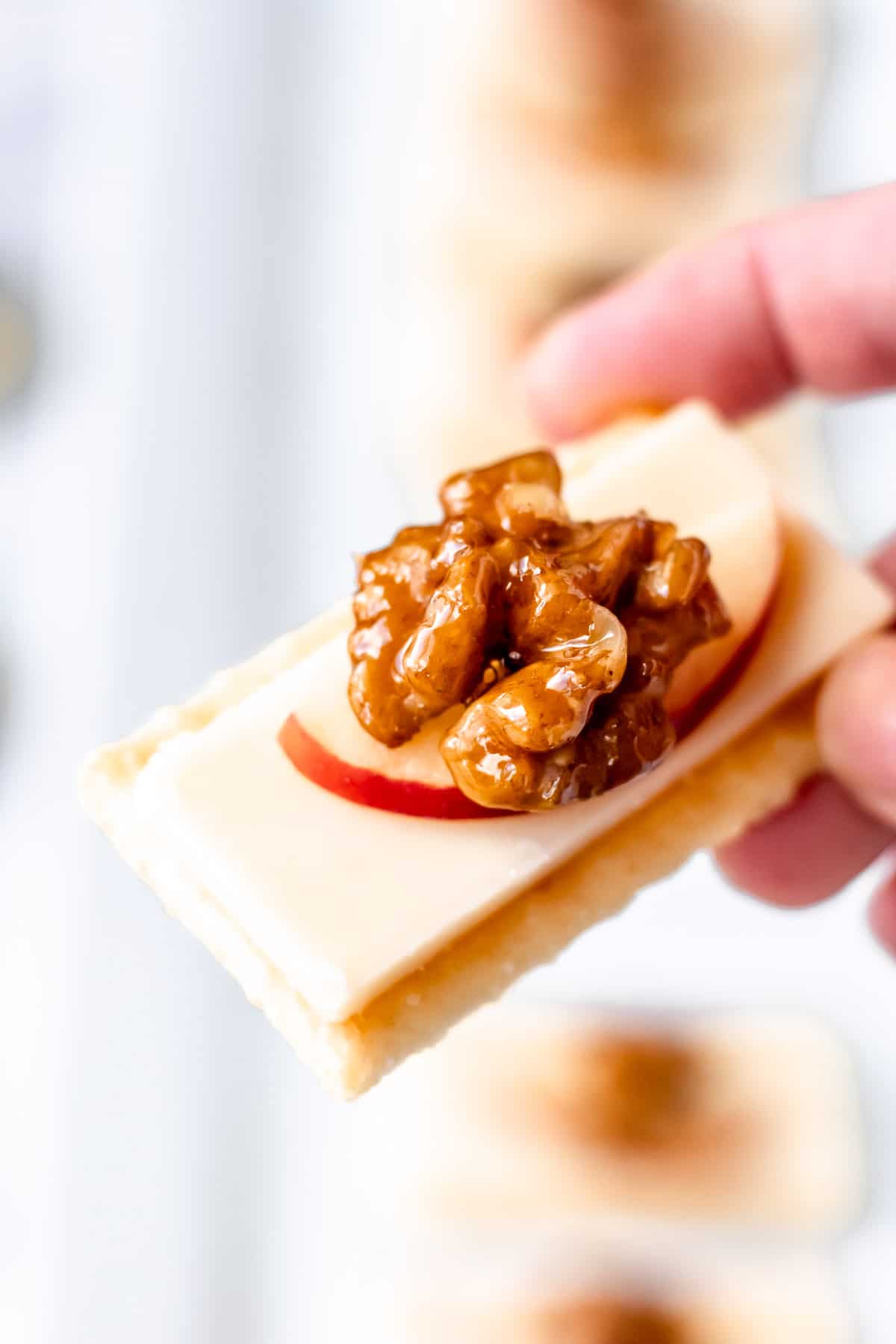 Serve immediately.
Tips and Techniques
You can use any type of crackers or cheese that you prefer. Cheddar pairs really well with apples, but gouda, Monterey jack, or even Swiss cheese would work well with this snack.
Maple syrup can be used instead of honey, if preferred.
If you are not going to serve these crackers immediately, drizzle a little lemon juice onto the apple slices to prevent browning.
More Easy Snack Recipes
Love this Cheese Crackers with Apples recipe? Follow me on Pinterest, Instagram, and Facebook for more!
If you try this recipe, I would really appreciate it if you would please leave a comment and star rating. Thanks!
This recipe was originally published on November 30, 2017. It was updated with an improved recipe, new images, tips and techniques in March 2022.