I received this item complimentary in exchange  for my unbiased review.  Powered by Brandbacker.  This post may contain affiliate links – see our Disclosure Statement for more information.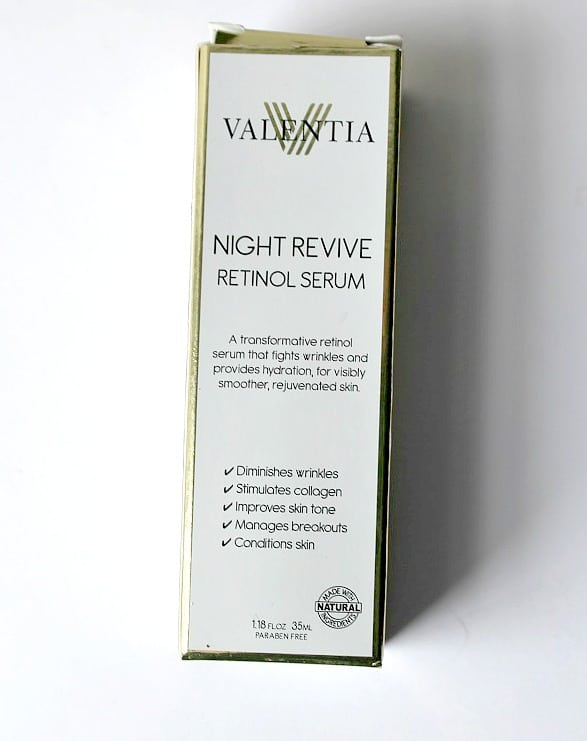 Valencia is a skin care company that focuses on using natural ingredients to deliver youthful results.  The Night Revive Retinol Serum promises a lot of benefits that I look for in a skin care product so I am excited to get to try it!
My skin is showing signs of aging as I would expect it to.  I've also noticed that it is much dryer than it has ever been and I have more areas of uneven pigmentation.  The Valencia Night Revive Retinol Serum contains some powerful ingredients that I am hoping will help improve all these issues.
Retinol is the main ingredient. It's known for its anti-aging properties along with Vitamin C.  I've seen these two ingredients showing up together a lot lately!   I had no idea that retinol is actually drying to the skin, though!  Valencia has balanced out this effect by adding Vitamin E and Squalane to keep the skin hydrated and younger looking.
Overall this is a well-balanced serum with a lot of potential!  I've only been using it for a week so I can not comment on the effectiveness on issues that may take longer to resolve, such as evening out my pigmentation.  I can say that immediately after applying at night my skin feels amazingly soft and hydrated.  When I wake it still feels more hydrated than it has been lately.  My fine lines are always much less noticeable when my skin is hydrated so I've also seen that benefit.  I plan to continue to use this product with high hopes it will actually help my pigmentation issues!
Valencia Night Revive Retinol Serum is effective on its own, but there is also a Night Revive Cream you can use to help lock in the serum for added results.