This post is sponsored by ShopRite. The opinions and text are all mine.
Tortellini Alfredo is made with cheese filled tortellini pasta tossed in a rich Alfredo sauce with peas. It's topped with crispy prosciutto, fresh Parmesan cheese and parsley. This easy-to-make Italian recipe is a restaurant-quality dish you can make on the busiest of weeknights, or when entertaining friends and family.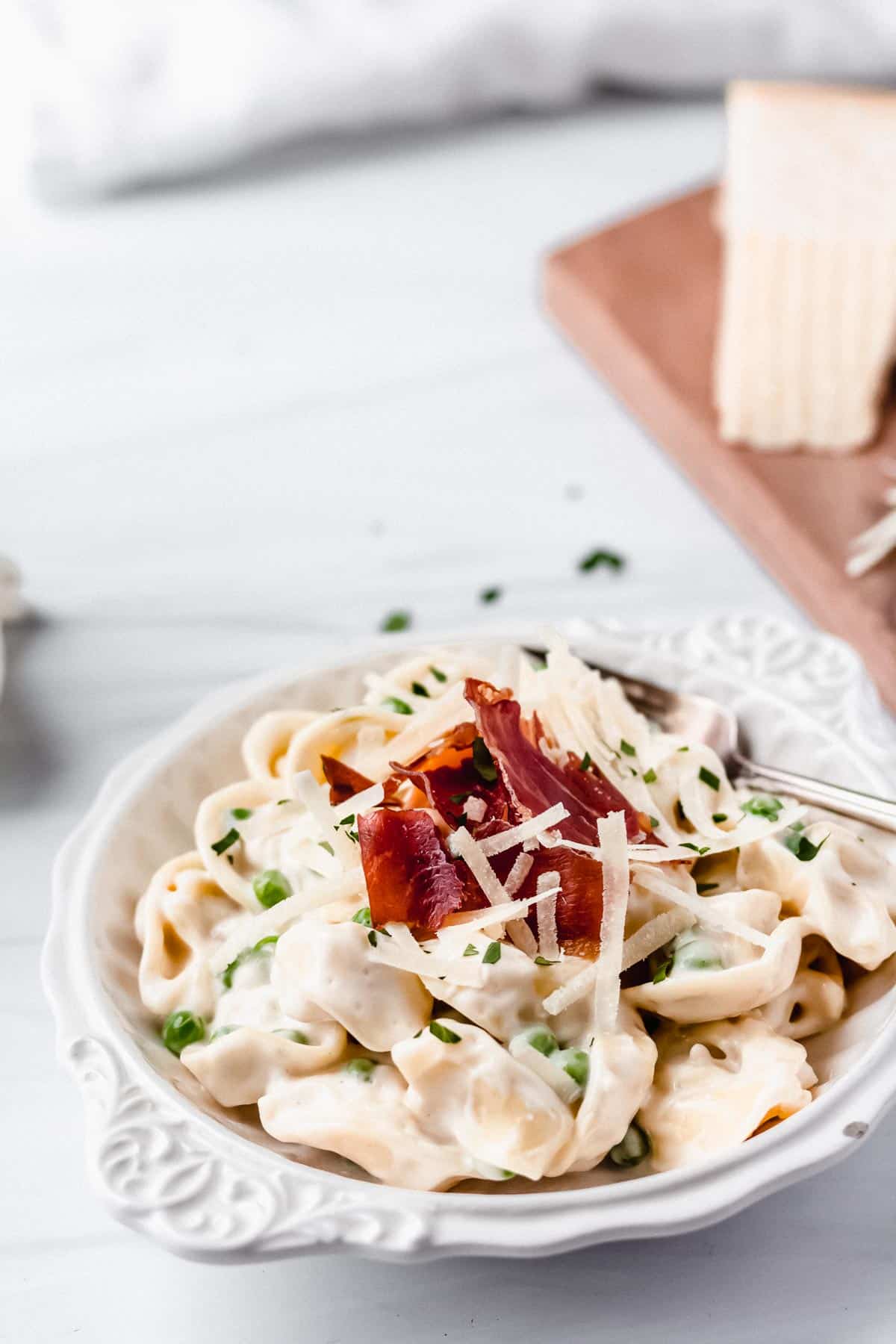 Nothing says comfort food quite like pasta in a rich, creamy sauce. And there is no better time to stock up on all your Italian food needs than during the Tutto Italiano event at Shoprite.
ShopRite carries an amazing selection of Imported from Italian foods. In fact, ShopRite works directly with suppliers from all over Italy to ensure that no region is overlooked.
This recipe for Tortellini Alfredo is a simple dish with big flavor made with ingredients you can easily find all throughout your local ShopRite store. Cheesy tortellini pasta is tossed with peas and topped with crispy pieces of savory prosciutto.
Tortellini is originally from the Emilia Romagna region of Italy. Other popular Italian foods from this area are Parmigiana Reggiano cheese, Bolognese sauce, prosciutto and pastas like lasagna, tagliatelle and cappelletti.
Save now on all of your favorite authentic Italian foods at ShopRite!
Why This Recipe Works
It's a quick and easy recipe. This recipe takes just 30 minutes and 8 ingredients to make.
It is incredibly flavorful. Cheese filled tortellini, smooth Alfredo sauce and crispy, salty prosciutto pair wonderfully together. Topped with even more cheese, this dish is hearty and satisfying.
You can easily modify this recipe. Add chicken to make it even more filling, or try swapping out peas for broccoli. You can also use a red pasta sauce or meat filled tortellini, if preferred.
It's perfect for a busy weeknight dinner or entertaining. While this recipe can be whipped up in no time at all, it's also an impressive meal to serve while having guests.
How To Make Tortellini Alfredo
Ingredients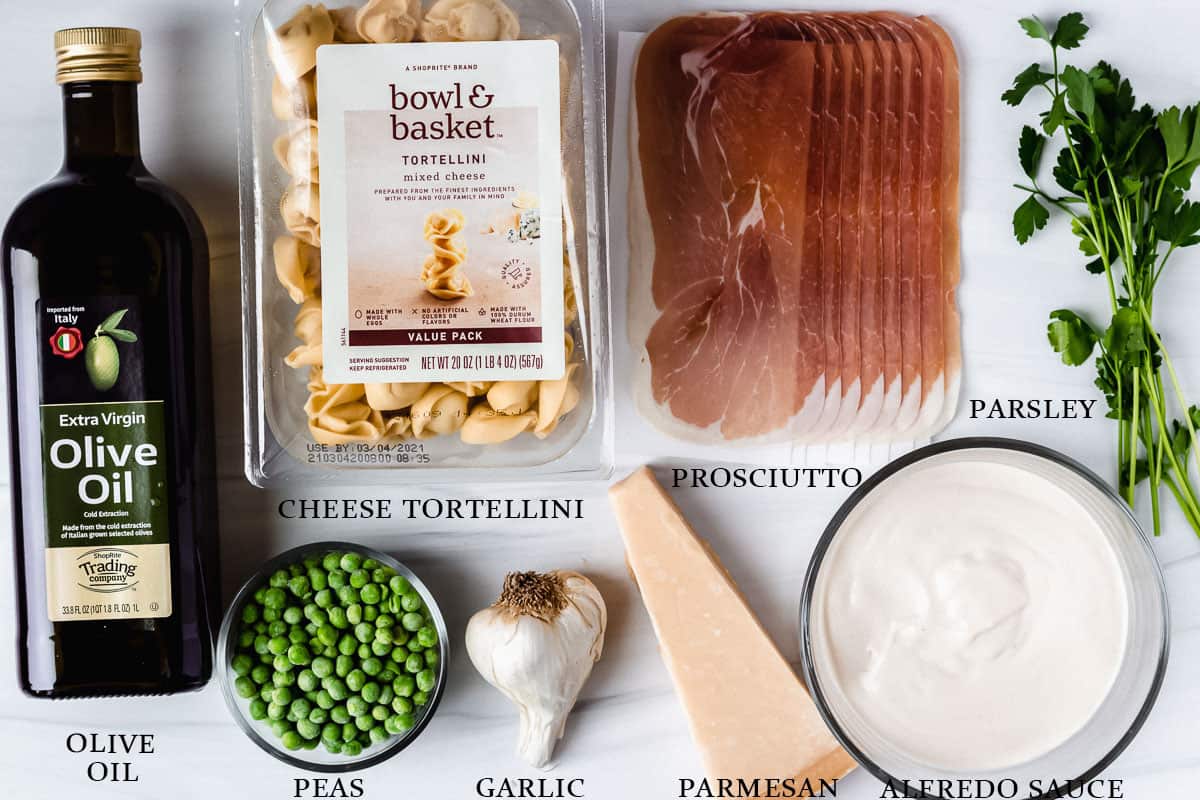 Cheese Filled Tortellini: refrigerated tortellini pasta works best.
Alfredo Sauce: store bought or homemade.
Prosciutto: bacon or ham can be substituted.
Peas: frozen work best in this recipe.
Garlic: fresh is best!
Extra Virgin Olive Oil
Parmesan Reggiano Cheese: freshly grated for garnish.
Fresh Parsley: minced for garnish.
The entire recipe and instructions can also be found in the recipe card at the bottom of this post. You can also print the recipe from the card, if needed.
Prep!
Shred the Parmesan Reggiano cheese and mince the garlic and parsley.
Preheat your oven to 350°F.
Create!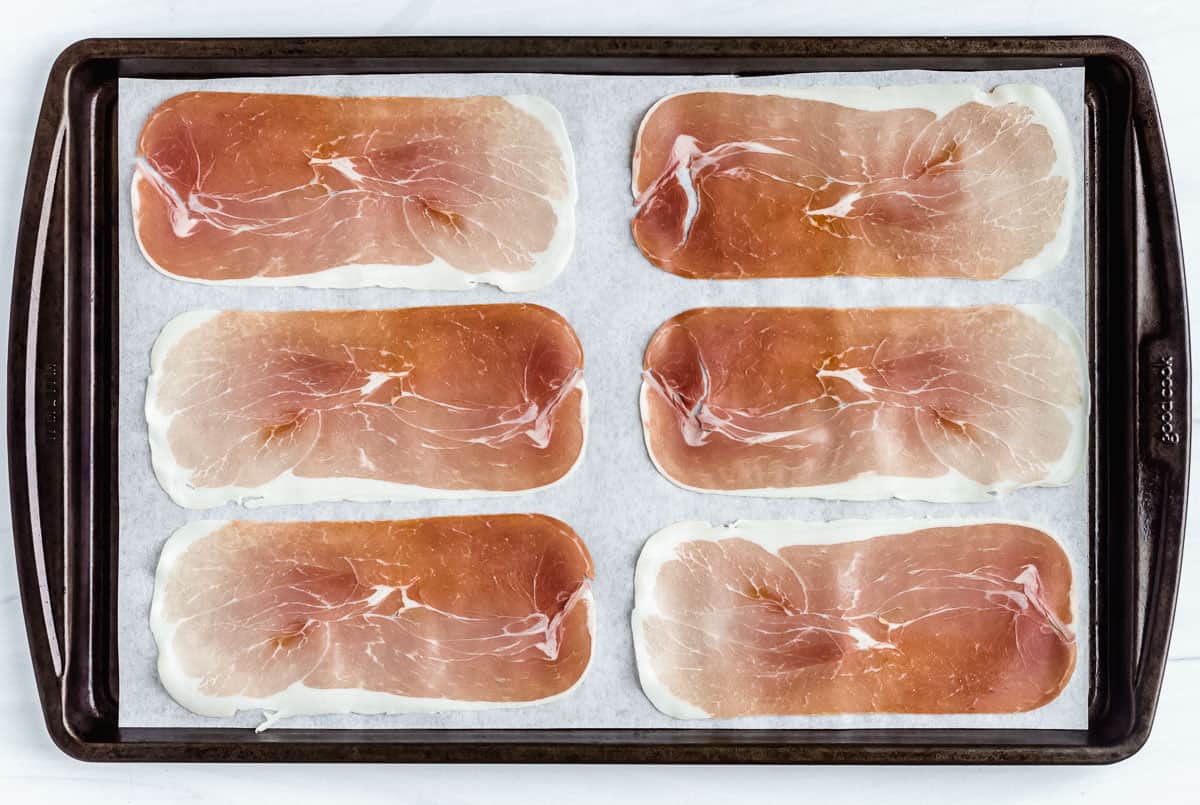 Lay the prosciutto onto a parchment paper-lined baking sheet, leaving a little space between each slice.
Place in the preheated oven and cook for approximately 10 minutes or until it darkens in color and gets crispy.
Note: keep a very close eye on the prosciutto as it bakes, as it can burn easily.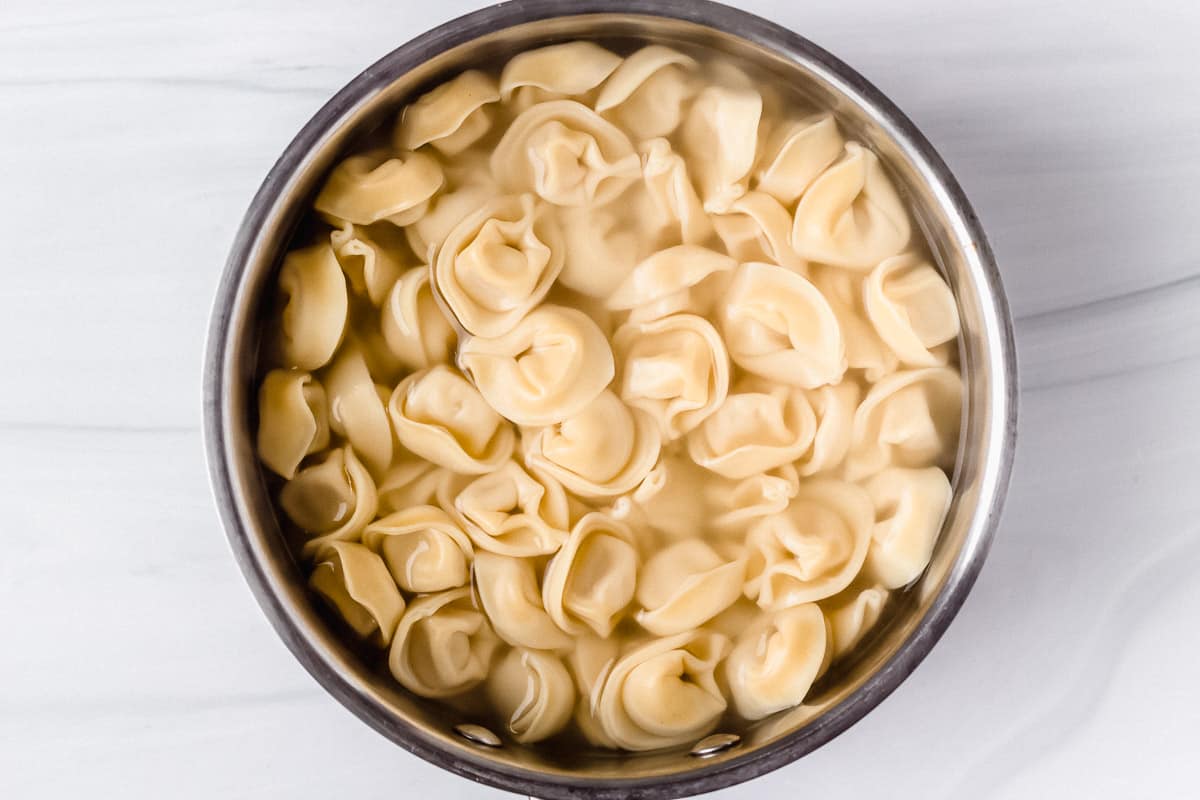 While the prosciutto is baking, bring a large pot of salted water to a boil.
Add the tortellini and cook until al dente, about 5-7 minutes. Drain well.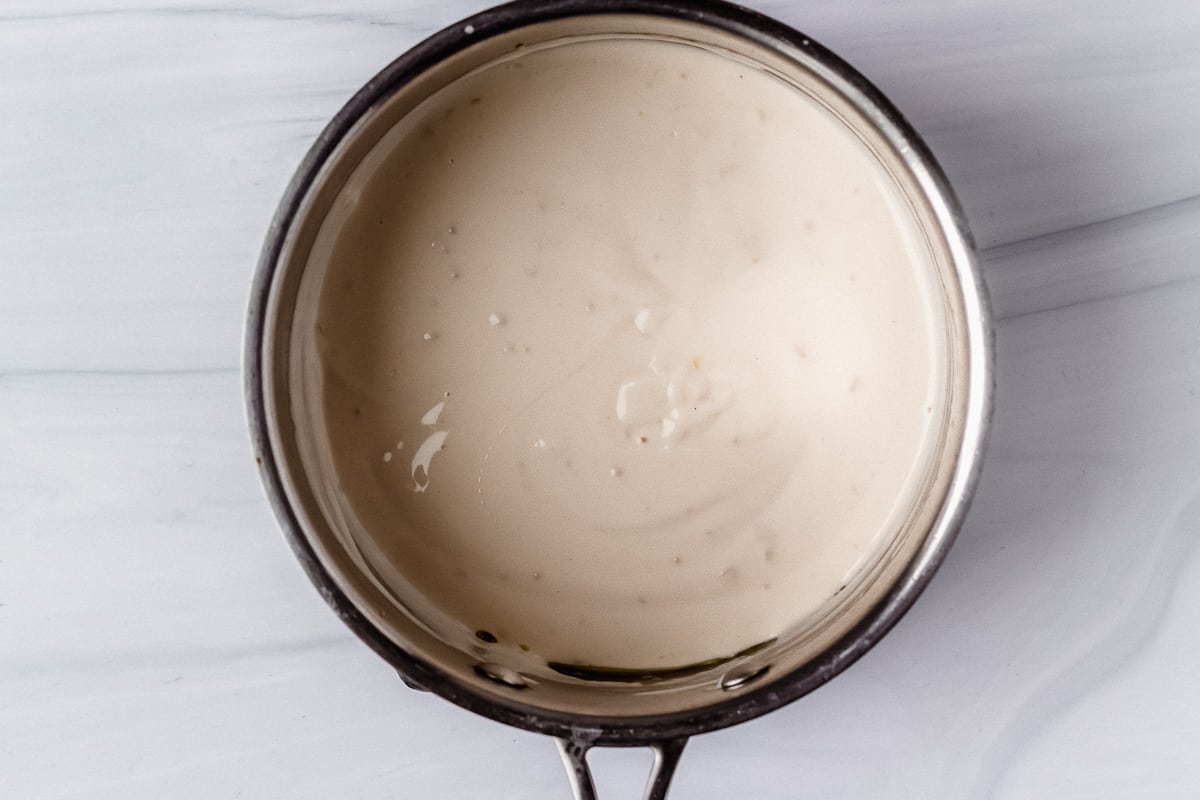 While the pasta is cooking, add a drizzle of extra virgin olive oil to a sauce pot on medium heat. Add the garlic and cook for 30-60 seconds.
Stir in the Alfredo sauce and heat to warm through.
Chef's Note: if you are using homemade Alfredo sauce or an Alfredo sauce with garlic in it already, you may want to skip adding the extra garlic, unless you like your pasta to be really garlicky.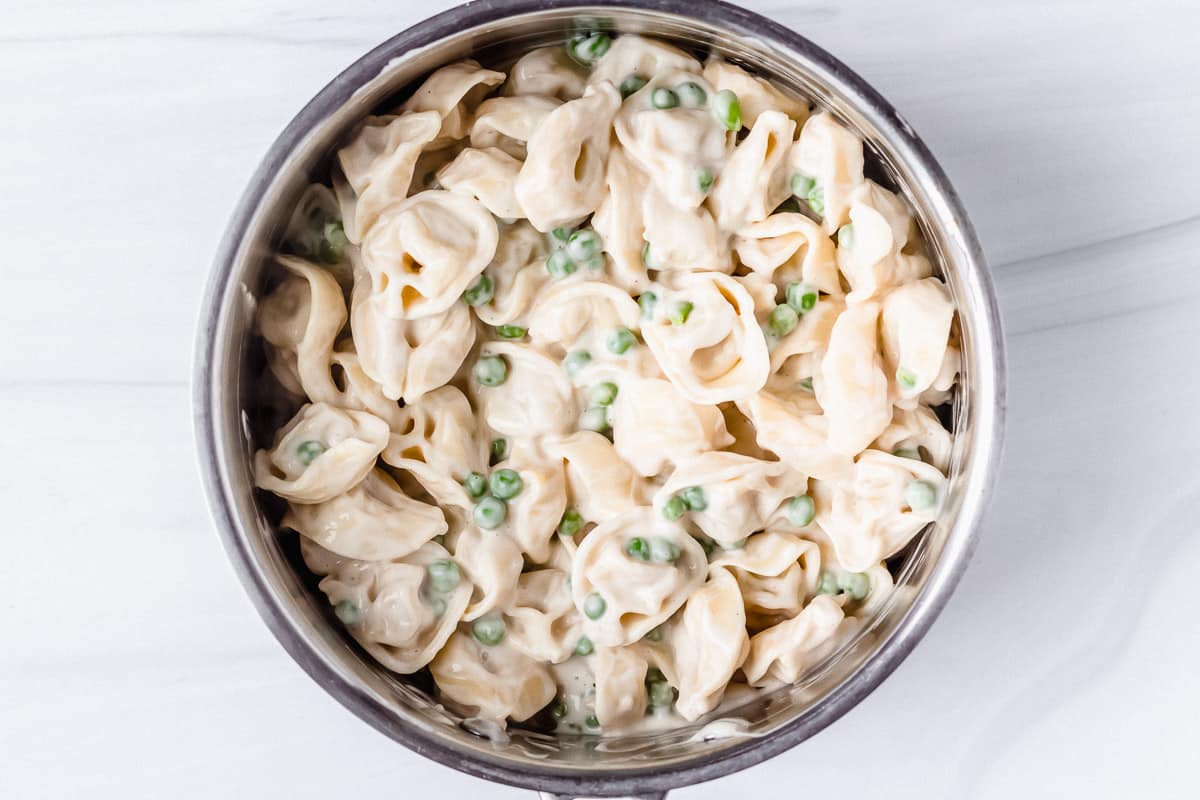 Add the sauce to the cooked tortellini and stir in the peas. Heat through.
Present!
To serve, top bowls of tortellini and peas with crumbled, crispy prosciutto, shredded Parmesan cheese and fresh parsley.
Tips and Techniques
Omit the garlic if the Alfredo sauce that you are using already has garlic in it, or if you don't like your pasta dishes to be too garlicky.
You can easily modify this recipe to suit your own tastes.
Store leftovers in an airtight container in the refrigerator. Use within 3-5 days.
FAQ's
What Part of Italy is Tortellini From?
Tortellini, including stuffed tortellini, is originally from the Emilia Romagna region of Italy.
Can You Freeze Tortellini Alfredo?
While you can freeze tortellini alfredo, it's best freshly cooked – especially the pasta. Freeze pasta and sauce separately in airtight containers. It will last up to 3 months in the freezer.
What Is Alfredo Sauce Made Of?
Alfredo sauce is a white Italian sauce made primarily with Parmesan cheese, butter and salt.
More Italian Recipes
Love this Tortellini Alfredo recipe? Follow me on Pinterest, Instagram, and Facebook for more!
If you try this recipe, I would really appreciate it if you would please leave a comment and star rating. Thanks!