Have you ever thought about how to toast coconut at home?  It's actually very easy and very delicious!
This post may contain affiliate links.  See our Disclosure Statement for full details.
If you've ever had toasted coconut, then you know it has a different, yet delicious, taste and texture to it than compared to raw coconut.  But did you know how easy it is to make yourself?  This tutorial on how to toast coconut will have you wondering why you haven't been doing it yourself all along!
If you've checked out my other recipes, you'll find coconut in a lot of them.  I feel like I'm throwing coconut in every other recipe I create lately, but it's so darn good, I can't get enough!  I usually use coconut milk when cooking with it, but sometimes it's fun to switch things up a little bit too!
In one of my Love With Food subscription boxes, I received a bag of Dang Toasted Coconut Shreds. I had never had anything like this before and I was hooked from the first bite!  Then, I saw that it was a bit pricey to buy on regular basis (although still a great option for when you need snacks for on-the-go).  It's also impossible to find at any of the stores local to me, so I would have to order it online if I wanted it.  Instead, I decided to attempt to make my own and it turned out to be so easy and equally as tasty!
It's as simple as spreading out some sweetened coconut shreds onto Silpat mat on a baking sheet and baking the coconut just right!  I use the Silpat mat the keep it from sticking, but you could use foil instead.  It'll take you around 5 minutes!
You can eat the coconut as is for a tasty little snack, or use it as a crunchy, flavorful topping on dishes like my Coconut Curry Shrimp and Quinoa Bowls.  Add it to cereal or oatmeal to give breakfast a new twist, or maybe toss it in a salad for lunch!  The possibilities are endless!
Enjoy!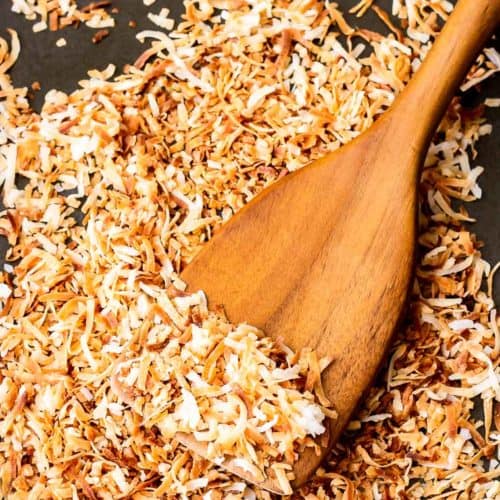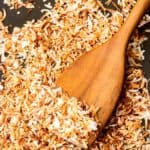 Print
How To Toast Coconut
Learn how to toast coconut right at home in your own oven or on the stove top. It's so easy, and so delicious, you'll wonder why you haven't done it sooner!
Instructions
Preheat your oven to 350°F.

Spread the coconut onto a baking sheet and place in the oven.

Bake, tossing the coconut every minute or two for the first few minutes, then check every 30 seconds to 1 minute, until it's toasted and a medium, golden brown color, about 5-7 minutes.

Remove from the oven and let cool before using.
Notes
How To Toast Coconut On The Stovetop
Add the shredded coconut to a dry skillet over medium-low heat. Cook, stirring frequently, until the coconut turns light to medium brown and crisps up.
Transfer to a plate or bowl to cool so that it does not continue to cook in the pan.
Tips and Techniques
You can toast any amount of coconut that you need, so long as it can fit on a baking sheet (or in a skillet for the stove top method) in a single layer.
Keep a very close eye on your coconut, especially as you get to the last minute or two. It can go from toasted to burnt really quickly.
Store toasted coconut in an airtight container at room temperature. Use within 3-4 weeks for best quality.
** Nutritional information is for sweetened shredded coconut. It's only an estimate and may vary.
Nutrition
Serving:
1
tablespoon
|
Calories:
28
kcal
|
Carbohydrates:
3
g
|
Protein:
1
g
|
Fat:
2
g
|
Saturated Fat:
2
g
|
Sodium:
15
mg
|
Potassium:
19
mg
|
Fiber:
1
g
|
Sugar:
2
g
|
Calcium:
1
mg
|
Iron:
1
mg