Take your spring and summer meals to the next level with any of of these amazing jalapeño salsa recipes. Or, scoop some up with your favorite tortilla chips for a quick snack or appetizer. This recipe round up includes a variety of both jalapeño-based salsas as well as some unique salsa recipes that have a little heat from added jalapeño peppers in them.
This post contains affiliate links. See our Disclosure Statement for more information.
What better way to add a ton of flavor and little heat to all of your favorite Mexican dishes, than to top them with a dollop of fresh, delicious salsa.
There are so many different types of salsas. Some salsas are tomato-based, while others are pepper-based and more spicy. There are even tons of recipes for fruit-based salsas which give you the perfect blend of sweet and spicy.
All of the jalapeño salsa recipes below either highlight the use of this spicy, little pepper by making it the star of the dish or incorporate it in a more subtle way that still packs a punch.
You can enjoy any of these salsas with tortilla chips or serve them over grilled meats and seafood to add even more flavor.
The Best Jalapeno Salsa Recipes
Super Easy Jalapeño Salsa - Mexican Appetizers and More
This Super Easy Jalapeño Salsa recipe is perfect with grilled meats, steak, tacos, empanadas, eggs, tortilla chips and so much more. Easy to make and highly addictive salsa.
Get The Recipe
Roasted Jalapeño Salsa - Mexican Food Journal
The peppery flavor of the jalapeños is front and center in this Roasted Jalapeño Salsa. Unlike most salsas where the chile peppers are added to a base of tomatoes or tomatillos, jalapeño peppers are the base of this salsa which gives it its distinct taste and extra heat.
Get The Recipe
Tomato Jalapeño Salsa - Mexican Please
Roasting the tomatoes and adding the jalapeño incrementally is the secret behind this recipe for Tomato Jalapeño Salsa.
Get The Recipe
Green Salsa - Went Here 8 This
This Green Salsa recipe is made with fresh tomatillos, tomatoes, lime, fresh herbs and jalapeños, plus a secret ingredient for an extra burst of umami flavor.
Get The Recipe
Fresh Tomatillo Salsa - Garlic and Zest
This light, bright tomatillo salsa has a spicy kick from the jalapeños that'll fire up your taste buds. Goes great on tacos, tostadas, or just as a dip with corn tortillas. Perks up your morning eggs too!
Get The Recipe
Fresh Pico De Gallo Salsa - Beyond Mere Sustenance
Fresh. Quick. Simple. Fresh Pico de Gallo Salsa is a Mexican classic salsa, and an important addition to your Mexican/Latin recipes repertoire… It's perfect on tacos and with tortilla chips, but don't overlook it as a fresh accompaniment for grilled fish, chicken, and more!
Get The Recipe
Pineapple Salsa - Mom Foodie
This delicious fresh Pineapple Salsa is ready in just 10 minutes. Put the luscious spicy fruit salsa on your grilled meats, fish tacos, and darn near everything else too!
Get The Recipe
Spicy Mango Salsa
This Spicy Mango Salsa is a little sweet and a little spicy. It can be made in just 10 minutes and is delicious on top of chicken, pork, and seafood. Serve it as a side dish to add even more flavor to so many different dishes.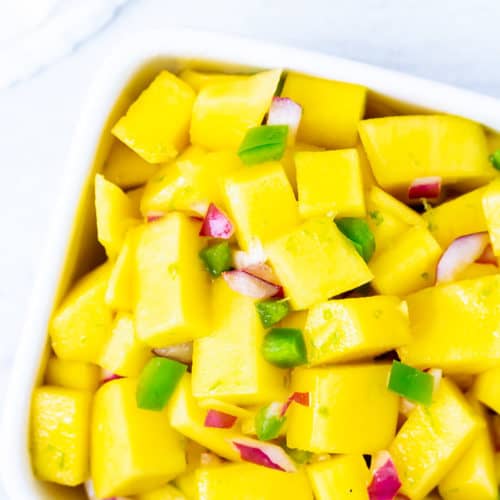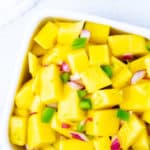 White Nectarine Salsa - Twists and Zests
White nectarine salsa has just a hint of heat from the jalapeños, while still being amazingly flavorful for your spicy-intolerant friends. A unique take on a fruit salsa with all the best of summer flavors
Get The Recipe
Cucumber Salsa - One Dish Kitchen
Easy to make Cucumber Salsa recipe – a fresh, flavorful salsa made with a tangy vinaigrette. Perfect for scooping with tortilla chips or adding to chicken, fish or shrimp.
Get The Recipe
Fresh Strawberry Salsa - Simply Happy Foodie
Put this Strawberry Salsa on tacos, chicken, salads, tostadas, and dip tortilla chips into this glorious condiment! This strawberry salsa is so pretty, and it tastes as good as it looks!
Get The Recipe
Pomegranate Relish - Zestful Kitchen
This Pomegranate Relish/Salsa is simple yet flavorful! Featuring lime, jalapeño and cilantro, this salsa is fun and festive!
Get The Recipe
Cranberry Salsa with Jalapeños - Dip Recipe Creations
This cranberry salsa with jalapeños and cream cheese is a quick, festive and fresh salsa recipe perfect for fall and winter. Takes only 5 minutes to make!
Get The Recipe
I hope you enjoyed this round of the best jalapeno salsa recipes and found at least a few new favorites to help take some of your appetizers and meals to the next delicious level.
What To Use Jalapeno Salsa On
Here are some foods and recipes that you can use jalapeno salsas with or on:
Tortilla chips
Traditional tacos
Scrambled eggs and omelets
Burrito bowls
Grilled meats and fish
More Recipe Round Ups
Here are a few more recipe round ups that you might want to check out:
Love this recipe round up of the best jalapeño salsa recipes? Follow me on Pinterest, Instagram, and Facebook for more!