This post is sponsored by Sweet Earth. All content and opinions are entirely my own.
For this Sweet Earth Pizza Review, I tried 3 different varieties – Herb Lover's, Veggie Lover's, and Protein Lover's pizzas. Learn about Sweet Earth, what I think of the pizza, and where you can buy them.
I absolutely love vegetarian foods and did practice a strict vegetarian diet for over 10 years many years ago. I wish that the availability of creative vegetarian foods and meals was as abundant then, as it is now.
While I don't eat 100% vegetarian these days, I do incorporate vegetarian dishes into my diet on a regular basis.
Food companies, like Sweet Earth, make it really easy and really delicious to eat vegetarian. And, anytime I can easily get the rest of my family on board, I can say with certainty, the food is really good!
I'm excited to share more about Sweet Earth and their super tasty pizzas with you!
About Sweet Earth
Sweet Earth is a food company that puts flavor and sustainability at the forefront of everything that they create. Their foods are globally-inspired, plant-centric, and convenient.
Their delicious recipes are nutritious. They are high in protein, fiber, and nutrients. All of their foods are vegetarian or vegan and organic.
In addition to pizza, Sweet Earth products also include artisan bowls, mini meals, burritos, vegetarian meats (like bacon and burgers), seitan, and salad kits.
You can find more about all of these products on the Sweet Earth website.
Sweet Earth Pizza Review
Herb Lover's 5 Cheese Pizza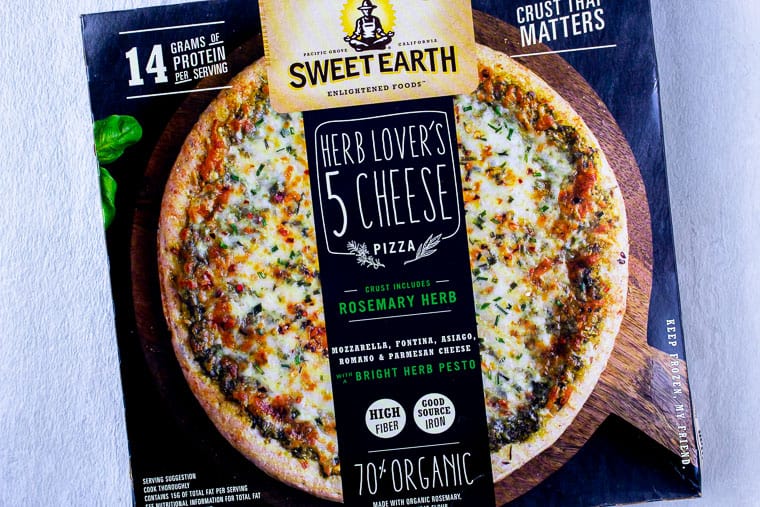 Sweet Earth's Herb Lover's Five Cheese Pizza takes plain ole cheese pizza up a few notches.
This pizza is made with a combination of mozzarella, fontina, Asiago, Romano, and Parmesan cheese. The prominent herb flavor comes from the rosemary herb crust and the addition of herb pesto rather than traditional tomato sauce.
My son and I really enjoyed this pizza. His usual pizza of choice is cheese and I often go for white pizza so this was a great compromise for the two of us.
I will definitely be purchasing this one again!
Veggie Lover's Vegan Pizza
When Sweet Earth decided to make a veggie pizza, they went all out. This pizza is topped with a marinara and vegan cauliflower herb sauce then completely loaded with tons of different vegetables including:
broccoli
Brussels sprouts
corn
red onion
tomatoes
mushrooms
The crust is made with cornmeal, chia and carrots! This pizza really is a veggie lover's dream!
Truth be told, I picked off the mushrooms and red onion, but otherwise loved this pizza and definitely appreciated the creativity of it, as well.
Protein Lover's Pizza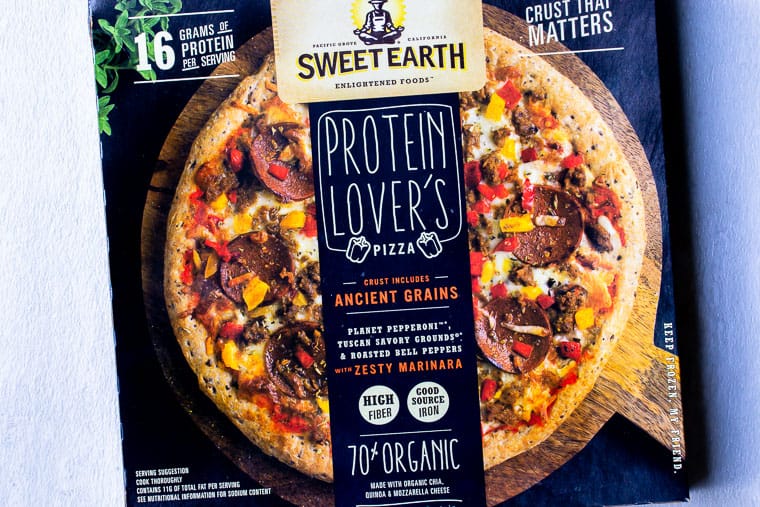 The Protein Lover's Pizza was my favorite of the three. I was a vegetarian for over 1o years and am very familiar with meat alternatives.
This pizza is topped with Planet Pepperoni and Tuscan Savory Grounds, both of which are very flavorful plant-based proteins. They tasted so good with the combination of sweet peppers and marinara sauce.
As good as all of the toppings are, my favorite part of this pizza is the crust. It's made with chia and quinoa and the texture is just amazing.
This is going to be a regular in my home now!
Where to Buy Sweet Earth Pizza
You can find Sweet Earth Pizza, as well as their other products, at your local Whole Foods. To find Sweet Earth at a store near you, visit the Store Locator on their website.
Enjoy this Sweet Earth Pizza Review? Follow me on Pinterest, Instagram, and Facebook for more!