This post is sponsored by BabbleBoxx.com on behalf of popchips®
Add a little heat to your homegating party with these 5 spicy snack ideas for the big game!
I watch football for the food. Yes, I have a favorite team. And, yes I get excited when they have an amazing season. But, the fact of the matter is, even when they're losing, I still get to eat all the yummy football party snacks, and that's always a win for me!
Tailgating is currently not an option for us. We live too far away from any of the stadiums. We do, however, enjoy a good homegating party, especially for the big game! Even if it's just us, it's still fun to get out some decorations and make a bunch of snacks.
My fiancé and I love spicy food and always include a few spicy snacks on our spread. I thought it would be fun to share some of our favorite spicy snack ideas with all of you!
5 Spicy Snack Ideas for the Big Game
 1 & 2 – Popchips
Popchips are made with potatoes. They are never fried, so there's no there's no extra grease, or guilt! They are also gluten free, non-GMO (some varieties), and kosher. There are no trans fats, cholesterol, or preservatives and popchips meet the USDA Smart Snack guidelines.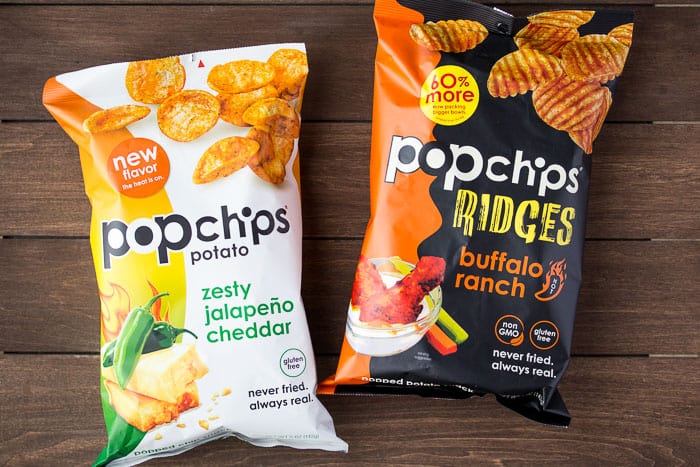 They come in a variety of flavors.  The spicier flavors are the new Zesty Jalapeno Cheddar and Buffalo Ranch Ridges.
Zesty Jalapeno Cheddar Popchips
Jalapeno and cheddar cheese is one of my favorite spicy flavor combinations ever! These popchips have heat to them that kind of sneaks up on you and then lingers on.  I love them!
Buffalo Ranch Ridges Popchips
Buffalo Ranch Ridges Popchips are full of that Buffalo sauce flavor that I am obsessed with, but without any of the mess! You can substitute messy wings with these popchips, or, have both!
3 – Jalapeno Poppers
Jalapeno Poppers are a must have if you love spicy food! Make them extra spicy by mixing the cream cheese with pepperjack! Then, add even more bite by wrapping them in peppered bacon! Yum!
4 – Hot Wings
My fiancé has a collection of hot sauce.  He will sometimes make his wings just basted in one of those, and other times he will mix in some barbecue sauce as well.
5 – Spicy Salsa and Tortilla Chips
For the spiciest salsa, choose a ghost pepper or habanero pepper salsa! These will set your mouth on fire, but they are oh-so-good!
I hope these 5 Spicy Snack Ideas for the Big Game will help turn up the heat at your next homegating party!
Enjoy!