Southwestern Chicken Wonton Cups are a fun, easy-to-make appetizer or snack. They are made with chicken, corn, black beans and spices to create a very flavorful, enjoyable experience and are perfect for entertaining, as well.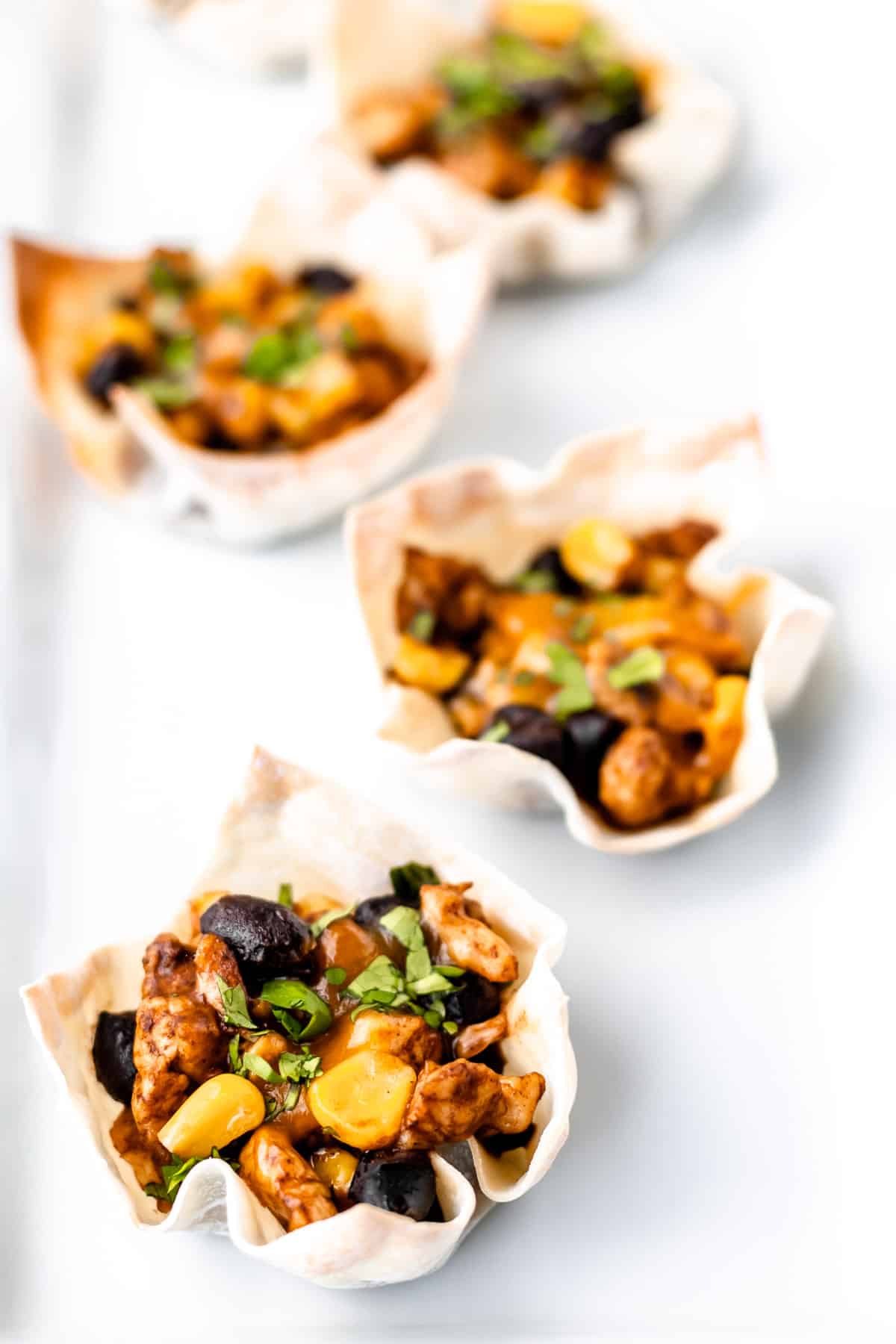 This post contains affiliate links. See our Disclosure Statement for more information.
Southwestern Chicken Cups are a fun, finger food recipe to serve when entertaining or for an appetizer or snack.
Crispy wonton shells are filled with chicken, black beans, corn and southwestern spices. They can be enjoyed as is or topped with lime, avocado, cilantro crema or other sauces, if desired.
If you love the flavors of the south, you may also like these recipes for Southwestern Chicken Pitas, Southwestern Black Bean Burgers and Southwestern Chicken Salad, which have a very similar flavor profile as this recipe.
Why This Recipe Works
This recipe is very easy to prepare. It can be made ahead of time, though the shells should not be filled until they are ready to be served.
The southwestern ingredients and spices add a ton of delicious flavor to the filling.
Southwestern Chicken Cups are a great option to be served for an appetizer or snack.
Southwestern Chicken Cups
Ingredients
1 pound chicken (diced small)
36 wonton wrappers
1 cup black beans
1 cup corn
1 teaspoon chili powder
1 teaspoon cumin
1 cup cheddar cheese (grated)
1/4 cup cilantro (minced)
The entire recipe and instructions can also be found in the recipe card at the bottom of this post. You can also print the recipe from the card, if needed.
Prep!
Preheat your oven to 350°F.
Mince the cilantro and set aside. Cut the chicken into small cubes.
Create!
Line the muffin pan with wonton wrappers to form the cups. Bake for 5 minutes, remove from the oven and set aside.
You can spray the pan with non-stick spray, but I've never had any issues with the wonton wrappers sticking to the pan.
Season the chicken with salt, pepper, chili powder and cumin.
Heat the olive oil in a large skillet over medium-high heat. Add the chicken and cook, stirring occasionally, for 5-7 minutes, or until no longer pink in the center.
Stir in the black beans, corn, and half of the cheddar cheese. Cook until hot and melted.
Add about a tablespoon of the chicken mixture to each wonton wrapper.
Top each cup with a pinch of the remaining cheese and return to the oven for 5-7 minutes until the wonton wrappers just start to turn light brown.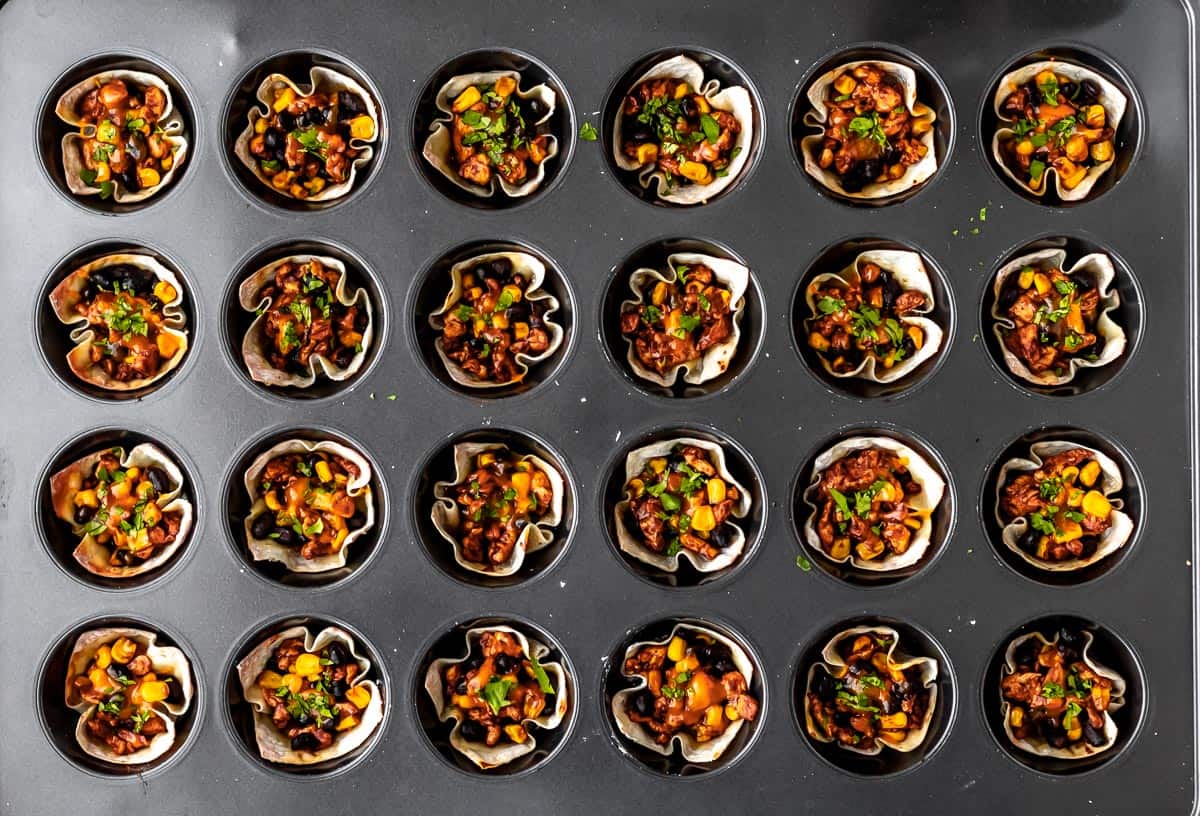 Garnish with the fresh cilantro.
Present!
Serve warm.
Tips and Techniques
You can use Taco Seasoning instead of chili powder and cumin, if preferred.
These wonton cups taste great with sour cream or cilantro lime crema.
Store leftovers in an airtight container in the refrigerator. If unfilled, store extra wonton cups at room temperature. Consume within 3-4 days.
FAQ's
Are Wonton Wrappers And Egg Roll Wrappers The Same?
Yes, wonton and egg rolls are made with the same type of dough. If you are unable to find wonton wrappers, you can use egg rolls wrappers and cut them as needed.
Can You Make Wonton Cups Ahead Of Time?
You can make wonton cups ahead of time, but it's best to wait to fill them until you are ready are to serve them, as they may get soggy if they sit too long.
More Appetizer Recipes
Love this Southwestern Chicken Wonton Cups recipe? Follow me on Pinterest, Instagram, and Facebook for more!
If you try this recipe, I would really appreciate it if you would please leave a comment and star rating. Thanks!
This recipe was originally published on August 9, 2017. It was updated with an improved recipe, step-by-step instructions, new images, tips, techniques and FAQ's in July 2022.