I received these Aquation samples at no charge to me in exchange for my review. All opinions in this post are solely my own.  #MyPerfectAquation.
Over the last couple years, I have noticed my skin seems to be drier.  I have always moisturized daily, yet it seems nothing has been working for me the way it used to.  When I was offered the opportunity to try a new series of products by Aquation and saw that 100% of women who tried it in clinical trials saw more hydrated skin, I was really excited!  I was sent Aquation's Daily Moisturizing Cleanser, Daily Moisturizing Lotion, and Moisturizing Cream to try for one week before sharing my opinions with my readers.  All three products can be used on the face or body.  I opted to only try them on my body, as the skin on my face is not nearly as dry.
The first product I tried was the Daily Moisturizing Cleanser.  I never really thought about it before, but I'm sure my previous cleanser was drying out my skin.  It would feel so tight after I got out of the shower until I put on a moisturizing cream.  I don't get that same feeling at all after using this cleanser.  My skin felt clean, smooth, and moisturized after rinsing!
I decided to try the Daily Moisturizing Lotion during the day on my arms and legs.  This is an unscented, light-weight lotion and is great for daytime use!  My skin felt smooth and hydrated all day and wasn't irritated at all!  It's been tested to lock in moisture for 24 hours.  I don't typically go 24 hours without showering so I can't say if it lasted the whole time it should, but I know I didn't reapply at all between showers.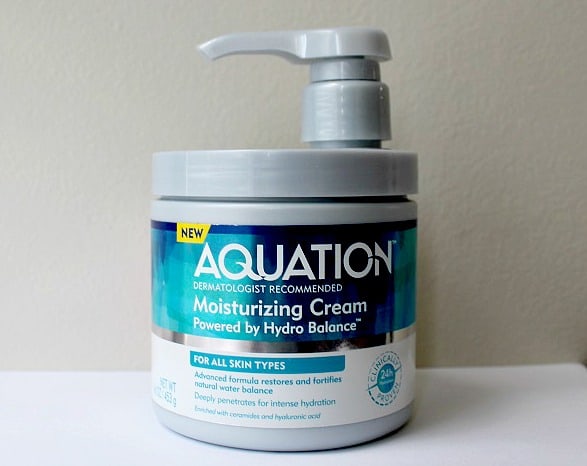 The final product I tried was the Daily Moisturizing Cream.  This is a richer cream, that is supposed to not only moisturize but also provide a barrier on your skin to prevent moisture loss!  I really loved to use this product on areas where my skin is the driest – like knees, elbows, and feet!  I also tried this on my arms and legs during the day if I was going to be outside for a longer period of time.  This is an amazing cream and my skin was the most hydrated it's been in a long time!  I can see this being my go-to cream in the winter as well!
If you experience dry skin, or just prefer products that provide more moisture, I would definitely recommend giving Aquation a try!  I have been seriously impressed!  You can find more information online at www.AquationCare.com and look for it at Walmart stores.