For this September 2018 Stitch Fix review, I requested lightweight cardigans, dresses, a pair of booties, and "soccer mom" outfits.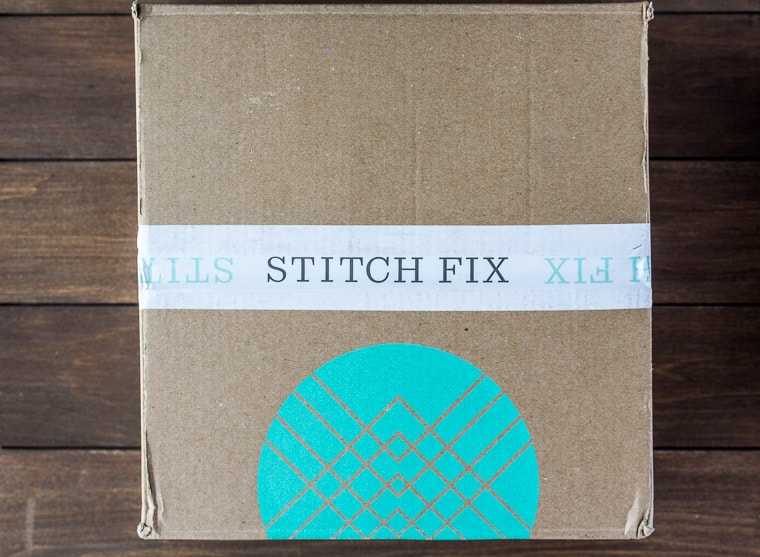 This post contains affiliate links, should you make a purchase through a link, I may receive a small commission at no additional cost to you. See our Disclosure Statement more more information.
After a little break from Stitch Fix, I ordered another fix to start transitioning into Fall clothing. I did get a box in July and kept everything, but never got around to writing a review. Apparently my regular stylist is no longer with Stitch Fix, so I had a new one. For this September fix, I had yet another new stylist. It doesn't bother me much that they switch since I am pretty specific in what I am looking for, but I do think it is nice to have the same one when you order so often.
For this fix I requested clothing that would be great for the change of season. And, I requested more casual items since I'm sitting on the sidelines of soccer fields at least 3 times a week!
Before we get into the good, here is the run down of what Stitch Fix actually is, how it works, and how much is costs.
What is Stitch Fix?
If you already know what Stitch Fix is all about, go ahead and skip over this part. If you're new to Stitch Fix, here is a brief summary of what you can expect.
Stitch Fix is a clothing subscription box. You can sign up to receive boxes on certain intervals, or just order a box whenever you want (this is the option I always choose so I don't have to remember to cancel etc.).
Each box you order will come with 5 items. These items are clothing, shoes, accessories, and jewelry. Stitch Fix now offers add-ons as well. These are items like camisoles, underwear, and bras that you can order in addition to your 5 items.
When you first sign up, you'll fill out a style survey. Be brutally honest with this section! You'll also have the opportunity to add any notes when you schedule your fix. I usually use this area to request certain items that I may have seen in other reviews or on Pinterest, or to request certain types of items. You definitely don't want to skip this part. I find that being really detailed in the notes section helps to ensure that you get items that you will love!
After everything is filled out, choose the date you'd like to receive your fix.
How Much Does Stitch Fix Cost?
You pay a $20 styling fee that is credited towards anything you purchase. Shipping is free both ways. Buy what you love, return what you don't. If you buy all 5 items, you'll also get a 25% discount! And yes, if you don't buy anything, the $20 fee is not refunded (as it goes towards the time to curate the items and their shipping costs). There has only ever been one time that I didn't buy a single item.
The cost of the items varies. You can set your price ranges in your survey. Stitch Fix even carries designer brands now!
Now that that's out of the way, let's get to it!
September 2018 Stitch Fix Review
Nike Hoodie ($40.00)
I should have expected to get something Nike brand when I asked for casual clothing to wear to soccer games. I think Stitch Fix must have started carrying the brand recently because I have seen it quite a bit.
With that said, I really liked this hoodie. It's lightweight and looks great with leggings. There isn't much stretch so I would have had to exchange for a size up had I decided to keep this item. The only reason I returned it was because I have a similar item in pink from another athletic brand that I rarely wear.
Verdict: RETURNED
MPG Sport Berkeley Legging ($54.00)
This is a pair of really well made black cropped leggings. The brand is by Julianne Hough and I'm looking forward to seeing more of what they offer.
These leggings fit really well and you can tell they are high quality. I didn't keep them only because I have an almost identical pair (that's of equal quality), or I totally would have!
Verdict: RETURNED
Market & Spruce Nessa Hooded Knit Dress ($64.00)
This dress wasn't exactly what I had in mind when I asked for dresses to pair with lightweight cardigans. In my opinion, this particular dress is something I might wear as a cover-up at the beach instead.
The material is amazing! I think it's pretty much identical to the 41 Hawthorn (another Stitch Fix brand) tunic I got in this fix. It's super comfortable and very forgiving! Too forgiving, in this case. The dress is over-sized and looked boxy on me. I just couldn't see myself wearing this one.
Verdict: RETURNED
Sophie Rue Abrielle Lightweight Cardigan ($44.00)
This cardigan is exactly what I was hoping for! It's lightweight, flattering, and the color is amazing! It's perfect for Fall!
In my next fix, I was more specific in the types of dresses I am looking for and hope to get one that will pair perfectly with this cardigan. Otherwise, I think it will look great with jeans and a tee!
Side note: my stylist said to pair this with the Nessa dress above and the booties below. Am I the only one who thinks that is totally not a match?!?
Verdict: KEPT
DIBA Lovely Suede Bootie ($70.00)
I asked for booties and she sent booties. My first impression was that these were kind of plain. They also reminded me of a cheap pair I had bought before that were super uncomfortable. But, I know better than to write something off before trying it on.
It turns out, I was right in this case. These shoes are so uncomfortable, hard to get on, and one zipper didn't go all the way up. This is not the quality that I am used to getting from Stitch Fix – especially when they cost $70! I made sure to leave appropriate feedback.
I did look up the shoes online and the brand does have mostly positive reviews. I'm wondering if maybe I just got a lemon of a pair.
Verdict: RETURNED
FINAL THOUGHTS
I felt that my stylist sent me items that were mostly what I was asking for. Sometimes it works out and sometimes it doesn't. Since I am still looking for some new Fall items, I requested another fix with more specifics about the dress types that I like and some items I have recently seen and would like to try. I also updated my Pinterest board with Fall clothing.
You can see my Beauty, Fashion, and Style Board HERE and pin directly from this review, if you want!
The total cost for this fix was $272.00. If I had bought all 5 items, I would have received a 25% discount of $68.00 bringing the total to $204.00. Because I only kept the cardigan, I paid $44.00 total.
HOW CAN YOU TRY STITCH FIX?
If this September 2018 Stitch Fix Review has you ready to try Stitch Fix for yourself, you can do so HERE! Make sure to be super specific about items you've seen and love. I would also definitely recommend linking an up-to-date Pinterest board that has Stitch Fix items you would love to get!