Savory Gruyere Cheese Puffs with Raspberry Sauce are made with a combination of cheese, fresh herbs, puff pastry and they're topped with a homemade raspberry sauce or preserves. These cheese puffs are perfect as appetizers, snacks, or as a side to a bowl of soup or salad.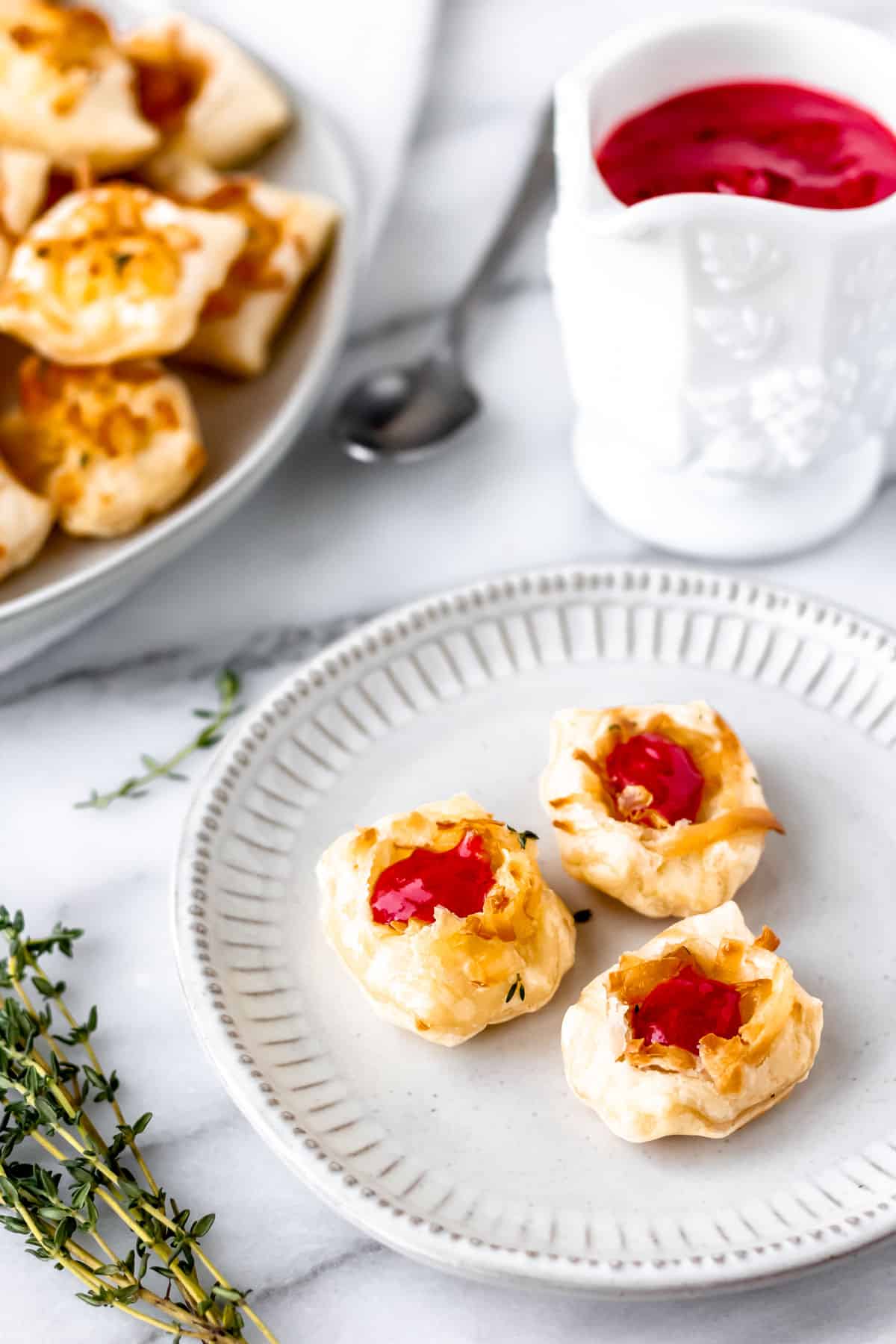 This post contains affiliate links. See our Disclosure Statement for more information.
The inspiration for This Savory Cheese Puff recipe stems from a recipe I tried years ago, which paired goat cheese with a spicy fruit sauce. These cheese puffs are similar to French Gougères that we made in Culinary Arts School, but this recipe uses puff pastry rather than the traditional pâte à choux dough.
The crispy, buttery layers of puff pastry contrast perfectly with nutty Gruyere cheese and fragrant herbs in this quick dish. It's perfect served as an appetizer, snack, or side dish. You can even experiment substituting different varieties of cheese and herbs to fit your preferences!
If you would like to make your own Raspberry Sauce, be sure to check out my recipe.
Other delicious dessert recipes you can make using puff pastry include Puff Pastry Cups 2 Ways, Mixed Berry Puff Pastry Tart and Mixed Berry Napoleon. For a breakfast treat with puff pastry, try these Bacon, Egg, and Cheese Breakfast Puff Pastry Puffs.
Why This Recipe Works
This is an easy-to-make recipe that can be served as an appetizer, snack, or side to a bowl of soup or a salad. It's super versatile and accommodating to substitutions based on taste preferences too.
Depending on how you plan to serve these, the puffs can be made larger or smaller.
You can use any herbs you prefer. Thyme, basil, and rosemary are all wonderful options.
This combination of savory cheese and herbs pairs perfectly with sweet raspberries for deep, delicious flavor.
Step-By-Step Instructions
Ingredients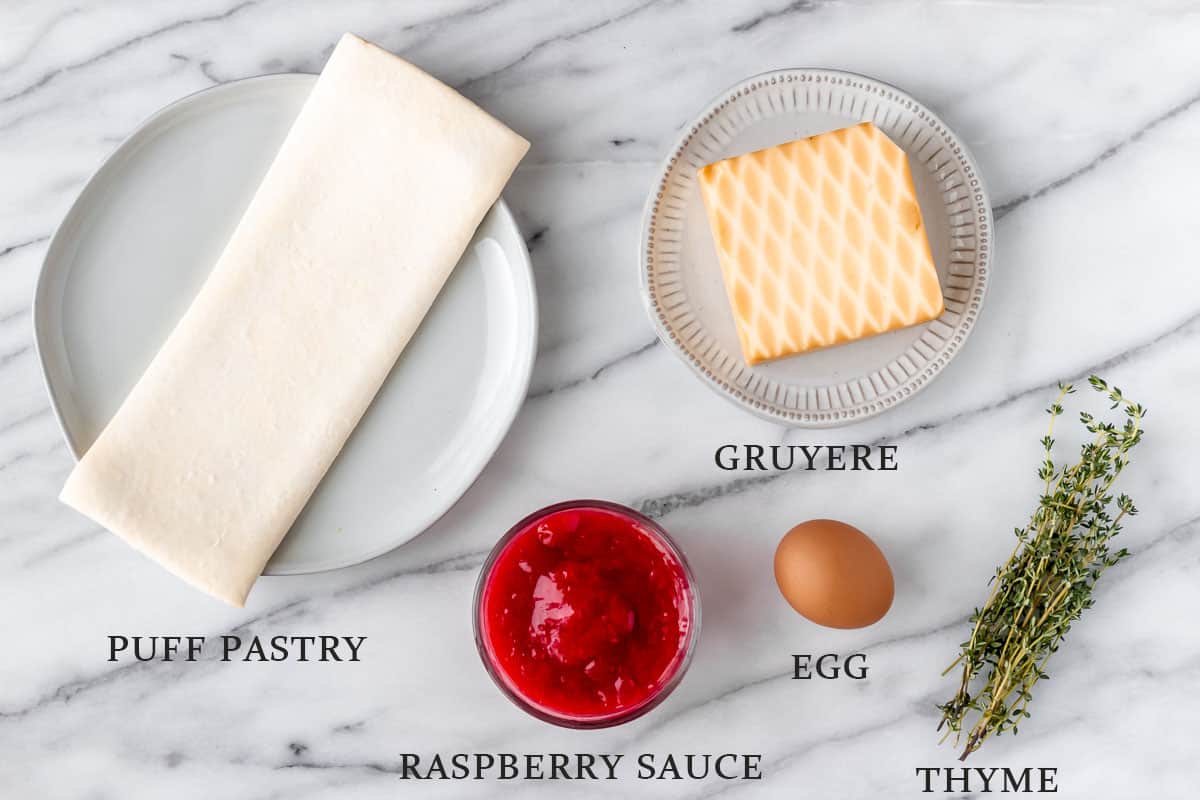 2 sheets puff pastry (thawed)
6 ounces Gruyere cheese (shredded)
1-2 tablespoons fresh thyme leaves
1 egg (lightly beaten)
1/2 cup raspberry sauce (or preserves)
The entire recipe and instructions can also be found in the recipe card at the bottom of this post. You can also print the recipe from the card, if needed.
Prep!
Set the puff pastry out about an hour before you begin baking to allow it to fully thaw.
Whisk together the egg and water. Set aside.
Preheat your oven to 400°F.
Create!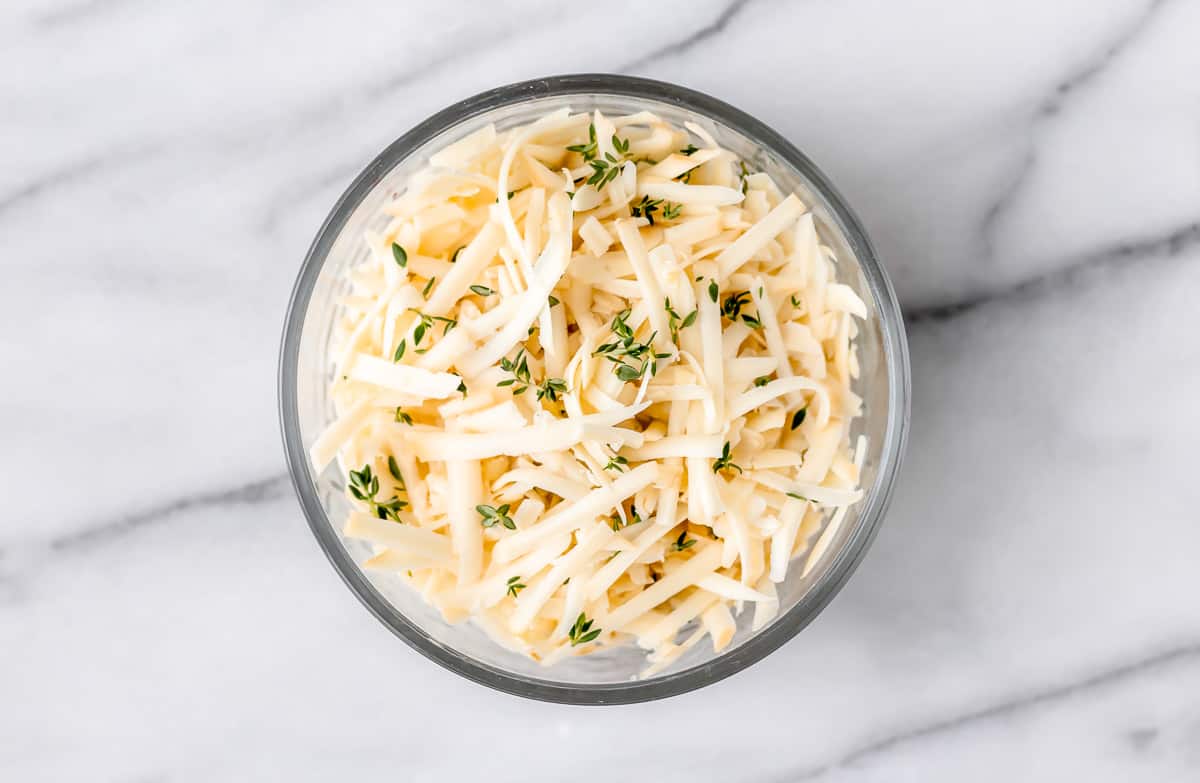 Shred the cheese and add to a small bowl. Strip the leaves from the thyme and mix them into the cheese.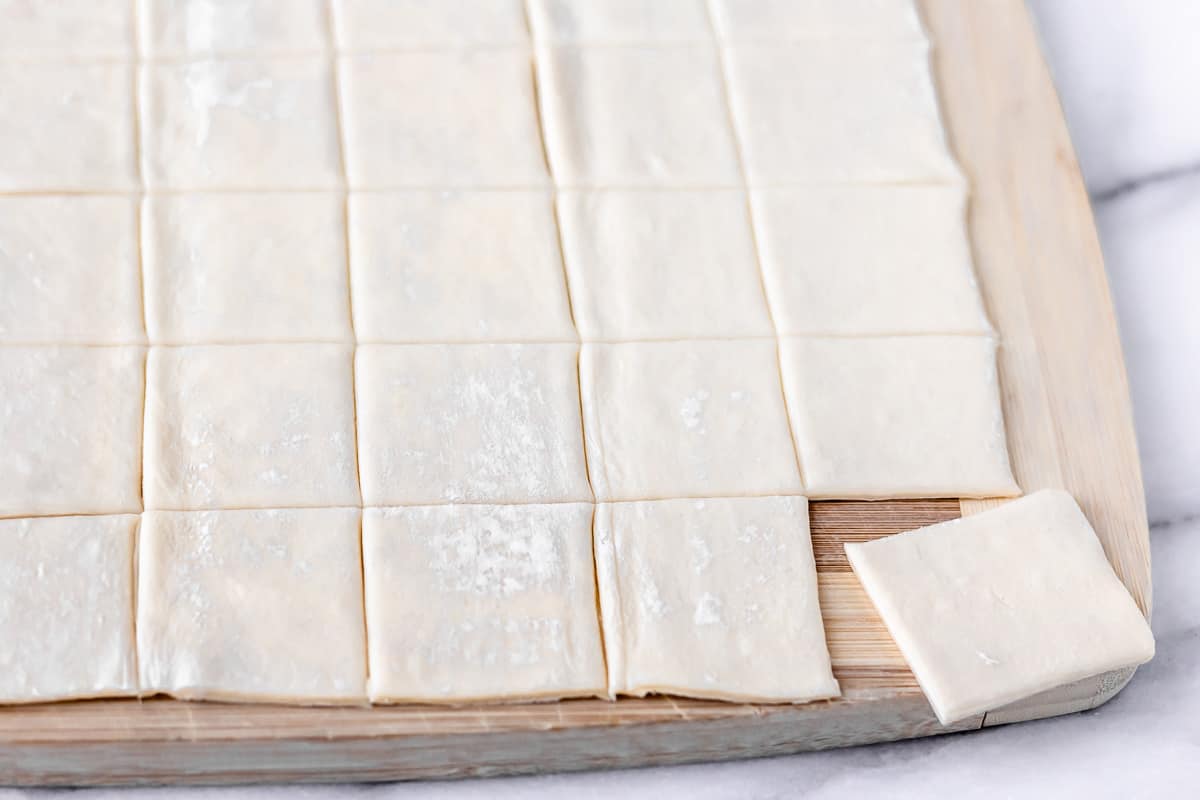 Roll out the puff pastry to smooth creases and cut each sheet into 36 evenly sized squares. Place on a baking sheet lined with a silicone baking mat or parchment paper.
Chef's Tip: you can actually cut the puff pastry into any size squares that you prefer. For larger squares, you may need to increase the bake time by a few minutes.
Poke a few holes into the center of each puff pastry square with a fork and divide the cheese evenly onto the centers of all of the squares.
Fold the corners in slightly and brush the puff pastry with the egg wash.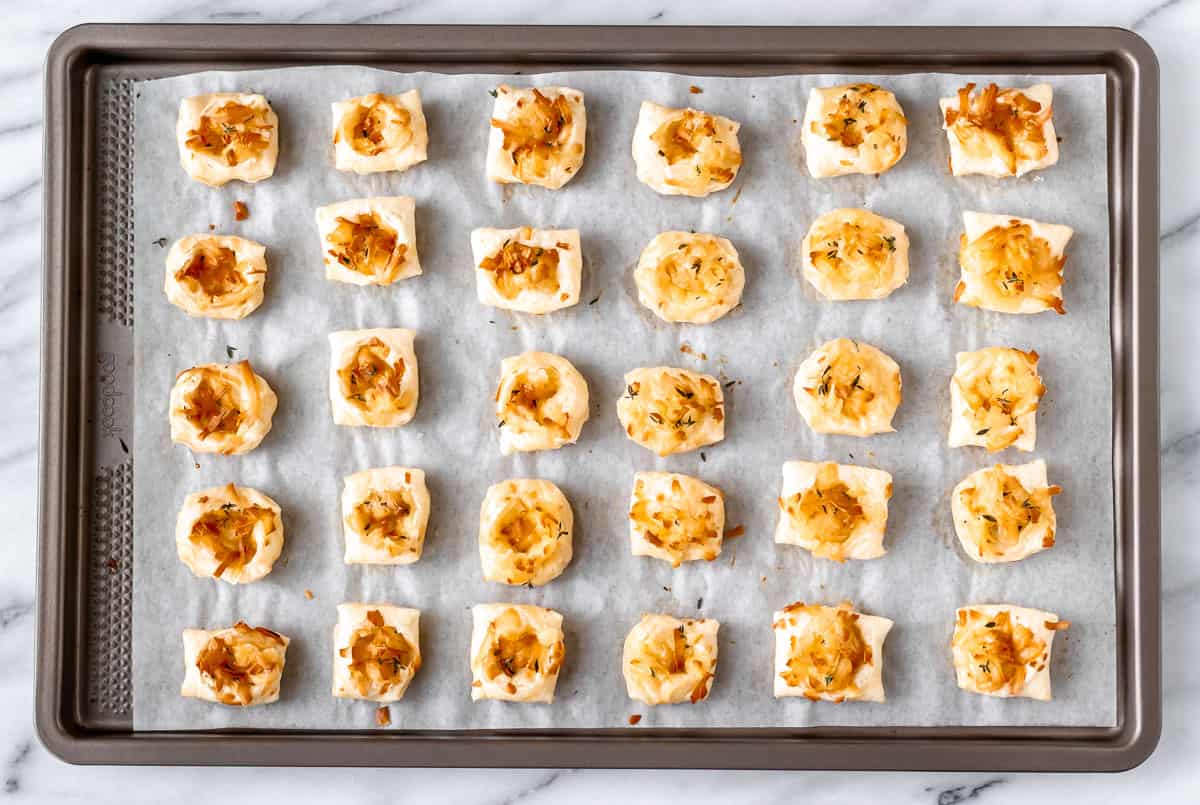 Bake for 12-15 minutes. The pastry may be puffed up, but will quickly deflate once out of the oven. If the pastry does not deflate, you can press down the centers with your finger or a small spoon.
Top each cheese puff with about 1/4 teaspoon of the raspberry sauce.
Present!
Garnish with extra thyme, if desired.
Tips & Techniques
Be sure to set the puff pastry out about an hour before you begin baking to allow it to fully thaw.
You can use any herbs you prefer. Basil, rosemary, and sage are great choices.
You can make cheese puffs and any size. Larger puffs will need a few extra minutes of bake time.
Store extra cheese puffs in an airtight container in the refrigerator. Reheat the puffs at 350°F for just a few minutes.
FAQ's
Can You Make Cheese Puffs Ahead Of Time?
You can make the cheese puffs ahead of time, however, they taste best warm or at room temperature.
Can You Make Raspberry Sauce Ahead Of Time?
Yes, you can make the raspberry sauce ahead of time and store in the refrigerator. It is recommended to warm it before using it to thin it back out.
More Appetizer Recipes
Love this Savory Gruyere Cheese Puffs recipe? Follow me on Pinterest, Instagram, and Facebook for more!
If you try this recipe, I would really appreciate it if you would please leave a comment and star rating. Thanks!
This recipe was originally published on March 15, 2019. It was updated with new images, an improved recipe, tips, techniques and FAQ's in March 2022.