This recipe for Rutabaga Au Gratin is everything you would hope for in a casserole-style dish: creamy, cheesy, and comforting. Topping the creamy rutabaga with almond flour breadcrumbs lends a buttery, nutty flavor, as well as a crispy, gluten free texture to this often overlooked and under-appreciated vegetable.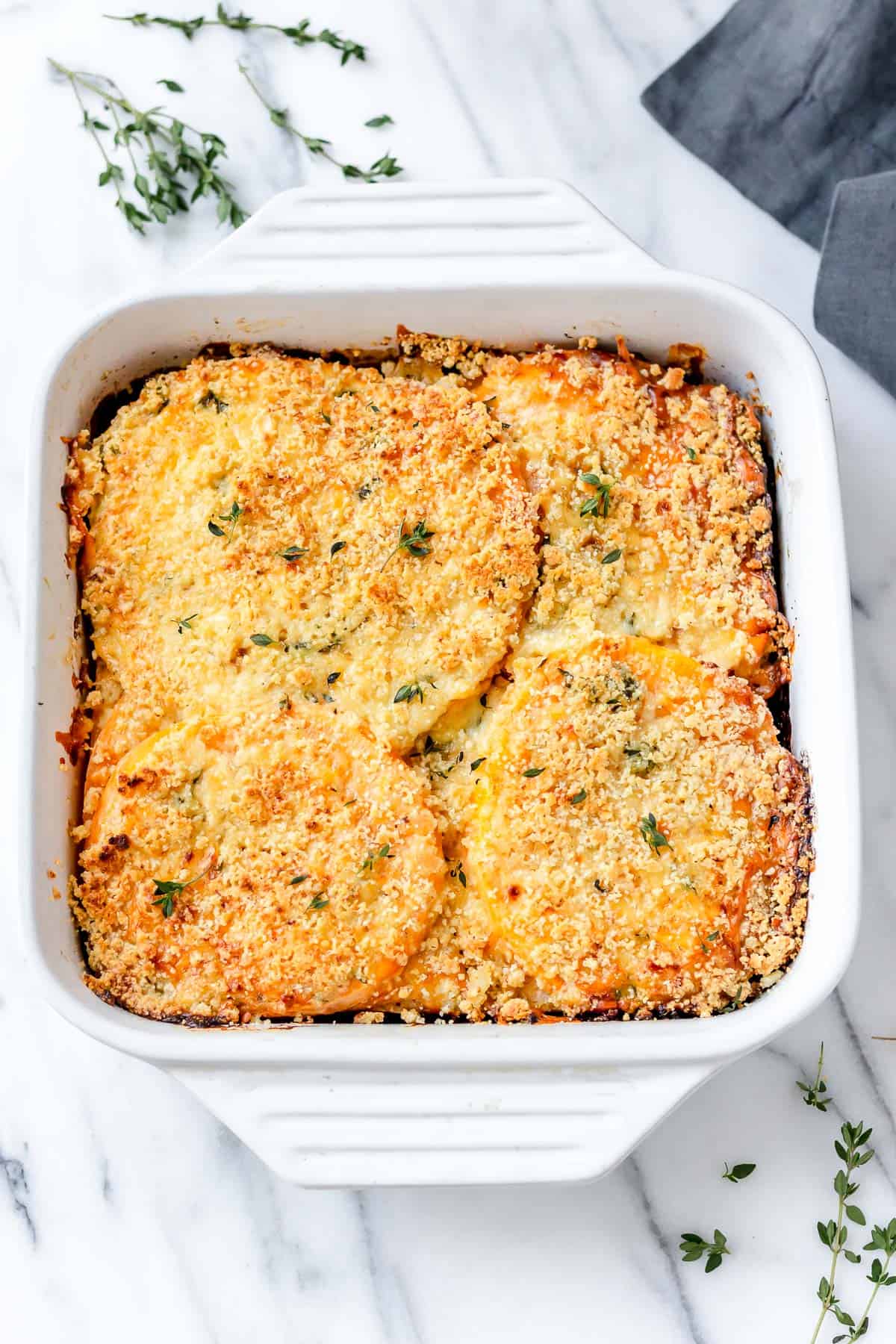 This post contains affiliate links. See our Disclosure Statement for more information.
This recipe for Rutabaga Au Gratin is creamy, cheesy, buttery, nutty, and even crispy. By topping this dish with almond flour "breadcrumbs", the gratin remains naturally gluten free, but also wonderfully indulgent with its contrasting crispy exterior and creamy interior; similar to this recipe for Keto Broccoli Casserole.
Rutabagas are often overlooked and under-appreciated, but this flavorsome Rutabaga Au Gratin highlights this vegetable's creamy texture and comforting qualities.
All About Rutabagas
You might be wondering exactly what is a rutabaga?
Rutabagas are a cross between cabbage and turnips and come from the same family as broccoli, Brussels sprouts, and kale.
While Americans call them rutabagas, they are called swedes in England, and turnips in Ireland. This gets a bit confusing because Americans also have a vegetable they call turnips that have similar qualities to rutabagas, but are actually different.
We eat the root portion of this vegetable, similar to potatoes, carrots, and turnips.
While it's not all that pretty on the outside, the inside is a much more attractive shade of yellowish orange.
The flavor of a rutabaga is less bitter than that of the turnips and cabbage. When cooked, the flavor has been described as similar to strongly flavored gold potatoes.
The nutrition facts for a half cup serving are 25 calories, 4 carbohydrates, 2 grams of fiber, 4 grams of sugar, and 1 gram of protein. It's also a good source of vitamin C.
You want to purchase rutabagas that have a slight purple coloring to them. Avoid rutabagas with any green shoots coming out of the top as these are likely over-ripe.
So now the question becomes, how to cook rutabaga?
This post is going to walk you through cooking Rutabaga Au Gratin, but there are so many other ways to enjoy this healthy vegetable. For other cooking techniques please visit these recipes:
Why This Recipe Works
Rutabaga Au Gratin highlights the naturally creamy texture of rutabagas. This dish is also incredibly flavorful, cheesy, and rich.
This is a simple side dish which may accompany a large variety of main dishes. It is great for serving at holiday dinners, like thanksgiving and Christmas, because it is decadent, yet vegetable focused.
Rutabaga Au Gratin is low carb, with only 12 net carbs per serving. This dish fits very well into keto diets and gluten free diets, as well.
How To Make Rutabaga Au Gratin
Ingredients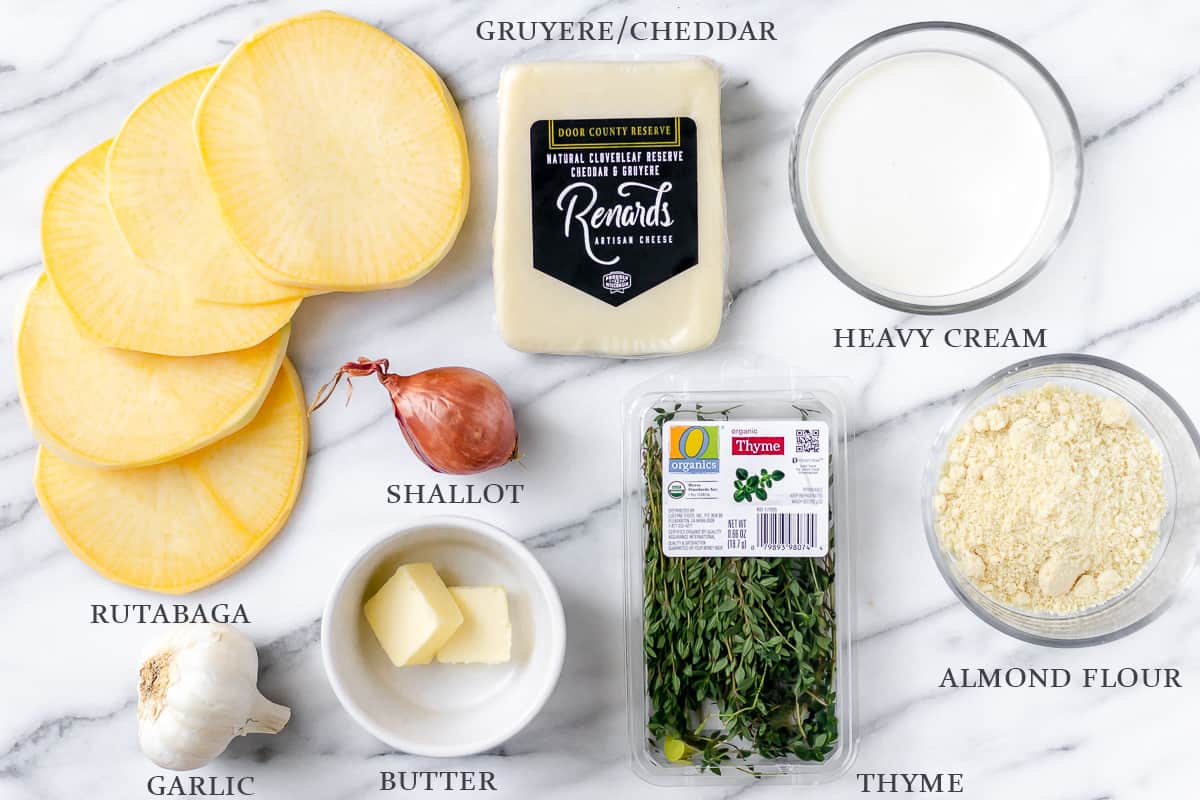 Rutabaga: you'll need two medium to large size rutabagas, or about 2 1/2 pounds once trimmed and peeled.
Shallot
Garlic
Heavy Cream
Thyme: fresh is best in this recipe.
Gruyere Cheese: you could also use cheddar or a combination of the two.
Blanched Almond Flour: use this to make almond flour crumbs, or you can use regular breadcrumbs or omit altogether.
Salt and Pepper
The entire recipe and instructions can also be found in the recipe card at the bottom of this post. You can also print the recipe from the card, if needed.
Prep!
Preheat your oven to 400°F.
Cut both ends off of the rutabagas and peel the skin off with a vegetable peeler. Cut the rutabaga in 1/2-inch thick slices with a sharp knife.
Finely chop the shallot, mince the garlic, grate the cheese, and remove the leaves from the stems of thyme.
Create!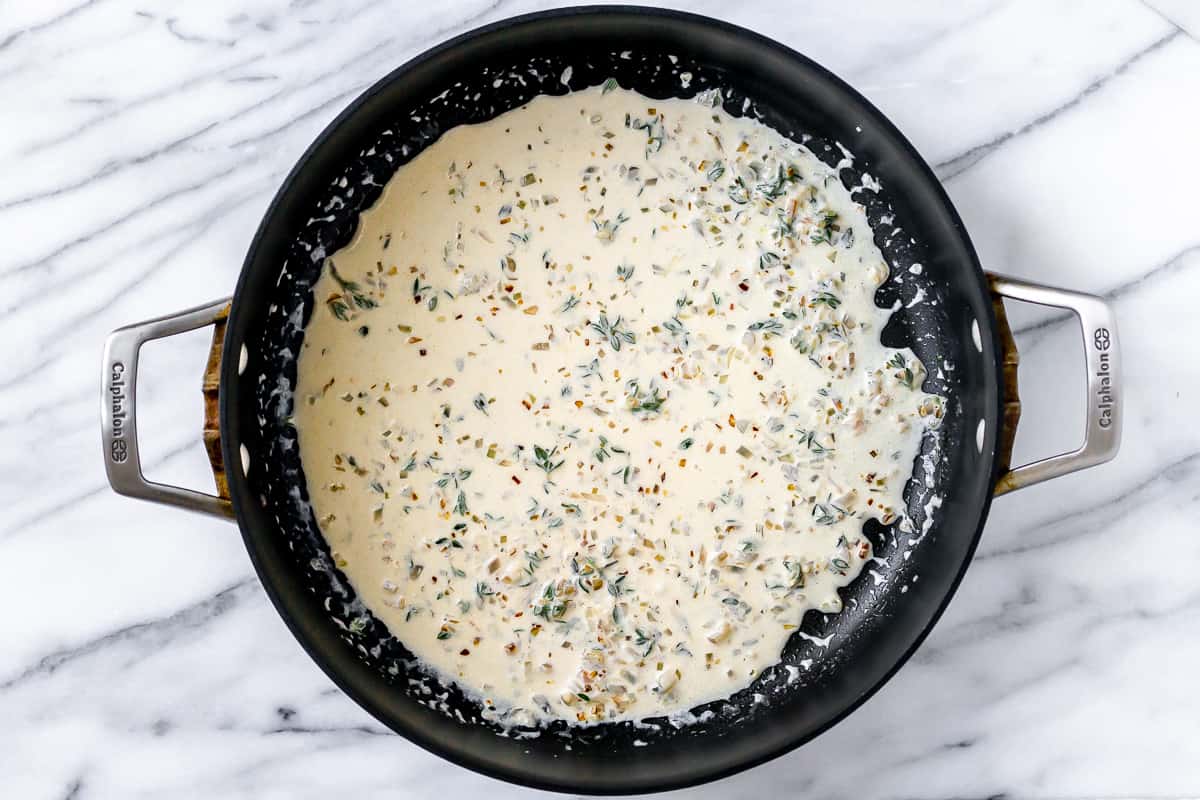 Melt 1 tablespoon of the butter over medium heat in a medium size skillet and add the shallot and garlic. Cook for 2-3 minutes, or until the shallot is softened.
Stir in the heavy whipping cream, thyme, salt and pepper and cook for 1-2 minutes until hot and bubbly.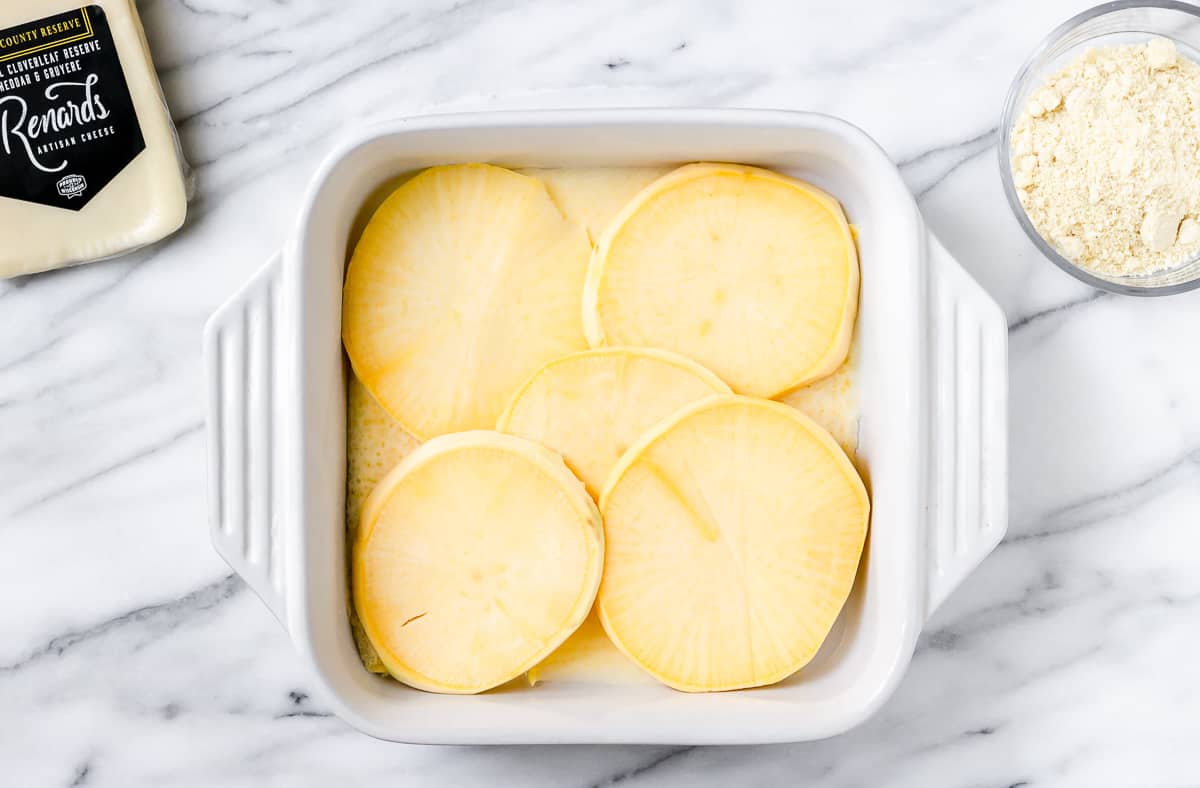 Place a layer of rutabaga slices into the bottom of a medium size casserole dish.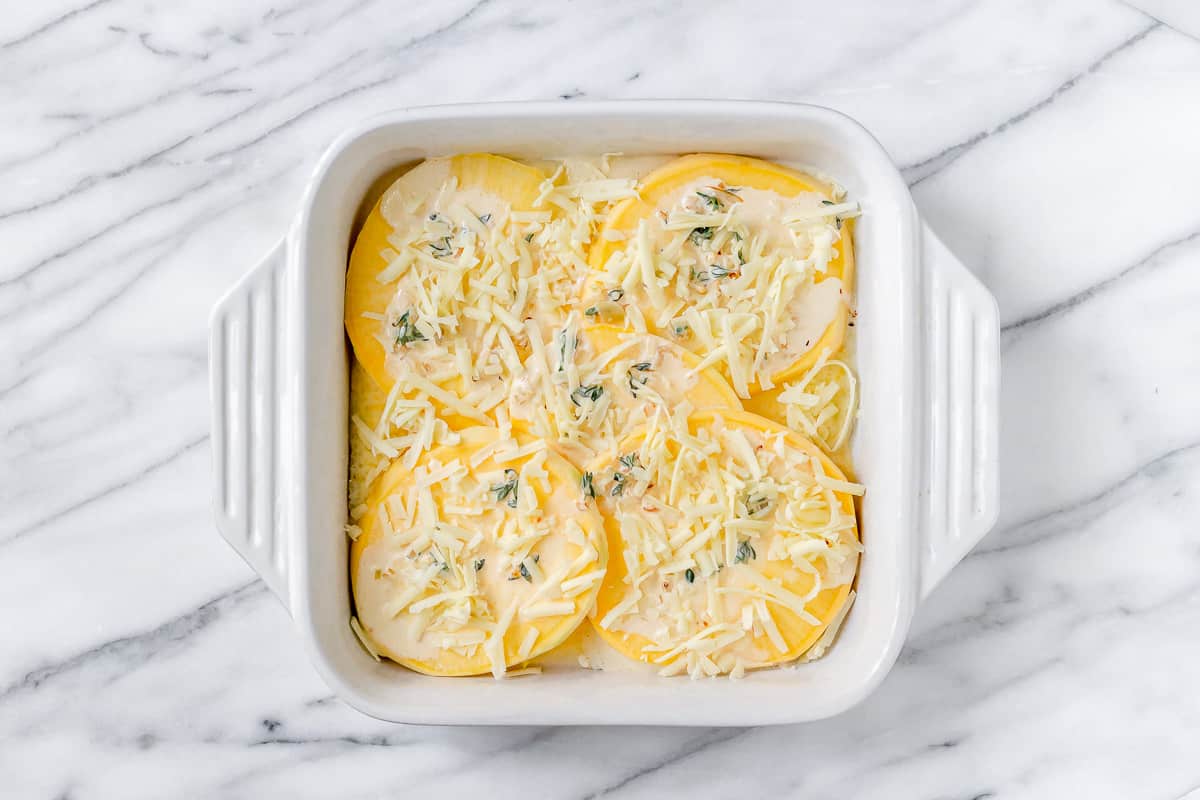 Pour half the hot cream mixture over the first layer of rutabaga. Top with 1/2 cup of the cheese.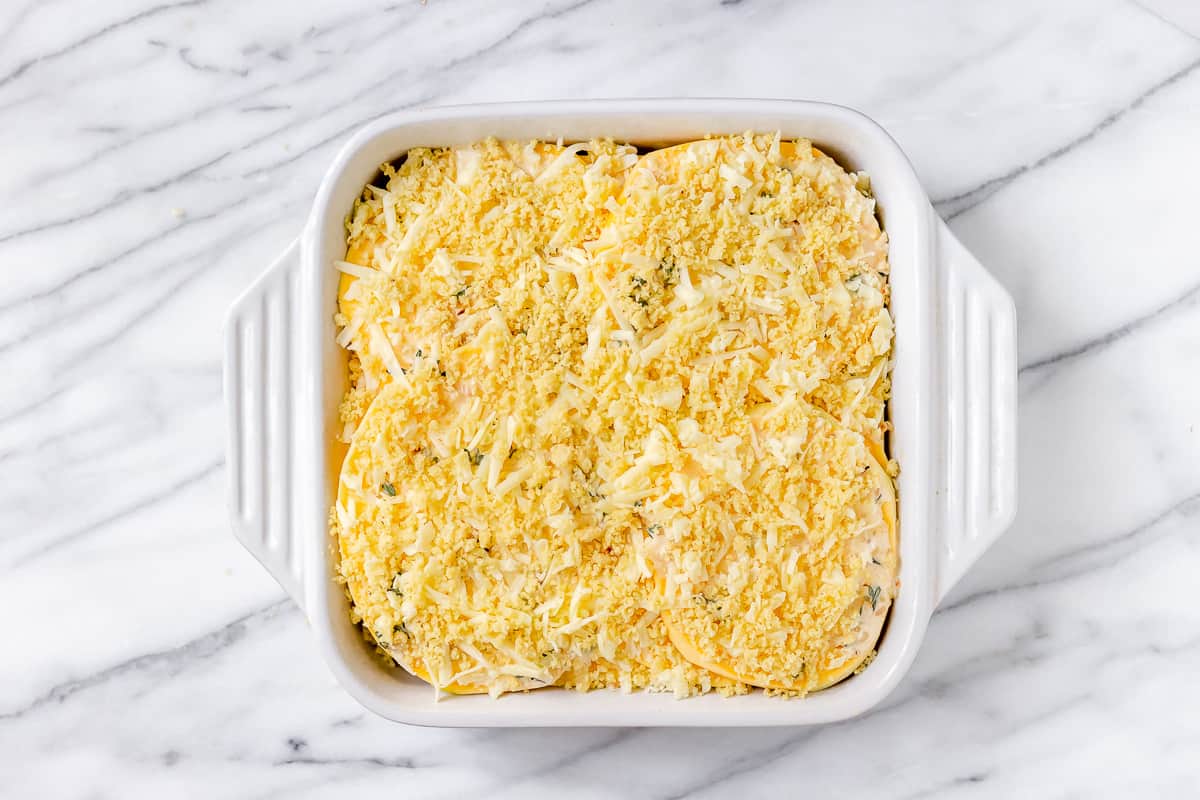 Top with the remaining slices of rutabaga.
Pour on the remaining cream and top with the remaining cheese.
Melt the remaining 1 tablespoon of butter and stir into the almond flour with a fork until it resembles crumbs. Spread the almond flour crumbs over the rutabaga.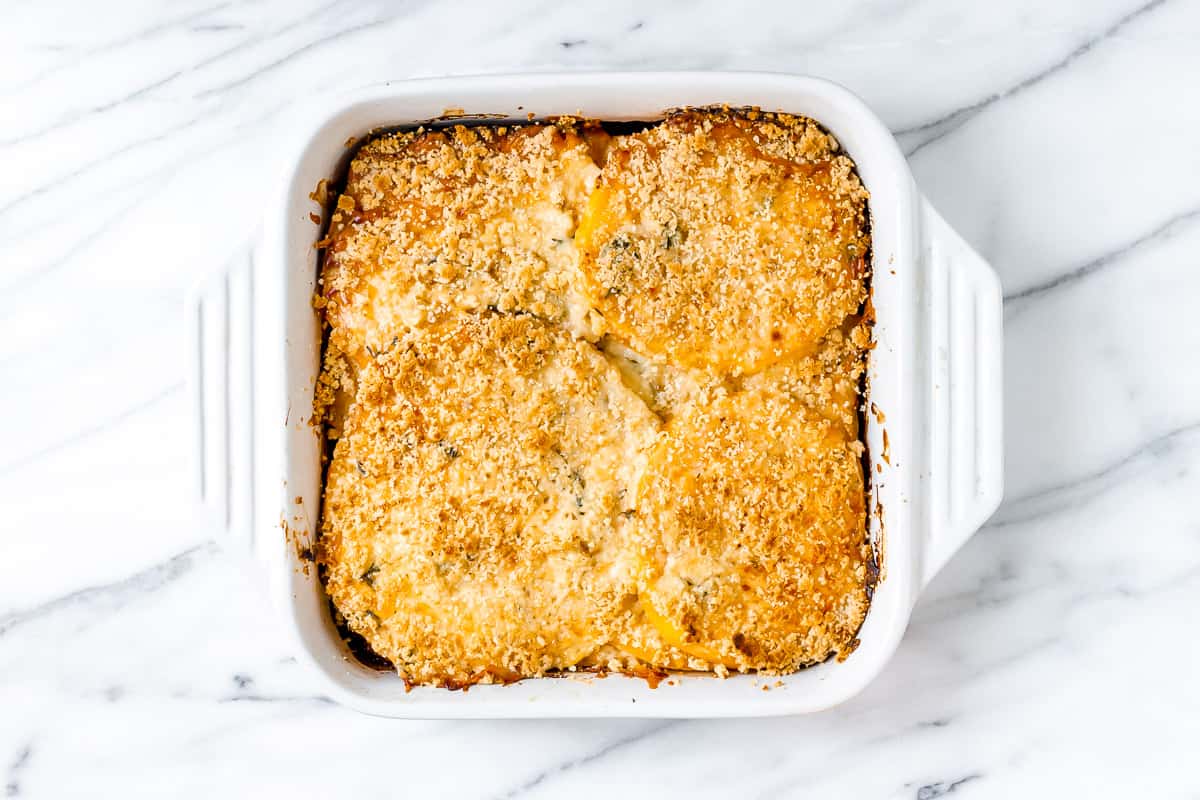 Cover and bake for 1 hour, or until the rutabaga is fork-tender and the crumb topping is lightly browned. Remove the cover and place under the broiler for 1-2 minutes to brown the top even more, if desired.
Present!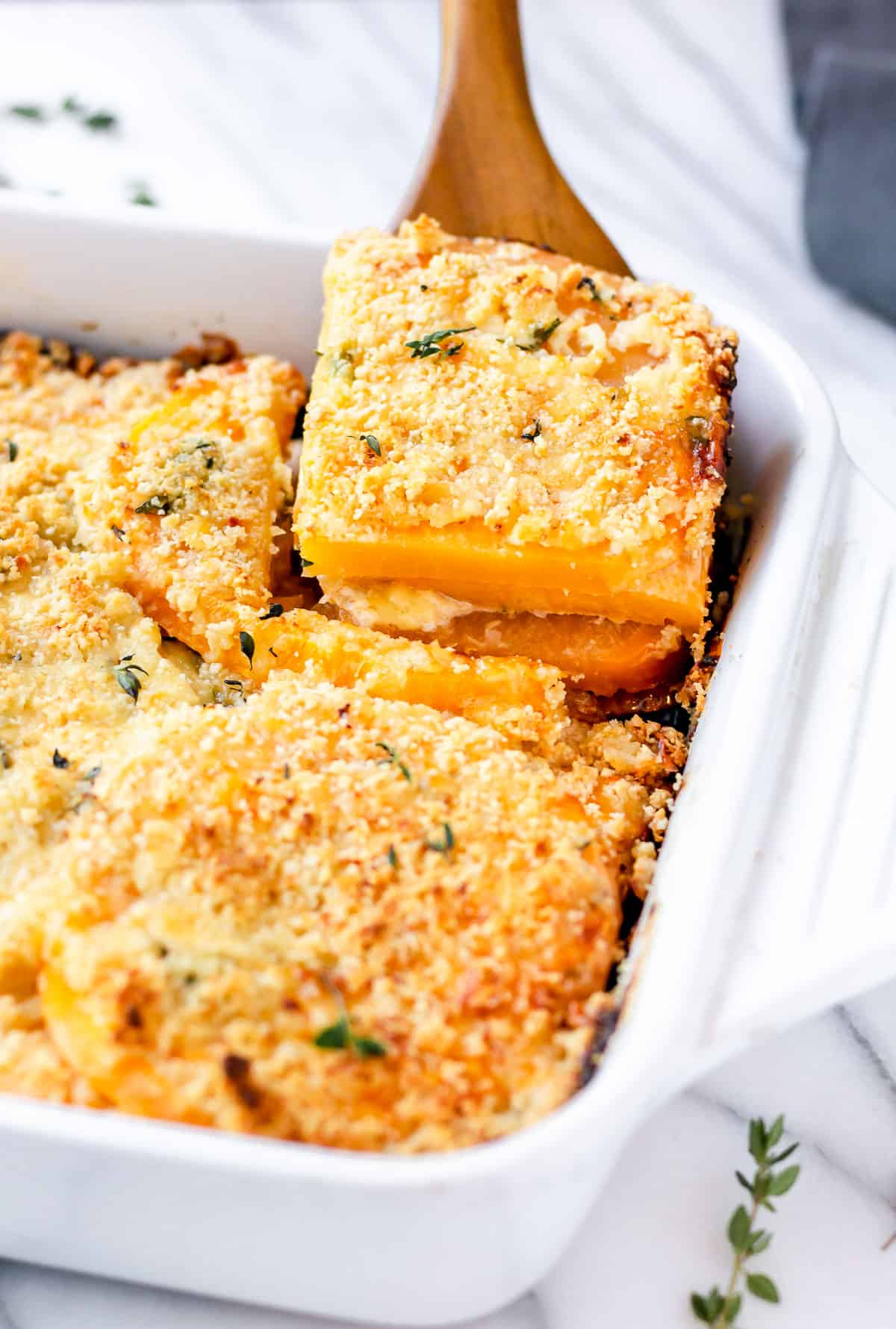 Garnish with additional fresh thyme, if desired.
Tips and Techniques
Buy rutabagas when ripe. They will usually have a slight purple coloring to them. Avoid rutabagas with any green shoots coming out of the top as these are likely over-ripe.
You can use regular breadcrumbs instead of almond flour and butter, if preferred. You can also omit them all together.
Store leftovers tightly covered or in an airtight container in the refrigerator. Consume within 3-4 days.
FAQ's
How Many Carbs Are In Rutabaga?
There are approximately 33 grams of carbohydrates in one medium rutabaga. 9 grams are fiber, leaving just 24 net carbs per one whole rutabaga.
What Does Rutabaga Taste Like?
Rutabagas have a taste similar to that of carrots and cabbage. When cooked, rutabaga takes on a taste and texture similar to strongly flavored potatoes.
What Is Gratin?
Gratin is a dish that is topped with bread crumbs and/or cheese and baked until lightly browned. This recipe uses a combination of almond flour crumbs and cheese as the topping to keep it low carb and keto friendly, but regular breadcrumbs can be used.
More Low Carb, Gluten Free Gratin Recipes
Love this Rutabaga Au Gratin recipe? Follow me on Pinterest, Instagram, and Facebook for more!
If you try this recipe, I would really appreciate it if you would please leave a comment and star rating. Thanks!