This Roasted Rutabaga recipe is simple and delicious!  Who knew such an unattractive vegetable would taste so good!
 This post contains affiliate link – see our Disclosure Statement for more information.
I've been on a kick lately wanting to try new foods – especially vegetables.   A few weeks ago (before I started this blog) it was parsnips and everyone liked them.  Keeping the trend going, a few days ago I bought a rutabaga for the first time.  Not sure what to do with it, I figured you can't go wrong adding some olive oil, salt and pepper and tossing it in the oven.  The only name I could come up with for this recipe is Simple Roasted Rutabaga, because that's exactly what it is.  Plus, next to raw, what better way to know the actual taste of something?
I was watching Chopped (I admit, I am addicted) and I thought that they said that rutabagas are an American thing. Obviously, I felt the need to try it because I'm American and have never eaten it.  After reading up on them, I think I must had heard wrong.  They are more commonly eaten overseas.
Rutabagas are a cross between cabbage and turnips and come from the same family as broccoli, Brussels sprouts, and kale.   Americans call them rutabagas, but they are called swedes in some places like England, and turnips in other places like Ireland.  We eat the root, and it's not pretty on the outside.  Thankfully, the inside was a pretty shade of yellowish orange!
My fiancé and I really liked it, my son did not (no surprise there).   I can't really explain the taste but I've seen it compared to potatoes and turnips.  It's definitely different!  I do wonder if the ugly exterior deters people from trying it, but if you like foods in the same family as the rutabaga, then you'll probably like this Simple Roasted Rutabaga recipe.  I encourage you to give it a try!  You might be surprised!
Enjoy!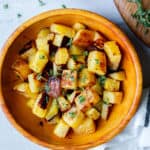 Print
Roasted Rutabaga
Simple Roasted Rutabaga is an easy recipe that really lets the flavor of this root vegetable shine. It pairs well with just about any fish or meat.
Instructions
Peel the rutabaga and cut into 1/2 inch think slices, discarding the ends. Then cut into 1/2 inch cubes.

Add to a medium size bowl and toss with the olive oil.

Spread rutabaga onto a baking sheet and season with the salt and pepper.

Bake for 30-40 minutes, tossing halfway through, or until fork tender.
Notes
Tips and Techniques for the Best Roasted Rutabaga
Buy rutabagas when ripe. They will usually have a slight purple coloring to them. Avoid rutabagas with any green shoots coming out of the top as these are likely over-ripe.
Store leftover cooked rutabaga in an airtight container in the refrigerator. Use within 4-5 days. 
** Nutritional information is an estimate and may vary.
Nutrition
Serving:
1
serving
|
Calories:
66
kcal
|
Carbohydrates:
8
g
|
Protein:
1
g
|
Fat:
3
g
|
Sodium:
593
mg
|
Potassium:
294
mg
|
Fiber:
2
g
|
Sugar:
4
g
|
Vitamin C:
24.1
mg
|
Calcium:
42
mg
|
Iron:
0.4
mg