This 4-ingredient side dish is simple to prepare, plus it's healthy too. Roasted Honeynut Squash makes a great dish for Thanksgiving starring seasonal produce and sweet caramelized flavor. It's a wonderful recipe to try if you enjoy eating butternut squash.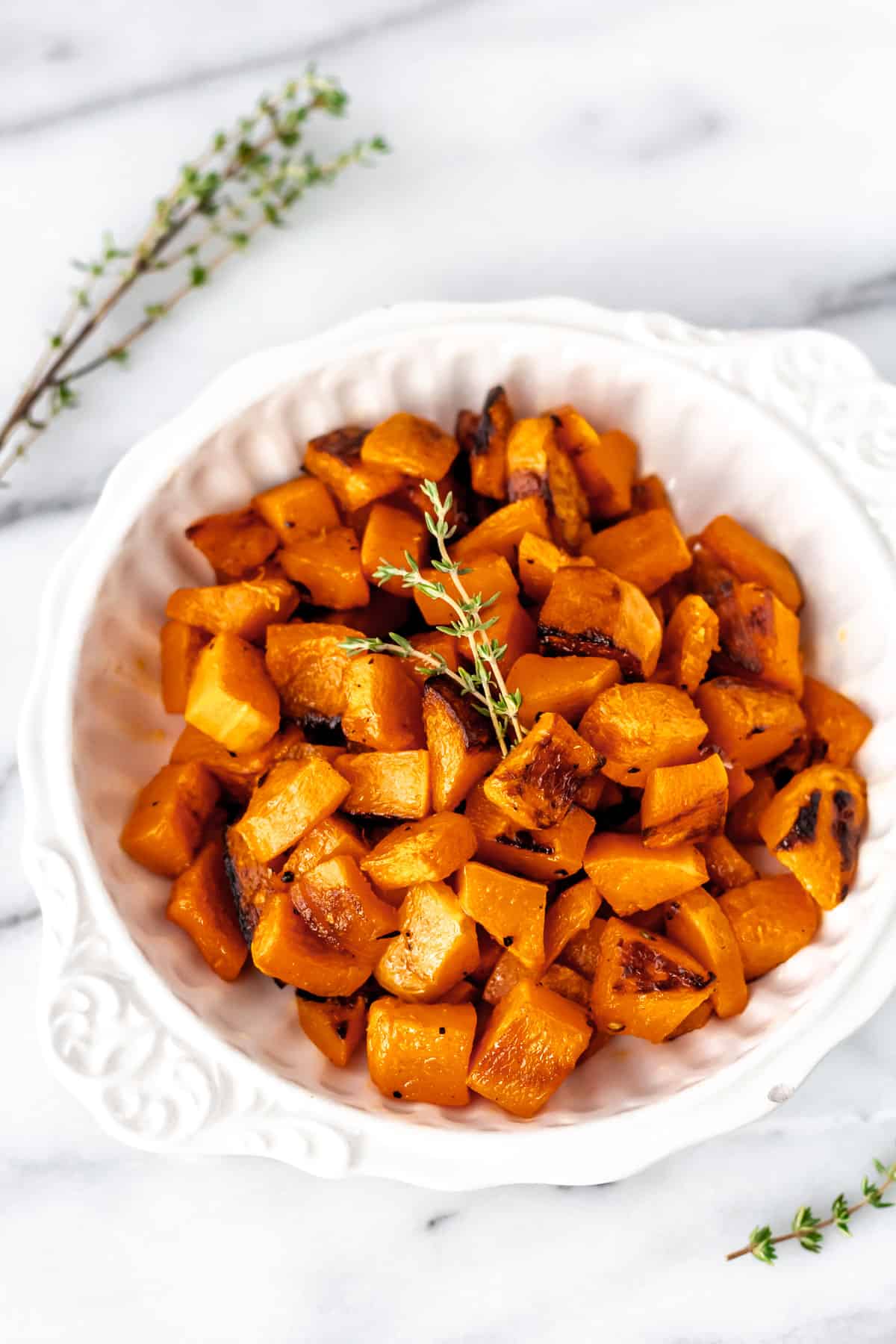 This post contains affiliate links. See our Disclosure Statement for more information.
Honeynut squash can be difficult to find in grocery stores sometimes because it's a special seasonal item. They are only available during the fall from late September to approximately December. I can usually find them at Whole Foods or Sprouts, but I have seen them on rare occasion at my local grocery stores, as well.
You can make all kinds of delicious thanksgiving side dishes using honeynut squash such as Roasted Honeynut Squash with Brown Sugar and Cinnamon.
Honeynuts are like a mini butternut with approximately 2 servings per squash. Since they are so small their flavor and nutrients are highly concentrated compared to a regular butternut squash.
Try swapping butternut squash with honeynut in recipes like Butternut Squash Soup, Butternut Squash Apple Flatbread, Parmesan Lemon Risotto, and Butternut Squash Gratin.
Half of a honeynut squash is the perfect serving size for one person, so there is a lot less chopping involved. It makes a great, easy side dish to serve with simple entrees such as roasted chicken or pork tenderloin. Roasted honeynut squash would taste excellent served alongside Maple Apple Pork Chops, as well.
What Is Honeynut Squash
Honeynut squash is a winter squash, similar to butternut squash. It's actually a fruit, but is often prepared and served as a vegetable would be.
The honeynut squash was originally developed by Richard W. Robinson of Cornell University in the 1980's but it didn't make it to market until another associate professor, Michael Mazourek, helped push it into markets in 2015. You can read all the details of its development in this Wikipedia article.
Honeynuts are no larger than 6 inches in length, making it quite a bit smaller than a butternut. When ripe, they have a dark orange, edible skin and the inside flesh is a bright orange.
The flavor of honeynut squash is described as nutty and sweeter than butternut.
You can prepare honeynut squash in most of the same ways you would any other squash. It can also be used a substitute for butternut squash.
Why This Recipe Works
This dish is very easy. All you need to do is peel and dice the squash, season, and roast until caramelized and tender.
The flavors of this dish create sweet, nutty, and warm notes of flavor. It's the perfect flavor profile for a chilly evening.
This recipe is healthy and vegetarian. It's kid friendly too, thanks to the natural sweetness from the roasted honeynut squash.
How To Make Roasted Honeynut Squash
Ingredients
Honeynut Squash
Olive Oil
Salt
Pepper
The entire recipe and instructions can be found in the recipe card at the bottom of this post. You can also print the recipe from the card, if needed.
Prep!
Preheat your oven to 475°F.
Peel and dice the honeynut squash into 1/2-inch size cubes. Discard the seeds.
Create!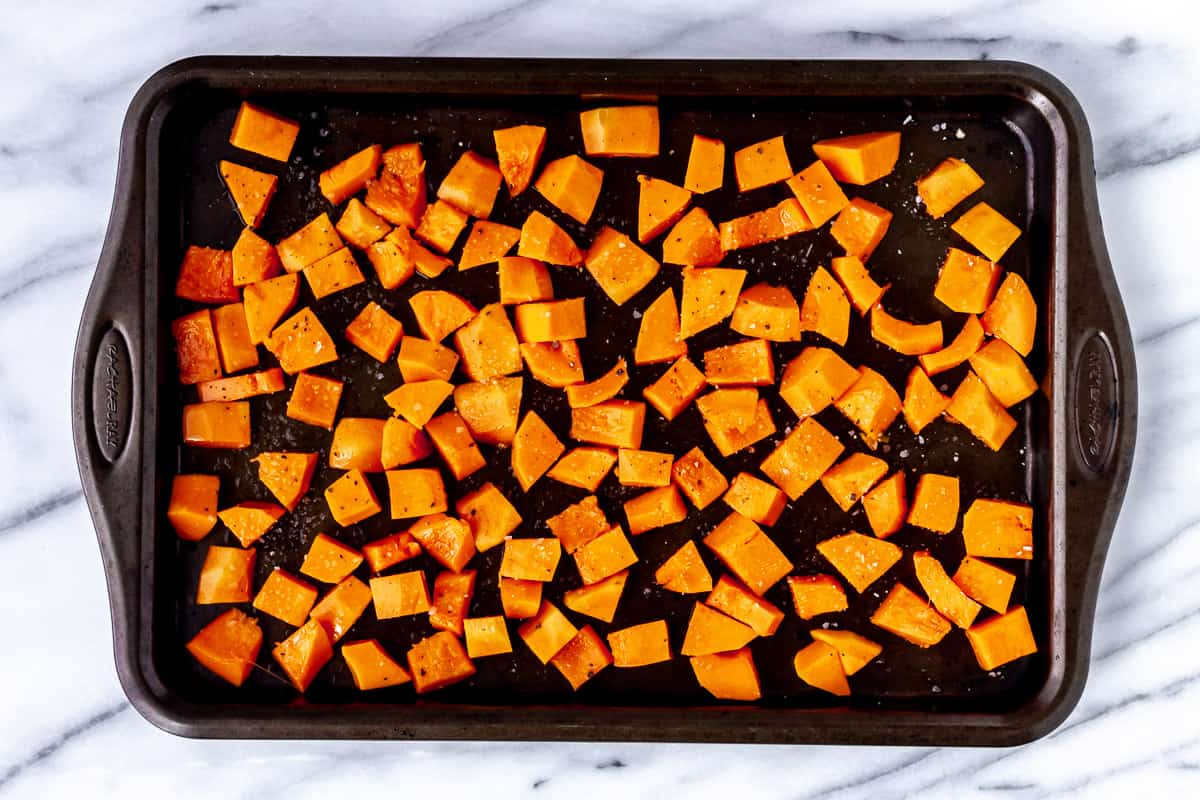 Place the honeynut squash on a sheet pan and drizzle on the oil. Toss to coat, then spread out the squash and season with salt and pepper.
Roast for 15-20 minutes, tossing halfway, or until the squash starts to brown and caramelize and is fork-tender.
Present!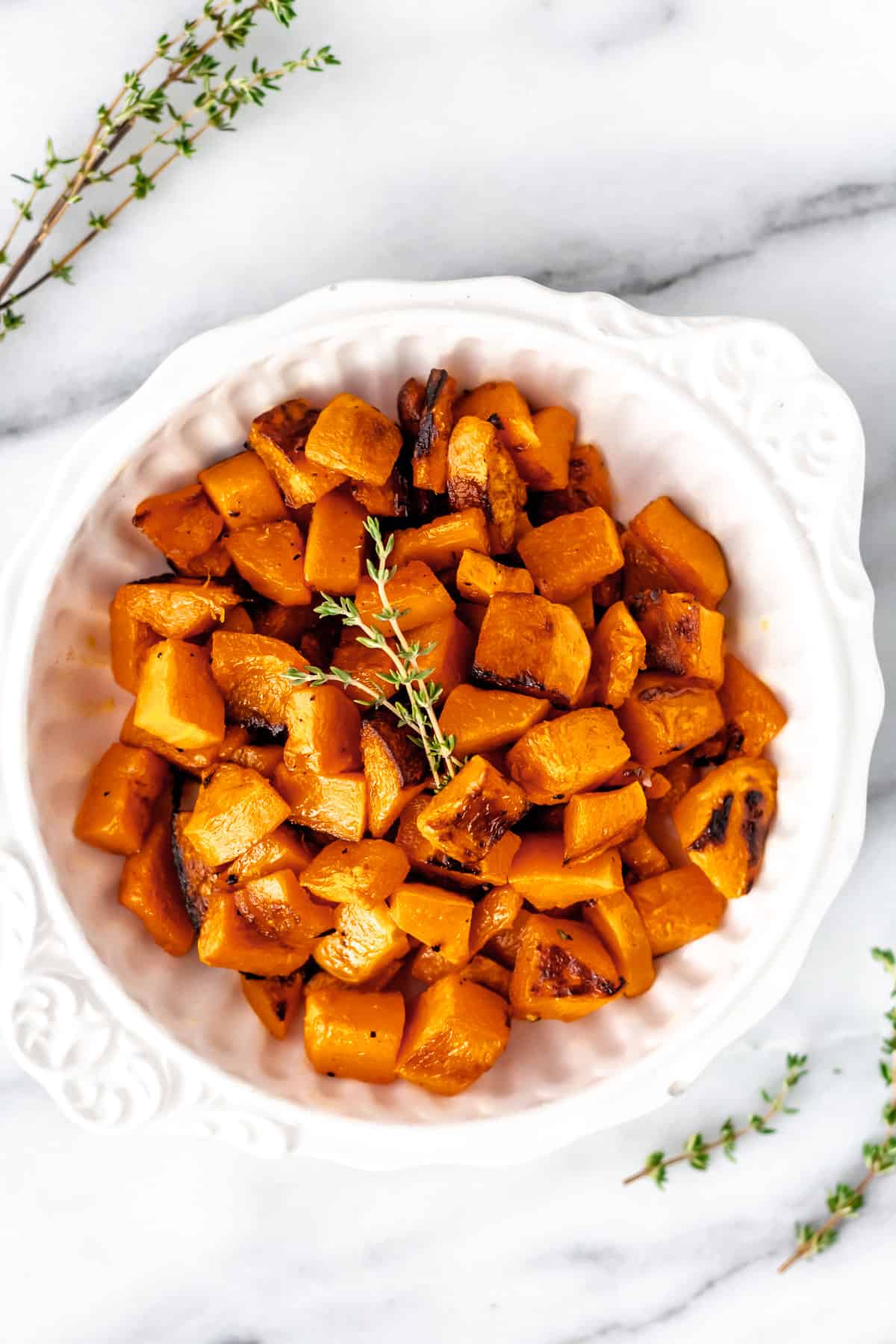 Serve as is, or with fresh herbs.
Tips and Techniques
Fresh herbs taste great with honeynut squash. Try fresh thyme leaves or sage to compliment this recipe.
Store leftover squash in an airtight container in the refrigerator. Consume within 3-5 days.
FAQ's
How Do You Pick A Good Squash At The Store?
Choose a squash that does not have green skin or a green stem. The skin should be smooth and not dried out or wrinkled in appearance.
How Long Do Honeynut Squash Keep?
When stored in a cool, dark place, a honeynut squash can be stored for up to 2-3 months.
Is Honeynut Squash Good For You?
Yes! Honeynut squash have 2 to 3 times the amount of betacarotene than butternut squash. They are low in calories, fat and sugar and provide a good amount of fiber, vitamin A, B vitamins, calcium, iron and more!
More Fall Side Dish Recipes
Love this Roasted Honeynut Squash recipe? Follow me on Pinterest, Instagram, and Facebook for more!
If you try this recipe, I would really appreciate it if you would please leave a comment and star rating. Thanks!