This recipe for baked ravioli is simple, comfort food at its best. A cheesy, creamy Ravioli Alfredo Casserole is an indulgent family dinner, as well as a quick and easy dish to prepare. Deliciously rich, this baked Italian-style meal is a pleasure to eat.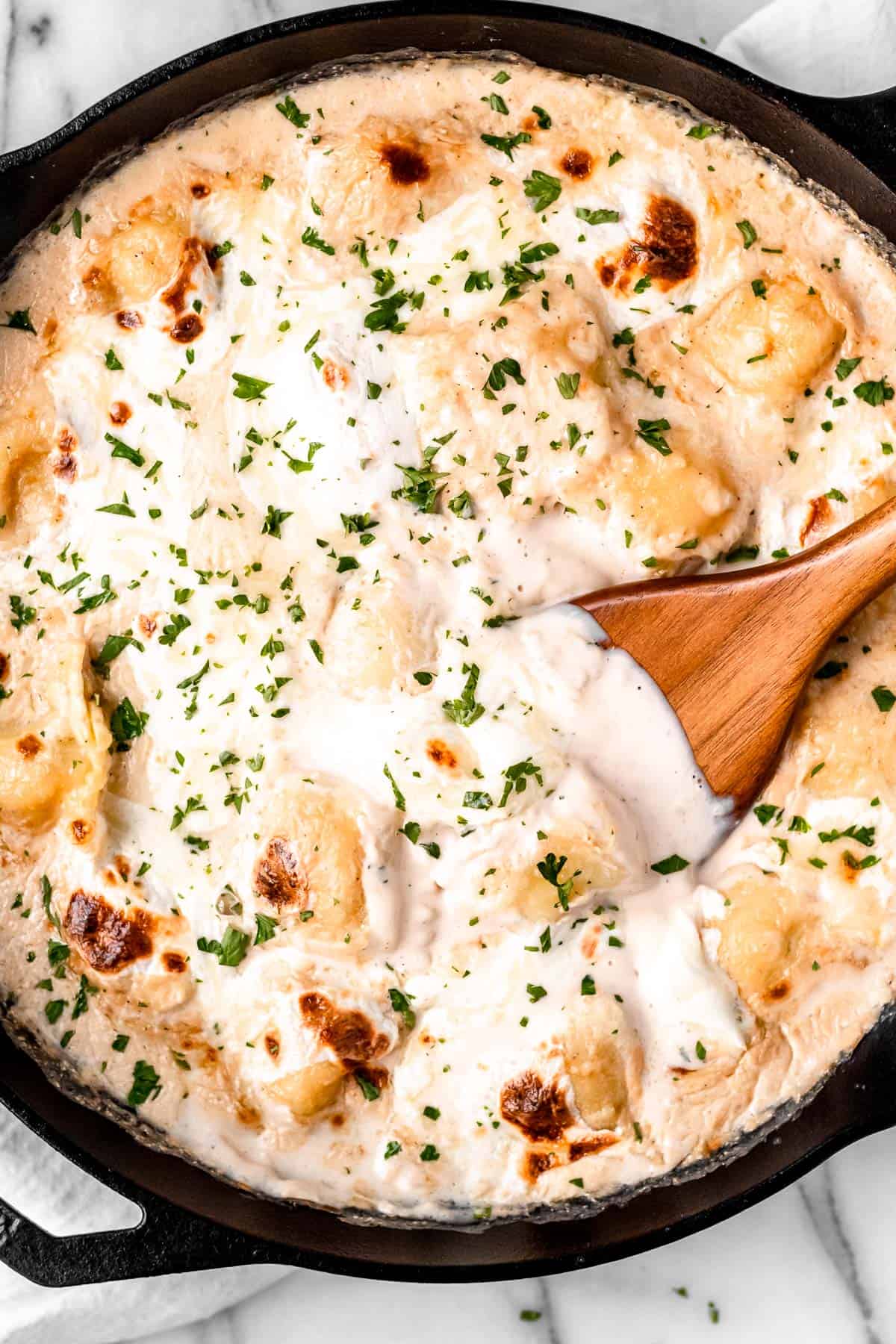 This post contains affiliate links. See our Disclosure Statement for more information.
Ravioli Alfredo Casserole is a simple family dinner and the perfect comfort food. It is indulgent and creamy, just like Baked Ravioli Casserole. Two cheeses, Parmesan and mozzarella, make this casserole extremely cheesy, while roasted garlic gives it a deeply rich flavor.
Not only is this delicious dish satisfying to eat, but it is incredibly quick and easy to prepare. All you need is 5 ingredients to create the best Italian family meal. It's a simple meal, featuring baked ravioli, which warms the heart and soothes the soul.
Similarly flavorful, creamy dishes to try are Three Cheese Stuffed Shells with Spinach or Goat Cheese Pasta. Additionally, other delicious Italian-style meals to make are Roasted Red Pepper Pasta and Tuscan Steak and Pasta.
Ravioli Alfredo Casserole is full of flavor, gratifying to eat and prepare, and will definitely please a group of hungry people during colder months.
Why This Recipe Works
Baked Ravioli Alfredo is quick and easy to make. It also requires minimal prep, so it's a great last-minute meal.
This recipe is just 5 ingredients. All you need is your choice of frozen or fresh ravioli, your favorite Alfredo sauce, roasted garlic, mozzarella, and Parmesan cheese.
It's a versatile dish which can be vegetarian depending on the type of ravioli you choose to use. You can also add meat, use gluten free ravioli, or mix in spinach, peas, and sun-dried tomatoes for added vegetables.
How To Make Ravioli Alfredo
Ingredients
Ravioli: frozen or fresh can be used, but you will need to reduce the bake time when using fresh pasta. You can use gluten free ravioli.
Alfredo Pasta Sauce: your favorite jarred sauce or homemade sauce can be used.
Roasted Garlic: you can follow this tutorial on How To Roast Garlic, or you can use a roasted garlic Alfredo sauce. I personally feel that freshly roasted garlic really takes this dish to a whole new level. It reminds me of a dish you'd get in an Italian restaurant. You can roast the garlic ahead of time, if needed.
Mozzarella Cheese: I prefer to use fresh mozzarella, but you can use pre-shredded cheese, if you like.
Parmesan Cheese
Parsley: optional garnish
The full recipe and instructions can be found in the recipe card at the bottom of this post.
Prep!
If you don't have roasted garlic on hand already, you will want to roast it first and allow it to cool enough to be handled.
Preheat your oven to 350°F.
Create!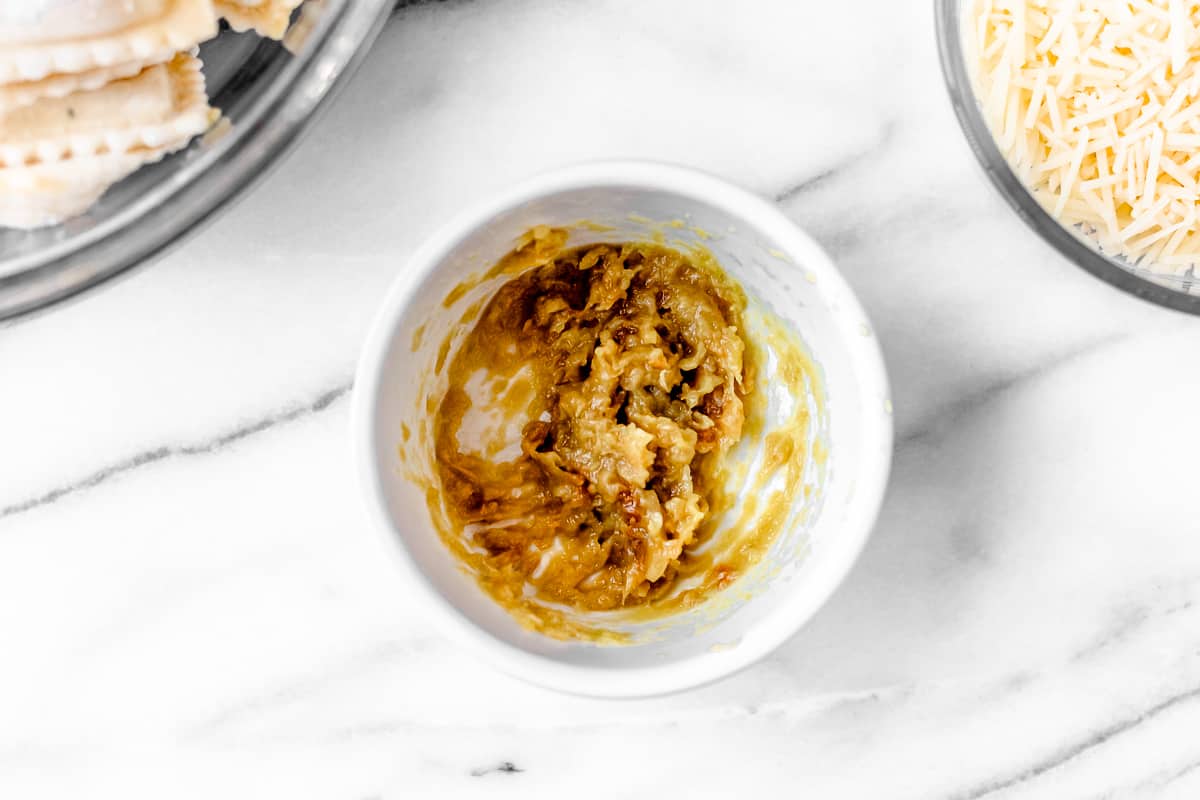 Remove all of the cloves from the head of roasted garlic and place in a small bowl. Smash the cloves into a paste with a fork.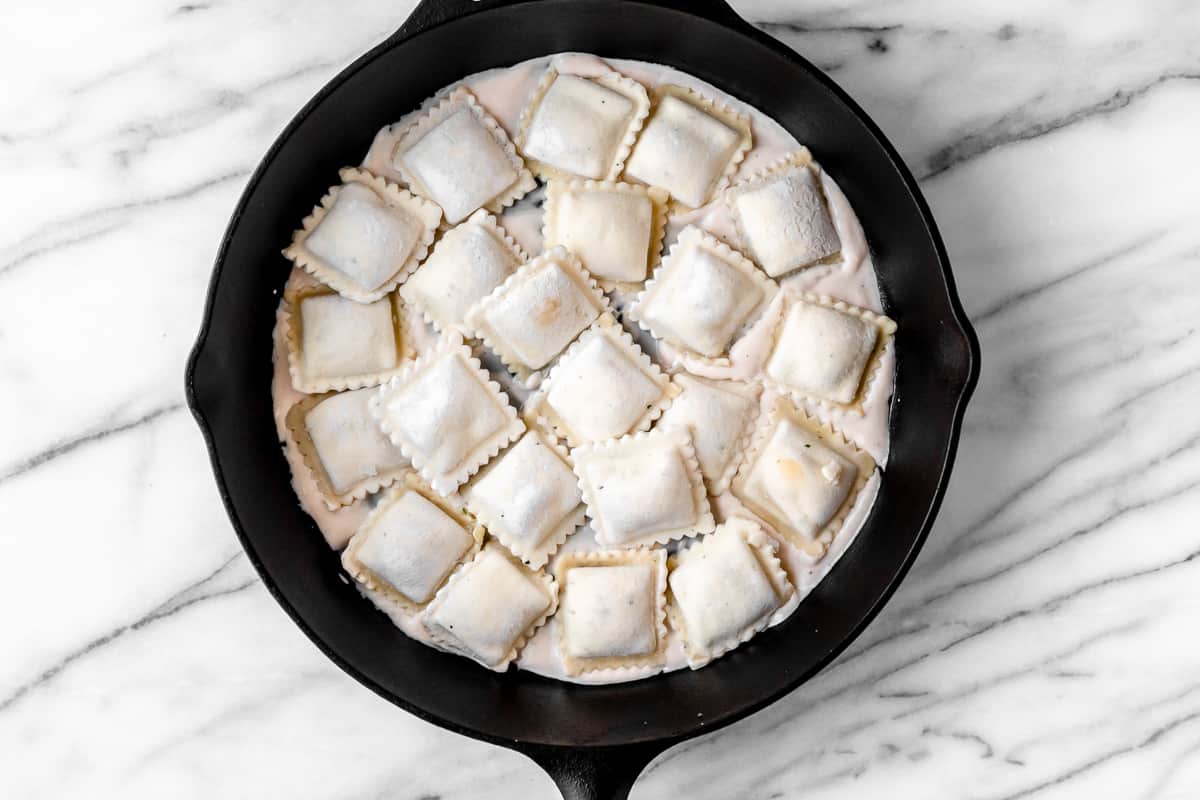 Mix the roasted garlic and Alfredo sauce together well.
Add 1/2 cup of the sauce to the bottom of a 13 x 9-inch casserole dish or 12-inch cast iron skillet.
Place half of the ravioli in a single layer on top of the sauce.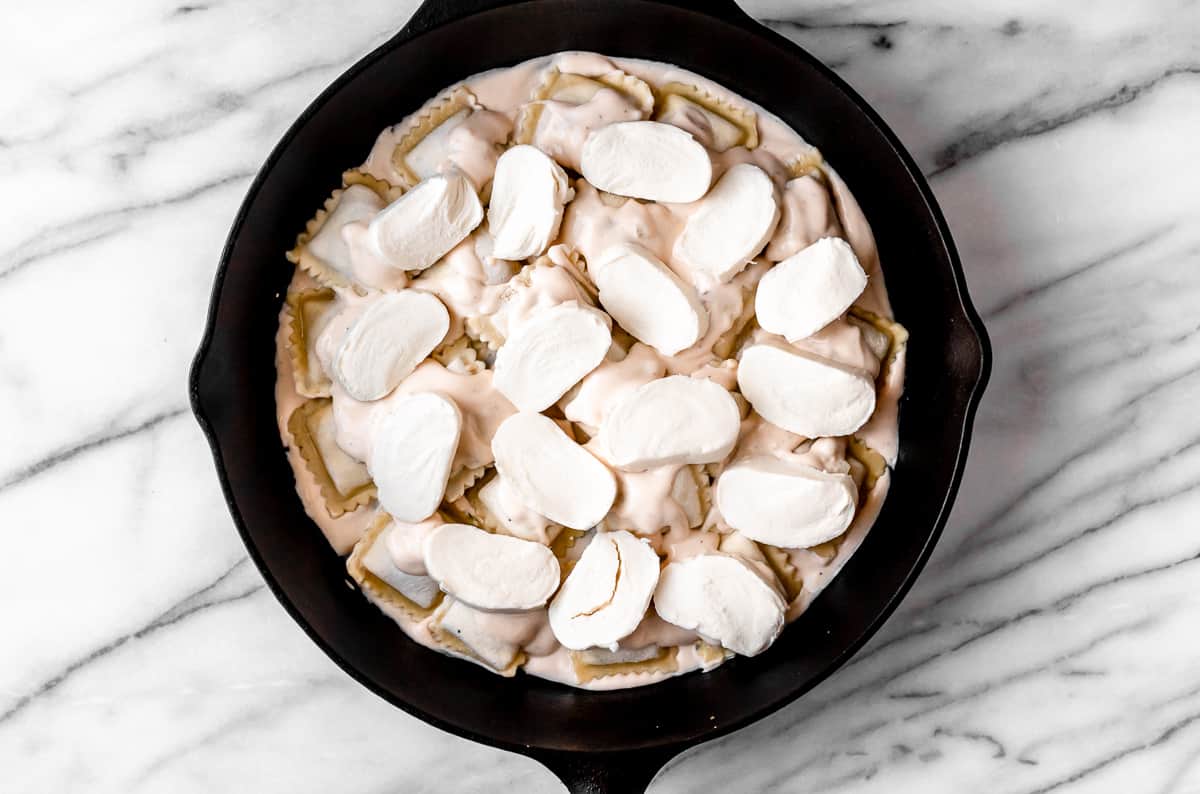 Top the ravioli with half of the remaining sauce and half of the mozzarella cheese.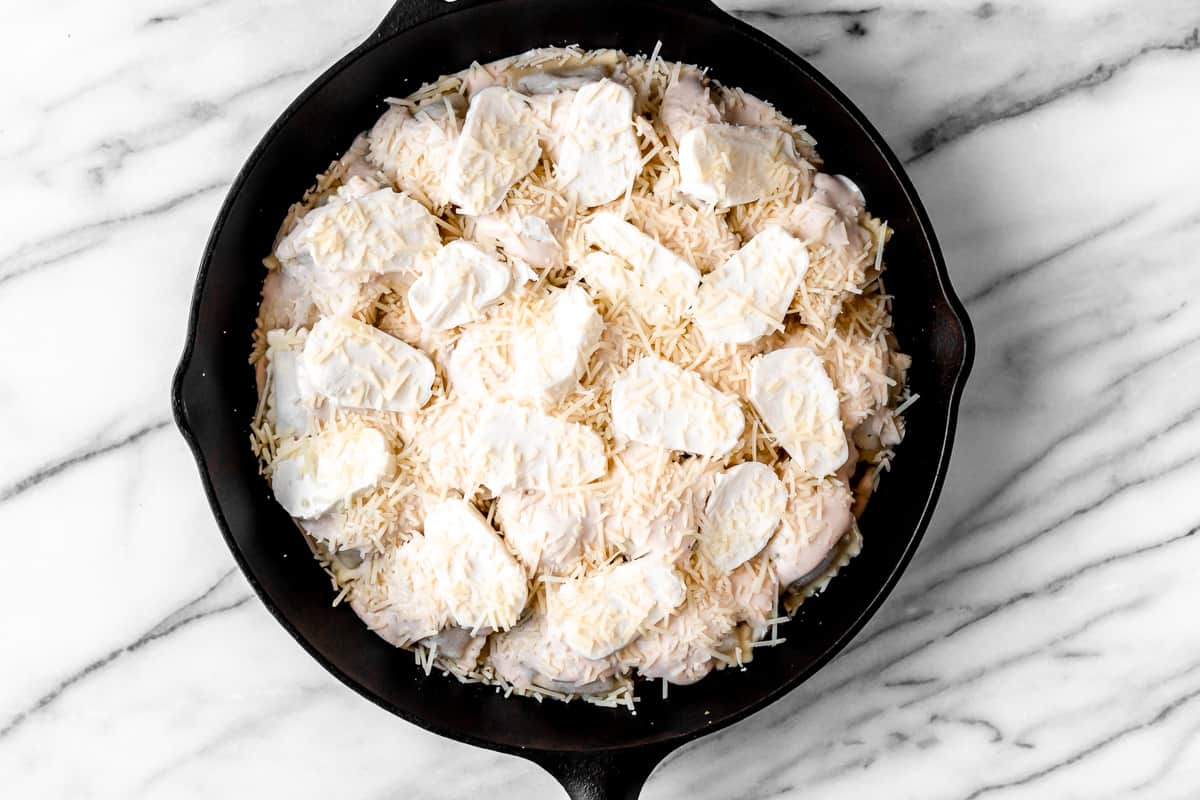 Add the remaining ravioli and top with the remaining sauce and mozzarella cheese. Sprinkle the Parmesan cheese evenly over the top.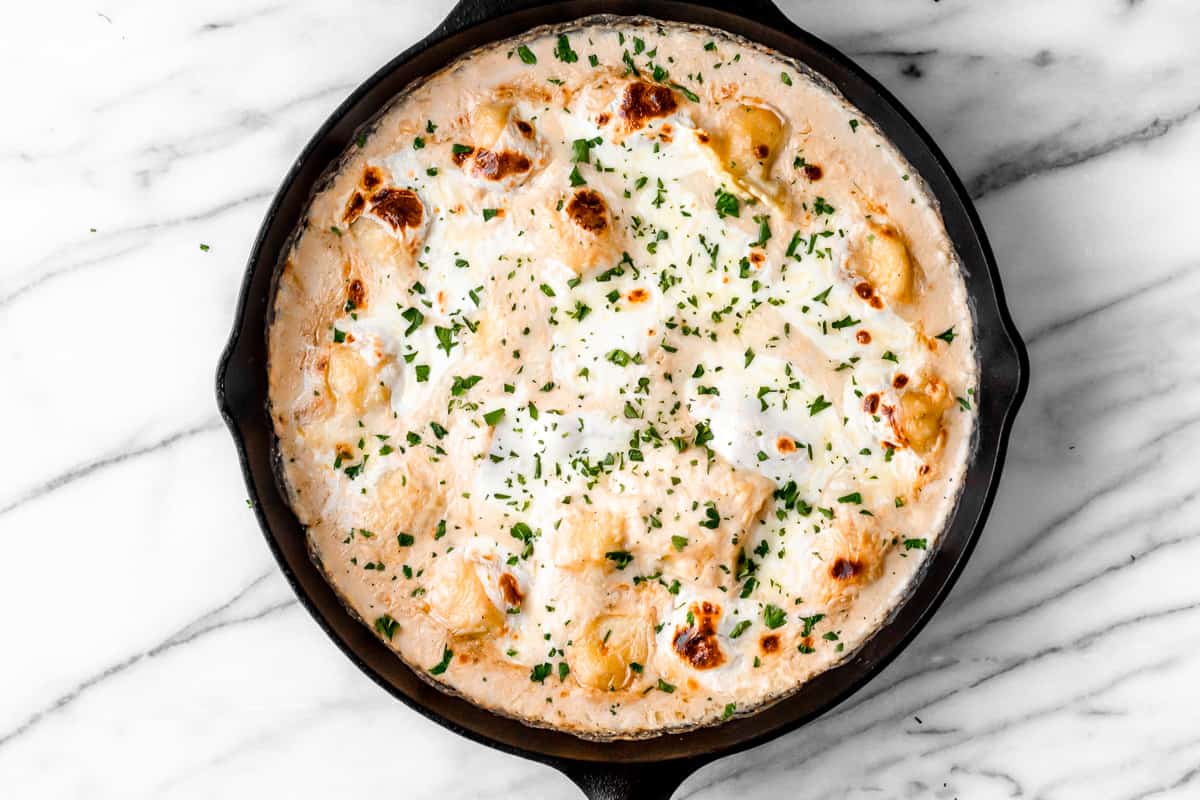 Cover with aluminum foil and bake for 30 minutes.
Remove the foil and bake an additional 15 minutes, or until the cheese is melted and the casserole is heated through.
Chef's Tip: to brown the cheese, place the casserole under the broiler for 1-2 minutes, watching closely.
Present!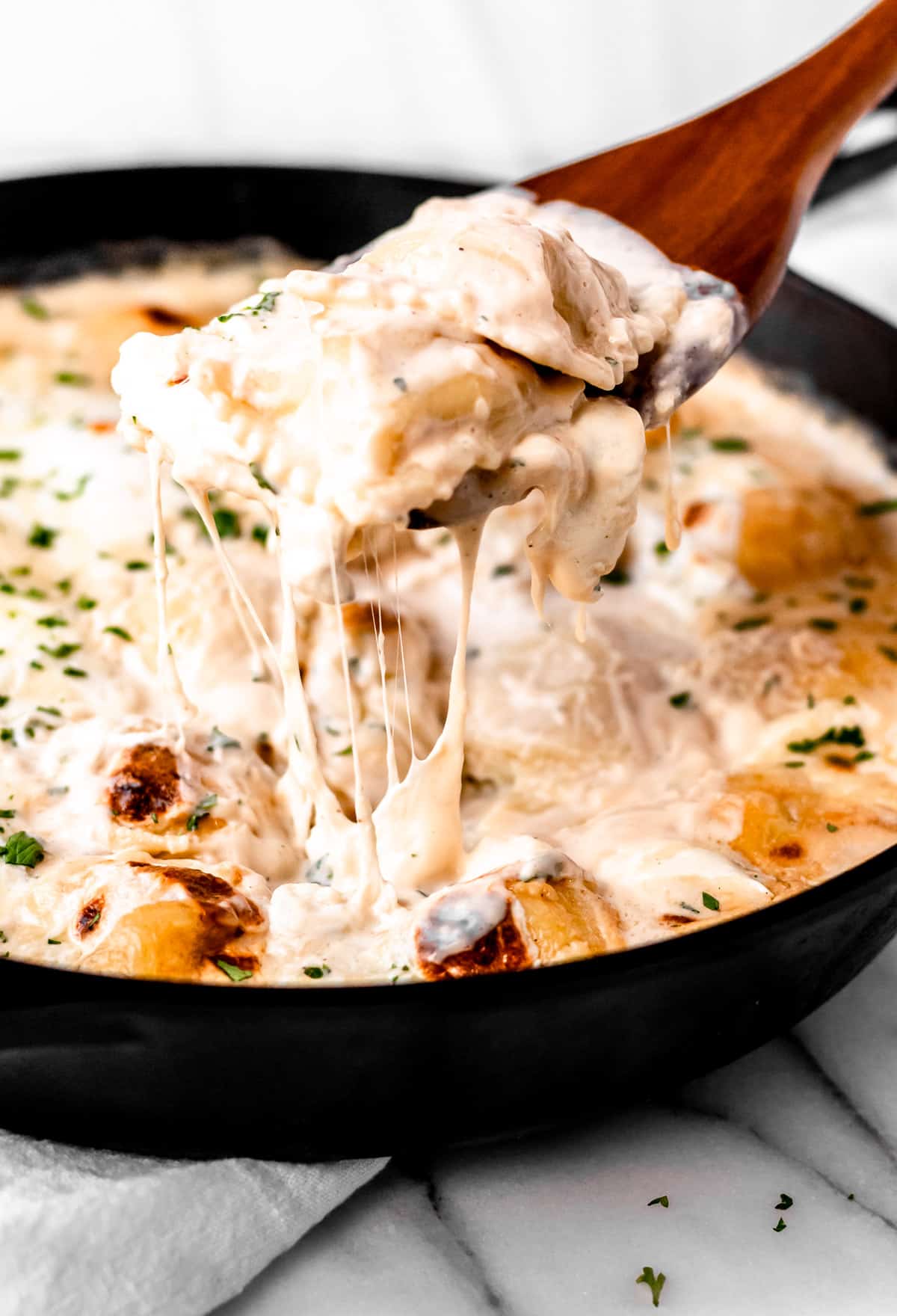 Top with fresh, minced parsley, if desired.
Tips and Techniques
If using fresh ravioli, reduce the baking time by half.
To brown the cheese, after baking place the casserole under the broiler for 1-2 minutes. Watch closely to prevent burning.
Store leftovers tightly covered in the refrigerator. Consume within 3-5 days.
FAQ's
Can You Freeze Ravioli Alfredo?
Yes. You can freeze an unbaked or baked and cooled ravioli casserole. Bake the casserole from frozen. You may need to increase the total bake time by 5-10 minutes.
What Do You Serve With Ravioli?
Some dishes that pair well with ravioli are:
More Italian Recipes
Love this Ravioli Alfredo Casserole recipe? Follow me on Pinterest, Instagram, and Facebook for more!
If you try this recipe, I would really appreciate it if you would please leave a comment and star rating. Thanks!