This 30-minute recipe for Pumpkin Grits is cheesy and easy to prepare. Pumpkin puree and pumpkin spice star in this homemade dish which is perfect to serve at breakfast or as a side dish for dinner. It's a savory, seasonal delight which is pleasing and warming to the senses.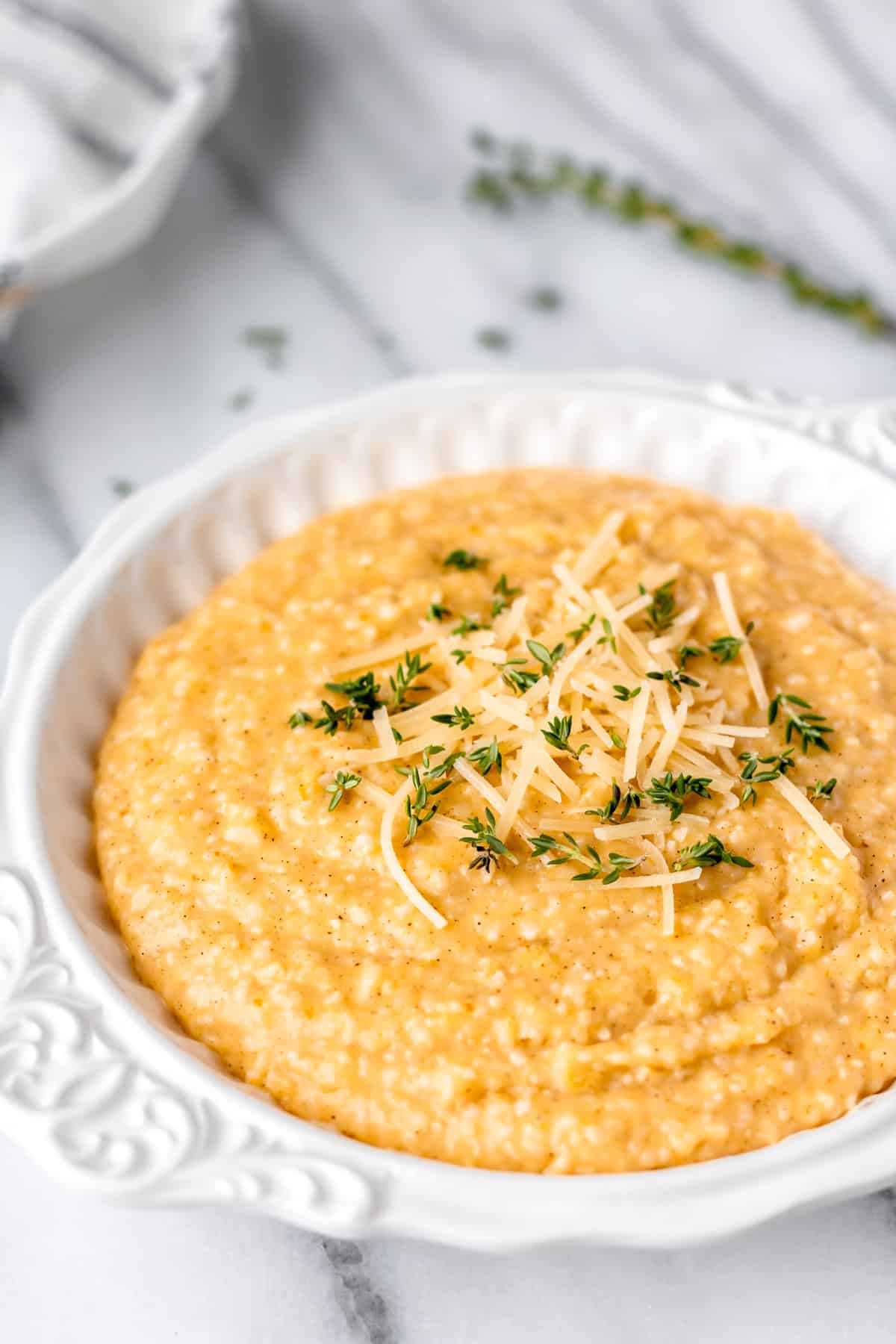 This post contains affiliate links. See our Disclosure Statement for more information.
Pumpkin Grits is one of the best seasonal dishes to serve during fall, but it makes a special holiday treat as well. This dish is creamy, cheesy, flavorful, and comforting; everything we tend to crave during autumn and winter.
You can serve this dish for breakfast or as a savory accompaniment to most entrees.
This easy recipe features Quaker Grits flavored with pumpkin puree, parmesan cheese, and pumpkin spice. You may even choose to use stoneground grits if you prefer.
For a low carb alternative, try making Cauliflower Grits and just stir in the pumpkin puree and spices called for in this recipe.
Homemade grits are one of life's simple pleasures and this recipe is a quick side dish your whole family will enjoy. Pumpkin Grits with cheese are satisfying to prepare, serve, and eat.
Why This Recipe Works
Pumpkin Grits is a quick and easy seasonal side dish. 30 minutes is all you need for prep and cook time; you'll have this dish on the table in no time.
This dish is delicious served as a seasonal breakfast side to accompany entrees such as Pumpkin Pancakes, Apple Stuffed French Toast, and Frittatas. It also makes a great savory side dish for dinner. Pumpkin Grits are filling enough to eat alone at breakfast too.
This luscious dish is worthy of being part of an attractive holiday menu, especially if you choose to add extra flavor by topping it with fresh thyme or sage to garnish.
How To Make Pumpkin Grits
Ingredients
Grits: I use Quaker Old Fashioned Grits. If you choose to use stoneground grits, the cook time will be longer. If you choose to use instant grits, the cook time will be less. You will also need to check the liquid to grits ratio on both of these types of grits because they may vary slightly from the instructions in this recipe.
Water: not shown.
Heavy Cream
Butter
Salt
Parmesan Cheese
The entire recipe and instructions can also be found in the recipe card at the bottom of this post. You can also print the recipe from the card, if needed.
Prep!
Grate the Parmesan cheese, if necessary.
Create!
Bring the water, heavy cream and salt to a boil in a medium pot.
Stir in the grits, cover and reduce the heat to low. Cook 12-15 minutes, stirring often to prevent the grits from sticking to the bottom of the pot.
Once the majority of the water is absorbed and the grits are creamy, add the butter and Parmesan cheese. Stir until melted and well blended.
Stir in the pumpkin puree and pumpkin spice.
Adjust the salt and pumpkin spice, as needed.
Present!
Garnish with fresh thyme or sage, if desired.
Tips and Techniques
If you prefer to use instant or stoneground grits, the liquid to grits ratio may be different and cook time will be shorter for instant grits and longer for stoneground.
Store leftover cooked grits in an airtight container in the refrigerator. Consume within 5-7 days.
FAQ's
What Do Grits Taste Like?
Grits have a mild, bland flavor. They take on the flavor of anything mixed into them very well. The most common additions to grits are butter and cheese.
Are Grits Gluten Free?
Grits are naturally gluten free, however, corn is often cross-contaminated with wheat. To ensure that your grits are 100% gluten free, check the label. If it does not say gluten free on it, there is a possibility of cross-contamination.
More Breakfast Side Dishes
Love this Pumpkin Grits recipe? Follow me on Pinterest, Instagram, and Facebook for more!
If you try this recipe, please leave a comment and star rating. I would really appreciate it!