This Potato Frittata is made with diced potatoes, crispy, savory bacon and cheddar cheese, but can be modified to suit your own tastes. It's a quick and easy recipe that you can enjoy for breakfast, brunch, or dinner.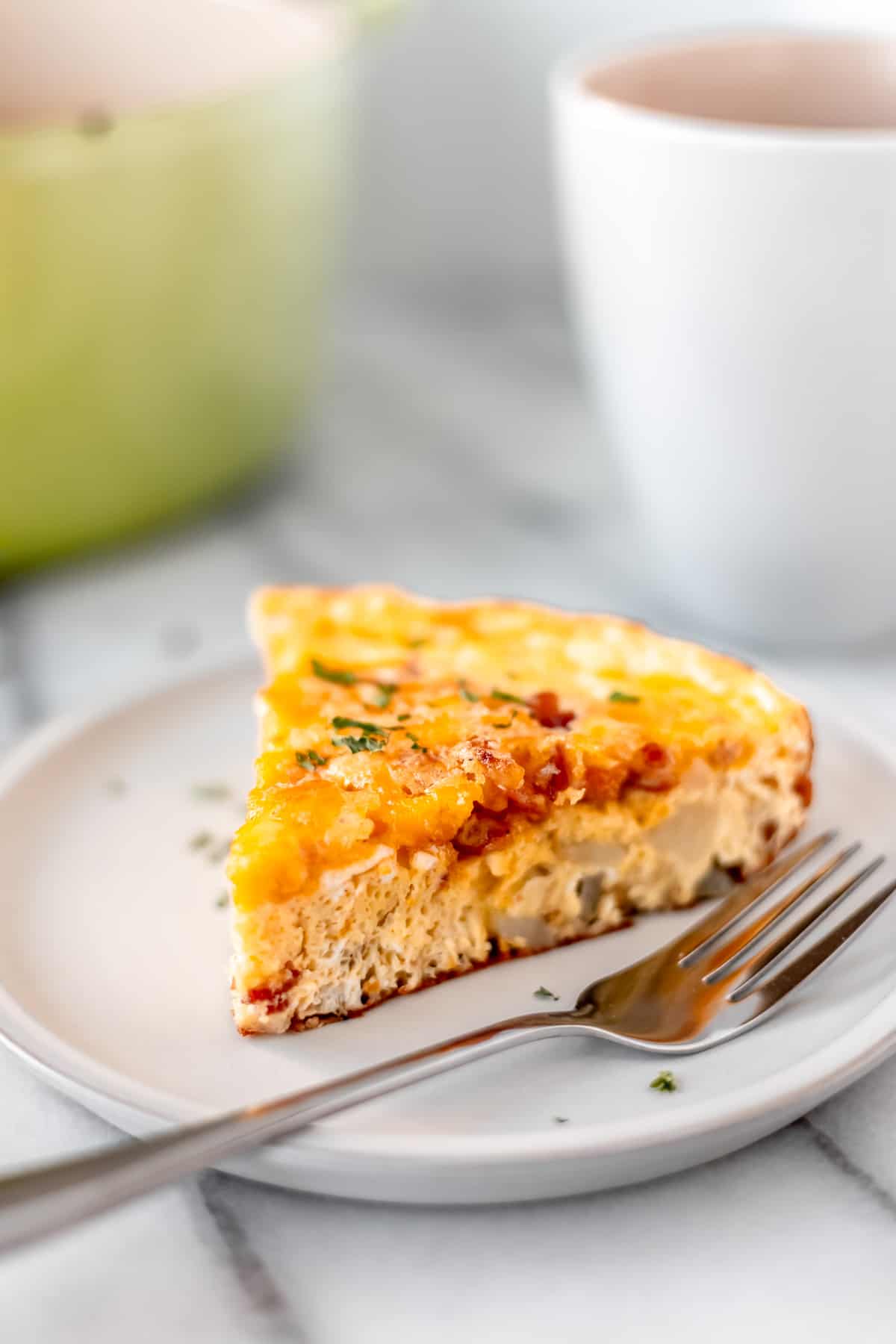 This post contains affiliate links. See our Disclosure Statement for more information.
This hearty breakfast or brunch recipe for a Potato Frittata is simple to make and effortlessly versatile. It's a slightly different take on my popular recipe for a Ham and Cheese Frittata.
Whether you want to bake something that will feed your entire family or you need a dish that you're proud to share at a party, this simple frittata is exactly what you need.
Why This Recipe Works
This cheesy egg and potato casserole is a quick, easy, one pan meal (less dishes to clean!) and a great way to use up leftover bacon (saving you money!).
This savory frittata is made with a combination of diced potatoes, cheddar cheese and bacon. All those savory ingredients work to make it extra flavorful. You can easily modify this recipe with different cheese, meat and/or vegetables.
You'll also enjoy that this frittata is a filling recipe the whole family will love. It's naturally gluten-free, making it the perfect thing to share at parties or brunch, especially when you don't know who has food allergies.
Step-By-Step Instructions
Ingredients
8 eggs
2 tablespoons heavy whipping cream
1/4 teaspoon salt
1/4 teaspoon pepper
1 cup cheddar cheese (shredded)
2 tablespoons butter (only needed if using precooked bacon)
6 slices bacon (diced, can use precooked bacon)
1 potato (diced, about 1 cup)
1 shallot (diced)
fresh parsley (minced, optional garnish)
The entire recipe and instructions can also be found in the recipe card at the bottom of this post. You can also print the recipe from the card, if needed.
Prep!
Dice the shallot, potato and bacon.
Shred the cheddar cheese.
Chef's Tip: for the best melting and texture, it is recommended to shred the cheese from a block rather than use pre-shredded bagged cheese.
Preheat your oven to 350°F.
Create!
Whisk the eggs, heavy whipping cream, salt, and pepper together in a medium bowl until bubbly. Stir in the cheddar cheese. Set aside.
Heat a Dutch oven or deep oven-proof skillet over medium heat. Add the bacon and cook until crisp, about 5 to 7 minutes. Remove with a slotted spoon to a paper towel-lined plate. Set aside.
Drain all but 1 tablespoon of the bacon grease from the pan. Add the potatoes and cook until fork-tender and starting to crisp, about 5 to 7 minutes.
Add the shallots and cook an additional minute or two.
Spread the potatoes and shallots out into the bottom of the pan. Pour the egg mixture over the potatoes.
Sprinkle the diced bacon over the top of the frittata.
Cook an additional 1-2 minutes or just until you can see the frittata starting to set on the edges. Pull the edge of the frittata away from the pan to allow some of the uncooked egg to run underneath.
Transfer the frittata to the oven and bake another 12-15 minutes, or until the center is just slightly jiggly. It will set more once it begins cooling. A frittata should have firm, lightly browned edges and a creamy center.
Present!
Garnish with fresh parsley, if desired.
Cut into 8 slices and serve.
Tips and Techniques
Shred cheese from a block to avoid the added starch in pre-shredded bagged cheese.
You can modify this recipe to suite your own tastes. Swap out the cheddar cheese for Gruyere or Swiss cheese. You can also add additional pre-cooked vegetables like spinach, peppers, and/or mushrooms, switch up the types of meats or swap out the shallot for onion if you like.
Store leftovers in an airtight container in the refrigerator. Consume within 4 days.
FAQ's
Can You Freeze A Frittata?
Yes, you can freeze a frittata for up to 2 months. Allow it to thaw before reheating it in the oven for the best results.
How Do You Know When A Frittata Is Done?
A frittata is done baking when the edges are firm and lightly browned and the center is still slightly jiggly. When cooked properly, a frittata will have a firm edge, but a creamy center.
What's The Difference Between A Quiche And A Frittata?
A quiche usually has a crust, but not always. It is also is made from a combination of eggs and milk or cream. A frittata doesn't have a crust and uses very little or no milk or cream.
More Frittata Recipes
Love this Potato Frittata Recipe? Follow me on Pinterest, Instagram, and Facebook for more!
If you try this recipe, I would really appreciate it if you would please leave a comment and star rating. Thanks!