The simplicity and elegance of this dish makes it a quick, easy, and versatile meal to serve at weeknight dinners and dinner parties alike. Wild-caught Alaskan Poached Salmon is the star of this healthy recipe, which is extremely sustainable compared to other types of fish.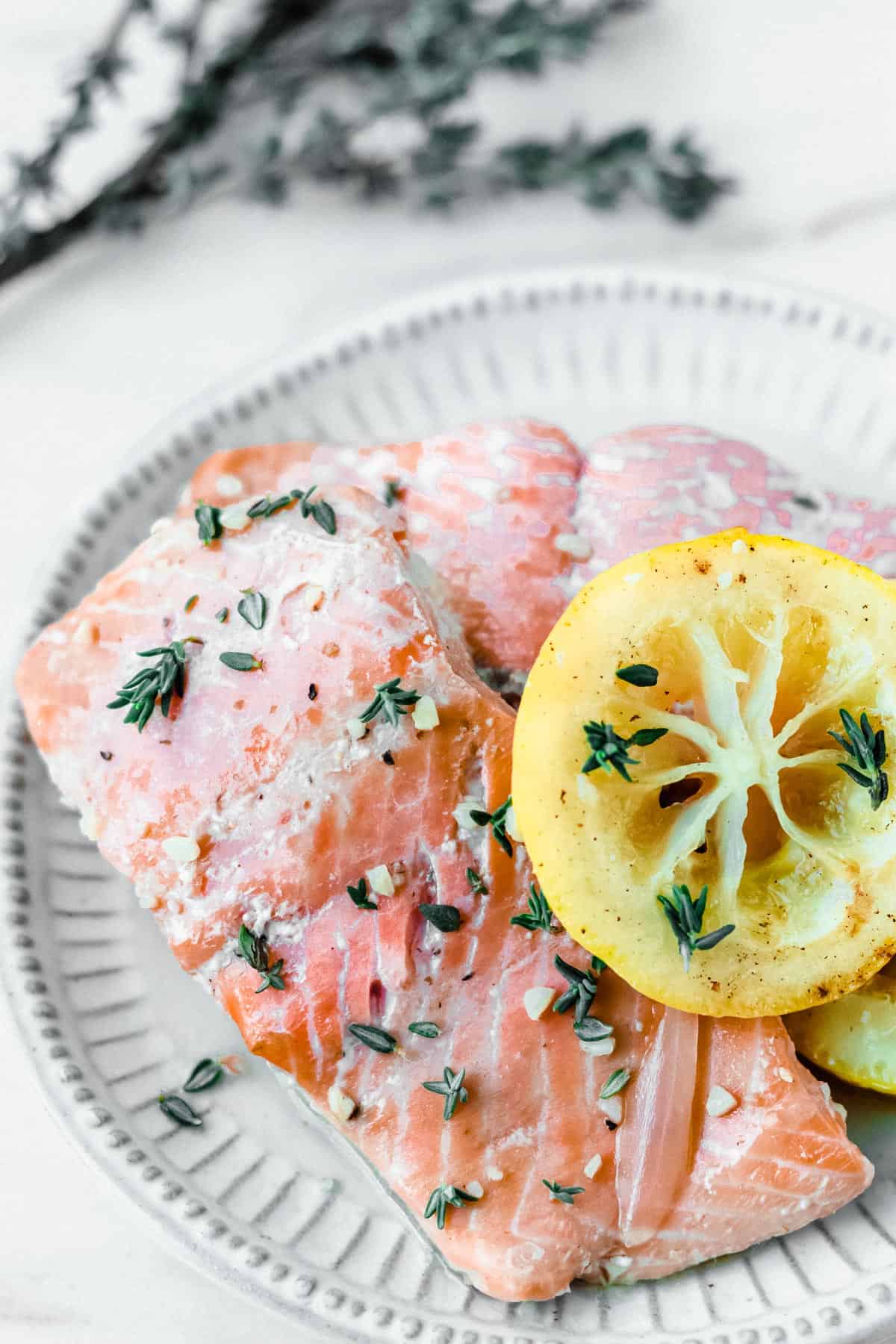 This post contains affiliate links. See our Disclosure Statement for more information.
This recipe for poached salmon is infused with the aromas of lemon, shallot, garlic, thyme, and butter. It has a delightfully Mediterranean flair to it, and salmon is a lean protein which is easily complimented by many other side dishes.
Poached salmon is a simple way to prepare a delicate and delicious dish. Poaching is a quick and easy way to cook many other types of fish, as well.
Salmon is a versatile fish; as a main dish it may be paired with sides such as Broiled Asparagus with Parmesan Cheese Sauce, Roasted Brussels Sprouts with Lemon Mustard Dressing or Lyonnaise Potatoes. Wild-caught, Alaskan salmon is one of the most sustainable fish varieties to consume; it is also extremely healthy.
Why This Recipe Works
Poached Salmon is one of the quickest and easiest methods to cook and prepare fish. You can poach other types of fish using this method; for similar results, try substituting pollack, halibut or cod.
This recipe yields a tender, yet flavorful, and moist fish fillet. Poached Salmon should be perfectly flakey and supple.
Naturally low carb, keto friendly, and gluten free, this dish is good for you and provides extra omega-3s and lean protein.
How To Poach Salmon in the Oven
Salmon can be poached in the oven or on the stove top. For this recipe, poaching the fish in the oven is recommended.
Ingredients
Salmon: I strongly recommend using the highest quality salmon that you can find. Personally, I use salmon and other seafood from Sitka Salmon Shares because it's wild-caught in Alaska and processed in the U.S. rather than China. Sitka Salmon Shares is like a CSA for seafood. You can save $25 off of your first share with the code DLB, if you are interested in trying it.
Lemon
Shallot
Garlic
Thyme
Butter
The entire recipe and instructions can also be found in the recipe card at the bottom of this post. You can also print the recipe from the card, if needed.
Prep!
Cut the lemon into slices and remove the seeds. Thinly slice the shallot and mince the garlic.
If your salmon has skin you'll want to remove it, as well as any pin bones that may be present.
Preheat oven to 450°F.
Create!
Melt butter in a large skillet over medium high heat. Add the lemon slices and cook 1-2 minutes per side, or until hot and bubbly.
Add the shallot and garlic and cook an additional 30 seconds. Pour in the wine and add the sprigs of thyme.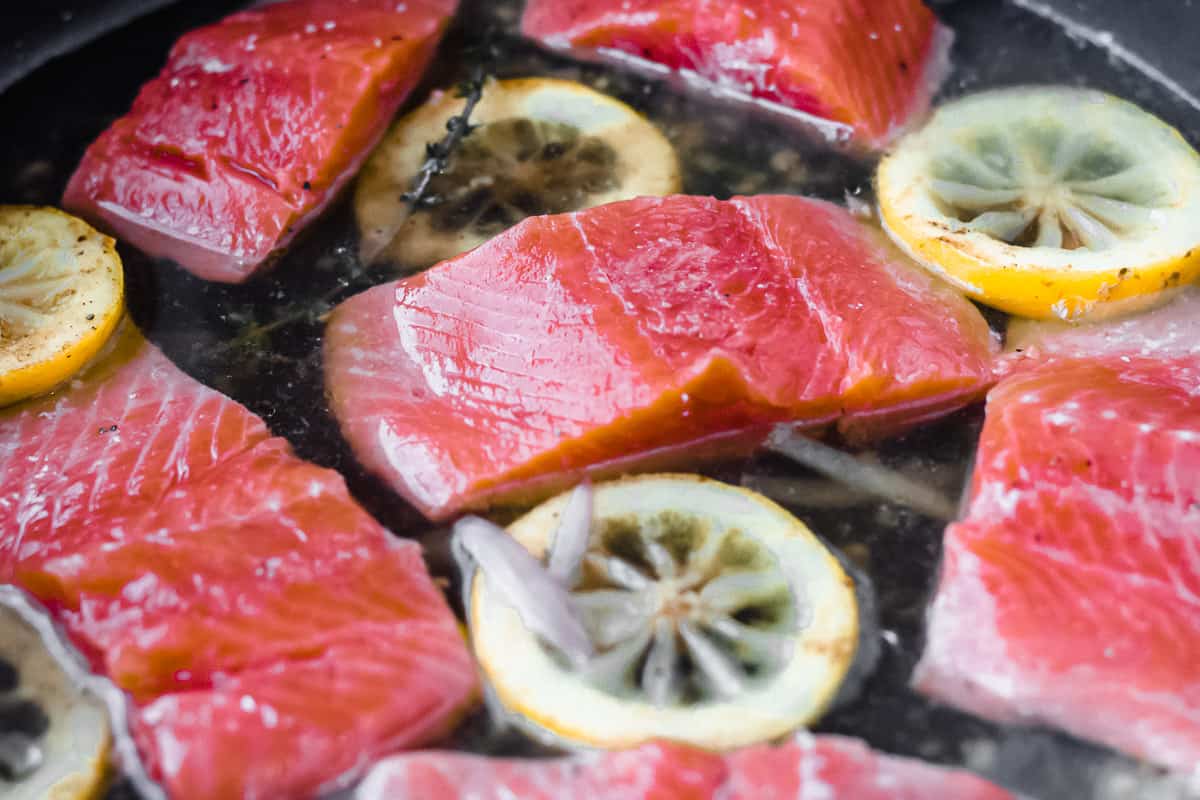 Season the salmon with salt and pepper and place in the pan.
Cover with a cartouche (parchment paper cut into a circle the size of your pan with a small hole cut into the center to vent).
Cook 6-8 minutes or until the salmon is opaque and flakes easily with a fork.
Present!
Serve with pan sauce and fresh thyme leaves.
Note: poached salmon can be served warm or chilled. In this particular recipe, the pan sauce is best served warm, however the salmon can be removed and chilled. If serving chilled, this recipe should be made several hours ahead of time to allow time for it to chill.
Tips and Techniques
For the best flavor, use the highest quality salmon that you can find.
To make the recipe alcohol-free, you can use water in place of the white wine.
Store leftovers in an airtight container in the refrigerator. Consume within 3-4 days.
FAQ's
What Vegetables Pair Well With Salmon?
Most vegetables will pair well with salmon. Broccoli, asparagus, Brussels sprouts and potatoes are great choices to serve with salmon dishes.
What Type of Salmon is Healthiest?
Wild-caught, Pacific salmon is generally considered to be the healthiest.
More Salmon Recipes
Love this Poached Salmon recipe? Follow me on Pinterest, Instagram, and Facebook for more!
If you try this recipe, I would really appreciate it if you would please leave a comment and star rating. Thanks!