Pear Cobbler is an easy dessert that is made with slices of sweet pears tossed in brown sugar, cinnamon and nutmeg, then topped with an old-fashioned drop biscuit dough. This warm and spicy treat is the perfect late summer, early fall recipe to serve for family and friends. Of course it pairs especially well with a scoop of rich, creamy vanilla ice cream.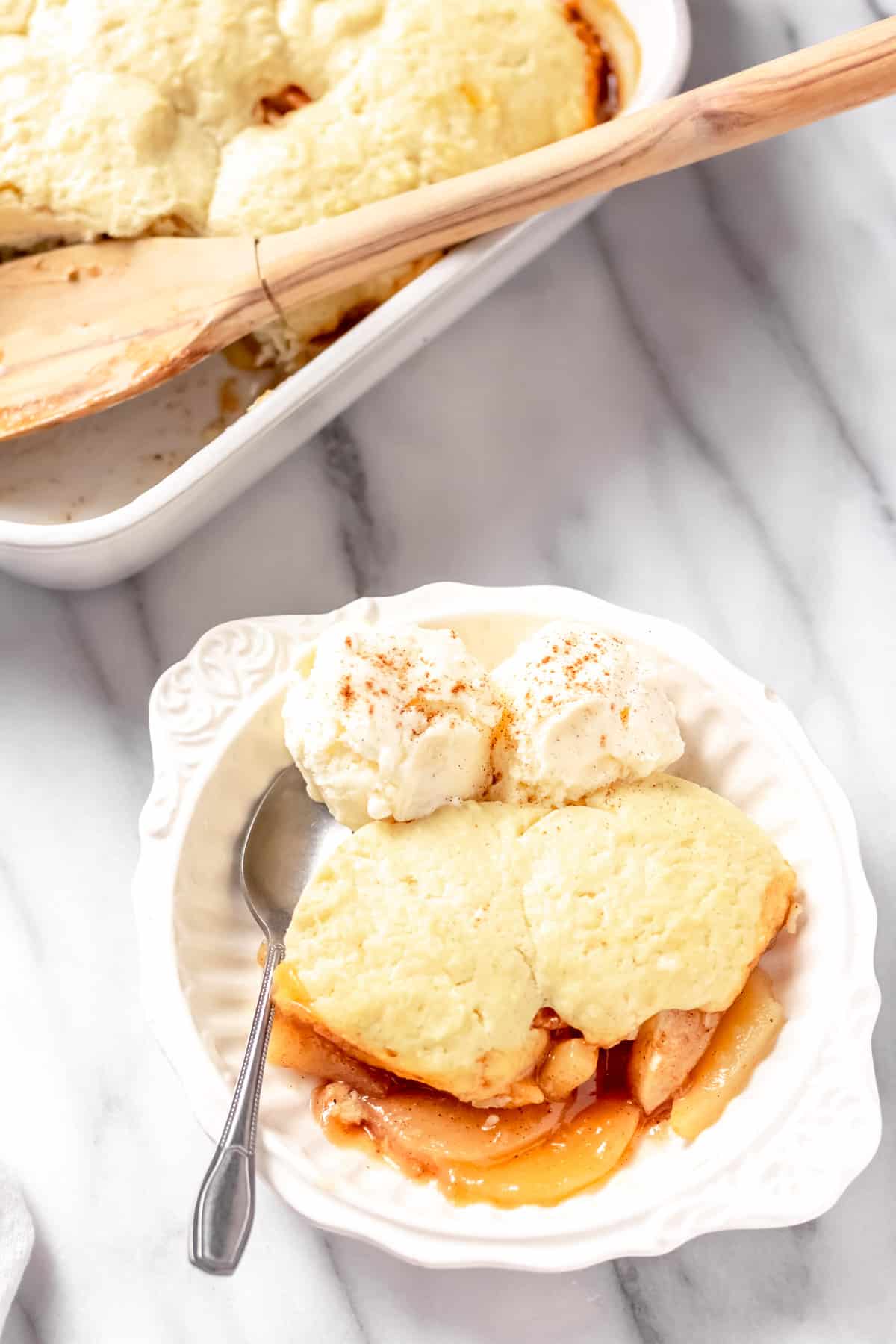 This post contains affiliate links. See our Disclosure Statement for more information.
Even though most fruits and vegetables are available year round, the season for the freshest, most delicious pears is from August to October.
I feel like pears are often overlooked when it comes to baked dessert recipes. Peaches steal the spotlight in summer and come fall, everyone goes a little apple crazy before jumping head first into pumpkin pie spice everything.
This year, I decided to experiment a bit more with pears. They are a fruit that I have always loved and one that my kids both equally enjoy.
I've had such great success with recipes for Blueberry Cobbler and Apricot Cobbler, that I decided to make a cobbler recipe with pears, as well. Personally, I prefer a drop biscuit dough on top of cobblers to soak up all of the extra sweet and spicy juices from the fruit filling, so that's also what I used with this recipe.
The spices in this pear cobbler are cinnamon and nutmeg and the flavor reminds me a lot of a sweet apple pie. This is the perfect dessert to round out the summer season, as well as welcome fall back into our lives.
Why This Recipe Works
Cobbler is one of the easiest dessert recipes out there; you only need to create two mixtures – a fruit filling and a dough topping. You don't even need an electric mixer to make cobbler. A large bowl and a spoon will do!
The homemade pear filling is sweet with the perfect amount of spice. I tried this cobbler with both Bartlett and Anjou pears and strongly prefer the juicy, sweet and soft texture of the Bartlett pears best. The old fashioned drop biscuit topping provides a tender crumb which soaks up all of the flavorful pear juice.
Pear Cobbler is the perfect late summer, early fall dessert, although it came be made most other times of the year. Serve fresh cobbler, warm out of the oven, with ice cream or fresh whipped cream. Your family and friends will love it!
How To Make Pear Cobbler
Ingredients
Pears: I personally prefer Bartlett pears for this recipe, but you really can use any variety that you enjoy.
Pantry Staples: all purpose flour, baking powder, cornstarch, sugar, brown sugar, cinnamon, nutmeg, salt, milk, butter and an egg. We highly recommend using high-quality baking products like King Arthur brand for the best results.
The entire recipe and instructions can also be found in the recipe card at the bottom of this post. You can also print the recipe from the card, if needed.
Prep!
Preheat your oven to 350°F.
Cut the pears into thin slices.
Create!
Combine pears, brown sugar, cinnamon, nutmeg and cornstarch. Toss gently to combine. Set aside while you prepare the dough. The pears and sugar will become juicier as they sit.
Mix together the flour, baking powder, sugar and salt in a large bowl. Cut the pieces of butter in with a pastry blender, fork, or your fingers. Work the butter until pea-size or smaller pieces remain.
Whisk together the egg and milk. Pour into the flour mixture and stir until just combined.
Pour the pears and any accumulated juices out into a medium size baking dish. I use a 9-inch square baking dish.
Top with dollops of the dough and sprinkle with extra sugar, if desired.
Cover loosely with foil and bake 20 minutes.
Uncover and bake an additional 20-25 minutes, or until the top of the dough is lightly browned.
Present!
Serve as is, with whipped cream and/or vanilla ice cream.
Tips and Techniques
Fresh Bartlett or Anjou pears work best in this recipe. This recipe has not been tested with canned pears.
Store leftovers tightly covered in the refrigerator. Consume within 4-5 days for best results.
FAQ's
Can You Use Canned Pears To Make Pear Cobbler?
Although fresh pears are recommended, some cobbler recipes can be prepared with canned pears. This particular recipe has not been tested with canned pears, so results may vary.
Do You Peel Pears For Cobbler?
Peeling pears before baking them is completely optional. Pear skin does toughen a bit more when baked, so you may prefer to peel them first.
Can You Freeze Cobbler?
Cobblers can usually be frozen, however the dough may turn a bit mushy when thawed and reheated. You can also freeze the filling separate and prepare the dough when you are ready to bake the cobbler to ensure a nice fluffy topping.
More Summer Dessert Recipes
Love This Pear Cobbler Recipe? Follow me on Pinterest, Instagram, and Facebook for more!
If you try this recipe, I would really appreciate it if you would please leave a comment and star rating. Thanks!