Simple enough for kids to make, homemade Nilla wafer sandwich cookies are filled with sweet and creamy peanut butter frosting and rolled in chocolate chips.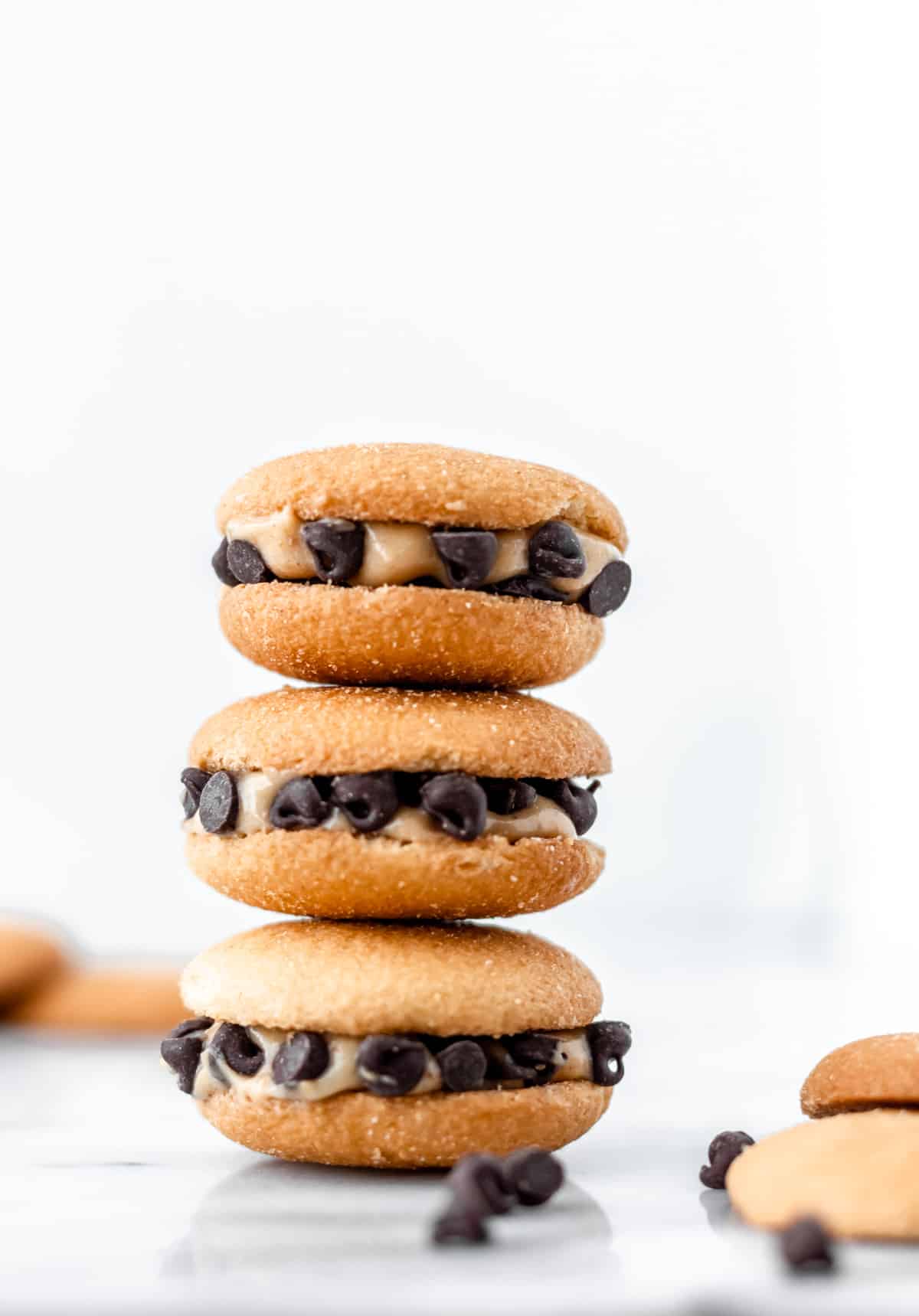 This post may contain affiliate links. See our Disclosure Statement for more information.
The holidays are the perfect time to bake a bunch of different types of cookies. Add this super simple Nilla wafer sandwich cookies recipe to your Christmas cookies list.
Kids can help you by piping the frosting and rolling them in the chocolate chips. They are so fun to make that you'll be making memories while you're making cookies.
The combination of peanut butter and chocolate is iconic. Make some Peanut Butter Energy Balls or Dark Chocolate No-bake Cookies if you want to add even more of this flavor combination to your dessert table.
Usually, when you think of a Nilla wafers dessert, you think of Nilla Wafer Banana Pudding. But there are so many other recipes you can make with them.
Why This Recipe Works
This recipe involves no baking or sharp knives, so it's really easy and fun to make with kids of all ages.
You really can't beat the classic combination of creamy, nutty peanut butter and rich chocolate chips.
You'll be able to make a ton of cookies in no time at all! Then, you'll have a bunch of sandwich cookies to share at holiday parties, Christmas gifts, or cookie exchanges.
Step-By-Step Instructions
Ingredients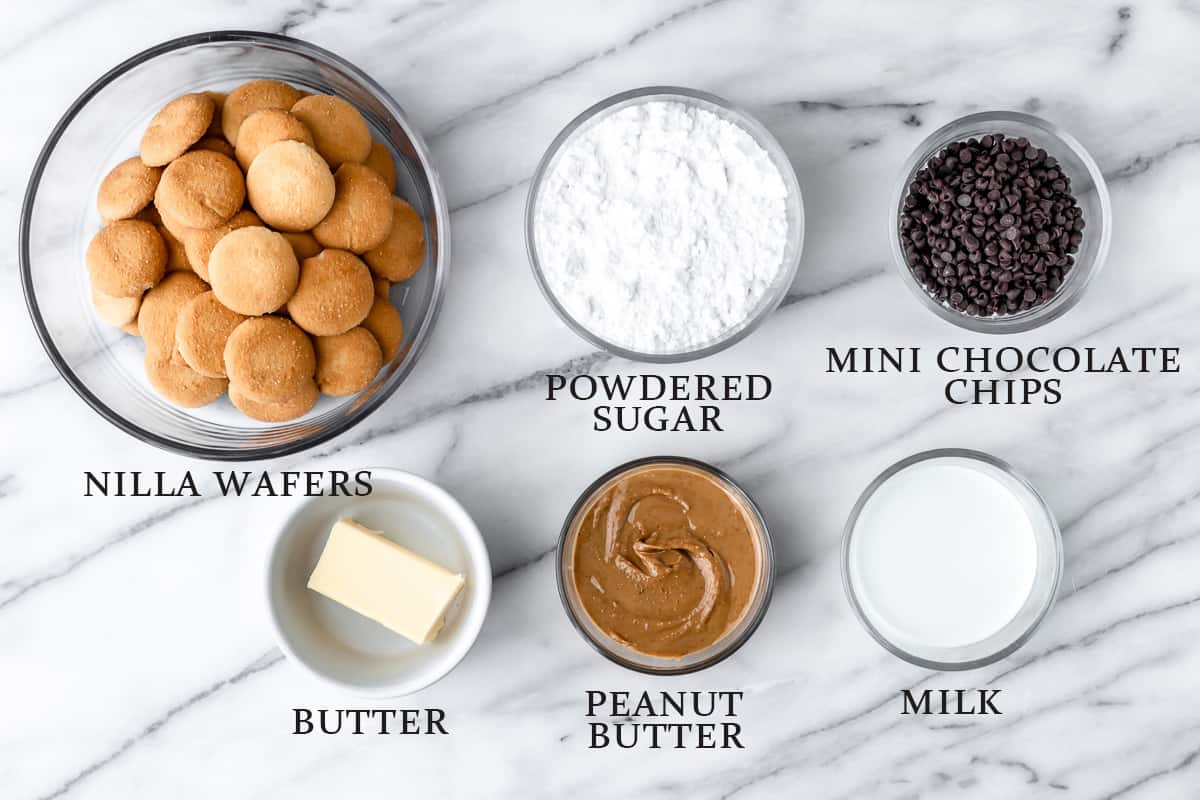 The entire recipe and instructions can also be found in the recipe card at the bottom of this post. You can also print the recipe from the card, if needed.
Prep!
Set the butter out to come to room temperature about an hour before you begin.
If you want to pipe the frosting onto the Nilla Wafers, set up a piping bag and tip of your choice.
Create!
In the bowl of an electric mixer fitted with a paddle, beat the butter and peanut butter on medium speed until well blended.
Slowly add the milk, then gradually add the powdered sugar until frosting reaches the desired consistency. I use about 1 1/4 cups to get a relatively stiff frosting, but the amount may vary slightly depending on the brand of peanut butter used.
Pipe or spread about 1/2 to 1 teaspoon of frosting onto the flat side of a Nilla Wafer.
Sprinkle on a pinch of mini chocolate chips.
Top with a second Nilla Wafer.
Gently squeeze the wafers together, then add more mini chocolate chips to the edges, if desired.
Present!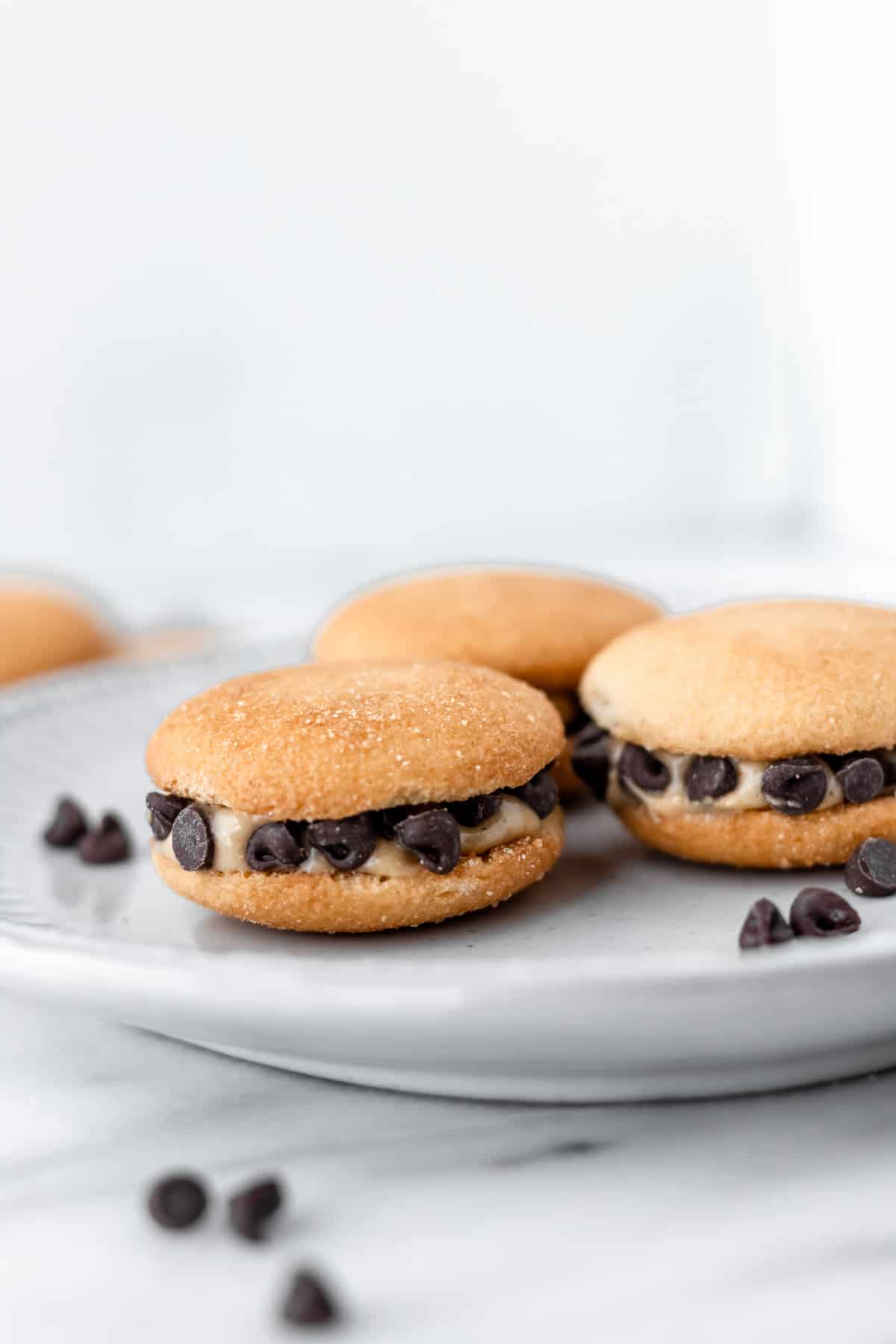 Serve immediately.
Tips and Techniques
Any type of peanut butter will work. Be sure to add the powdered sugar gradually since peanut butter can vary in consistency.
Store leftovers separately. The frosting can be stored in an airtight container in the refrigerator for up to 7 days. Store any extra Nilla Wafers in the original packaging.
FAQ's
Can You Make These Cookies Ahead Of Time?
You can make the peanut butter frosting ahead of time and store it in the refrigerator until needed. Be sure to let it come to room temp before using to make it easier to pipe onto the Nilla wafers.
Are Nilla Wafers Healthy?
Nope, Nilla wafters are not very healthy. They are a cookie, just like other types of cookies. Their main ingredients are flour, sugar, and oil. There are 11 grams of sugar per serving.
What Can I Use Instead Of Chocolate Chips?
The chocolate chips are the fun part, but you can leave them off. You could even roll the sandwich cookies in red and green sprinkles to give them a little holiday flair.
More Peanut Butter Cookie Recipes
Love this Peanut Butter Chocolate Nilla Wafers recipe? Follow me on Pinterest, Instagram, and Facebook for more!
If you try this recipe, I would really appreciate it if you would please leave a comment and star rating. Thanks!
This recipe was originally published on November 28. 2016. It was updated with new images, step-by-step instructions, tips, techniques and FAQ's in October 2022.