This recipe for golden chicken cooked in a simple, healthy peanut sauce creates an entrée which is incredibly rich, smooth, and flavorful. Peanut Butter Chicken is a wonderfully creamy dish with the best seasoned, aromatic sauce imaginable. It is a crowd favorite full of extraordinary flavor.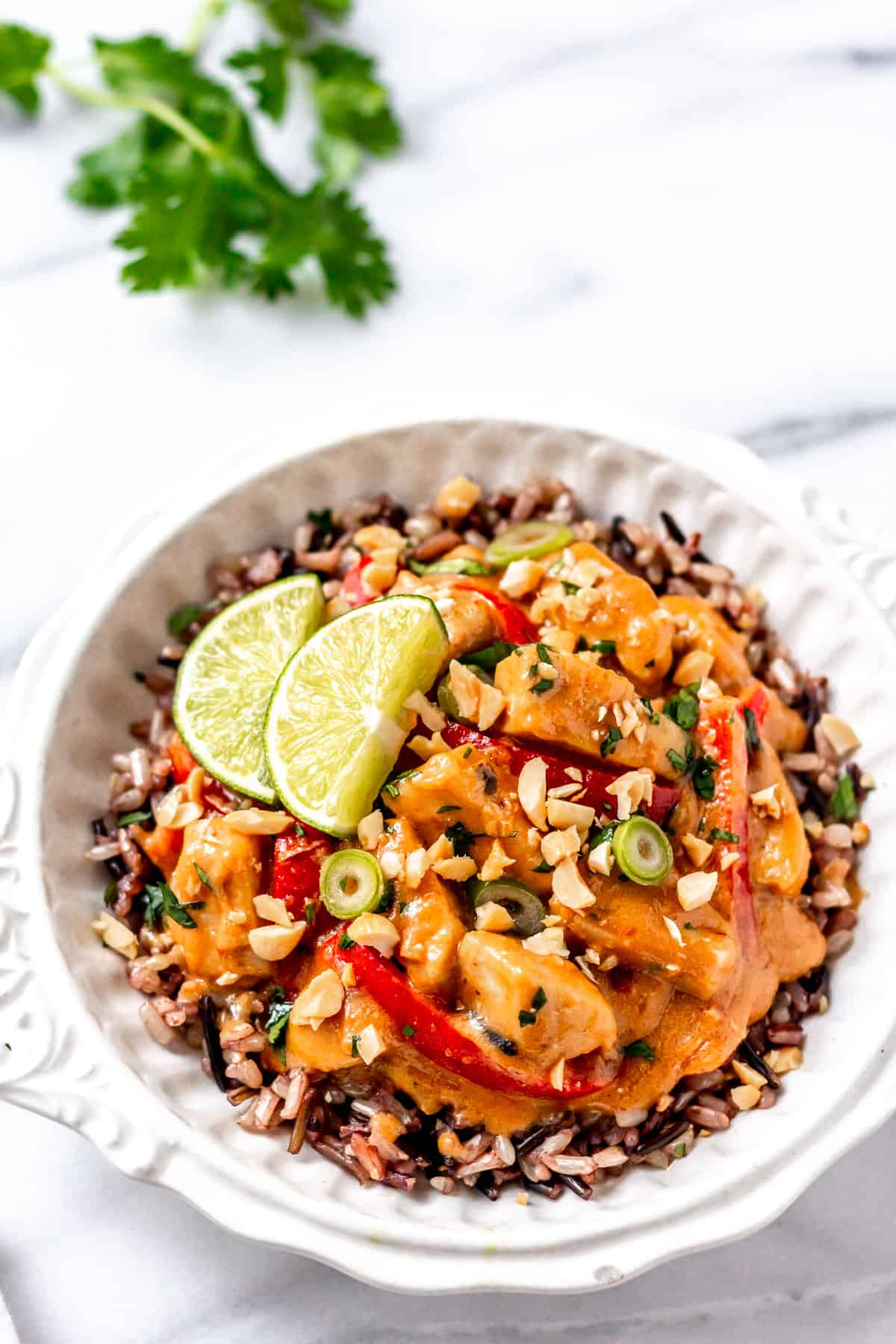 This post contains affiliate links. See our Disclosure Statement for more information.
The depth of flavor in Peanut Butter Chicken permeates its own rich and creamy sauce, which can be made spicy or mild, as you prefer.
A simple peanut sauce is the best accompaniment to golden, bite-sized chicken and caramelized aromatics used to flavor this dish.
Peanut Butter Chicken with cooked peppers and onions is a family favorite recipe and one of the best healthy, yet rich entrees you can make. It is incredibly comforting and satisfying to eat, while being low in carbohydrates and keto-friendly.
To create a full meal, which remains low carb and keto-friendly, serve this Peanut Butter Chicken over Cilantro Lime Cauliflower Rice or Creamy Coconut Cauliflower Rice.
If you would like to make your own flavor of cauliflower rice, you can check out my post on How to Rice Cauliflower.
Peanut sauce is often associated with Thai Cooking though it is traditionally more common in Indonesian and Malaysian cuisines. The flavors of this region are fresh and delicious, yet a bit unexpected and exciting to those who enjoy bold seasonings such as savory peanut butter, sweet-tart lime juice, spicy chili paste, and fragrant ginger.
Why This Recipe Works
Peanut Butter Chicken is incredibly flavorful and savory. Just a few pantry staples and mostly fresh ingredients keeps the ingredient list relatively short without sacrificing flavor.
This dish is simple to prepare and comes together quickly. It is easy enough to make on weeknights too!
Peanut Butter Chicken may be served alone as it is already so richly flavored and accompanied by caramelized bell peppers and onions. The peanut butter packs in extra protein to this dish as well.
As written, this recipe is gluten free. Try serving Peanut Butter Chicken over cauliflower rice or zoodles to create a complete low carb, keto-friendly meal with only 10 net carbs per serving.
How To Make Peanut Butter Chicken
Ingredients
Boneless, Skinless Chicken: you can use breasts or thighs cut into bite-size pieces.
Vegetables and Aromatics: red bell peppers, onion, garlic, ginger and limes.
Coconut Milk: use canned, unsweetened coconut milk. Thai Kitchen brand is my favorite – there isn't a bunch of extra stuff added to it.
Peanut Butter: you can use creamy or chunky. I use natural, creamy peanut butter so it has some texture, but it's far from chunky.
Brown Sugar Substitute: I use Swerve. If you are not low carb or limiting your sugar intake, you can use regular brown sugar.
Coconut Aminos: you can substitute soy sauce, just be sure to read the label if you are strict keto or avoiding gluten.
Chili Paste: this will make your dish mildly to moderately spicy depending on how much you add. It's totally optional!
Optional Garnishes: cilantro, green onion, chopped peanuts, lime wedges.
The entire recipe and instructions can also be found in the recipe card at the bottom of this post. You can also print the recipe from the card, if needed.
Prep!
Because this recipe uses quite a few fresh ingredients, there is a little bit of prep work.
Dice your chicken into bite size pieces and thinly slice the peppers and onion. Mince the garlic and juice 1 lime.
Create!
Heat olive oil in a large, deep skillet over medium-high. Season the chicken with salt and pepper and add to the skillet.
Cook the chicken until golden brown and no longer pink in the center. Transfer to a plate and tent with foil to keep warm.
Return the skillet to the stove over medium heat. Add more olive oil to the pan along with the peppers and onion. Cook 8-10 minutes or until softened and starting to caramelize.
Stir in the garlic and ginger. Cook another 30-60 seconds, stirring frequently.
Pour in the coconut milk, stirring until well blended and hot. Mix in the peanut butter until it's melted, then stir in the brown sugar substitute, coconut aminos, chili paste and lime juice.
Return the chicken to the pan and cook an additional 2-3 minutes until warmed through.
Present!
Serve over rice or you can enjoy this dish as is, over cauliflower rice or over zoodles to keep the recipe low in carbohydrates.
Garnish with fresh, minced cilantro, slices of green onion, chopped peanuts and/or lime wedges, if desired.
Tips and Techniques
Omit the chili paste for a much milder dish.
Store leftovers in an airtight container in the refrigerator. Consume within 3-4 days.
FAQ's
Can You Freeze Peanut Butter Chicken?
While Peanut Butter Chicken can be frozen, the sauce may develop a grainy texture once thawed. This is the due to the coconut milk in the sauce, but should not affect the overall flavor of the recipe.
What Does Peanut Sauce Taste Like?
There are many different variations of peanut sauce, but the dominate flavor is peanut butter. Many sauces contain a sweetener like sugar or honey, some contain coconut milk to add flavor, and some are made spicier than others.
More Chicken Skillet Recipes
Love this Peanut Butter Chicken recipe? Follow me on Pinterest, Instagram, and Facebook for more!
If you try this recipe, I would really appreciate it if you would please leave a comment and star rating. Thanks!