Orange Glazed Salmon is a quick and easy, family-friendly dinner recipe. This sweet and savory seafood dish requires just 5 ingredients and 15 minutes to prepare.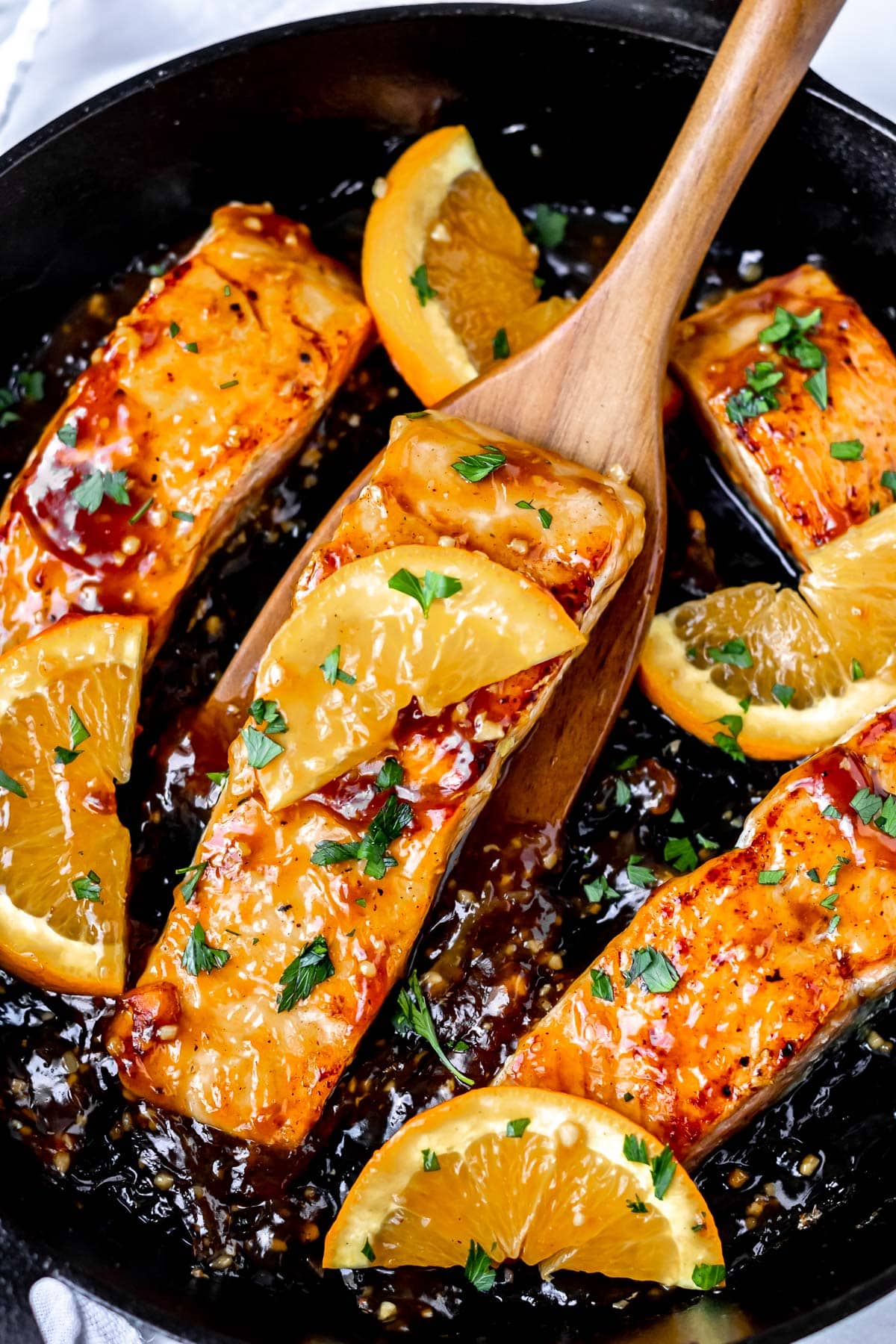 This post contains affiliate links. See our Disclosure Statement for more information.
Salmon is always a great choice for dinner even when you are short on time or tired from a busy day at work. Most salmon recipes take less than 30 minutes to prepare, including this Orange Glazed Salmon.
My inspiration for this recipe came from Mother's Day brunch. We've had a tradition of going down to Rehoboth Beach, Delaware but the past few years the brunch buffet at Victoria's Restaurant was canceled or no longer the massive buffet it once was but rather a very limited menu that has not been suitable for my child with allergies.
We tried the Hilton in Newark, Delaware this year and was pleasantly surprised by the variety and how delicious everything was. And, as it turned out, the orange salmon with its sweet, fresh flavor was my favorite item on the buffet! I just had to recreate it myself.
This recipe is simple, perfect for summer and will give you flaky, juicy salmon fillets every time!
Looking for more easy salmon recipe? Be sure to check out my recipes for Salmon Piccata, Maple Walnut Salmon and Poached Salmon with Lemon Garlic Butter Sauce too!
Why This Recipe Works
This is a quick and easy recipe to prepare even on busy weeknights. It can be made in a skillet on the stove top and only requires 5 ingredients and about 15 minutes of your time.
It has the perfect combination of sweet and savory flavor.
The orange glaze makes this recipe very family friendly – kids love it!
Step-By-Step Instructions
Ingredients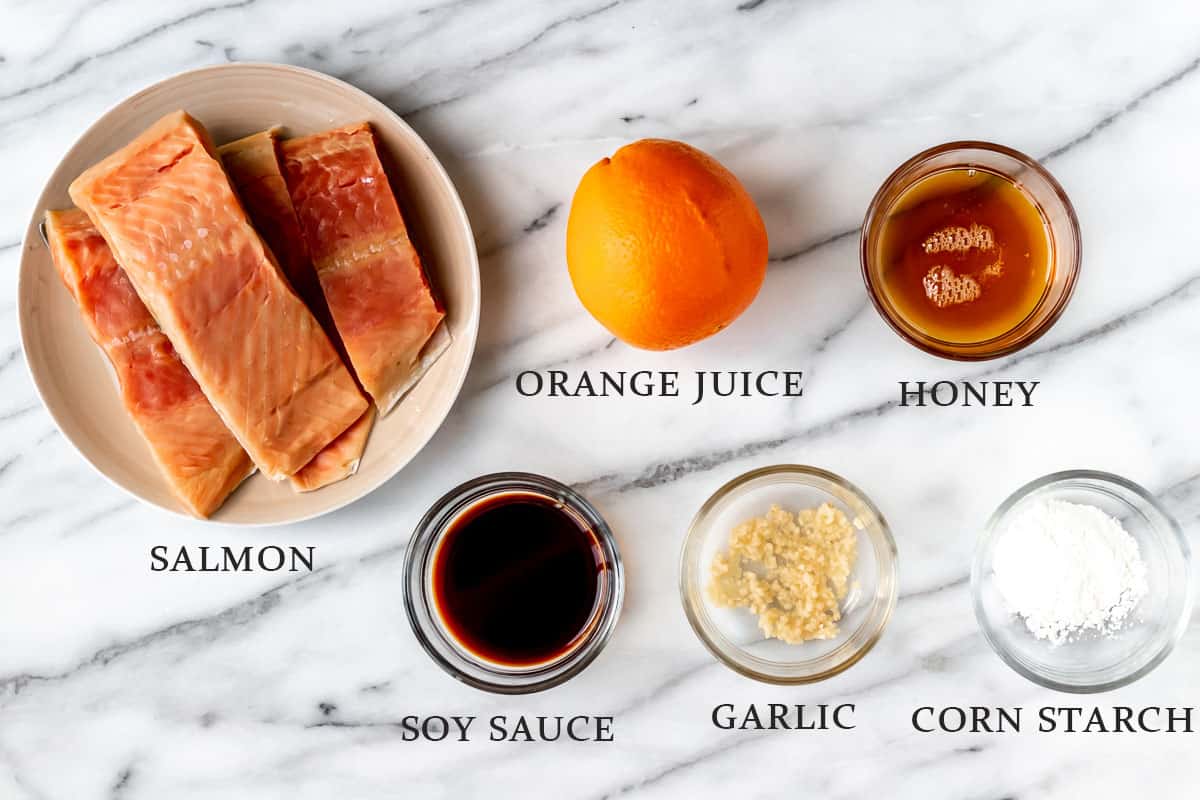 1 pound of salmon fillets
1 tablespoon butter (or olive oil)
1/2 cup orange juice (fresh squeezed from approximately 1 orange)
2 tablespoons honey
2 tablespoons soy sauce
2 cloves garlic (minced)
1 teaspoon cornstarch whisked together with 1 teaspoon of water (optional if you want a thicker glaze like in the photos)
The entire recipe and instructions can also be found in the recipe card at the bottom of this post. You can also print the recipe from the card, if needed.
Prep!
Mince the garlic and juice the orange. If you want to add orange slices, now is a good time to cut them, as well.
If your salmon has pin bones still present, be sure to remove those!
Create!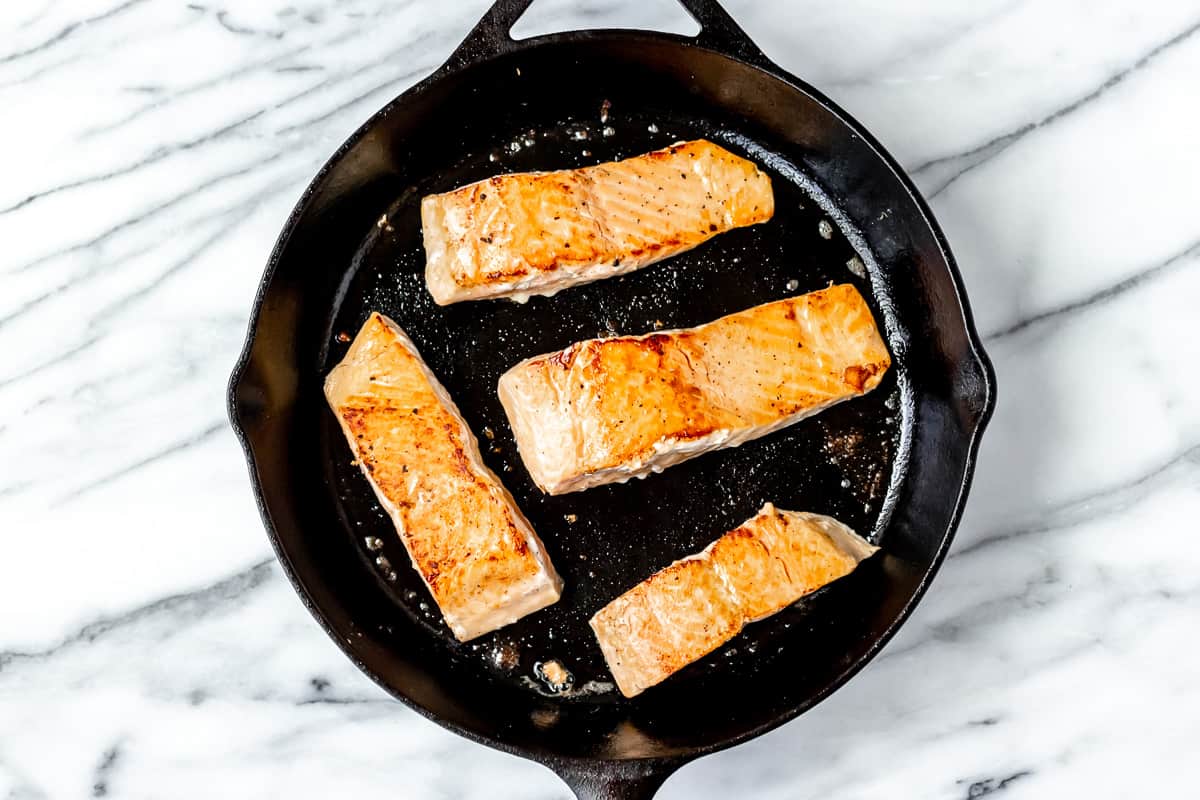 Heat the butter or olive oil in a large skillet on medium-high.
Season the salmon fillets with salt and pepper and add to the pan, skin side up. Cook for 3-5 minutes or until golden brown on top. Flip and cook an additional 3-4 minutes or until the internal temperature reaches an internal temp 145°F on a meat thermometer inserted into the center of the thickest portion.
Remove from the skillet to a plate and tent with foil to keep warm. Return the skillet to the stove top and lower the heat to medium.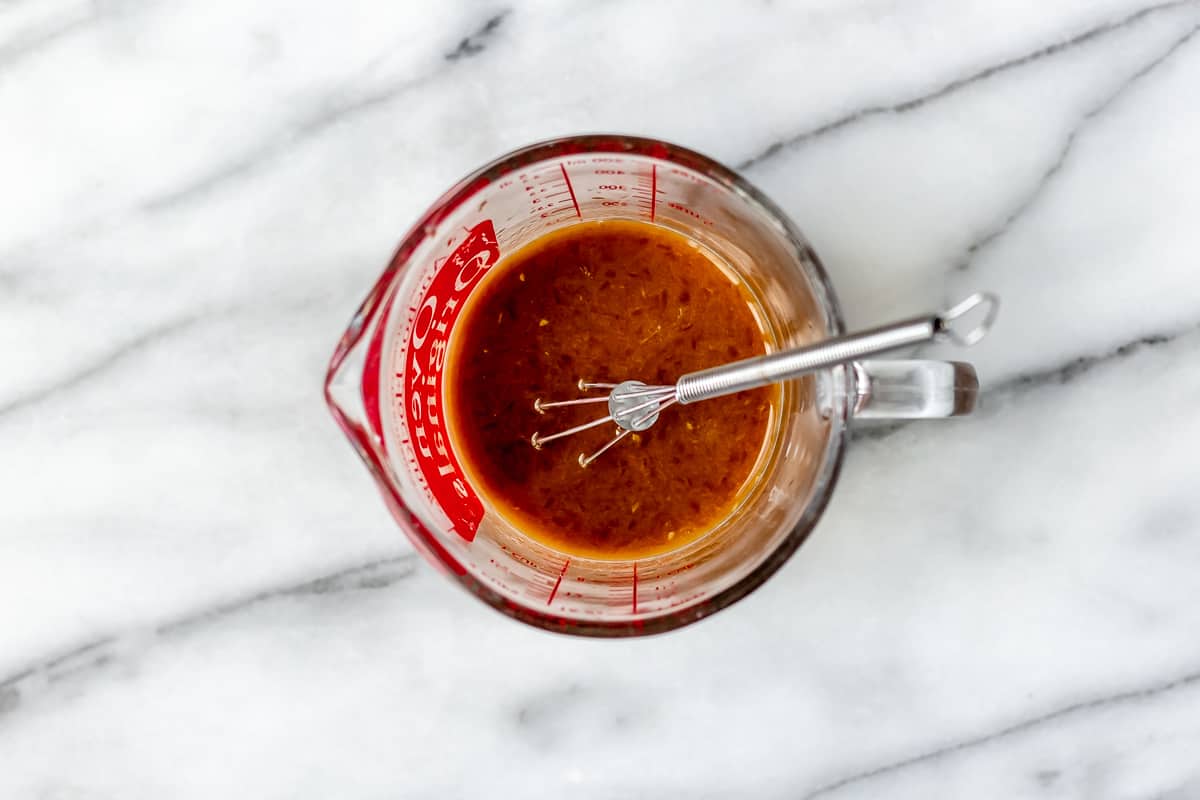 Whisk together the orange juice, honey, soy sauce, garlic and cornstarch slurry, if using.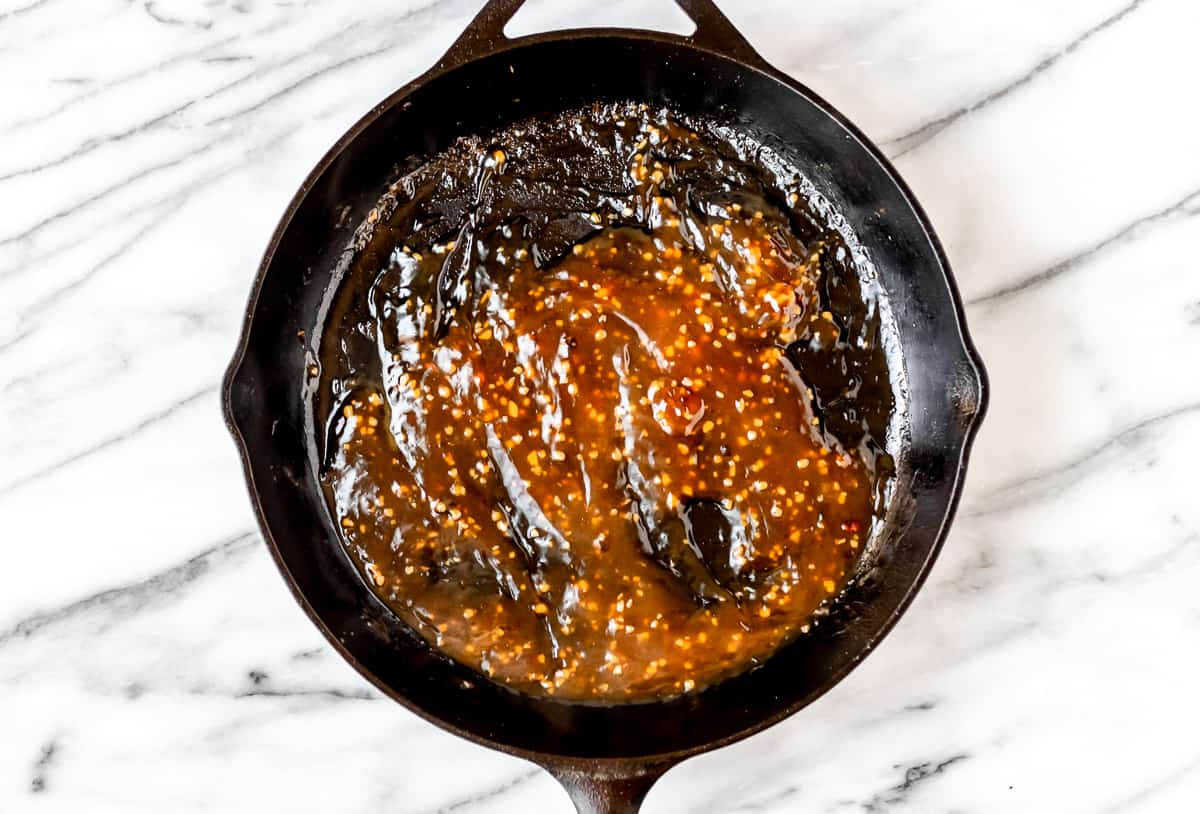 Add to the same skillet that you cooked the salmon in and cook until hot. The mixture will thicken in about 30-60 seconds if using cornstarch.
Return the salmon to the pan and coat with the sauce. Add additional orange slices, if desired.
Present!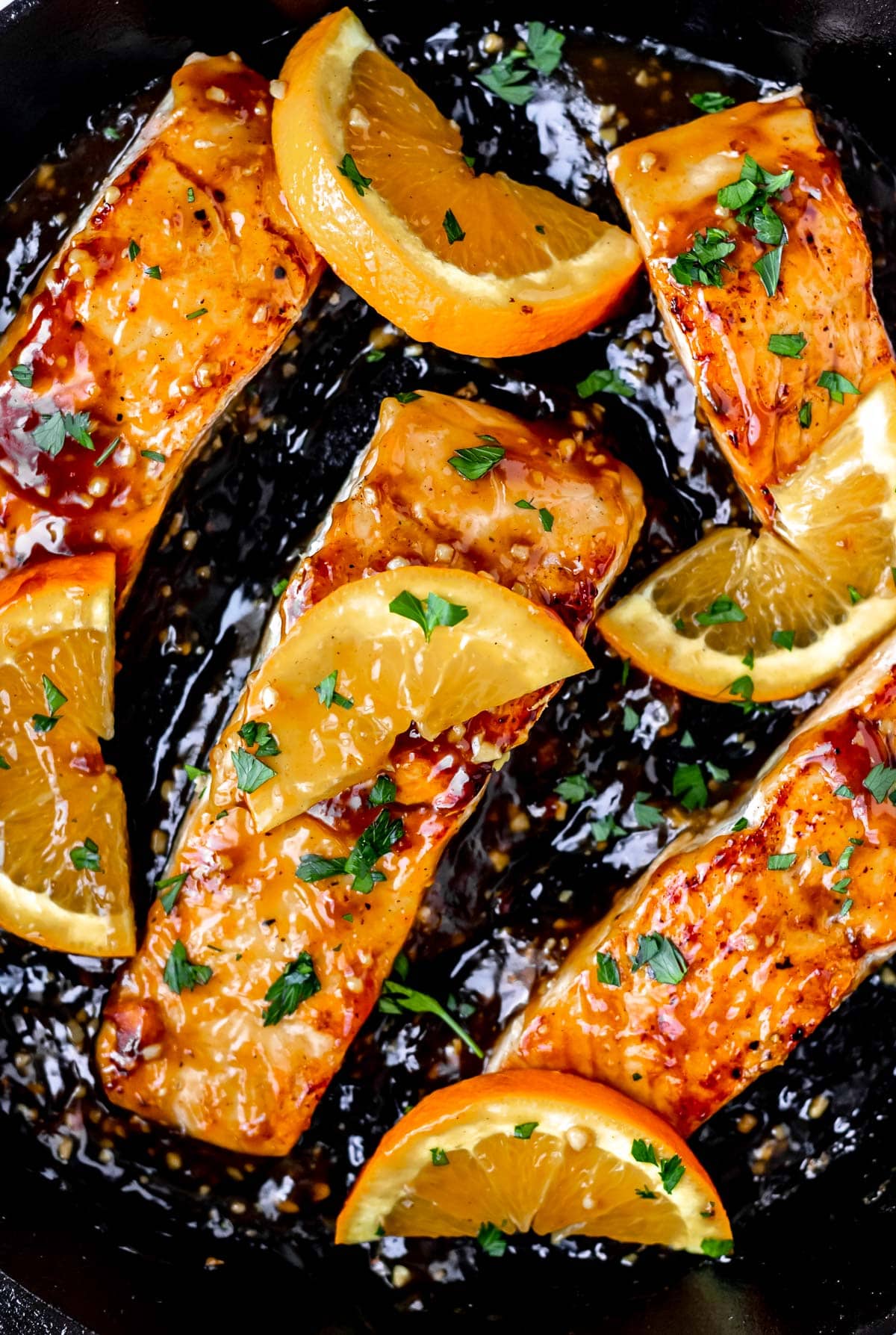 Garnish with fresh, chopped parsley, if desired and serve warm.
Tips and Techniques
For a thicker glaze-like sauce, use the optional cornstarch slurry. For a thinner sauce that will not thicken, omit the slurry.
Store leftovers in an airtight container in the refrigerator. Consume within 2-3 days.
FAQ's
What Vegetables Pair Well With Salmon?
Most vegetables will pair well with salmon. Broccoli, asparagus, Brussels sprouts and potatoes are great choices to serve with salmon dishes.
What Type of Salmon is Healthiest?
Wild-caught, Pacific salmon is generally considered to be the healthiest.
More Salmon Recipes
Love this Orange Glazed Salmon recipe? Follow me on Pinterest, Instagram, and Facebook for more!
If you try this recipe, I would really appreciate it if you would please leave a comment and star rating. Thanks!