I received these samples at no cost to me in exchange for my honest review.  Powered by Brandbacker.  See our Disclosure Statement for more information.
Employing a combination of scientists and beauty experts, Hydropeptide is perfecting anti-aging solutions!  They use a formula that contains a combination of hydration, peptides, and other actives to combat aging.  Their unique peptide preservative system has also made it possible to eliminate many controversial preservative ingredients.  HydroPeptide is free of parabens, phthalates, sulfates and is cruelty-free.  The majority of products are also free of synthetic fragrances, phenoxyethanol, and gluten.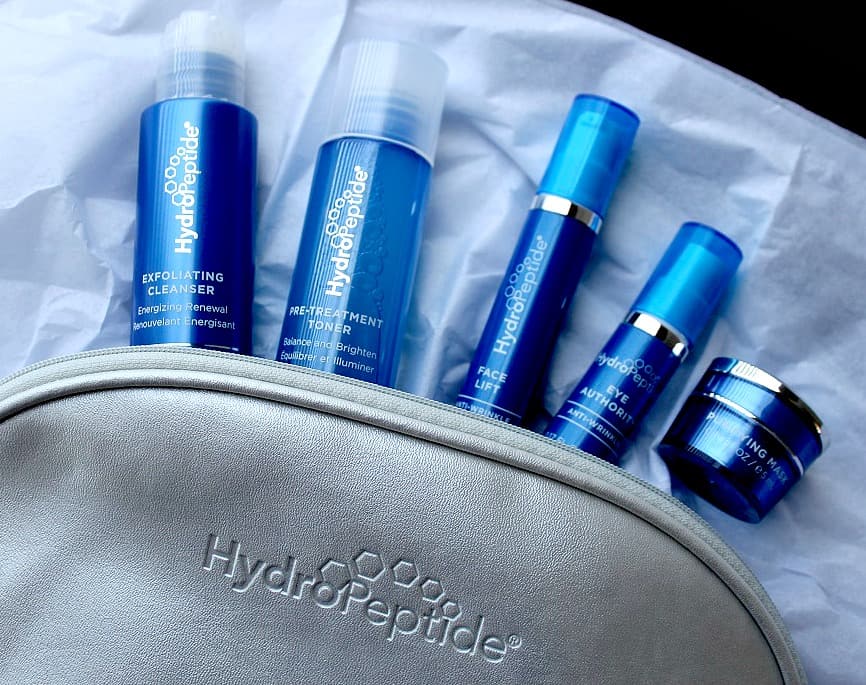 The On-The-Go Glow Travel Set is a complete skin care set containing deluxe trial sizes of all their award-winning fan favorites!  It's great for travel, but I also found it a great way to try the products before buying full sized versions!  Each set comes in a reusable travel bag and contains the Exfoliating Cleanser, Pre-Treatment Toner, Face Lift Moisturizer, Eye Authority, and Purifying Mask.  I sampled each product over a 5-day period.
Exfoliating Cleanser – I love the light, citrusy smell of this cleanser!  It contains a light exfoliant and left my skin feeling really smooth.  The only con I can see to this product is that you can't really use it to remove eye makeup. This wasn't a problem for me since I was using it at home, but if you do use this set for travel you'll have to bring something else to remove your eye makeup.
Pre-Treatment Toner – the packaging for the toner also states that its exfoliating.  While I can't really tell, I'm sure it helps prepare the skin for the moisturizing treatments and is an important step.
Face Lift Moisturizer – this leaves my skin feelings soft and moisturized, yet firmer.  I also really like the scent.  I have only been using this 5 days, so to comment on the long-term anti-aging effect is a bit difficult, but it definitely helps reduce the appearance of fine lines when it's applied!
Eye Authority – this also leaves a firm feeling around  my eyes and has reduced the appearance of fine lines.
Purifying Mask – I've only used this once so far, but I love it.  It's a really smooth clay and actually feels good while it's on your skin.  You may feel some slight tingling, but it was minor and did not irritate my skin at all!
I've really enjoyed using these products.  My skin feels smoother and more hydrated.  The initial reduction in the appearance of fine lines has been awesome to see as well!  For me, this set was a great way to get to know Hydropeptide's products and how they'd work for me. The set is also great for travel.  I have plenty of product left, so I can see these products all lasting several weeks!
For more information on this travel set, and all Hydropeptide's products, you can access their website HERE!