For this November 2018 Stitch Fix review, I didn't make any specific requests and my stylist sent some really cute basic pieces for fall!
This post contains affiliate links. I may receive a small commission at no additional cost to you if you make a purchase through one of my links. See our Disclosure Statement for more information.
For this November 2018 Stitch Fix review, I didn't leave any specific requests. I skipped making specific requests for a couple reasons. First, I've been so crunched for time that I just didn't have time to really put much thought into what I'd like or need. Second, I've seen a few ladies in a Facebook group mention that their fixes without specific requests were some of the best they've received.
The note from my stylist stated that because she didn't see any requests, she decided to send me some basics for fall.
Stitch Fix also offers add-ons. I've gotten a few items in the past, but this time around I noticed that they added the Wacoal Red Carpet strapless bra. I have seen so many women recommend this particular strapless bra so I added it on.
Before I get into the full review of the items I received, let me tell you a bit about Stitch Fix and how it works. If you are already familiar with Stitch Fix, skip on through until you get to the November 2018 Stitch Fix Review heading.
What is Stitch Fix
If you already know what Stitch Fix is all about, go ahead and skip over this part. If you're new to Stitch Fix, here is a brief summary of what you can expect.
Stitch Fix is a clothing subscription box. You can sign up to receive boxes on certain intervals, or just order a box whenever you want (this is the option I always choose so I don't have to remember to cancel etc.).
Each box you order will come with 5 items. These items are clothing, shoes, accessories, and jewelry. Stitch Fix now offers add-ons as well. These are items like camisoles, underwear, and bras that you can order in addition to your 5 items.
When you first sign up, you'll fill out a style survey. Be brutally honest with this section! You'll also have the opportunity to add any notes when you schedule your fix. I usually use this area to request certain items that I may have seen in other reviews or on Pinterest, or to request certain types of items. You definitely don't want to skip this part. I find that being really detailed in the notes section helps to ensure that you get items that you will love!
After everything is filled out, choose the date you'd like to receive your fix.
How Much Does Stitch Fix Cost?
You pay a $20 styling fee that is credited towards anything you purchase. Shipping is free both ways. Buy what you love, return what you don't. If you buy all 5 items, you'll also get a 25% discount! And yes, if you don't buy anything, the $20 fee is not refunded (as it goes towards the time to curate the items and their shipping costs). There has only ever been one time that I didn't buy a single item.
The cost of the items varies. You can set your price ranges in your survey. Stitch Fix even carries designer brands now!
Now that that is out of the way, check out everything I got this month below!
November 2018 Stitch Fix Review
Mix by 41 Hawthorn Arnold Raglan Knit Top ($38)
This is a great basic. I thought it was going to be more of a lightweight long sleeve t-shirt but it's actually a lightweight sweater.
It's not see through which is great and while I don't usually keep white tops (mom life and all), I kept this one because it's easy to layer under cardigans and jackets and goes well with almost everything. It would probably even be great to layer over a dress!
And the price is perfect!
VERDICT: kept!
West Kei Allan Tie Sleeve High Low Blouse ($38.00)
I had previously requested a West Kei top as I had seen a few that I thought were really cute. My stylist did mention my previous request so they definitely do go back and look at some of your history before styling you.
I wasn't sure I'd love this particular print, but once I put it on I felt completely different.
It's a really pretty, feminine shirt and the tie details on the sleeves are beautiful.
I don't really love the low/high waistline only because I'd rather my stomach not potentially show if I lift my arms for anything. I love the shirt so much that I'm going to give it a chance, plus once again, the price is great!
VERDICT: kept!
August Mist Josey Textured Pullover ($44.00)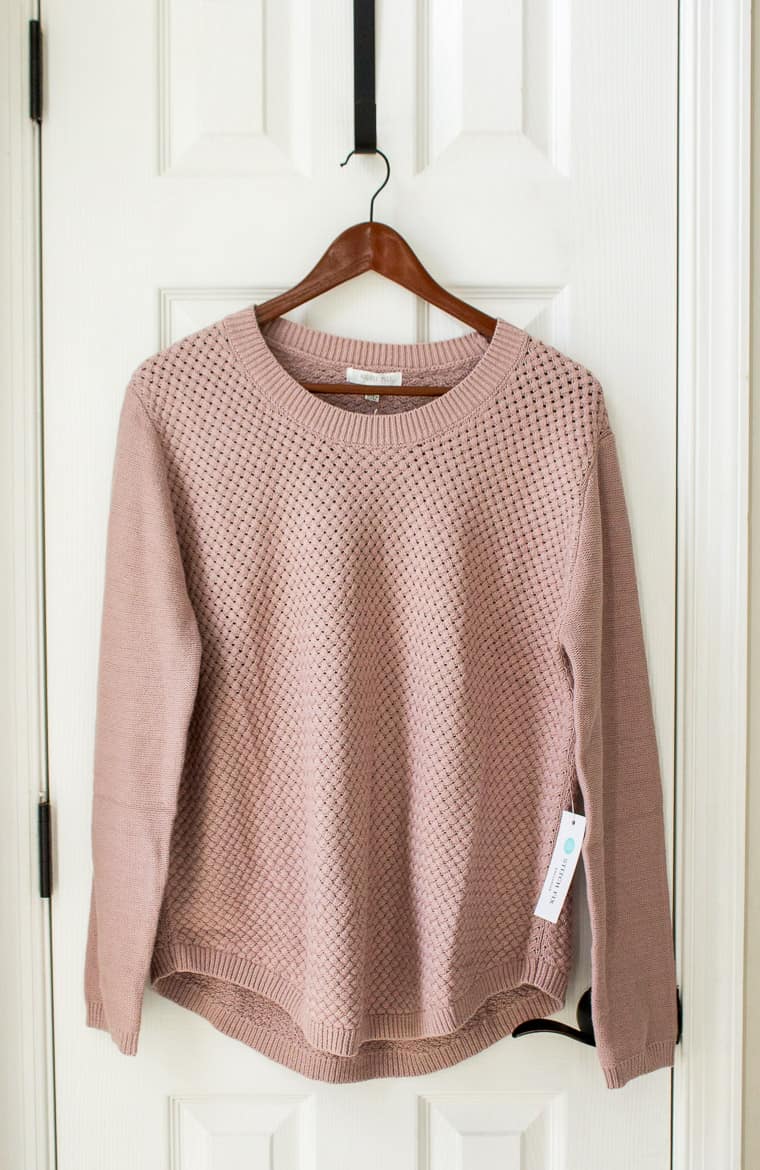 I absolutely love this sweater! It's a gorgeous color that I think will work all the way through Spring!
I do find that it runs a little big and I did consider exchanging it but decided against it. Oversized sweaters always look great and are super comfortable.
VERDICT: kept!
EMG Giselle Skinny Jeans ($68.00)
These jeans are so, so soft. Other than that, I would say that there's really not that much special about them. They are a great basic pair of jeans.
Personally, I just don't need another pair of blue jeans at the moment. I was able to find someone in a Stitch Fix Facebook group who wanted them and sold them to her.
Verdict: sold in a Stitch Fix Facebook group.
Urban Expressions Robi Classic Work Tote ($48.00)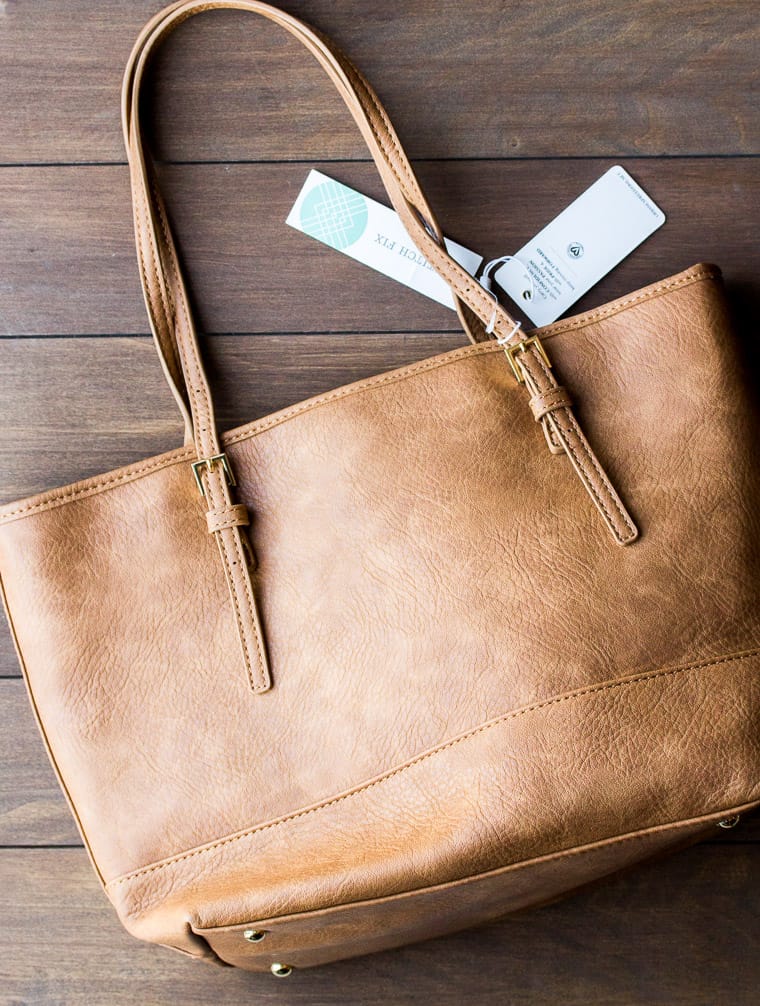 When I saw I was getting this tote I immediately knew I wasn't going to keep it. I just splurged on a Madewell bag from my last Trunk Club box that's a similar color and larger.
But, when this bag showed up at my door, I had a really hard time saying "no" to it. It's such a nice bag at a really great price!
The inside has a cute striped lining plus an attached wallet.
I had a hard time letting it go, but ultimately I did also sell this one in the Facebook group.
VERDICT: sold in a Stitch Fix Facebook group.
Wacoal Red Carpet Strapless Bra ($68.00)

The fact that Stitch Fix added this particular bra to their add-ons is proof that they are listening to their customers. So many women in the Facebook group have recommended this exact strapless bra.
I decided to splurge on this one based on so many positive recommendations. Hopefully,  now I won't have to limit certain clothing items so much now.
So far I can tell you that it's definitely high quality and does fit great. It doesn't feel like it's going to be constantly slipping out of place. I would say that it is definitely worth the money!
Verdict: kept!
Final Thoughts
Overall I thought this November 2018 Stitch Fix box was a really great one. This is the first time I didn't leave a note and I think my stylist did a great job.
The total for my November 2018 Stitch Fix items (not including the add-on bra) was $236.00. For buying all 5 items, I received a discount of $59.00 bringing the total to $177.00. 
Because I added on the bra, my final total was $245.00 and I recouped a good amount of that when I resold the jeans and bag. I do pass along the 25% discount when I resell items.
For my next fix, I am going to make a few requests. I love the tops she sent this time around and I could really use more similar lightweight tops. I'd like to see more jewel tones and maybe a pair of colored jeans, like maroon.
I'm going to work on updating my Pinterest Board and look forward to seeing what shows up in December!
How Can You Try Stitch Fix?
If this November 2018 Stitch Fix Review has you ready to try Stitch Fix for yourself, you can do so HERE! Make sure to be super specific about items you've seen and love. I would also definitely recommend linking an up-to-date Pinterest board that has Stitch Fix items you would love to get!
If you'd like to see more fall Stitch Fix items, you can check out my October 2018 Stitch Fix Review as well as my September 2018 Stitch Fix Review!