This recipe for Mongolian Ground Beef is quick, easy, and very flavorful. The dish takes less than 30 minutes to make, may be easily adapted into a gluten free version, and tastes better than take out. The sweet and spicy homemade sauce can even be made milder if you prefer.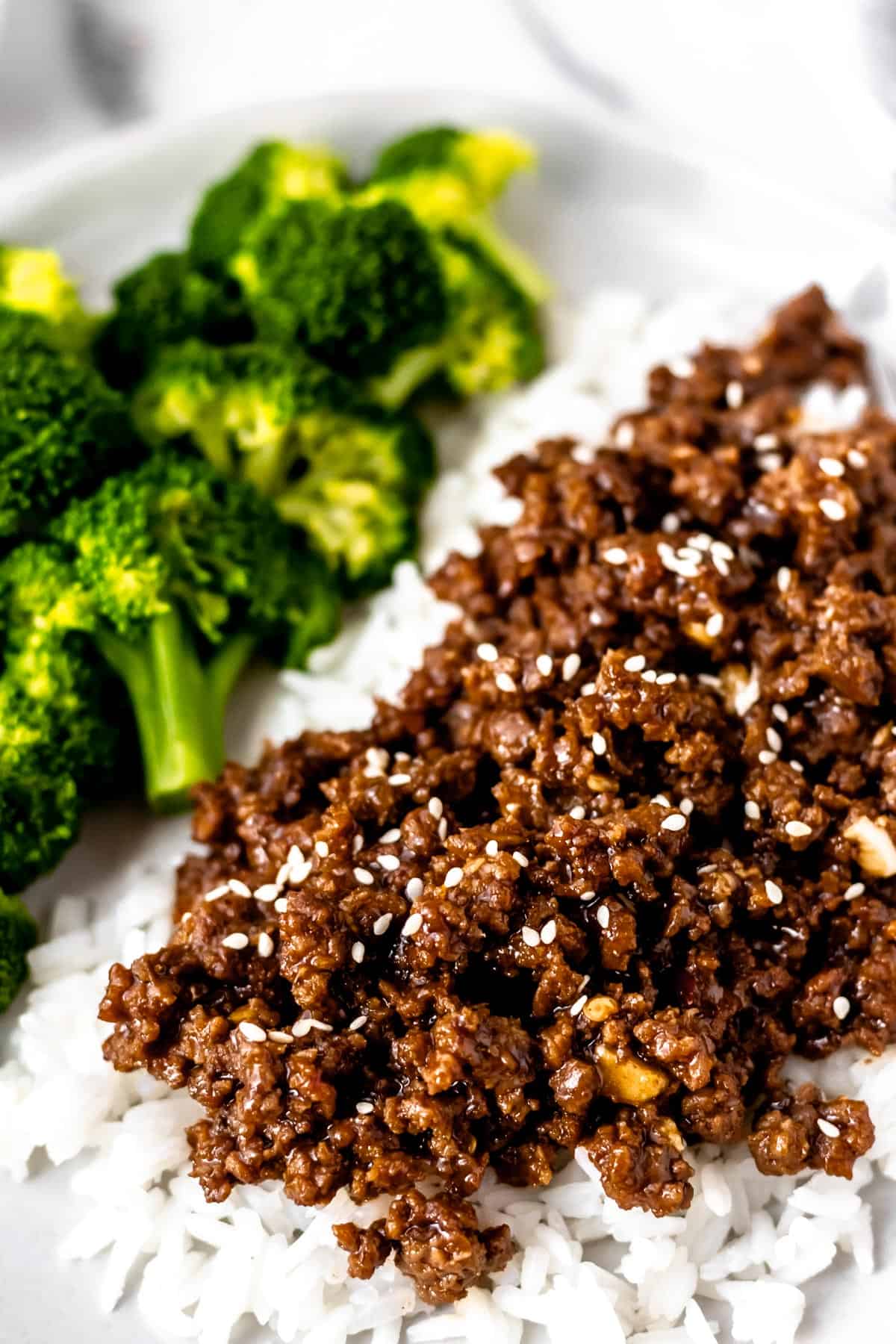 This post contains affiliate links. See our Disclosure Statement for more information.
This recipe for Mongolian Ground Beef takes less than 30 minutes to make and tastes even better than take out. It is very flavorful with plenty of garlic and ginger used to make the sauce.
It's a simple sauce, which is made by mincing the ginger and garlic and then quickly whisking together the remaining five ingredients. The entire recipe is quick and easy because all you need to do is make the sauce, cook the beef in a pan, and then add the sauce into the pan for the final step.
It is traditionally spicy but can be made mild as well. Just leave out the crushed red pepper for a milder dish which is more kid friendly too.
If your family enjoys traditional Mongolian Beef, they're sure to love this dish too. Since the sauce is made with a small amount of brown sugar, it's a bit sweet, which kids always seem to enjoy. Just add rice, maybe even Coconut Cauliflower Rice, and you've got yourself a full meal.
For a vegetarian option, which tastes just as delicious as Chinese take out, check out this similar recipe for Sesame Cauliflower.
Why This Recipe Works
This dish is quick and easy to make. Simply whisk together the sauce, cook the ground beef, and complete the recipe by thickening the sauce in the pan with the meat for a few minutes extra.
Mongolian Ground Beef is better than take out, because the sodium content is lower and less fat is used to cook the meat. It's also quicker than waiting for delivery or picking up the meal to go yourself.
This recipe can be made gluten free if you use gluten free varieties of soy sauce and hoisin sauce. You can also make a mild, kid friendly version by simply omitting the crushed red pepper flakes.
How To Make Mongolian Ground Beef
Ingredients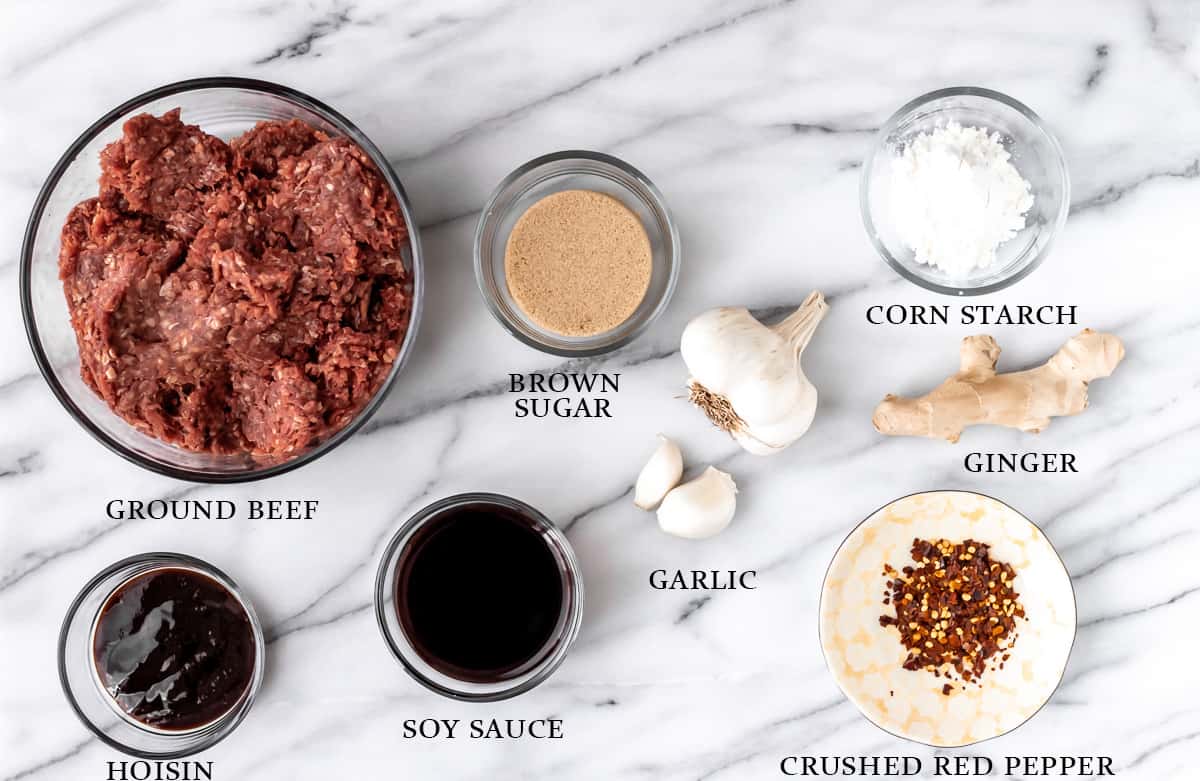 Ground Beef: I use a lean ground beef so there is not a lot of extra grease in the pan while cooking it.
Hoisin Sauce: you can use gluten free, if needed.
Soy Sauce: use gluten free, if needed. You can use low sodium soy sauce to reduce the total sodium content.
Brown Sugar
Garlic: fresh is best.
Ginger: fresh is best.
Corn Starch
Crushed Red Pepper: omit for a milder dish.
The entire recipe and instructions can also be found in the recipe card at the bottom of this post. You can also print the recipe from the card, if needed.
Prep!
Mince the garlic and ginger.
Create!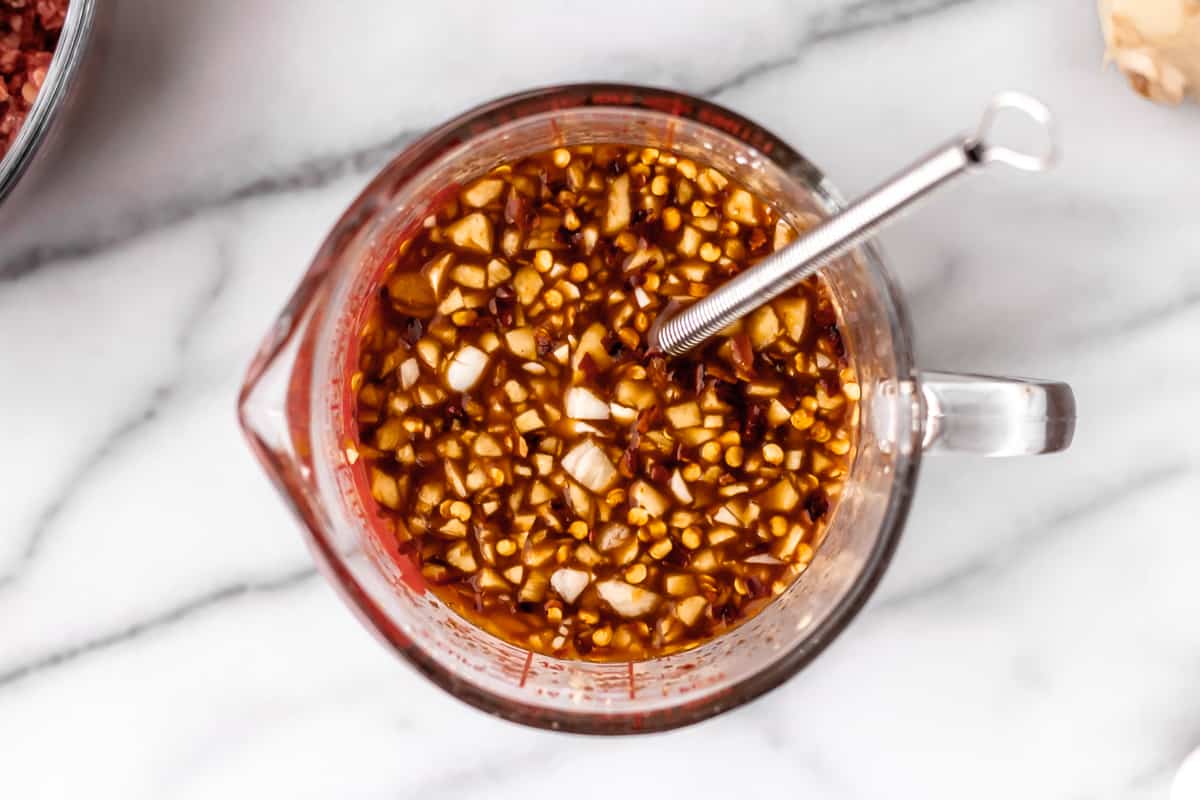 Combine water, soy sauce, hoisin sauce, brown sugar, garlic, ginger, cornstarch and red pepper flakes, if using, in a small bowl. Whisk to blend. Set aside.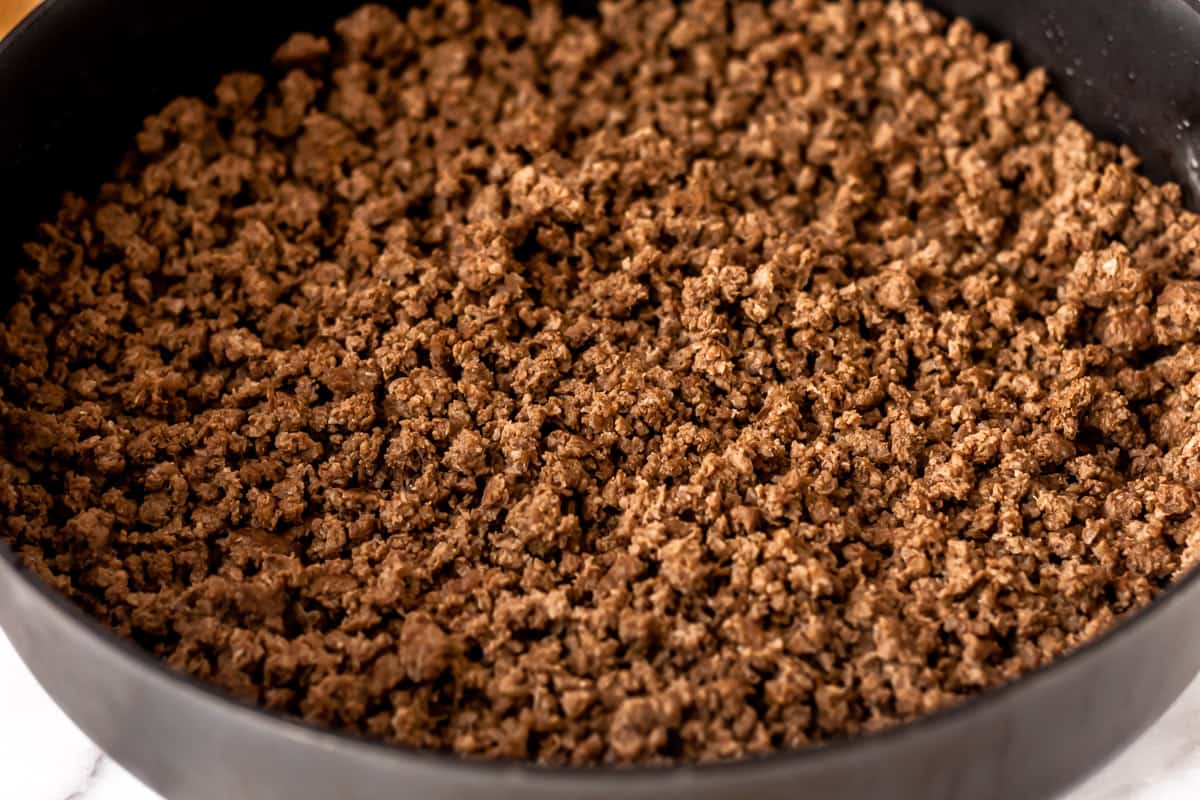 Heat the olive oil in a large, deep skillet on medium-high. Add the ground beef and cook until no longer pink, about 5-7 minutes.
Note: there is no need to add salt and pepper to the ground beef while it's cooking. The sauce is salty, but if more is preferred, it is recommended to taste at the end of cooking and add more as desired.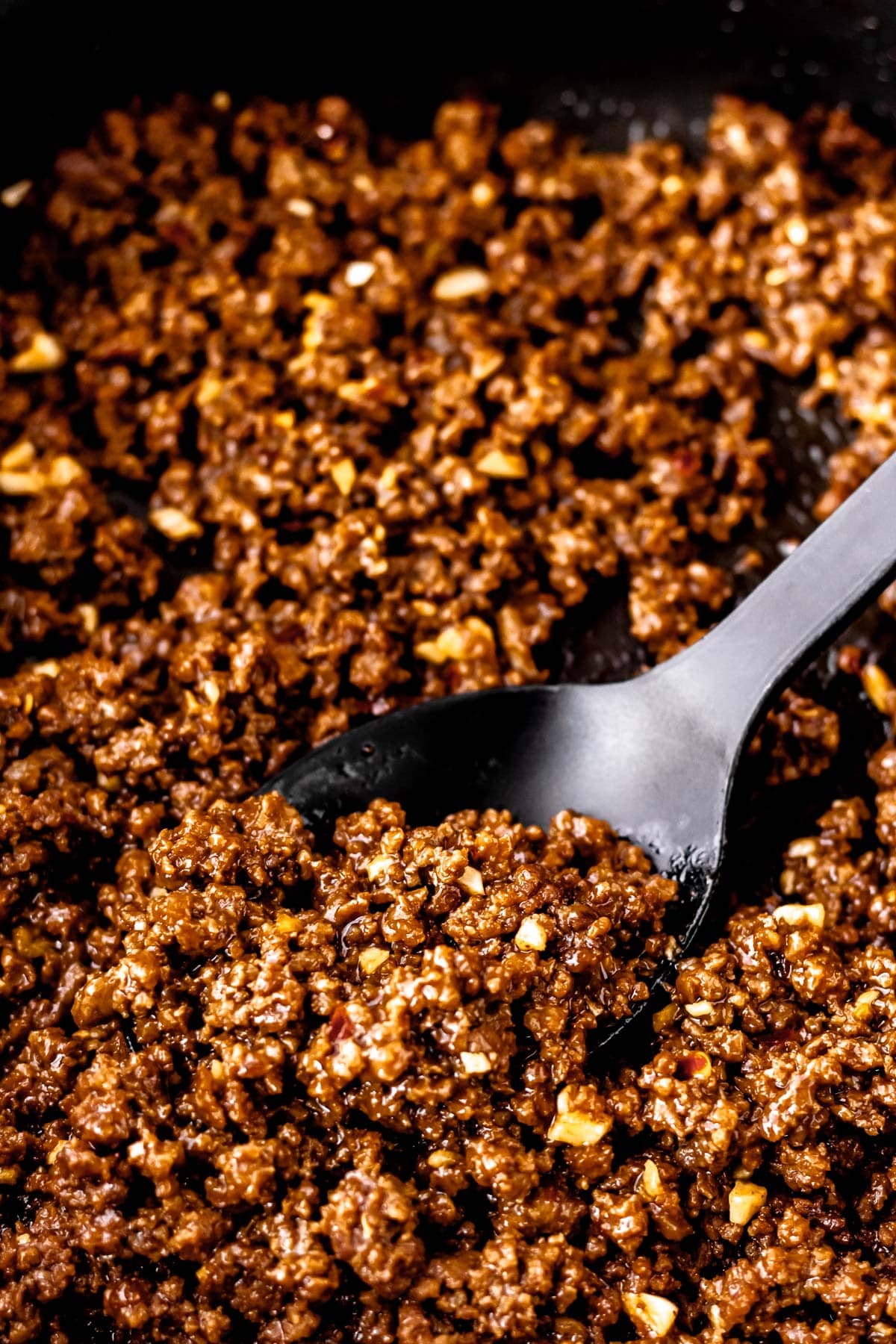 Pour in the sauce and cook until thickened, about 2-3 minutes.
Present!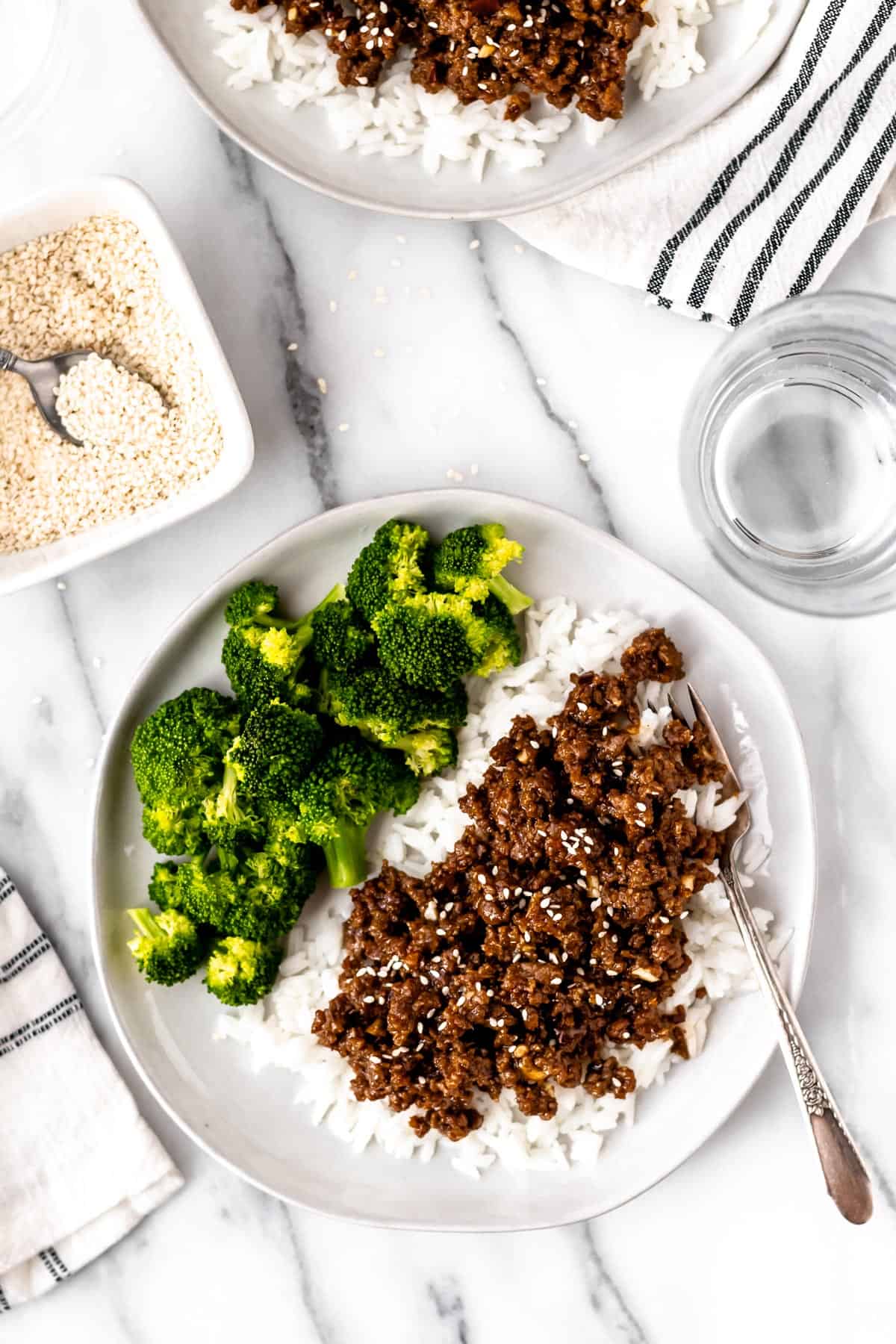 Serve over rice or noodles. Garnish with sesame seeds or slices of green onion, if desired.
Tips and Techniques
Do not add salt and pepper to the ground beef while it is cooking. Wait until the end of cooking to taste and add additional salt and pepper, if desired.
This dish can be made gluten free. Simply ensure that the hoisin and soy sauce that you use are both gluten free.
Store leftovers in an airtight container in the refrigerator. Consume within 3-4 days.
FAQ's
Is Mongolian Beef Spicy?
Take out Mongolian Beef is generally a spicy dish. If you make it at home, you can make a mild version by simply omitting the pepper.
Is Mongolian Beef Gluten Free?
Take out Mongolian Beef is most likely not going to be gluten free. If you make your own Mongolian Beef, you can make it gluten free by using gluten free soy sauce and gluten free hoisin sauce.
Is Mongolian Beef Keto Friendly?
No, Mongolian Beef is not keto-friendly.
More Ground Beef Recipes
Love this Mongolian Ground Beef recipe? Follow me on Pinterest, Instagram, and Facebook for more.
If you try this recipe, I would really appreciate it if you would please leave a comment and star rating. Thanks!