This recipe for Meatball Sliders hits the spot every time and is a quick, fun appetizer. This perfect snack is full of flavor with cheesy melted mozzarella, savory tomato sauce, and Italian meatballs. Garlic Bread Meatball Sliders are easy to prepare and versatile. They are so tempting and delicious that you may choose to serve them as the main meal as well.
This post contains affiliate links. See our Disclosure Statement for more information.
Meatball sliders are a tasty crowd pleaser which is perfect to serve as an appetizer, snack, or main meal. It's like a mini meatball sub sandwich, with less mess, but just as much flavor and cheesy goodness.
Serve these as part of your next tailgate, party or potluck spread, or serve as a full meal alongside a light side such as, Italian-style Prosciutto Wrapped Asparagus with Parmesan and Almonds.
This recipe is super easy, especially if you choose to use leftover or frozen meatballs and a premade tomato sauce. However, you may also choose to use homemade Italian Meatballs and fresh tomato sauce for an extra special touch.
These sliders are made on King's Hawaiian rolls, brushed with garlic butter on top for even more flavor. No matter how you choose to make Meatball Sliders, you will surely enjoy every bite.
Garlic bread Meatball Sliders are crave-worthy with their buttery, herby aroma. If you happen to have leftover meatballs, you should definitely give this simple recipe a try. It is straightforward and quick enough for anyone to prepare. Plus, you can customize it to your liking depending on what kind of sauce, bread, or cheese you decide to use.
Why This Recipe Works
Meatball Sliders are a quick and easy snack, which may also be served as a main meal. Using leftover or frozen meatballs works great and makes this recipe even simpler to prepare.
This recipe is incredibly flavorful. Savory meatballs, rich tomato sauce and melted mozzarella on sweet Hawaiian rolls brushed with garlic butter are all components of this delicious dish.
This dish is versatile and customizable. It is your choice whether to use beef or turkey meatballs, your favorite sauce, homemade or jarred, and feel free to use as much cheese as you like.
How To Make Meatball Sliders
Ingredients
King's Hawaiian Rolls: you can use any slider rolls you like, if you can't find these or prefer something else.
Meatballs: use homemade or frozen meatballs. You will need to cook frozen meatballs first.
Tomato Sauce: any sauce will do – be sure to pick a flavorful one!
Mozzarella Cheese: I prefer to use fresh, but shredded will work too.
Butter
Garlic Powder
Dried Parsley
The full recipe and instructions can be found in the recipe card at the bottom of this post.
Prep!
If using frozen meatballs, you will need to cook them first.
Preheat oven to 350°F.
Create!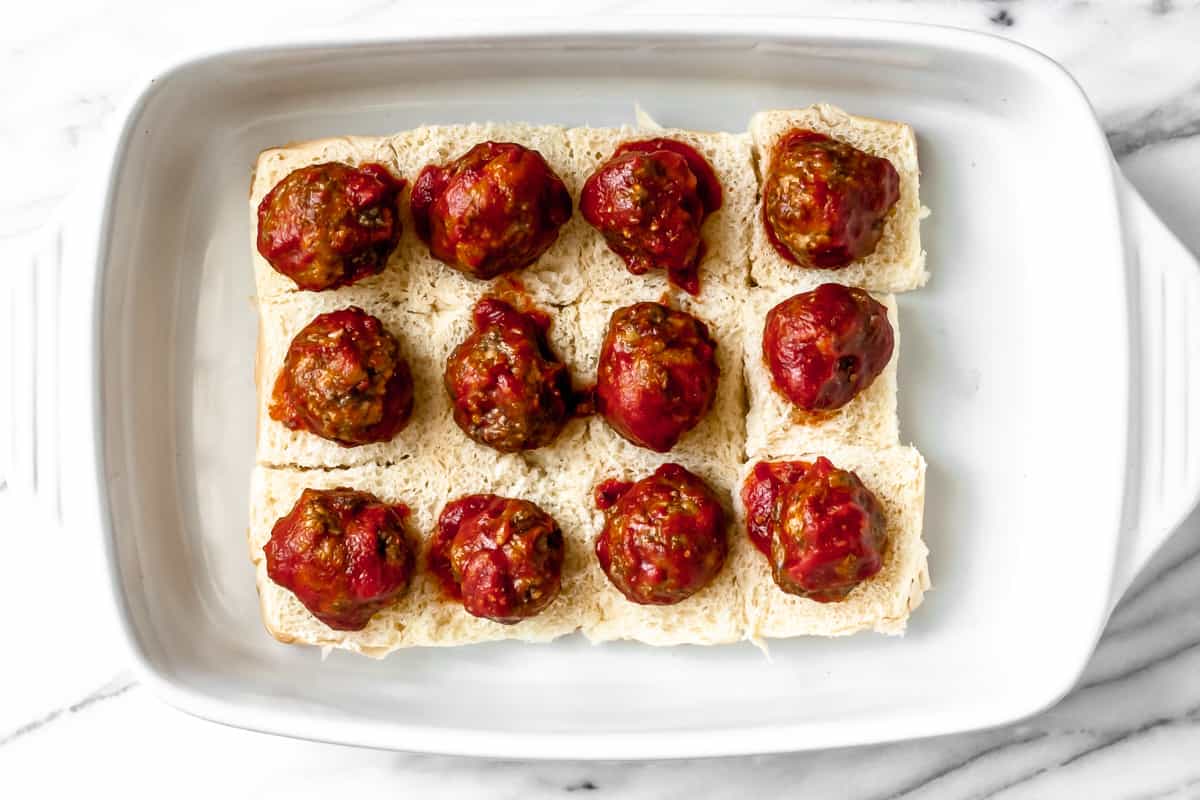 Cut the tops off of the King's Hawaiian Rolls. You can usually do this while they are all still connected. Place in a large casserole dish.
Toss the meatballs in the sauce and place a single meatball on each roll.
Top each meatball with a slice of cheese.
Replace the tops of the rolls.
Melt butter and stir in garlic powder and parsley. Drizzle or brush onto the tops of the rolls.
Cover the casserole dish with aluminum foil and bake 10 minutes.
Remove the foil and bake an additional 10 minutes or until the sliders are hot and the cheese is melted.
Present!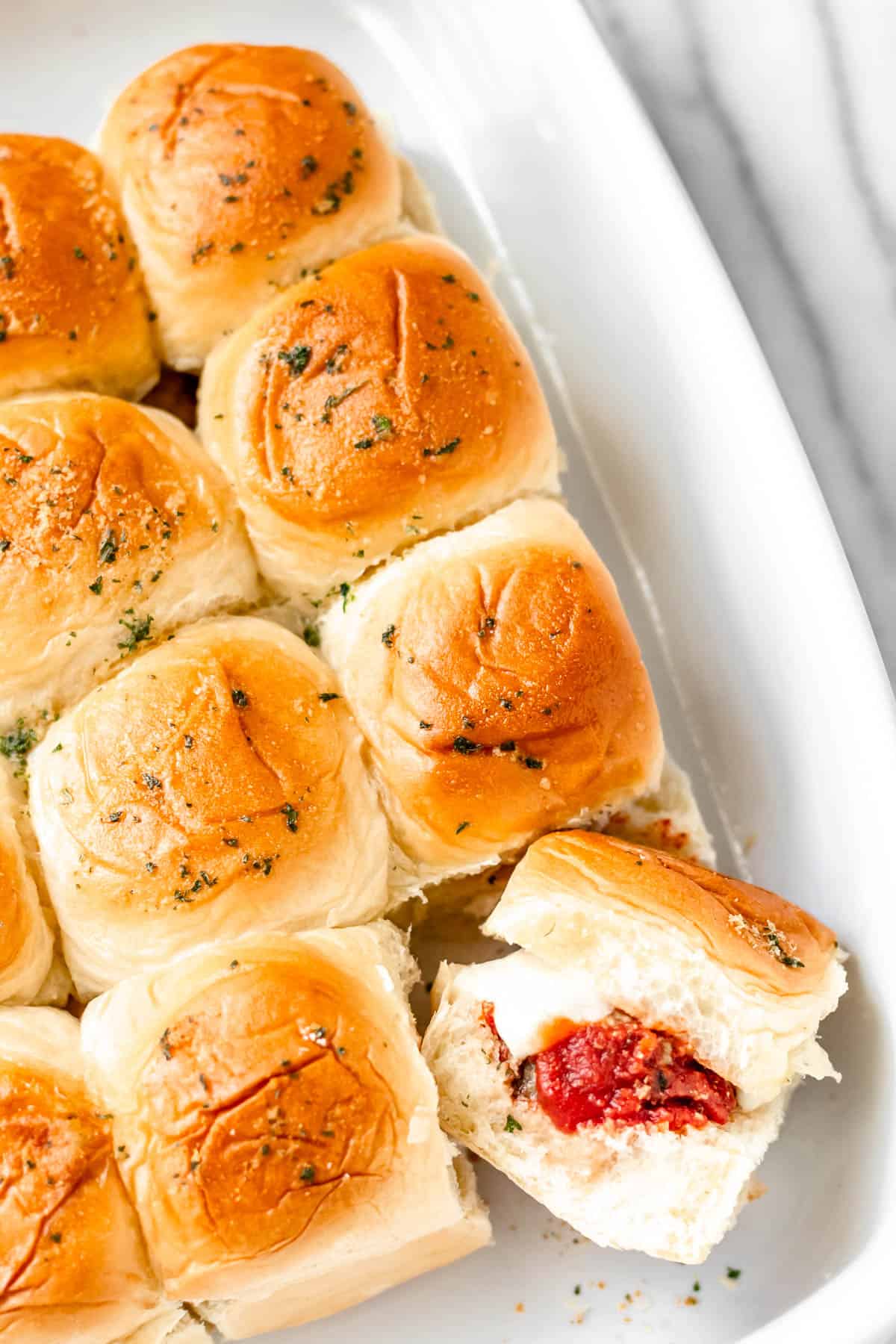 Serve warm.
You can brush the sliders with additional butter once they are out of the oven, if desired.
Tips and Techniques
You can use homemade or frozen meatballs. Be sure to cook the frozen meatballs before using. Turkey meatballs can also be used in this recipe.
Store leftovers tightly covered in the refrigerator. Consume within 3-4 days.
FAQ's
What Do You Serve With Meatball Sliders?
Meatballs sliders can be served alone or with a variety of dishes. They can be served with:
… and so much more!
How Do You Reheat Sliders?
Reheating sliders in the oven will give you the best results. Heat oven to 350°F and cook sliders until warmed through. They need to reach an internal temperature of 165°F.
Sliders can also be reheated in the microwave, but the bread will be much softer.
More Sandwich Recipes
Love this Meatball Sliders recipe? Follow me on Pinterest, Instagram, and Facebook for more!
If you try this recipe, I would really appreciate it if you would please leave a comment and star rating. Thanks!