This post is sponsored by Duke's Mayonnaise and includes tracking links. For more information about tracking links and how to opt out, please visit All About Do Not Track (https://allaboutdnt.com) prior to clicking any links found in this post.
Mayonnaise Chicken Nuggets are made with chunks of juicy chicken breaded with crispy, crunchy panko bread crumbs. Using mayonnaise as part of the breading process will give you extremely moist, flavorful chicken. Enjoy these baked chicken nuggets as part of a quick, delicious lunch or dinner.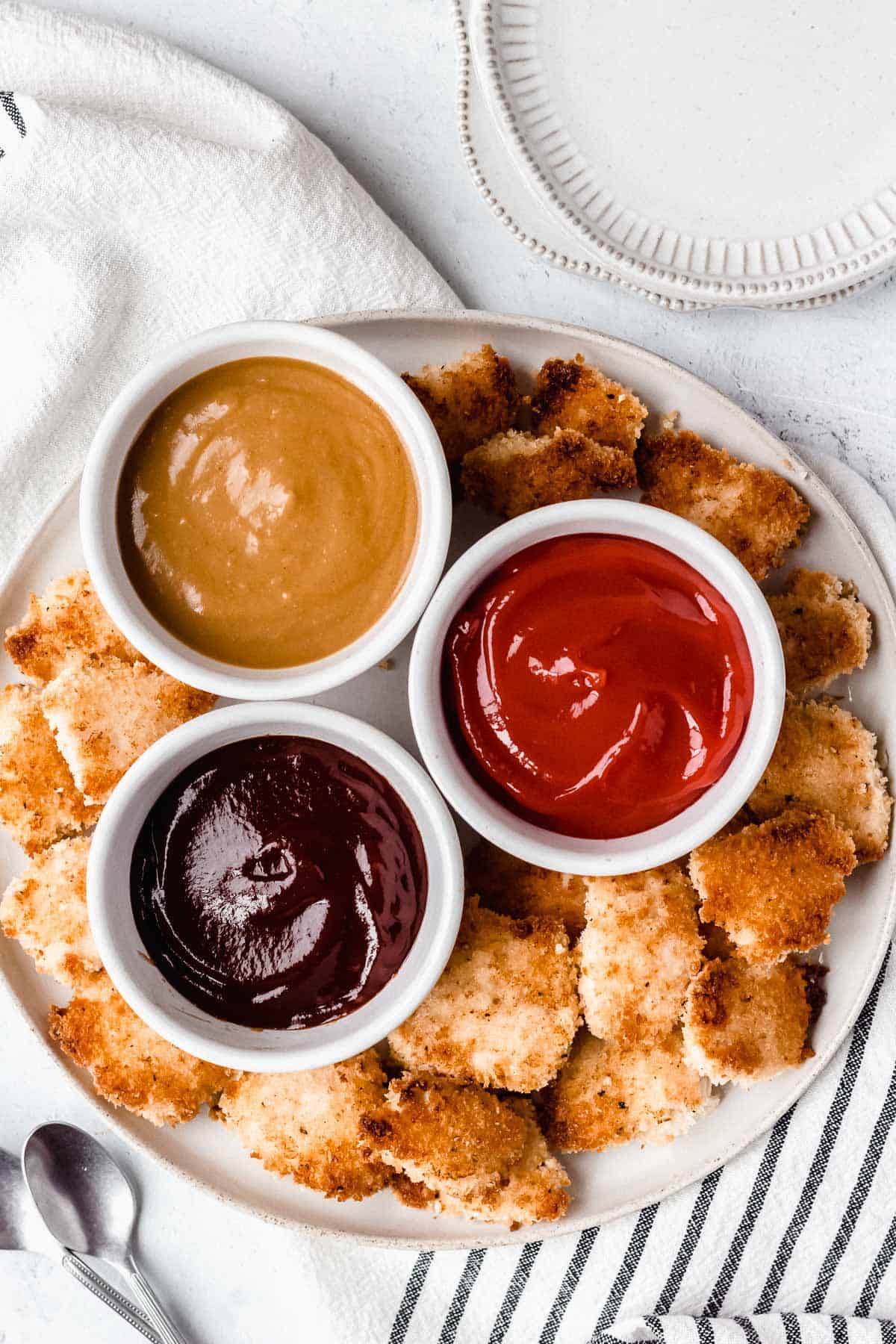 You may have heard of Mayonnaise Chicken before. It's basically chicken that is coated with mayonnaise, then breaded and cooked. Sometimes there are other ingredients added to the recipe, like cheese or herbs.
Because my kids go through a ton of chicken nuggets, I wanted to make a homemade chicken nuggets recipe for them. To ensure that the chicken would bake up tender and flavorful, I used Duke's Real Mayonnaise as part of the breading process.
Duke's is known for its southern "twang" and is perfect in this recipe because it gives the chicken a little extra tanginess and doesn't contain any sugar.
Why use mayonnaise to bread chicken? Using mayonnaise to bread chicken not only holds the bread crumbs on, but it also keeps the chicken moist, tender, and adds flavor.
Why This Recipe Works
This recipe is so easy to make. There are just 3 ingredients and it takes less than 30 minutes from start to finish.
Using mayonnaise as part of the breading process keeps the chicken incredibly moist and flavorful, with a crunchy panko coating on the outside.
It's a very kid-friendly recipe. You can enjoy these nuggets for lunch or dinner.
How To Make Mayonnaise Chicken Nuggets
Ingredients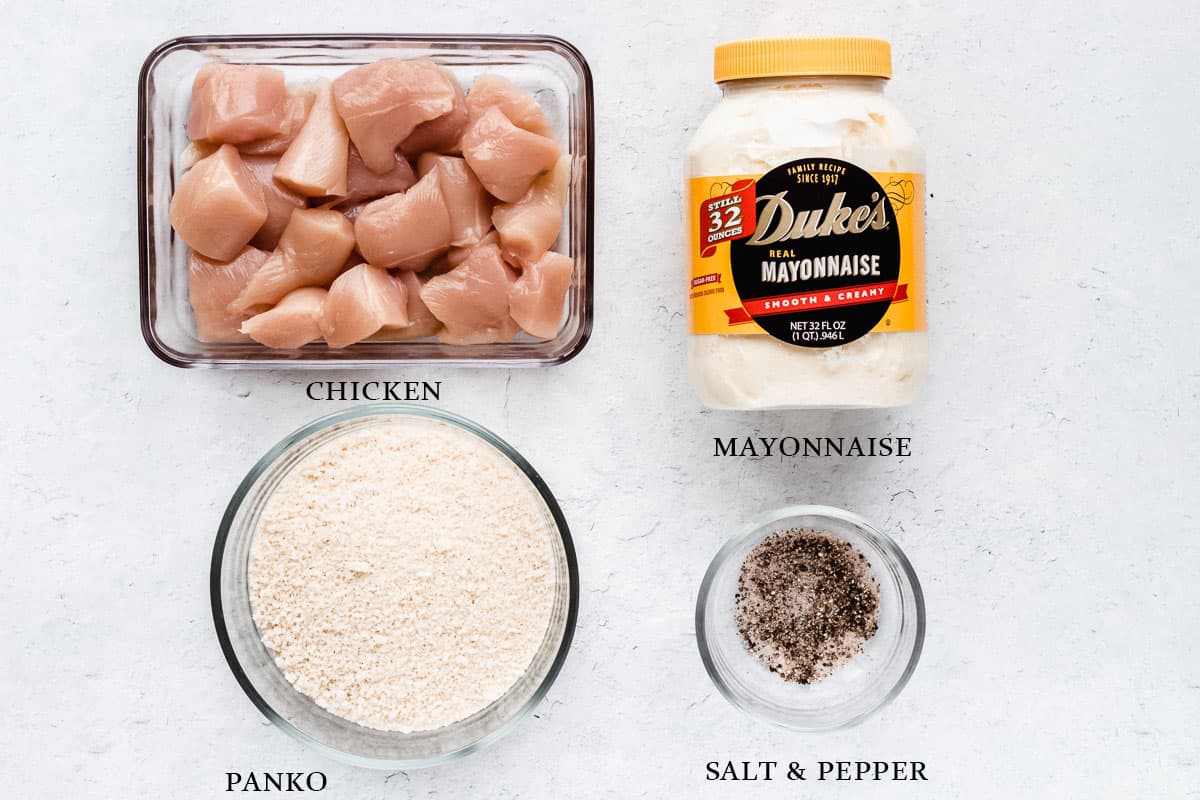 Use boneless, skinless chicken breasts or tenders.
You can swap out plain panko bread crumbs for seasoned panko or regular bread crumbs, if preferred. Gluten free bread crumbs can also be used, if needed.
The entire recipe and instructions can be found in the recipe card at the bottom of this post. You can also print the recipe from the card, if needed.
Prep!
The prep work for this recipe is very simple.
Preheat your oven to 400°F and coat the bottom of a baking sheet with a thin layer of olive oil or non-stick cooking spray.
Cut the chicken into 1 1/2 to 2-inch size pieces. Try to keep them as evenly sized as possible so that they all bake at the same rate.
Place the mayonnaise in one bowl and the panko in another.
Create!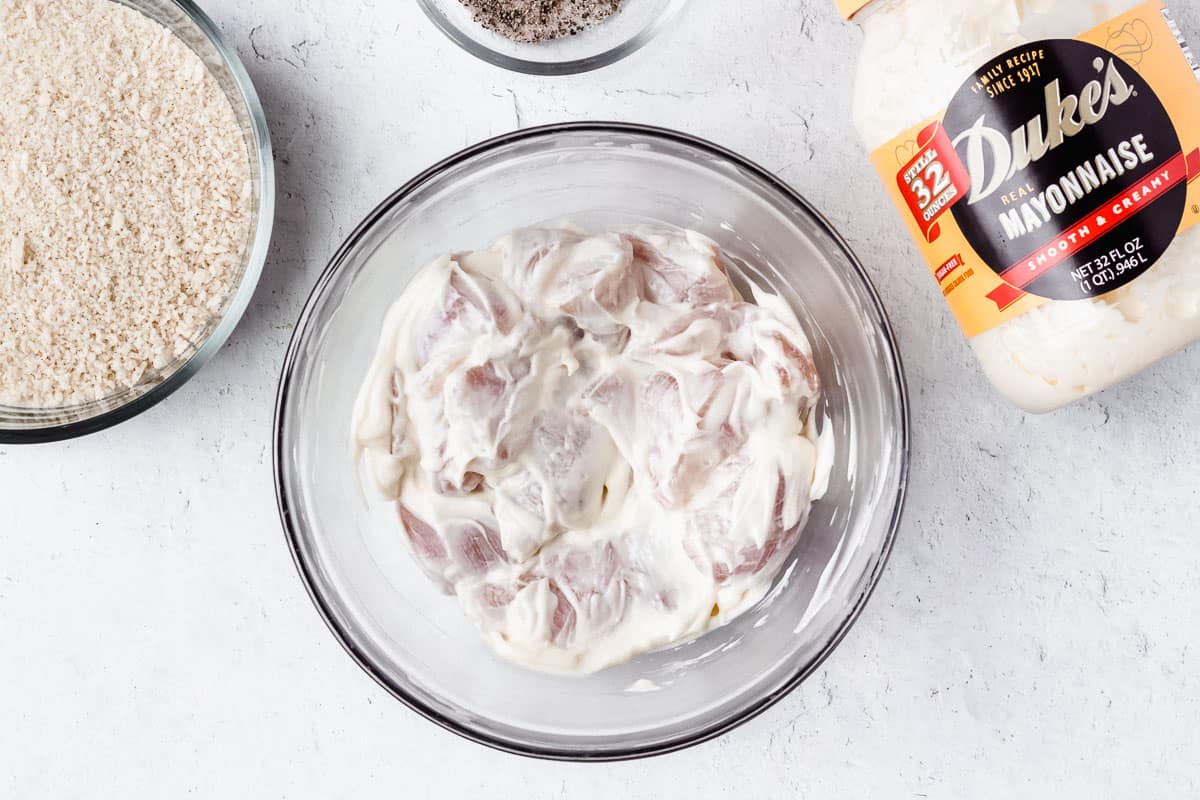 Toss the pieces of chicken into the mayonnaise until coated.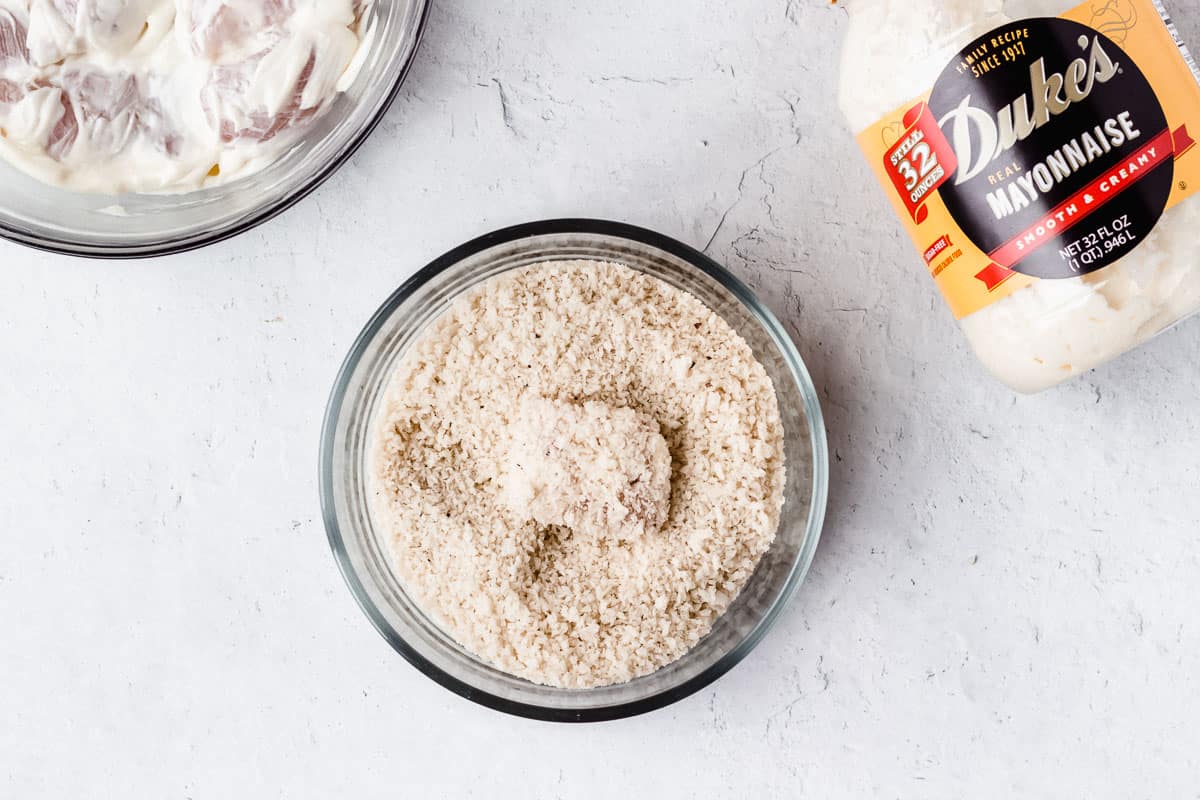 Then, toss each piece of chicken into the panko and turn to coat all sides.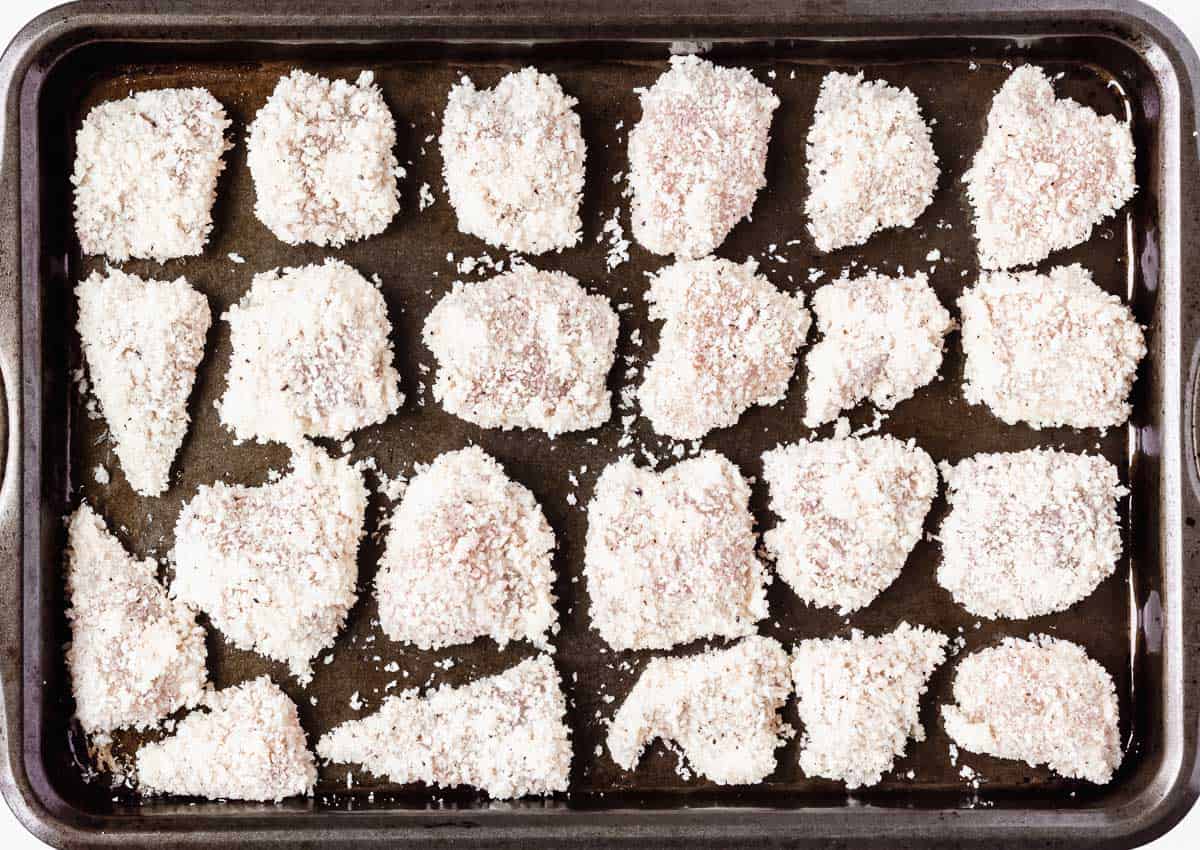 Place on the prepared baking sheet.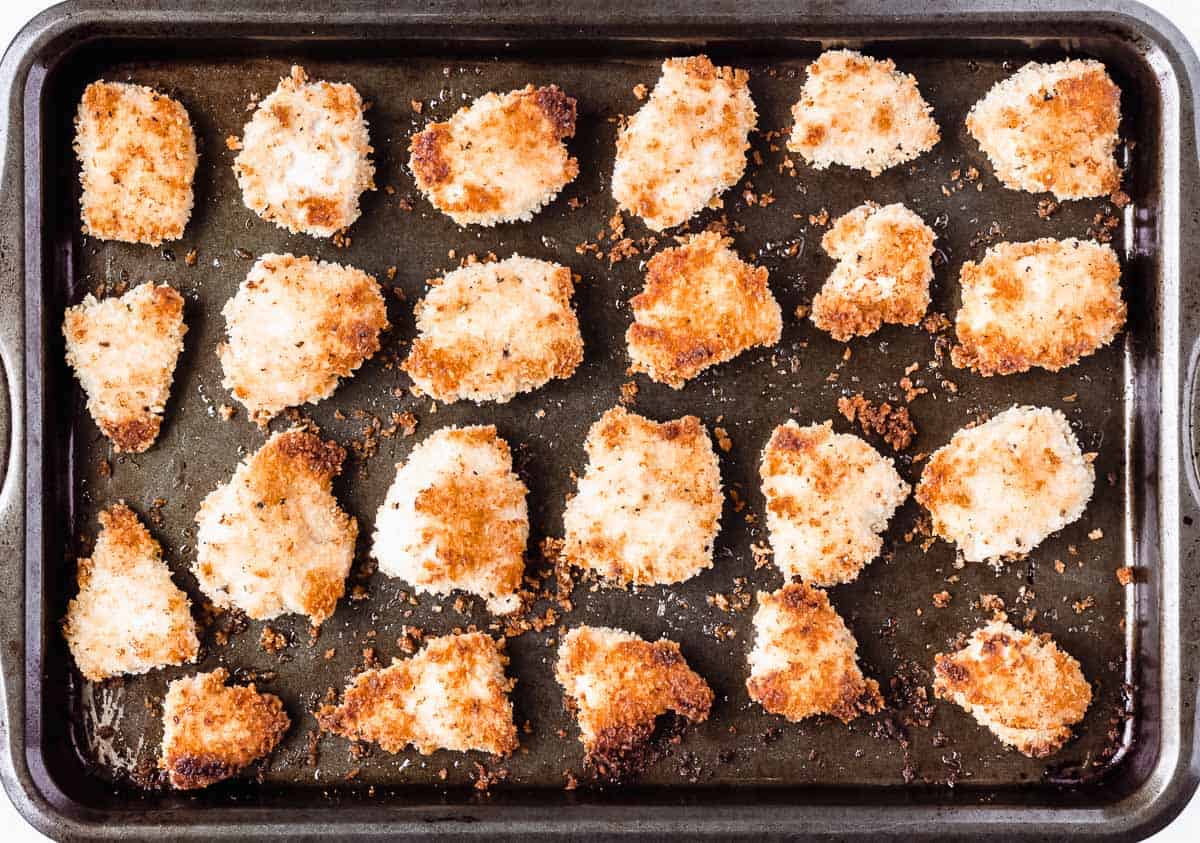 Bake 15-20 minutes, turning over halfway gently with a fork, or until no longer pink in the center.
Present!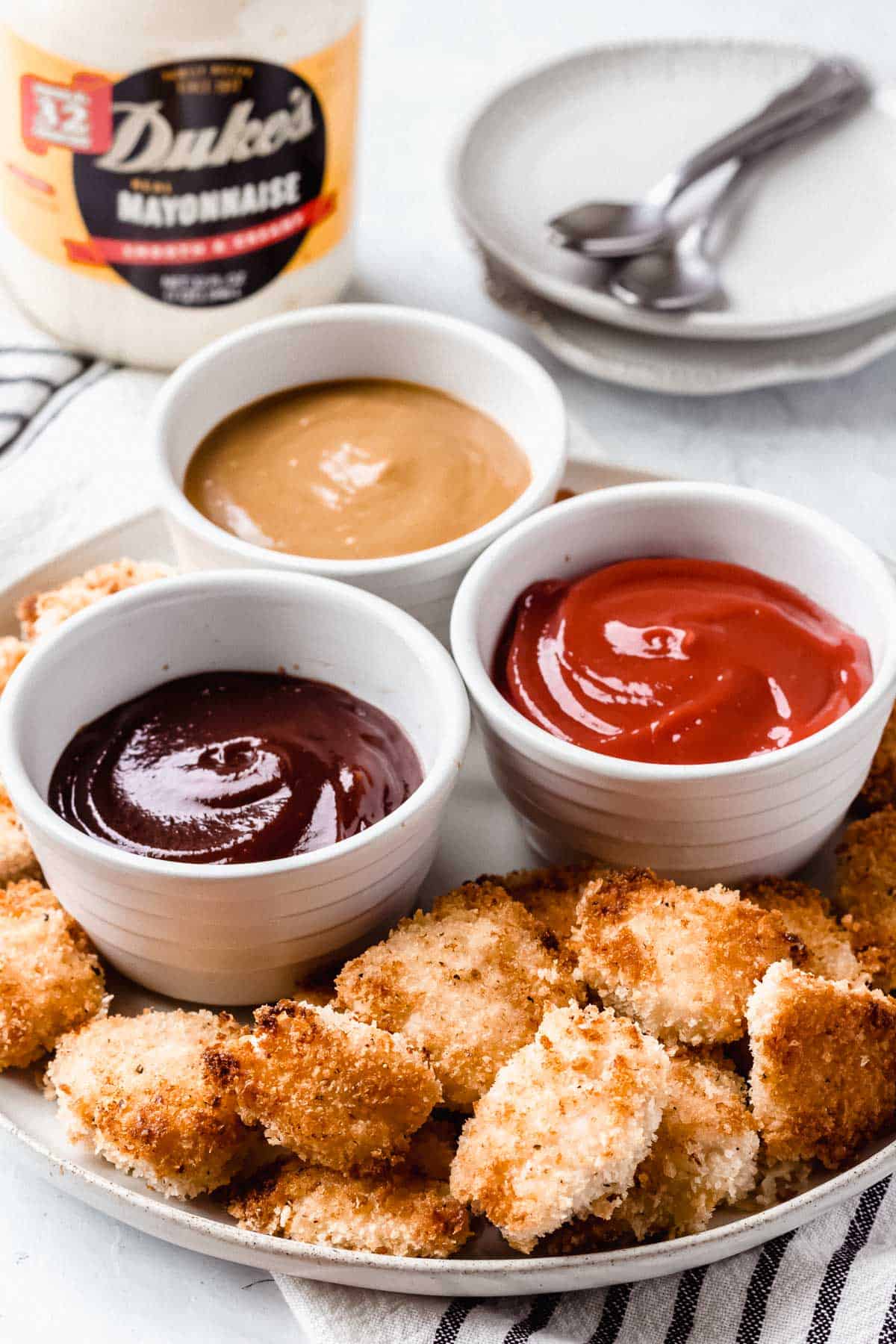 Serve as is, or with your favorite dipping sauces.
Be sure to follow Duke's on Instagram, Facebook, Pinterest, and/or Twitter for more recipe inspiration!
Tips and Techniques
Try to cut the chicken as evenly sized as possible. This helps ensure that all of the chicken nuggets cook at the same rate.
If preferred, you can use seasoned panko or bread crumbs.
Store leftovers tightly covered in the refrigerator. Use within 3-4 days. Leftovers are best reheated in the oven.
FAQ's
What Do You Serve With Mayonnaise Chicken Nuggets?
You can serve any dipping sauces that you enjoy with chicken nuggets. Some popular choices are ketchup, barbecue sauce, honey mustard, peanut sauce, and sweet chili sauce.
To make a complete meal, serve chicken nuggets with a vegetable like broccoli or carrots and a starch like rice or potatoes.
Can You Freeze Mayonnaise Chicken Nuggets?
Freezing chicken nuggets made with mayonnaise is not recommended. Rather, store leftovers in the refrigerator and use within 3-4 days.
More Easy Chicken Recipes
Love this Mayonnaise Chicken Nuggets recipe? Follow me on Pinterest, Instagram, and Facebook for more!
If you try this recipe, I would really appreciate it if you would please leave a comment and star rating. Thanks!