See what kind of vegetarian meals you can expect in this March 2018 Blue Apron Review!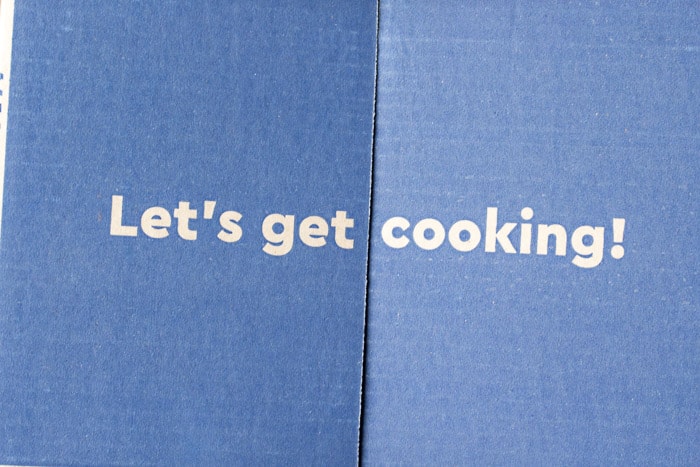 This post contains affiliate links. See our Disclosure Statement for more information.
This year instead of setting New Year's resolutions, I decided to set monthly intentions. Part of those intentions is to continue living a healthier lifestyle. I should be eating low carb or following a keto diet most of the time, but sometimes I really just want a sweet potato!
So, for the month of March, I have decided to revert to my old ways. I was a vegetarian for over 10 years and have been feeling a pull back in that direction for quite some time. With all the new recipes out there for vegetarians now, I thought it would be fun to order some vegetarian meal kits.
I really loved the recipes that Blue Apron offered and so this is my first vegetarian meal kit review!
Blue Apron is a meal kit subscription that offers a variety of recipes for you to choose from each week. You can also skip weeks as often as you like if none of the recipes look good to you, or if you simply don't need a delivery.
I've tried Blue Apron a few times and have always been so happy with the quality of the food and the flavor of the recipes. They do an amazing job! If you are interested in trying Blue Apron for yourself, new customers can save $20 off of each of their first three boxes!
March 2018 Blue Apron Review (vegetarian)
Packaging
Packaging for meal kits all tends to be pretty much the same. All of the ingredients are inside a well-insulated box with an ice pack or two, usually at the bottom. If there are any proteins, they can be found at the bottom of the box, closest to the ice.
One thing that Blue Apron does do a bit differently, is pack all of the ingredients into the box separate. Meaning that the ingredients for each recipe are not packaged together. This doesn't bother me too much. I suppose it cuts down on some packaging.  When I unpack my box, I separate the ingredients myself and put them together in shopping bags in my refrigerator.
The only exception to this is what Blue Apron refers to as "knick-knacks." These are the smaller recipe ingredients and can be found bagged together, along with a separate sheet with the nutritional facts on it. I do wish the nutritional information was on the recipe cards, because I do keep the recipes for future use.
Fettuccine & Roasted Fennel with Whipped Ricotta & Garlic Breadcrumbs
As soon as I read "whipped ricotta" and "fennel" I was sold! No one else in my house likes fennel, so I rarely get a chance to make it. I thought it was really creative to add it to the pasta!  There is also chopped olives, red pepper flakes, and a cheese called Quark mixed into the pasta. The Quark cheese tasted a lot like sour cream to me.
This recipe took about 35 minutes to make which is right on par with the estimate that Blue Apron provided. It was really easy to make, but you will have several things going at once.
As a whole this dish was delicious! I probably should have split it into 3 meals instead of 2 because the servings were huge! It's possible I just think that because I rarely eat pasta and I'm not used to the heaviness of this type of meal. Or maybe the meals are larger because of the lack of expensive proteins? I'm not quite sure, but with all three of these meals, I could have gotten 3 servings.
Spicy Sweet Potato Chili with White Beans & Cheddar Quesadillas
Of course I had to order the sweet potato recipe! I've been dying for sweet potatoes for months and this chili was so amazing, it definitely satisfied my cravings!
This was also pretty easy to make, taking around 45 minutes. I do want to note that the ingredients list called for 1 pound of sweet potatoes. Inside my box was one small sweet potato.  It did not look like it would be enough for this recipe at all, so I decided to weigh it out of curiosity. It was only half of a pound.  This is the first time I've ever had any issue with a Blue Apron recipe. Luckily, I did just buy sweet potatoes and had one that was also a half pound to use for this recipe. I did not contact Blue Apron regarding this, but should it happen again, I most definitely will.
The combination of sweet potato, smoky chipotle, and kale is unbelievably tasty! This recipe also came with Cheddar Quesadillas which were filled with cheddar cheese curds and a cave-aged cheddar cheese that I just loved!
Again, I should have split this into 3 servings. The addition of the quesadillas make this a bit heavier meal as well.
Three-Cheese Calzones with Kale & Golden Raisins
This recipe actually states it's 3 servings. Again, it was super easy to make, taking about 45 minutes from start to finish.
The only issue I had with this one was with the pizza dough. Even after sitting out, it just wouldn't roll out nicely for me and either kept springing back, or completely sticking to my rolling pin. I was still able to make 3 calzones, but the filling leaked out a little of each one.
While they were definitely a bit messy, they were also definitely tasty! The golden raisins got a bit lost, but every once in while I would get a little burst of sweetness from one.
One calzone was plenty filling for me!
Conclusion
Overall I am really happy with these three vegetarian recipes from Blue Apron! The flavors were incredible and the portion sizes were actually too big! I could have easily gotten 9 meals total instead of 7 with this order.
Personally, I order from Blue Apron as needed, if I really love the recipes on the menu. I would definitely recommend Blue Apron to anyone who is interested in really flavorful meals, as their recipes are some of the best I've had!
Hopefully, you found this March 2018 Blue Apron Review helpful! Don't forget – if you are a new customer, you can save $60 off of your first three Apron boxes!