Maple Cinnamon Sweet Potatoes and Apples combines tart apples with sweet cinnamon and sweet potatoes to make the perfect Fall side dish!
 This post contains affiliate links. See our Disclosure Statement for more information.
You guys will never even believe where I got the idea to make this recipe for Maple Cinnamon Sweet Potatoes and Apples…Gerber!  Yes!  Gerber, the baby food company!  And, my eight-year-old son, Jaxon.  Weird combination huh?!?  It's becoming more and more obvious that Jaxon is my best assistant when it comes to recipe development.  Sadly, he's too busy lately to be bothered to hang out in the kitchen with mom.  Hopefully that changes soon, but for now I'll happily take all the conversations and cool recipe ideas I can get!
I also have a 10 month old bay boy named Benjamin.  You may or may not have read about him in my About Me page.  He has a condition called Achondroplasia, a form of dwarfism.  We had heard that he may be on baby purees longer because of the smaller throat area kids with dwarfism tend to have, and this seems to be true for our sweet little boy as well.  He just recently started eating Gerber Crunchies because they dissolve quickly.  Guess what flavor is his favorite?  You got it!  Sweet Potato and Apple!  And guess who else likes them…haha!  We had to buy Jaxon his own can the last time we went shopping because he kept stealing all of Benjamin's!
So somehow, and I can't remember exactly how, Jaxon and I got to talk about how he doesn't like sweet potatoes but he does like these crunchies.  We decided we should try to make a side dish that was based on the same flavors to see if Jaxon like it.  On the ingredients list I saw there was cinnamon and nutmeg, as well as brown sugar.  I decided to omit the brown sugar and go with maple syrup for a little lighter sweetness.  To me, this has almost the same spicy, sweet flavor as good ole Apple Pie!  I always use tart apples and the sweet potatoes taste amazing with this flavor combination as well!
Jaxon ate all of his and didn't complain one time.  Afterwards he told me it was good and he'd eat it again!  He's getting pickier by the day, so when he eats his dinner without complaining I am one happy mama!
I just love when I can say that a recipe that tastes really good is easy!  Besides the fact you have to chop up the sweet potatoes, this ones a cinch!  I made some turkey cutlets sprinkled with salt, pepper, thyme and rosemary and dinner was served!  Perfect for busy weeknights.
If you give these Maple Cinnamon Sweet Potatoes a try please let me know and I'll pass the reviews along to Jaxon 🙂 Haha!  Leave a comment or send us a message anytime!
Enjoy!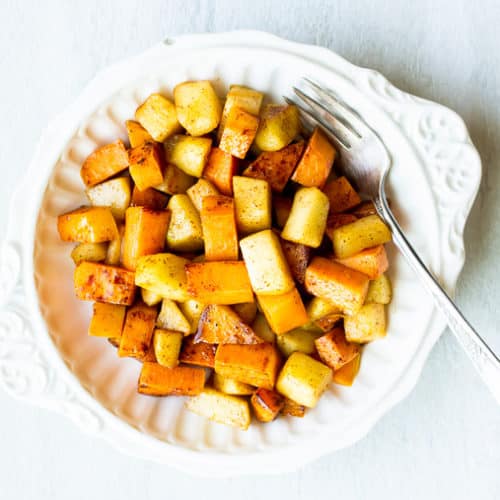 Print
Sweet Potatoes and Apples with Cinnamon and Maple
Sweet Potatoes and Apples with Cinnamon and Maple combines tart apples, sweet potatoes and warm cinnamon and spices to make the perfect fall side dish! 
Ingredients
1

tablespoon

butter

3.5

cups

sweet potatoes

* diced from 3 medium potatoes

3.5

cups

apples

* diced from 3 apples (I use Granny Smith)

1

teaspoon

cinnamon

1/4

teaspoon

ground nutmeg

3

tablespoons

pure maple syrup
Instructions
Melt the butter in a large frying pan over medium high heat.

Add the sweet potatoes and cook, stirring frequently, until almost tender, about 10-15 minutes.

Stir in the apples, cinnamon, and nutmeg. Cover and continue to cook, stirring often, until the sweet potatoes and apples are fork tender, about another 5-10 minutes.

Drizzle with maple syrup, stir, and serve.
Notes
Tips and Techniques for the Best Sweet Potatoes and Apples
If you prefer a sweeter recipe, you can swap in a sweeter apple variety like Fugi or Gala.
Try to cut your sweet potatoes and apples into as evenly-sized pieces as possible. This will help them all cook at the same rate so that you don't end up with mushy or hard pieces.
Store leftovers in an air-tight container in the refrigerator. Use within 4-5 days.
** Nutritional information is an estimate and may vary.
Nutrition
Serving:
1
serving
|
Calories:
150
kcal
|
Carbohydrates:
33
g
|
Protein:
1
g
|
Fat:
2
g
|
Saturated Fat:
1
g
|
Cholesterol:
5
mg
|
Sodium:
45
mg
|
Potassium:
362
mg
|
Fiber:
4
g
|
Sugar:
17
g
|
Vitamin A:
11104
IU
|
Vitamin C:
5
mg
|
Calcium:
42
mg
|
Iron:
1
mg