Ice cold Homemade Lemonade is the best beverage to cool down with on a hot, summer day. This classic recipe is loved by most and can easily be adapted to suit your own tastes. You will have the best tasting, most perfect lemonade every time!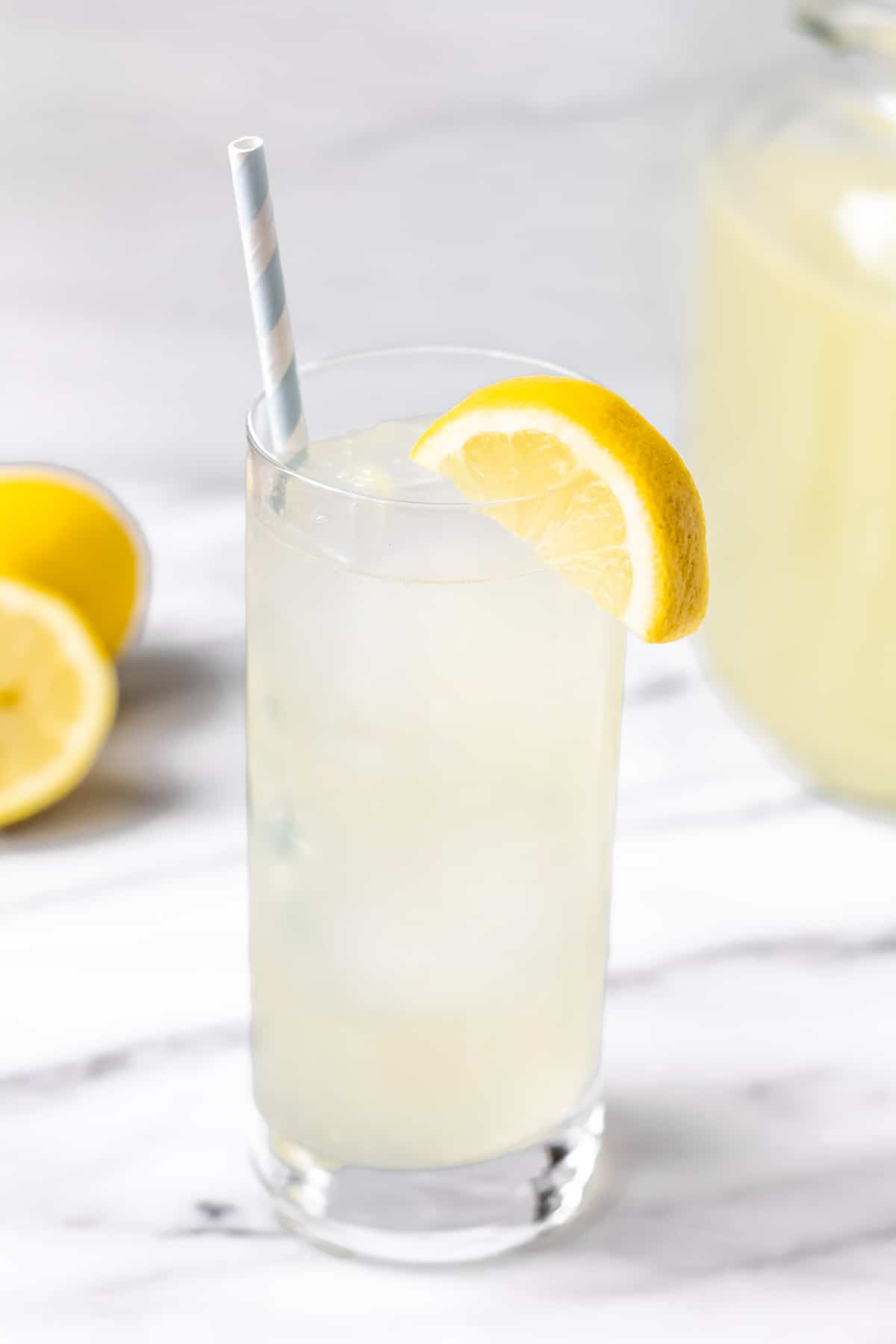 This post contains affiliate links. See our Disclosure Statement for more information.
There is nothing more refreshing in the summertime than a cold glass of good old-fashioned lemonade. This tried-and-true recipe will quench your thirst all season long.
The best thing about this recipe, besides how easy it is to make, is that it can easily be adjusted to be as sweet as you like. My kids are super picky about lemonade and often find that store or restaurant-bought lemonade is too sour for their taste.
Plus, there is nothing quite like lemonade made with freshly squeezed lemon juice. It's simple, but superior to any powder mix.
You can make all types of different lemonade flavors by adding fruit syrups like peach, raspberry or blackberry. Mixing in herbs and spices will also add some interesting flavors or make a half-and-half with iced tea.
Why This Recipe Works
Lemonade is a summertime classic. It's a drink that just about everyone loves to enjoy to cool down on a hot summer day!
It's very quick and easy to make. All you need are lemons, sugar and water.
You can control the amount of sweet and sour to create a lemonade that perfectly suits your own tastes.
Step-By-Step Instructions
Ingredients
8-9 lemons: you will need about 1 1/4 to 1 1/2 cups of fresh squeezed lemon juice.
1 cup sugar
7 cups of water, divided
The entire recipe and instructions can also be found in the recipe card at the bottom of this post. You can also print the recipe from the card, if needed.
Create!
Combine the sugar and 1 cup of the water in a small pot. Bring to a boil, then remove from the heat and set aside to cool. This is a simple syrup that you will use to sweetened your lemonade.
Chef's Tip: creating a simple syrup allows the sugar to fully dissolve into the water. This keeps the sugar from sinking to the bottom when stirred into the lemonade.
Meanwhile, juice the lemons until you have at least 1 1/4 cups of lemon juice.
Combine the lemon juice and remaining 6 cups of water in a large pitcher and stir well. If you will be serving the lemonade right away, use ice cold water, if possible.
Stir in the simple syrup until the desired flavor is achieved. Use more for a sweeter lemonade, and less for a more tart beverage.
Present!
Serve over ice.
Tips and Techniques
Use fresh squeezed lemon juice for the best lemonade flavor. Bottled lemon juice does not taste the same.
Add more or less of the simple syrup to control the flavor of the lemonade. Add more for a sweeter lemonade and less for a more tart lemonade.
Store lemonade in the refrigerator. Consume within a week for the best results.
FAQ's
How Do You Flavor Lemonade?
Lemonade can be flavored in an endless amount of ways. Try adding fresh fruit or fruit syrups, such as peach, raspberry, strawberry and blackberry. You can also add fresh herbs such as mint or basil and spices like cinnamon and ginger.
Is Lemonade Good For You?
While lemonade does contain sugar, it also has some healthy benefits. It provides plenty of Vitamin C and antioxidants which help to boost the immune system.
More Lemon Recipes
Love this recipe for Easy Homemade Lemonade? Follow me on Pinterest, Instagram, and Facebook for more!
If you try this recipe, I would really appreciate it if you would please leave a comment and star rating. Thanks!