Homemade Lemon Blueberry Sweet Rolls are filled with a delicious combination of blueberries and lemon in a soft, fluffy dough and topped with a sweet and creamy frosting. These rolls are just as delicious for breakfast as they are for an afternoon treat.
This post contains affiliate links. See our Disclosure Statement for more information.
If you have ever made cinnamon rolls, then you'll be able to make these sweet rolls without any issues at all! The process is the same for both. The only difference is that these sweet rolls are filled with blueberries instead of cinnamon.
And, just like cinnamon rolls, they are topped with an incredible, sweet icing.
They make a lovely and delicious breakfast or serve them for brunch. They also work as a showy dessert.
Don't like blueberries? Swap them out for other berries, or use a combination of your favorites.
Blueberries are the perfect spring or summer ingredient. Use them to make Fluffy Blueberry Pancakes, White Chocolate Blueberry Scones, and Blueberry Muffins.
Why This Recipe Works
This is a classic sweet rolls recipe made with a yeast dough. It's fun to make. Kids especially love to see how much the dough rises in just a short time.
Blueberry and lemon are a delicious combination within the soft, pillowy dough. The sweet cream cheese frosting is the perfect complement to the fruit filling.
These sweet rolls are very versatile. You can swap out the blueberries for another berry you prefer, like raspberries, or use a combination of berries and make a batch of mixed berry sweet rolls.
Step-By-Step Instructions
Ingredients
Sweet Rolls Dough
1 cup whole milk (warmed to 105 to 115°F)
3 tablespoons granulated sugar
2 1/4 teaspoons active dry yeast (or 1 packet)
4 tablespoons unsalted butter (melted and cooled)
1 large egg (beaten)
1 teaspoon salt
2 1/2 cups all purpose flour
Lemon Blueberry Filling
2 cups fresh or frozen blueberries (frozen blueberries do not need to be thawed ahead of time)
3 tablespoons granulated sugar
1 tablespoon lemon juice
1 teaspoon lemon zest
Whipped Cream Cheese Frosting
1/2 cup unsalted butter (softened to room temperature)
1 8-ounce package cream cheese (softened to room temperature)
3/4 to 1 cup powdered sugar
1 tablespoon lemon juice
1 teaspoon vanilla extract
The entire recipe and instructions can also be found in the recipe card at the bottom of this post. You can also print the recipe from the card, if needed.
Prep!
Grease a 9×13-inch baking pan and set aside.
Melt the butter.
Because this dough needs time to rise, you won't preheat your oven until later.
Create!
Sweet Rolls Dough
Dissolve the sugar into the warm milk and stir in the active yeast. Let the mixture sit for 5 minutes until frothy.
Add the milk mixture, melted butter, egg, salt and half of the flour to a large mixing bowl or electric mixer with a dough hook. Beat for several minutes, gradually adding the remaining flour until the dough comes together and is slightly tacky.
Roll the dough into a ball and place into a lightly greased bowl and cover with a damp towel or plastic wrap. Let the dough rise for 1 hour, or until doubled.
Punch the dough down and roll out on a lightly floured surface into a 10×14-inch rectangle.
Lemon Blueberry Filling
Mix the blueberries, sugar, lemon juice, and lemon zest together in a bowl.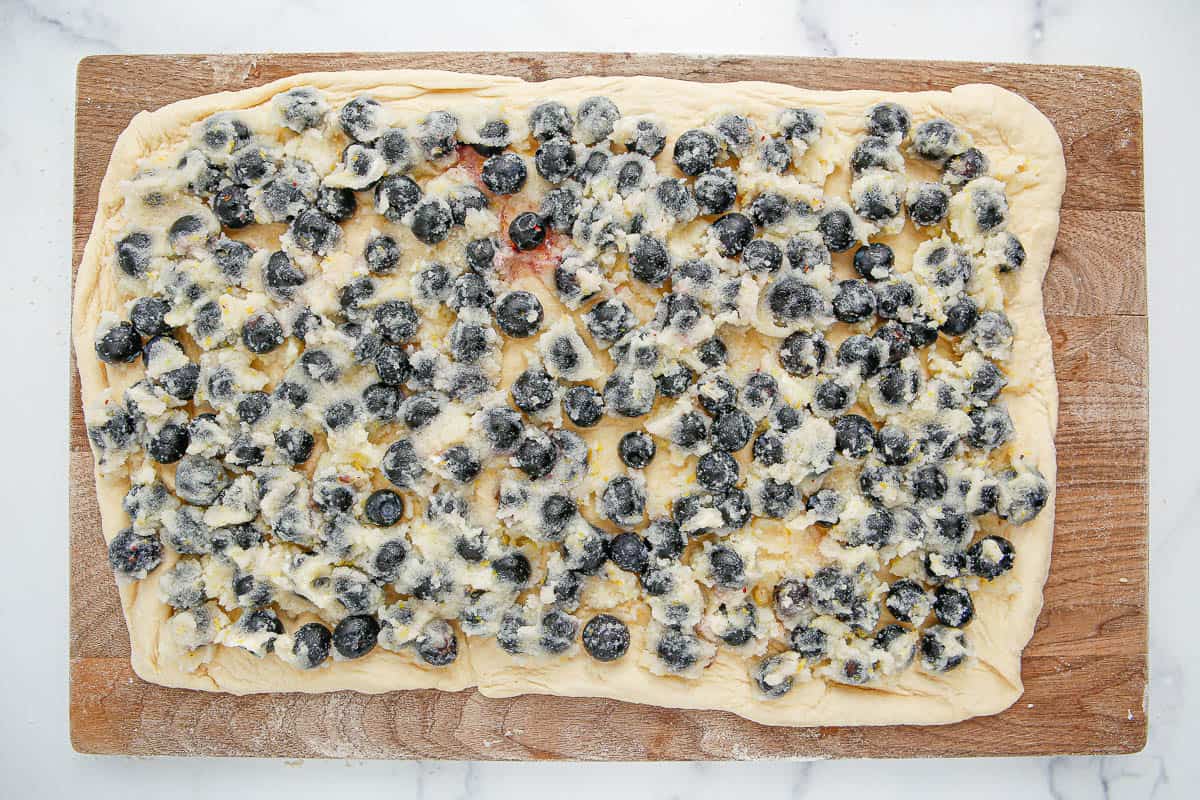 Spread across the top of the rolled out dough, edge to edge.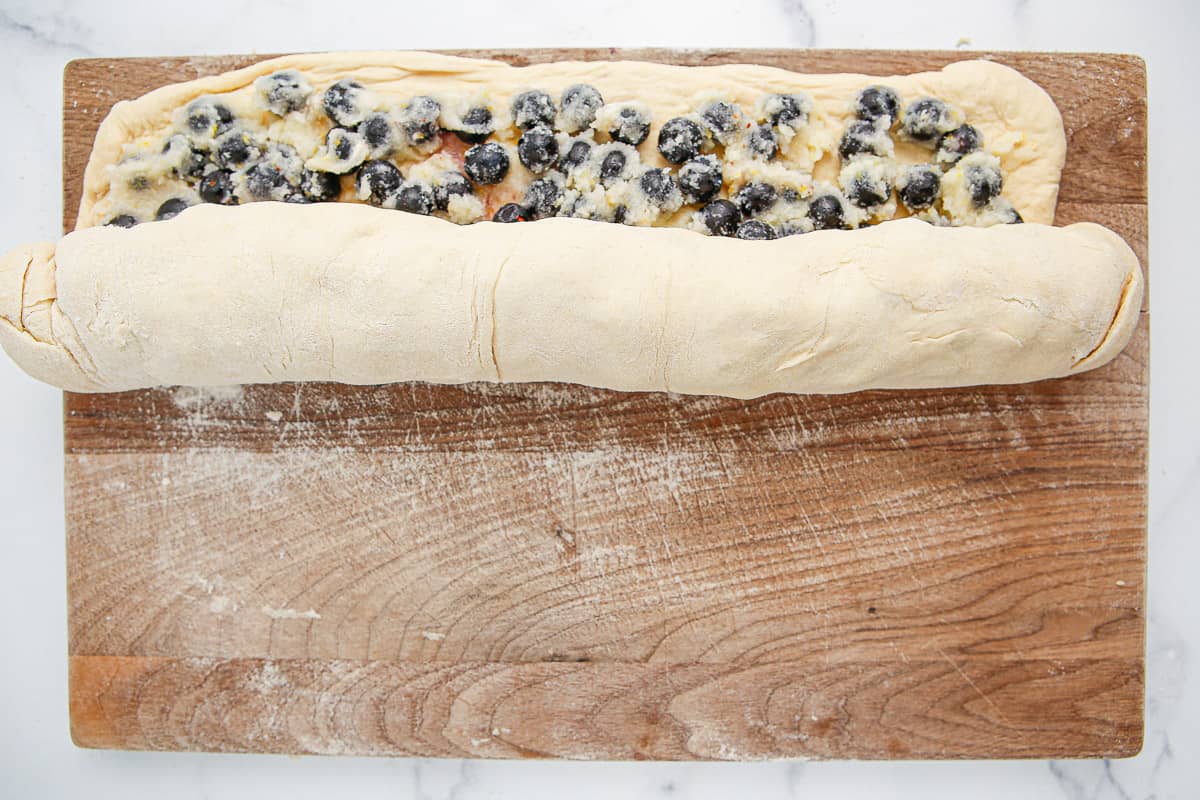 Roll the dough up lengthwise into a log.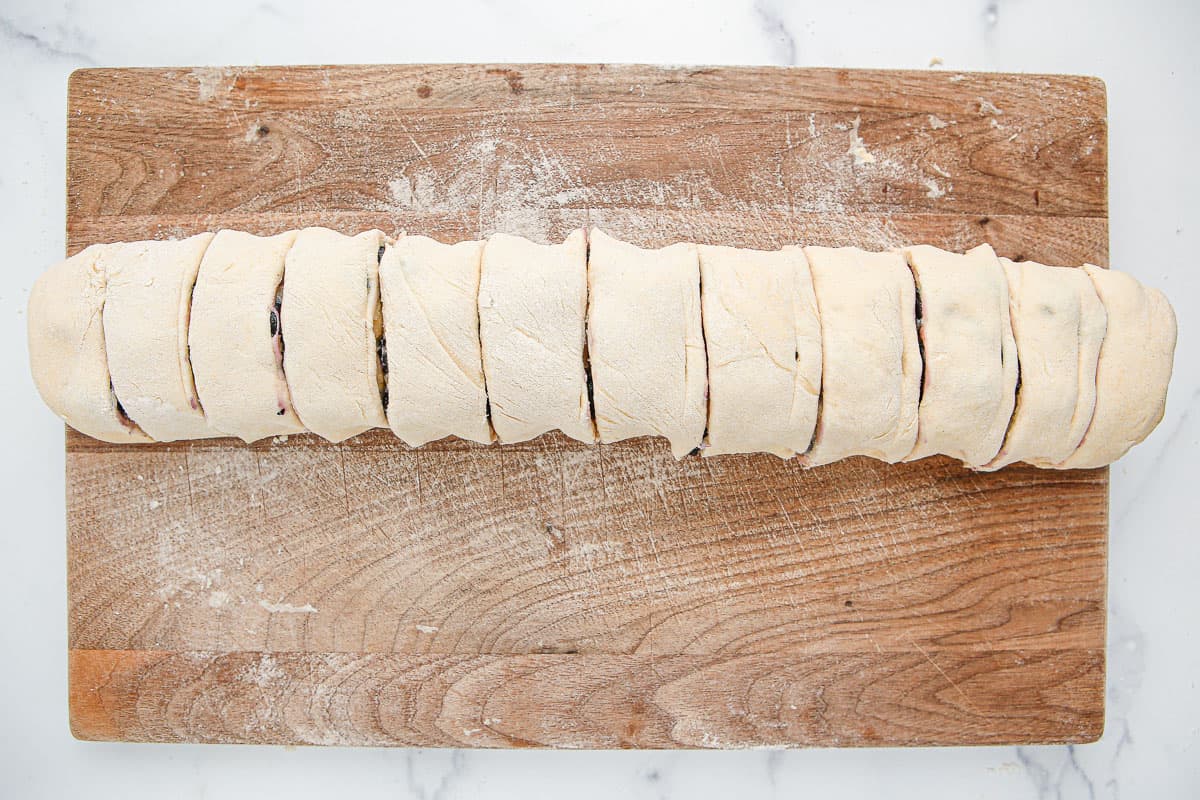 Slice the roll into 12 evenly sized pieces.
Place the 12 roll slices into your prepared baking pan. Cover with a damp towel or plastic wrap and allow to rise for another 30-45 minutes or until doubled in size.
When the dough is just about done rising, preheat your oven to 350°F.
Bake the sweet rolls for 25-35 minutes, or until fully cooked through. Allow to cool.
Whipped Cream Cheese Frosting
While the rolls are baking, prepare your frosting.
Beat the butter and cream cheese together with an electric mixer until smooth and creamy. Add the sugar, lemon juice, and vanilla extract and continue to mix until smooth.
Present!
Spread the prepared frosting across the top of the rolls and serve.
Tips and Techniques
If using frozen blueberries, they do not need to be thawed first.
You can swap out blueberries for another type of berry, or use a combination of berries.
Store leftover rolls in the refrigerator in an airtight container. Consume within 3 to 4 days.
FAQ's
Why Won't My Dough Rise?
There are a couple of reasons your yeast dough may not rise. The first being that the warm water or milk used to proof the yeast was not warm enough or was too hot. The ideal temperature is between 105-115°F.
The second reason is that the temperature where the dough is set to rise is not warm enough. It can take much longer for dough to rise in a cooler temperature. Try to place the dough near a sunny window, on a high shelf (since hot air rises), or in an oven that has been preheated to the lowest oven temperature for just a minute or two to warm it up, then turned off.
Can Sweet Rolls Be Frozen?
You can store sweet rolls in an airtight container or tightly wrapped in plastic wrap in the freezer for up to 3 months. Thaw frozen rolls in the refrigerator overnight before reheating.
More Blueberry Recipes
Love this Lemon Blueberry Sweet Rolls recipe? Follow me on Pinterest, Instagram, and Facebook for more!
If you try this recipe, I would really appreciate it if you would please leave a comment and star rating. Thanks!