Butcher Box is a high-quality meat subscription box that sends grass fed, grass finished beef, organic, free range chicken, and heritage breed pork right to you door each month. Check out this complete July 2019 Butcher Box Review for all the details on why you should order from Butcher Box, what you get, and how much it costs.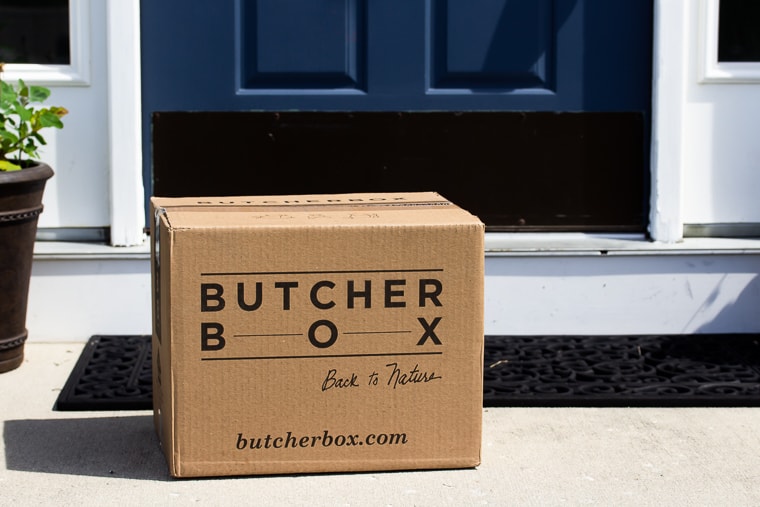 I received the meats featured in this post for free from Butcher Box. This post also contains affiliate links and I will be compensated, at no additional cost to you, if you make a purchase after clicking on one of my links.
When Butcher Box reached out to me to ask if I'd be willing to try their service and share my honest opinion, I jumped at the chance. I had actually been considering ordering from this company even before they contacted me.
Because I follow a strict keto diet most of the time, it's recommended to only eat grass fed beef and sugar free bacon. But, it can be really hard to find high-quality meats and sugar free bacon that are most ideal for diets like keto and Whole 30. Especially when you don't like anywhere near high-end grocery stores that might carry these products.
I basically already realized that I was going to have to find a company to order meat from to be able to eat as healthy as I wanted to. Butcher Box had come up quite a few times in my research, so I already knew this was likely going to be a great service.
What is Butcher Box?
Butcher Box is a monthly meat subscription box that started with the idea that everyone should have access to high-quality meats like grass fed, grass finished beef, heritage breed pork, and organic, free range chicken.
Depending on the plan you choose, Butcher Box sends a month's worth of classic cut and harder-to-find cuts right to your door step. They also frequently offer free bacon for life (meaning you will get a package of bacon, at no additional charge, in every monthly box).
Why order From Butcher Box?
The biggest reason to order from Butcher Box is the quality of the meat. They do not source meats from factory farms or any farms that participate in unethical practices. Their meats are also free from antibiotics and hormones. This is the way that meat should be and is the base for diets like Whole 30, paleo, and keto.
The cattle are humanly raised and live their entire lives on a pasture and chicken is sourced from farms with free-range or pasture-raised organic chickens.
Pork is where it get's more interesting. Butcher Box's website states, "Our small family farmers raise pork with Duroc, Berkshire and Red Wattle genetics on pasture or by the strict guidelines that we have set to ensure they are raised in open barns with space to engage in natural behaviors." I've never seen any information of this nature in the pork section of typical grocery stores.
Butcher Box Plans and Pricing
You can choose one of Butcher Box's curated plans or build your own custom box where you get to choose exactly what goes into your box.
Curated boxes included:
Beef only
Beef and Pork
Beef and Chicken
Beef, Pork, and Chicken
You can also choose if you want to receive enough meat for 24 or 48 meals.
Curated boxes start at $129/month for 8-11 pounds of meat (24 meals) and $238 for 16-22 pounds of meat (48 meals).
Custom boxes start at $149/month for 9-14 pounds of meat  (30 meals) and $270 for 18-26 pounds of meat (60 meals).
Shipping is noted a free on the Butcher Box website. However, when determining the overall value of this type of service, I do like to factor in the fact that shipping a box this heavy does cost a significant amount as well as the convenience of not having to drive to a higher-end store for comparable quality meats. Personally, I'd have to drive over an hour to get to a store that might have this same quality meat.
July 2019 Butcher Box Review
For my first Butcher Box review, I chose the mixed box. It includes a combination of beef, chicken, and pork.
My family does eat more meat per meal than a typical family  thanks to my fiance's insatiable appetite when it comes to all things protein – especially beef and steak. I usually have to make 1.5 to 2 pounds of meat per meal for a family of 3 (not including my toddler who doesn't usually eat the same meals as us due to allergies and pickiness).
In total, I received over 15 pounds of meat, including the free bacon.
Packaging
My meats arrived in a well-insulated box complete with a package of dry ice. It arrived the day after it was shipped with plenty of dry ice left to keep the meats ice cold, with some being frozen still. I was very impressed given that it's been near 90 degrees outside almost every day lately.
The Meat
Chicken
To begin, I received over 8 pounds of organic, free range chicken. There was 4.71 pounds of chicken drumsticks and 3.72 pounds of boneless, skinless chicken breasts.
I made Honey Whiskey Barbecue Drumsticks with all of the chicken drumsticks. There were plenty leftover for the next day, as I didn't eat these due to the honey, but my son and fiancé loved them!
I also used half of the chicken breasts to make a Massaman Curry Chicken and Sweet Potato recipe. I plan to cut the rest into bite-size pieces to make some Nashville Hot Chicken Nuggets.
Pork
My Butcher Box had 2 packages of thick-cut pork shops for a total of 2 pounds, plus 2 packages of bacon (10 ounces each).
I used the pork chops to make Grilled Cuban Pork Chops.
I'll use the bacon for egg bites or just simple breakfasts of bacon and eggs. I really love the fact that both packages of bacon are sugar free. It's extremely hard to find bacon that does not have sugar listed in the ingredients at traditional grocery stores.
Beef
I received 2 pounds of grass fed, grass finished 85/15 ground beef and 24 ounces of grass fed, grass finished top sirloin steaks (4 total). If there is one thing that I'd like to see different with this box, it's that I would have preferred to receive organic beef and lean ground beef.
I asked my fiancé to make what he calls a Crescent Ring with the ground beef. It's basically ground beef, barbecue sauce, and cheddar cheese wrapped up in crescent dough. It's not pretty enough for a photo – ha!
We will enjoy the steaks on the grill with a side of veggies.
How to Order Butcher Box
If this July 2019 Butcher Box review has you ready to place your first Butcher Box order (and claim your free bacon for the life of your subscription), head on over to the Butcher Box website and click on "Choose Your Plan" at the top right to get started.