Check out all of the winter weather pieces I received in this January 2019 Stitch Fix review plus how you can try Stitch Fix for yourself –  risk free!
This post contains affiliate links. I may receive a small commission at no additional cost to you if you make a purchase through one of my links. See our Disclosure Statement for more information.
When scheduling this January 2019 Stitch Fix box, I made some very specific requests. I asked for more Lila Ryan pants, Kut From The Kloth jeans, Toms Kala Suede Booties in black, and more lightweight tops.
My stylist did a really great job trying to hit on every single one of my requests!
Before I get into the full review of the items I received, let me tell you a bit about Stitch Fix and how it works. If you are already familiar with Stitch Fix, skip on through until you get to the January 2019 Stitch Fix Review heading.
What is Stitch Fix
If you already know what Stitch Fix is all about, go ahead and skip over this part. If you're new to Stitch Fix, here is a brief summary of what you can expect.
Stitch Fix is a clothing subscription box. You can sign up to receive boxes on certain intervals, or just order a box whenever you want (this is the option I always choose so I don't have to remember to cancel etc.). There are now women's, men's, and children's Stitch Fix subscriptions available!
Each box you order will come with 5 items. These items are clothing, shoes, accessories, and jewelry. Stitch Fix now offers add-ons as well. These are items like camisoles, underwear, and bras that you can order in addition to your 5 items.
When you first sign up, you'll fill out a style survey. Be brutally honest with this section! You'll also have the opportunity to add any notes when you schedule your fix. I usually use this area to request certain items that I may have seen in other reviews or on Pinterest, or to request certain types of items. You definitely don't want to skip this part. I find that being really detailed in the notes section helps to ensure that you get items that you will love!
After everything is filled out, choose the date you'd like to receive your fix.
How Much Does Stitch Fix Cost?
You pay a $20 styling fee that is credited towards anything you purchase. Shipping is free both ways. Buy what you love, return what you don't. If you buy all 5 items, you'll also get a 25% discount! And yes, if you don't buy anything, the $20 fee is not refunded (as it goes towards the time to curate the items and their shipping costs). There has only ever been one time that I didn't buy a single item.
The cost of the items varies. You can set your price ranges in your survey. Stitch Fix even carries designer brands now!
Now that that is out of the way, check out everything I got this month below!
January 2019 Stitch Fix Review
Papermoon Larie Crew Neck Blouse ($44.00)
I knew from the photo alone that this just wasn't the top for me. I think that maybe my stylist chose this top because in the past I did keep a couple black, floral items, but I think I have more than enough. I don't wear the ones I have often at all, so there just wasn't a need for another similar top.
The material is very thin on this top. It would be great for layering, but I probably wouldn't want to wear it alone.
Verdict: returned.
41 Hawthorn Liss Button Back Striped Cotton Blend Pullover ($54.00)
On paper I loved this top. When I pulled it out of the box, I loved this top. When I tried it on, oh wait. I didn't try it on. I can't say for sure, but I believe this top absolutely had to be labeled the wrong size.
I have been considering downsizing my tops, since the last few have been too big, but I didn't get around to it for this fix. I expected the tops in this fix might be too big as well, but I didn't expect them to be way, way too small. I couldn't really exchange it since I don't think the sizing was right to begin with. If it had fit, I definitely would have kept it.
Verdict: returned.
Kut From The Kloth Joan Skinny Pant ($88.00)
I had requested KFTK jeans, I think. I can't remember if I was that specific or if I just said "pants."
I don't particularly care for brown pants. I do have a pair of brown jeans that I wear occasionally, but in general, I just don't like them.
The fit was so-so. I am not petite, and my legs are long for my height. But, for some reason, these types of pants anyways have a bunch of extra fabric at the bottoms.
Verdict: returned
Lila Ryan Zuri Skinny Pant ($88.00)
When I first saw the photo, I thought these were going to be white. I like white for summer, but not so much for winter. Turned out, they are a super light gray.
I like these pants, as they are just as soft and comfortable as the other Lila Ryan pants that I have. I just don't have much to wear with them to make the purchase worth it.
Verdict: returned.
Toms Kala Suede Wedge Bootie ($90.00)
Love, love, love everything about these booties! Except the color.
Actually, I do like the color. I just don't need another pair of shoes in this shade. I really, really need black. I was able to find them on Amazon for a slightly lower price and will order them from there instead.
Just FYI – Stitch Fix will price match. The item has to be exactly the same style and color names.
Verdict: returned
Final Thoughts on My January 2019 Stitch Fix Items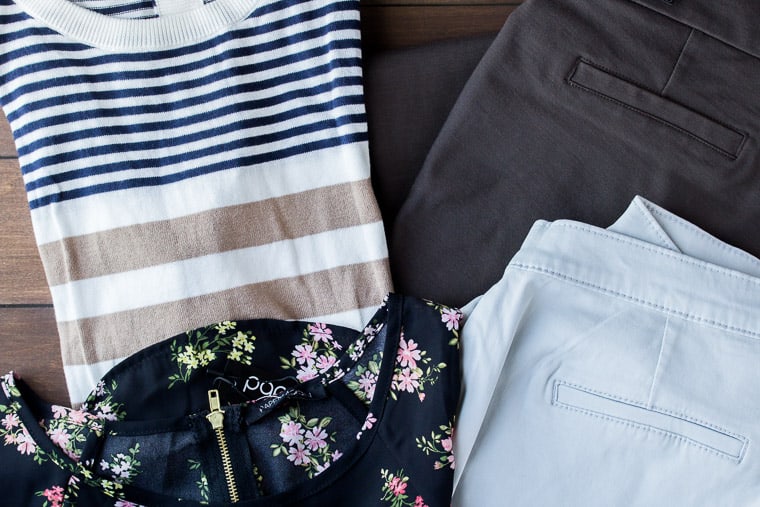 Overall I feel like my stylist really tried to accommodate all of my requests. Had the sweater not been extremely small, I would have kept it. The Lila Ryan pants and Toms booties were awesome, except that the colors just didn't work for me and what I currently own.
The total for all of the items in this fix is $364.00. If I had bought all 5 items I would have received a discount of $91.00 which would bring the total to $273.00.
Since I currently have a Style Pass, I don't have to pay the $20 styling fee and did not lose any money on this fix by not purchasing anything. If I had paid the fee, I would have either bought the booties or the Lila Ryan pants. Probably the booties.
For my next fix I have ask to try a puffer vest in dark blue or black, a duster-length cardigan, casual tops to pair with joggers, and any light-weight layering pieces. I am really looking forward to seeing what they send!
How to Try Stitch Fix for Free!
If this January 2019 Stitch Fix Review has you ready to try Stitch Fix for yourself,  have good news!  The first 24 people to sign up under my link will receive a $25 credit on their account (new customers only). That basically waves the styling fee and then some! You need to click HERE to sign up to get the credit!
Make sure to be super specific about items you've seen and love. I would also definitely recommend linking an up-to-date Pinterest board that has Stitch Fix items you would love to get!
If you'd like to see more winter Stitch Fix items, you can check out my October 2018 Stitch Fix Review as well as my November 2018 Stitch Fix Review! Heads up – the links in these past posts will not give you the $25 credit. You will need to use a link within this January 2019 Stitch Fix Review post if you want to get the credit.