Simplicity and versatility make Homemade Beef stock an incredibly useful recipe to know how to make. You can use this recipe as the base recipe for building many main dishes such as soups, stews, and braises. Homemade stock is more flavorful and lower in sodium than store bought varieties, which makes it a healthy alternative.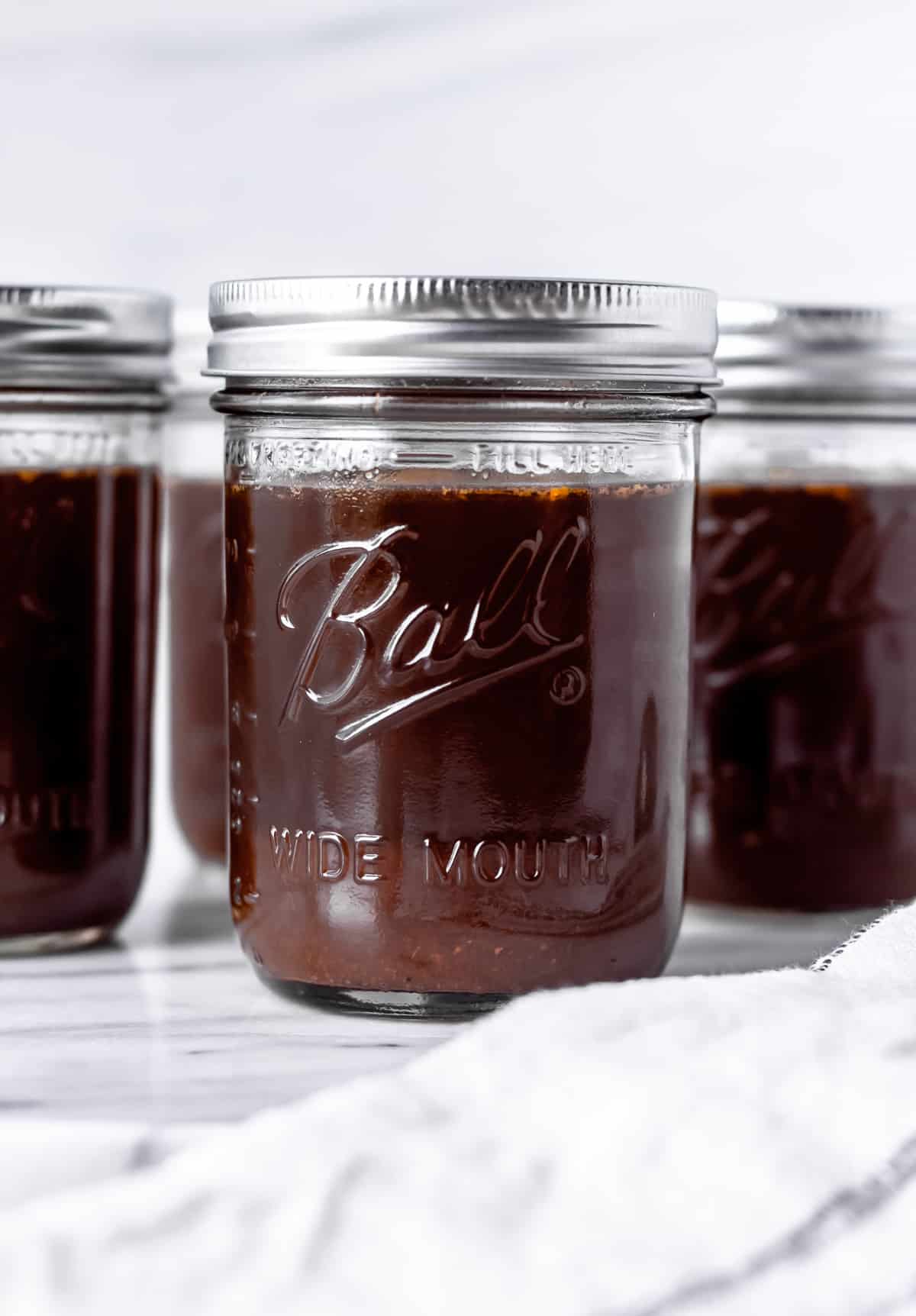 This post contains affiliate links. See our Disclosure Statement for more information.
Beef Stock is an incredibly useful recipe to learn how to make. It is one of the first recipes we made in culinary arts school. Since it is such a versatile recipe, you can use this beef stock to make recipes like Steak & Potato Soup, Garlic Butter Short Ribs, and Beef & Broccoli Zoodles.
Homemade versions of beef stock are richer and more flavorful than any stock you can buy premade at the store. Beef Stock is dark brown since it is made by roasting and caramelizing bones. This means homemade stock is more gelatinous and therefore supports bone health. It is naturally gluten free too, so you can use it as the base to build many dishes.
All you need to make this deeply flavorful Homemade Beef Stock are bones, mirepoix, tomato paste, and a handful of aromatics. Making stock at home does require a bit of extra time, as it needs to simmer for at least 6-8 hours. However, the majority of the time is completely hands off and the prep required is extremely simple.
Homemade Beef Stock is worth the little bit of extra effort and time, since it is more savory, flavorful, and healthy, because it contains less salt.
Why This Recipe Works
Homemade Beef Stock is easy to make. You can use leftover beef or veal bones, as well as purchase bones from a local butcher or grocery store. I have found them in the freezer section too.
This recipe produces a richer and more flavorful stock than any store bought stock.
Beef stock is versatile because it can be used in soups, stews, braising meat, risotto, or sauces, such as espagnole (brown sauce) and demi-glace.
How To Make Beef Stock
Ingredients
Beef Bones: you can also use veal bones, if preferred and available to you.
Mirepoix: mirepoix is 50% onions, 25% carrots and 25% celery.
Tomato Paste
Aromatics: bay leaf, dried thyme, peppercorns, parsley and garlic in a sachet (cheesecloth and kitchen twine).
The entire recipe and instructions can be found in the recipe card at the bottom of this post. You can also print the recipe from the card, if needed.
Prep!
Chop the onions, carrots and celery.
Prepare the aromatics by crushing the peppercorns and garlic, then tying the bay leaf, thyme, peppercorns, parsley and garlic up in a piece of cheesecloth with twine.
Preheat your oven to 375°F.
Chef's Tip: leave enough extra twine to be able to tie the end opposite of the sachet to the handle of your stock pot. It makes removing the sachet much easier later on.
Create!
Place the beef bones in a roasting pan or Dutch oven, not overlapping.
Roast the bones for about an hour, turning occasionally to brown and caramelize them.
Remove the bones from the oven and place in a stock pot. Remove and reserve the fat from the roasting pan.
Add 1/2 cup of water to the roasting pan and deglaze, scrapping up any cooked on bits with a wood spoon. Transfer to the stock pot along with the remaining 6 cups of water.
Bring to a boil, reduce heat and simmer.
Meanwhile, add 1-2 tablespoons of the reserved fat back to the roasting pan or Dutch oven over medium heat.
Add the onions, carrots and celery and cook until they start to brown.
Stir in the tomato paste and continue to cook until it becomes a rich brown.
Add the vegetables to the stock pot.
Add the sachet of aromatics to the stock pot.
Continue to simmer the stock for 6-8 hours, skimming any scum off that forms on the surface periodically.
Strain through a fine mesh sieve or strainer and refrigerate to cool.
Skim any solidified fat off of the top of the stock once it has cooled.
Present!
Use or store, as desired.
You can freeze beef stock in freezer bags or mason jars.
Chef's Tip: portion out stock into frequently used amounts, such as 1 cup, before storing or freezing.
Tips and Techniques
You can use leftover beef or veal bones, or purchase bones from your local butcher or grocery store. You may also find them in the freezer section.
To make beef bone broth, simmer the bones for at least 12 hours and up to 48 hours.
Store stock in an airtight container in the refrigerator for up to 5-7 days. You can also freeze it for 3-6 months.
FAQ's
What Is The Difference Between Beef Stock and Beef Broth?
Stock is made by simmering bones, which may or may not contain meat as well, mirepoix and aromatics for 6-8 hours and up to 48 hours if making a bone broth. This results in a thicker liquid that may become gelatinous, and even possibly gel when refrigerated, depending on how long it was simmered. It is typically left unseasoned.
Broth is made by simmering meat, which may or may not contain bones, mirepoix and aromatics in water for less than 2 hours. This results in a thinner, flavorful liquid that is usually seasoned.
Stock and broth can usually be used interchangeable in recipes.
Recipes That Use Beef Stock
Love this Homemade Beef Stock recipe? Follow me on Pinterest, Instagram, and Facebook for more!
If you try this recipe, I would really appreciate it if you would please leave a comment and star rating. Thanks!