The best Bread Dipping Oil made with extra virgin olive oil, dried herbs and crushed red pepper. This is a super quick and easy recipe to mix up to serve with your favorite crusty breads.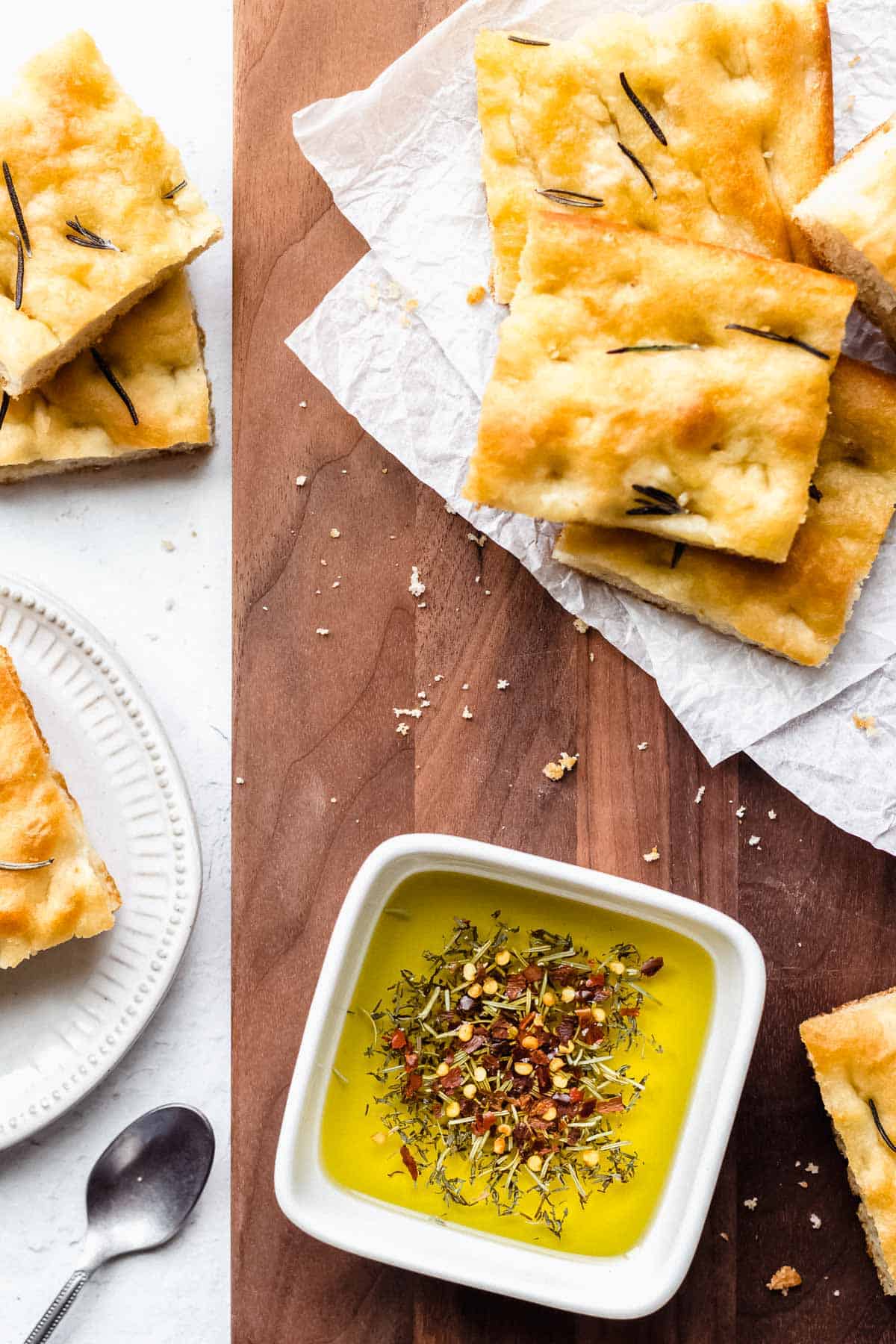 This post contains affiliate links. See our Disclosure Statement for more information.
Growing up, I remember that any time I was at my grandmother's house for dinner, there was always a loaf of store-bought bread and tub of margarine on the table. This was the case regardless of what the actual main meal consisted of. Everyone would just help themselves to slice after slice of bread and "butter."
Thankfully, my tastes have expanded a bit. Margarine is out, and even though butter will always be a great choice to pair with bread, sometimes olive oil just works better.
One of the first bread dipping oils that I ever had was at an Italian restaurant chain that unfortunately went out of business. They topped an incredibly flavorful olive oil with a simple combination of dried herbs and crushed red pepper. This recipe for Bread Dipping Oil is my own spin on that recipe.
My absolute favorite recipe to pair this oil with is Homemade Rosemary Focaccia, but it pairs great with any crusty bread. Try it with a simple French baguette, sourdough, or ciabatta bread.
Why This Recipe Works
It takes less than 5 minutes to mix up this dipping oil and you can easily make as much or as little as you like. Serve it with your favorite bread as an appetizer to all of your favorite Italian dinners.
Olive oil soaks into crispier or chewier breads and not only adds a ton of flavor, but also softens the bread making it easier to eat.
There is a moderate herb flavor with a hint of spice from the addition of crushed red pepper. It is just enough pepper to give you a little zing of heat without actually being really spicy.
How To Make Herbed Bread Dipping Oil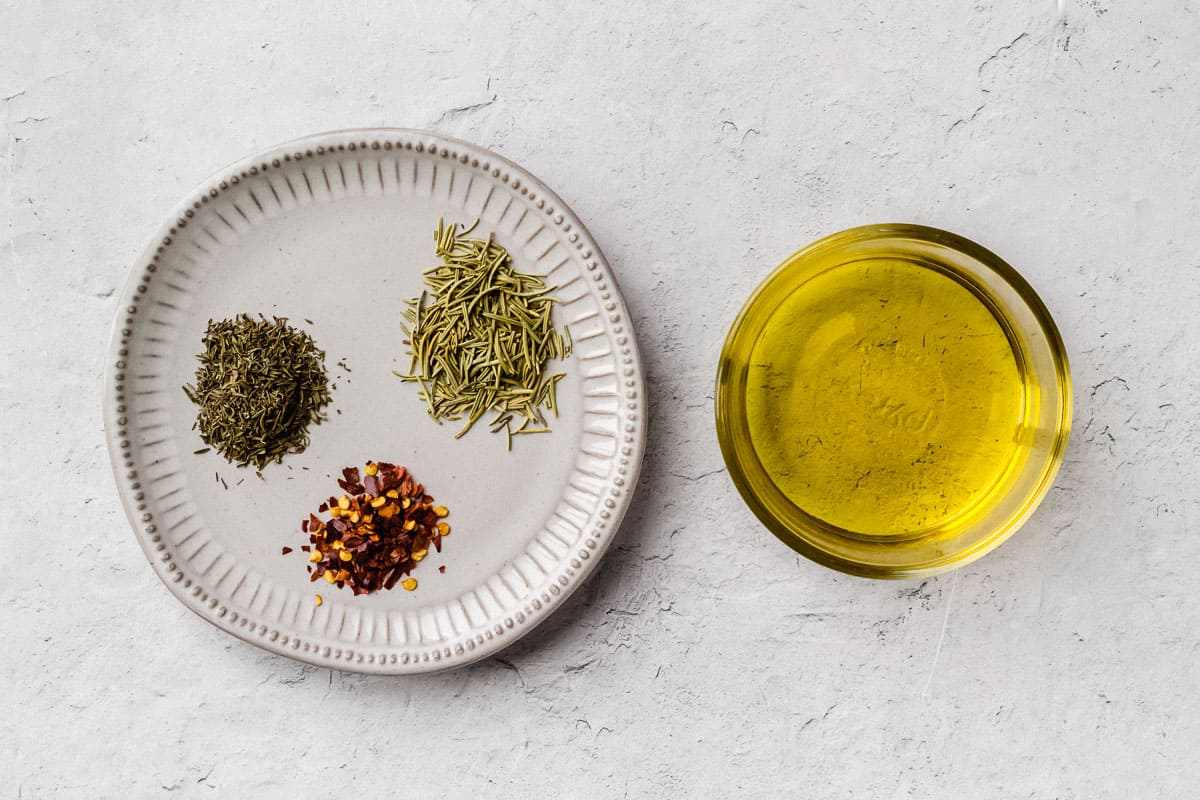 Ingredients
Be sure to use a good quality extra virgin olive oil for the best flavor.
You can use any combination of herbs that you prefer. Oregano or a pre-mixed Italian seasoning also work great. Some people like to add garlic and/or balsamic vinegar, as well.
Omit the crushed red pepper for a milder dipping oil.
The entire recipe and instructions can also be found in the recipe card at the bottom of this post. You can also print the recipe from the card, if needed.
Prep!
Because this recipe uses dried spices, there really isn't any prep work to do.
Create!
Pour the olive oil into a small, shallow bowl. Using a shallow bowl or dish will help keep your herbs within reach without having to drench the bread trying to get them out of the bottom of a deeper bowl. You want just enough oil to add flavor and a bit of softening to your bread.
Top with the dried herbs and red pepper flakes.
Present!
I like to leave the herbs on top, rather than mixing them in for presentation purposes. Swirl them around as you dip to get the most flavor in every bite.
Tips and Techniques
Use a good quality extra virgin olive oil for the best flavor.
For a mild dipping oil, omit the crushed red pepper.
Store leftovers, tightly covered, at room temperature. Use within 1-2 weeks.
FAQ's
What Is The Best Olive Oil For Dipping Bread?
You want to use a high-quality extra virgin olive oil. Look for a reputable brand name oil. Most are imported from Italy or Spain.
Is Olive Oil On Bread Better Than Butter?
When it comes to taste, whether or not olive oil or butter is better is simply a matter of personal preference. As far as which is better to serve with bread from a healthy perspective, generally olive oil would be the best choice.
More Appetizer Recipes
Love this Bread Dipping Oil recipe? Follow me on Pinterest, Instagram, and Facebook for more!
If you try this recipe, I would really appreciate it if you would please leave a comment and star rating. Thanks!
This recipe was originally published on May 23, 2018. It was updated with new images, more thorough instructions, tips, techniques, FAQ's and video in October 2020.