Ground Beef Pasta Skillet is an easy dinner recipe that is made with simple, but flavorful ingredients. This family-friendly meal is the perfect choice for busy weeknights.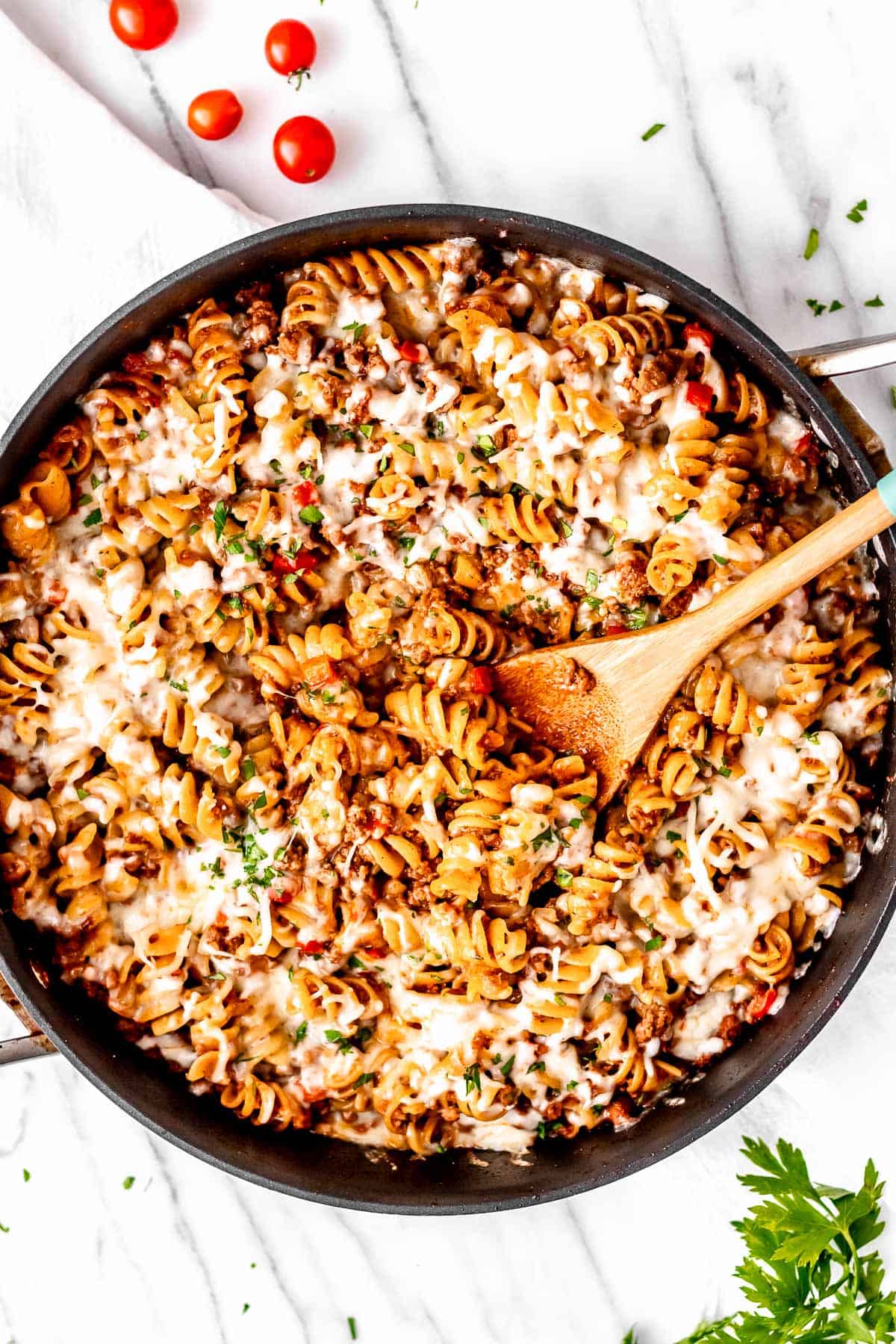 This post contains affiliate links. See our Disclosure Statement for more information.
Ground Beef Pasta Skillet is based off of my poplar recipe for Italian Ground Beef Cauliflower Skillet, which was created as a low carb dinner option for people following specific diets, such as keto. This recipe calls for pasta and doesn't fall under those same dietary restrictions.
The flavor profile of both is similar, albeit, slightly different. Beef is cooked in aromatics and vegetables before pasta, tomato sauce and beef stock are added. The dish is finished by topping it with mozzarella cheese which melts into creamy perfection right before serving.
If you enjoy easy skillet recipes like this one, you may also like Cheesy Taco Skillet with Rice, Italian Turkey Sweet Potato Skillet, and Skillet Lemon Garlic Chicken and Orzo Pasta.
Why This Recipe Works
This is a quick and easy one-pan meal. You only need 10 ingredients and around 30 minutes to prepare it. Clean up is also a piece of cake!
It's super flavorful. Using a rich beef stock, instead of water, to cook the pasta in helps to carry the meaty flavor throughout the dish.
Kids love this meal. It's somewhat reminiscent of spaghetti, a childhood favorite. You can also make this meal gluten free simply by using gluten free pasta and ensuring that any store-bought beef stock is gluten free, as well.
Step-By-Step Instructions
Ingredients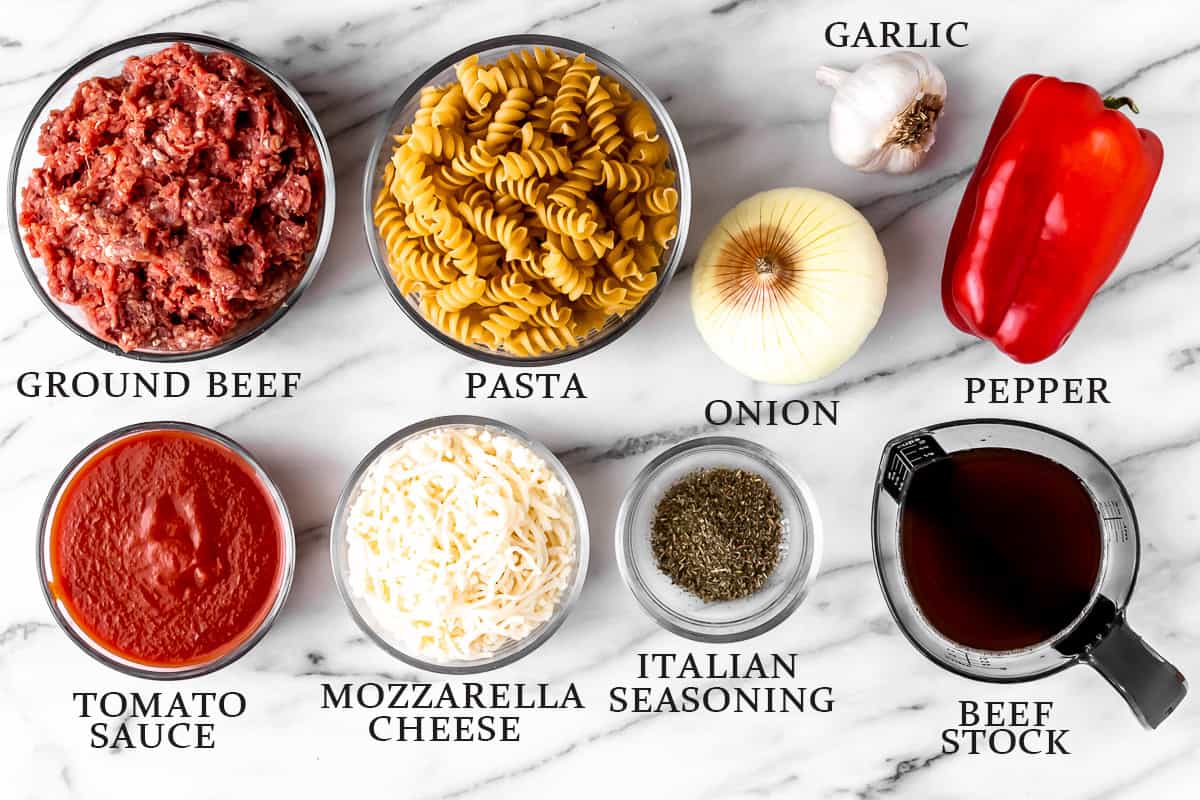 1 tablespoon extra virgin olive oil
1 onion, finely diced
1 red bell pepper, finely diced
salt and pepper
4 cloves garlic, minced
1 1/2 pounds ground beef (I use lean ground beef)
1 pound dry pasta
2-3 cups beef stock
15 ounce can tomato sauce
1 tablespoon Italian seasoning
1 1/2 cups mozzarella cheese, shredded
fresh parsley, optional for garnish
The entire recipe and instructions can also be found in the recipe card at the bottom of this post. You can also print the recipe from the card, if needed.
Prep!
Dice the onion and red pepper and mince the garlic.
Create!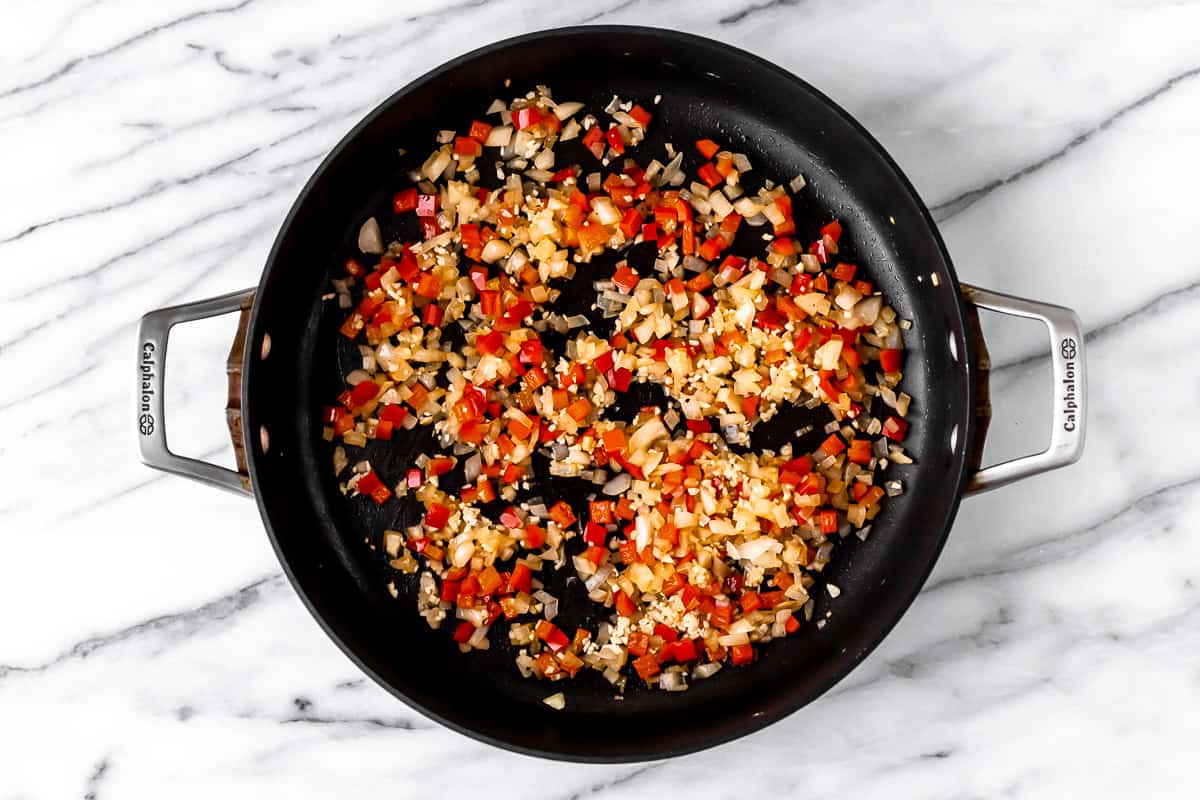 Heat a large, deep skillet over medium. Add the olive oil, then the onion and red pepper. Season with just a pinch of salt and pepper.
Cook, stirring often, until softened, about 3-5 minutes. The onion will turn more translucent as it softens.
Stir in the garlic and cook an additional 30 seconds.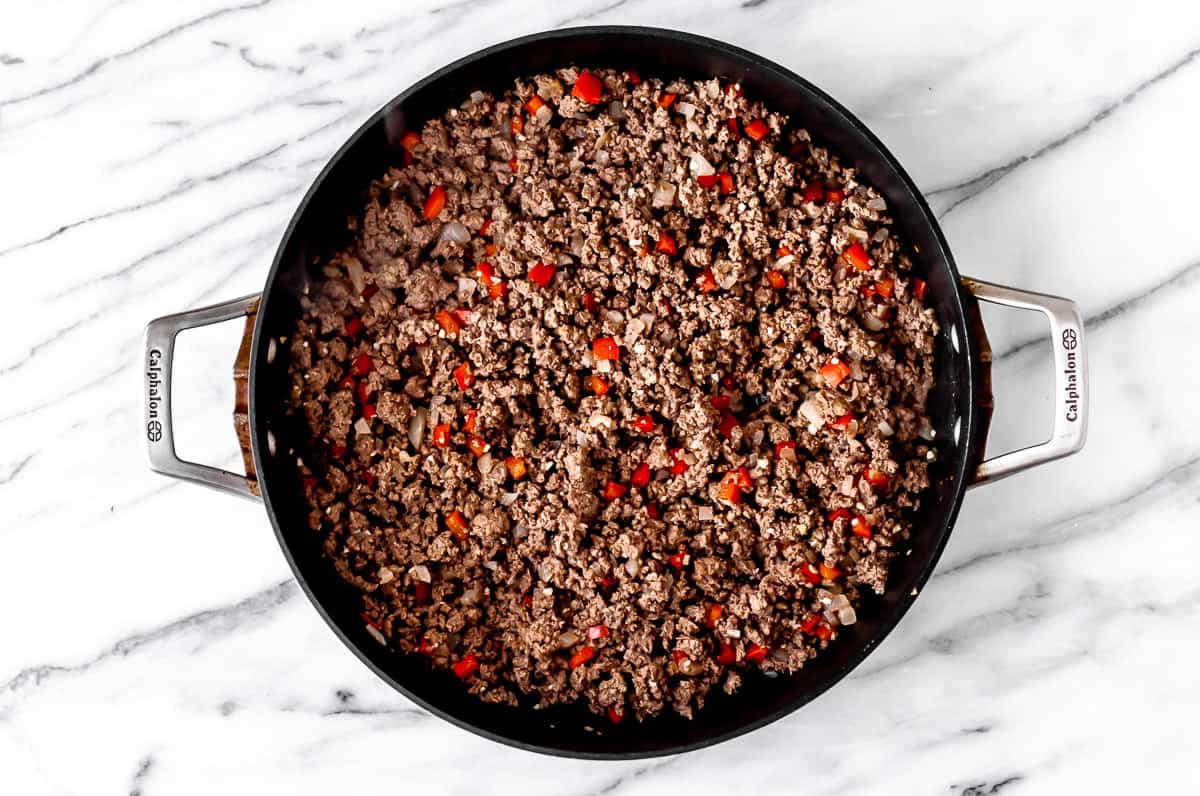 Raise the heat to medium-high and add the ground beef. Cook, breaking up with a meat chopper or spatula, until it's no longer pink, about 5-7 minutes.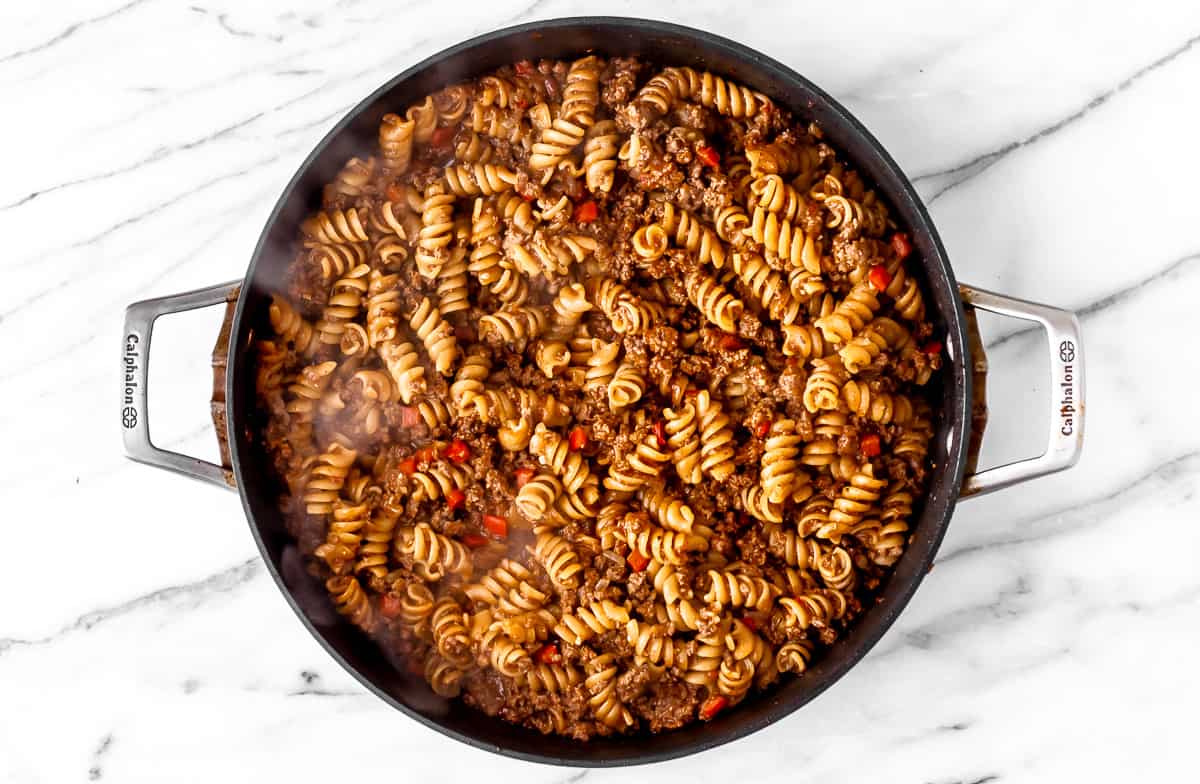 Add the pasta, 2 cups of the beef stock, tomato sauce and Italian seasoning. Allow to cook until the pasta is al dente (soft but with a little bite to it still). You can add more stock as needed.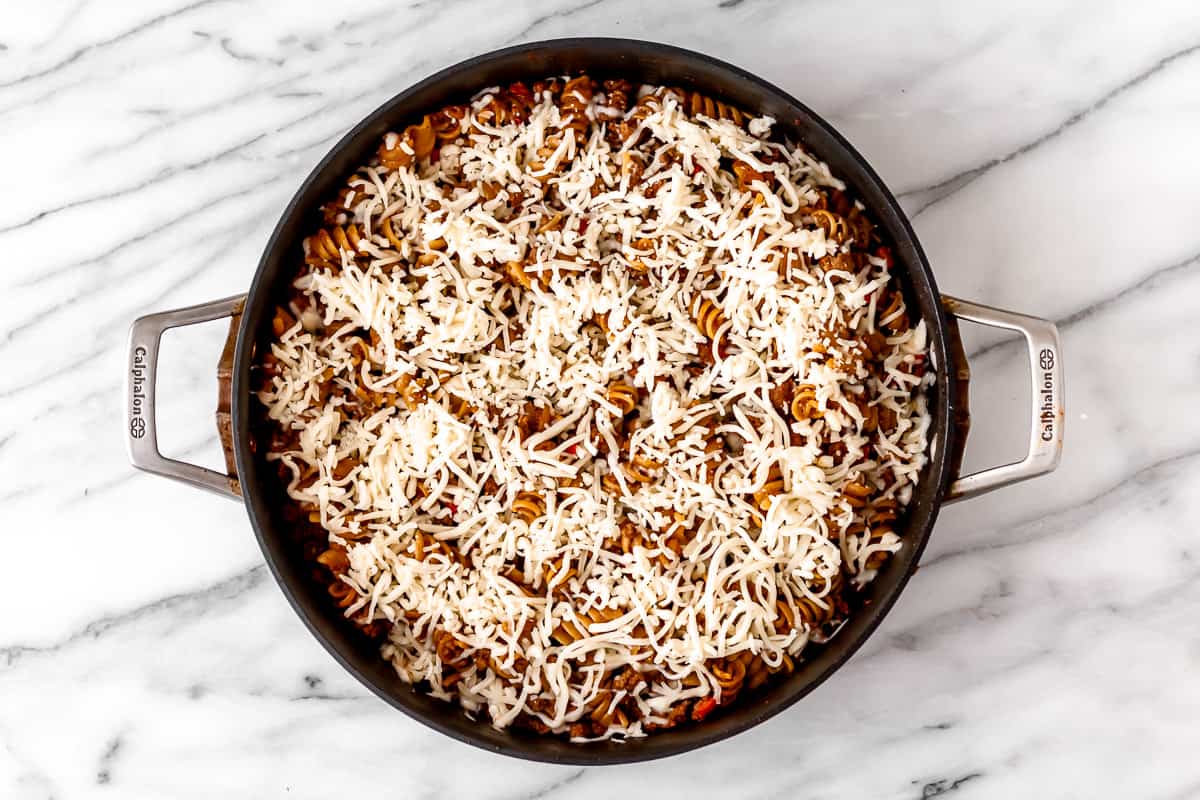 Top with mozzarella cheese and let melt for 1-2 minutes.
Present!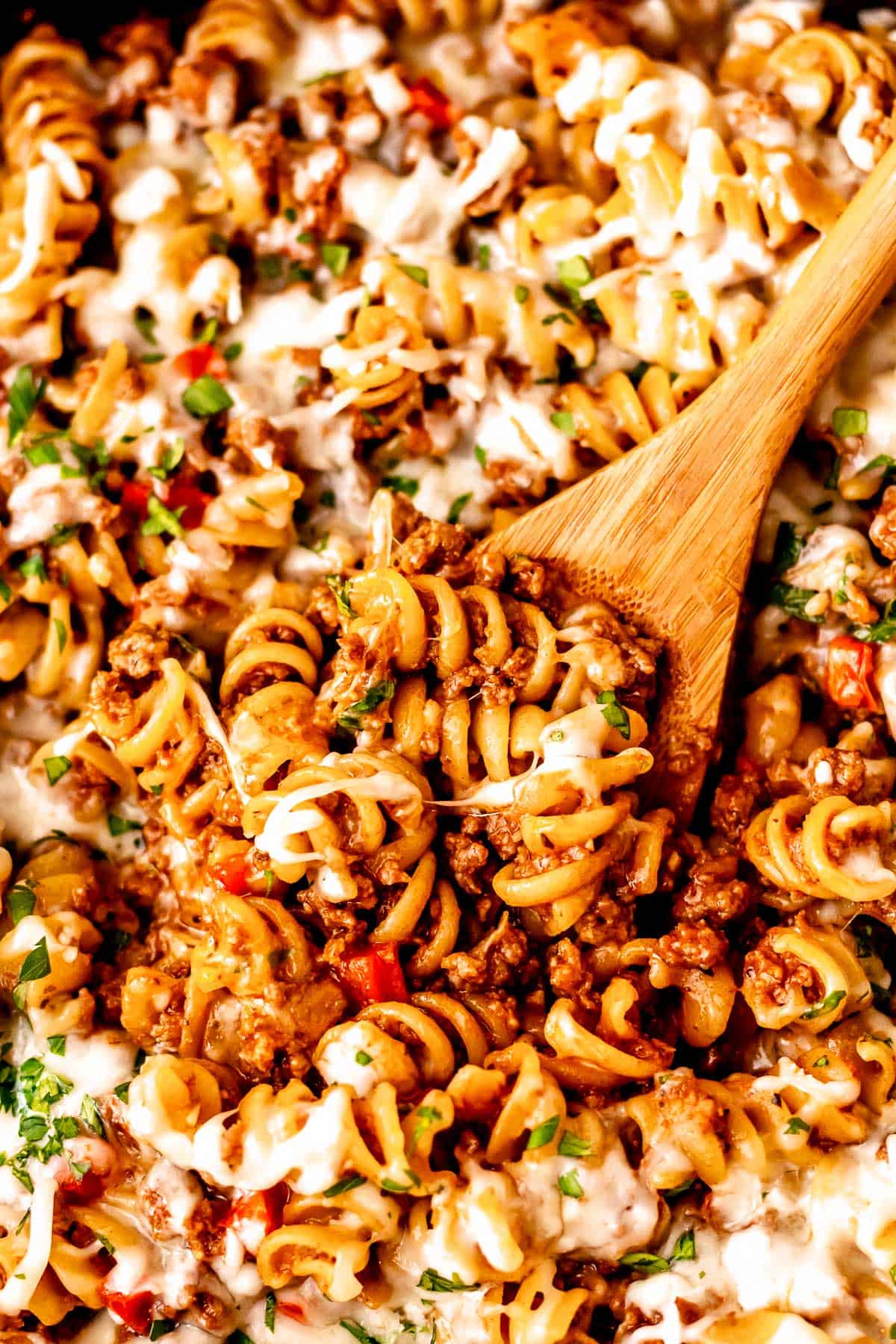 Garnish with minced fresh parsley, if desired.
Serve warm.
Tips and Techniques
Use lean ground beef to avoid excess grease in the pan.
Store leftovers in an airtight container in the refrigerator. Consume within 3 days.
FAQ's
Can You Substitute Ground Turkey For Ground Beef?
Yes ground turkey is a great substitute for the ground beef in this recipe. You could also use ground chicken or ground bison.
What Vegetables Can You Add To A Ground Beef Skillet?
Vegetables that would work really well in a ground beef skillet are onions, shallots, red and/or green bell peppers, and mushrooms. Depending on the type of skillet cauliflower, broccoli or even green beans could work out great too!
More Beef Skillet Recipes
Love this Ground Beef Pasta Skillet recipe? Follow me on Pinterest, Instagram, and Facebook for more!
If you try this recipe, I would really appreciate it if you would please leave a comment and star rating. Thanks!