Grilled Cuban Pork Chops are marinated in a delicious blend of flavors including orange, lime, fresh herbs and spices, then grilled to perfection. This recipe will give you intensely flavored, juicy pork chops every time.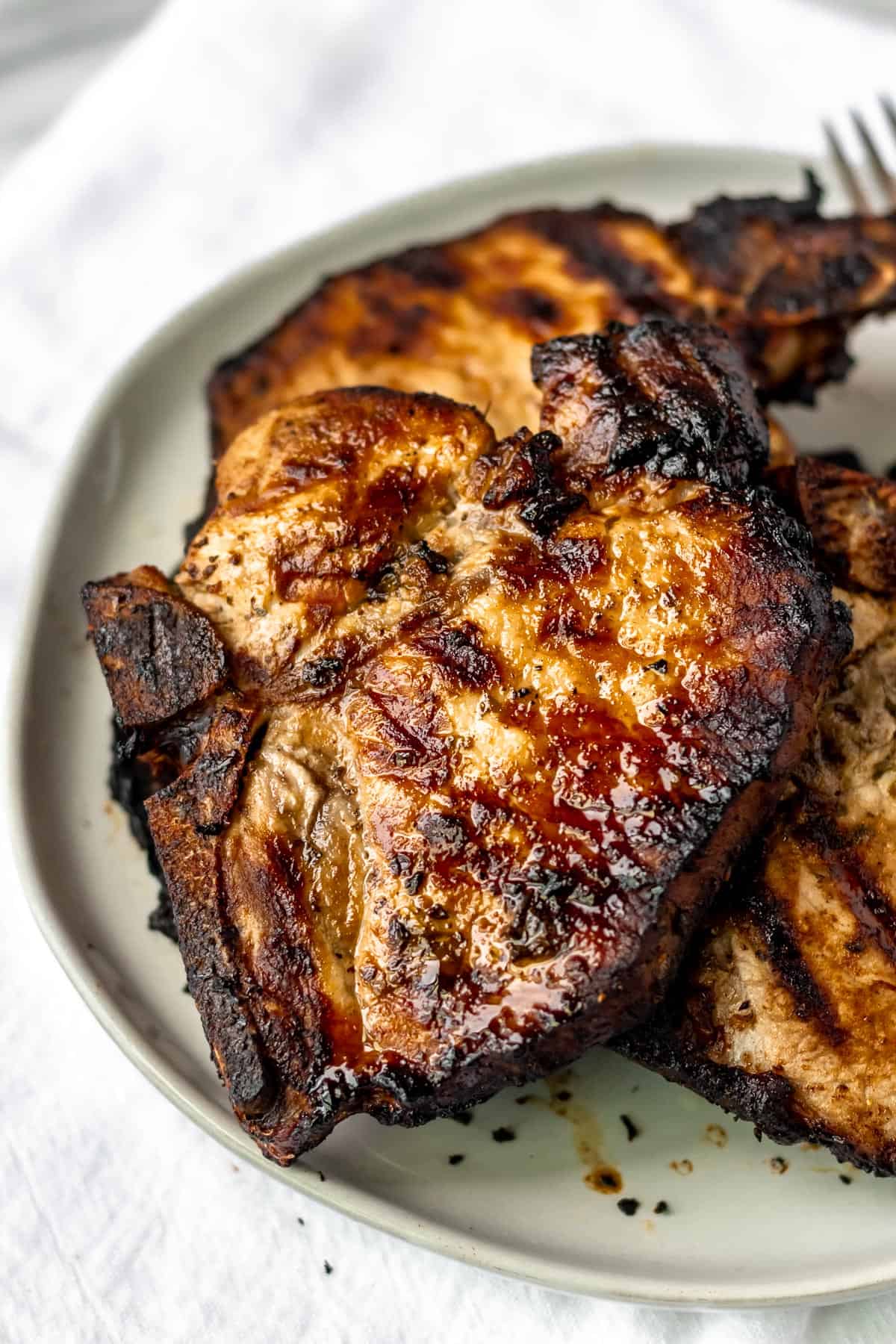 This post contains affiliate links. See our Disclosure Statement for more information.
Cuban pork, plantains, and coconut rice is my favorite island-inspired meal. Most of the time I will make Cuban Pork Tenderloin in the oven, but come summer it's time to grill!
My husband will make these Cuban Pork Chops on our gas grill outdoors, but if I make them I cook them on our indoor grill. The pork chops turn out super juicy and flavorful regardless of which method you choose.
The most important thing to remember with this recipe is to allow enough time for the pork to marinate so that the delicious flavors of the citrusy marinade really shine.
Why This Recipe Works
Fresh citrus and herbs give these pork chops a zesty taste of the islands.
You can cook these pork chops on an outdoor or indoor grill. No grill? You can easily prepare them in a skillet or oven, as well.
This recipe is naturally gluten free and low carb.
Step-By-Step Instructions
Ingredients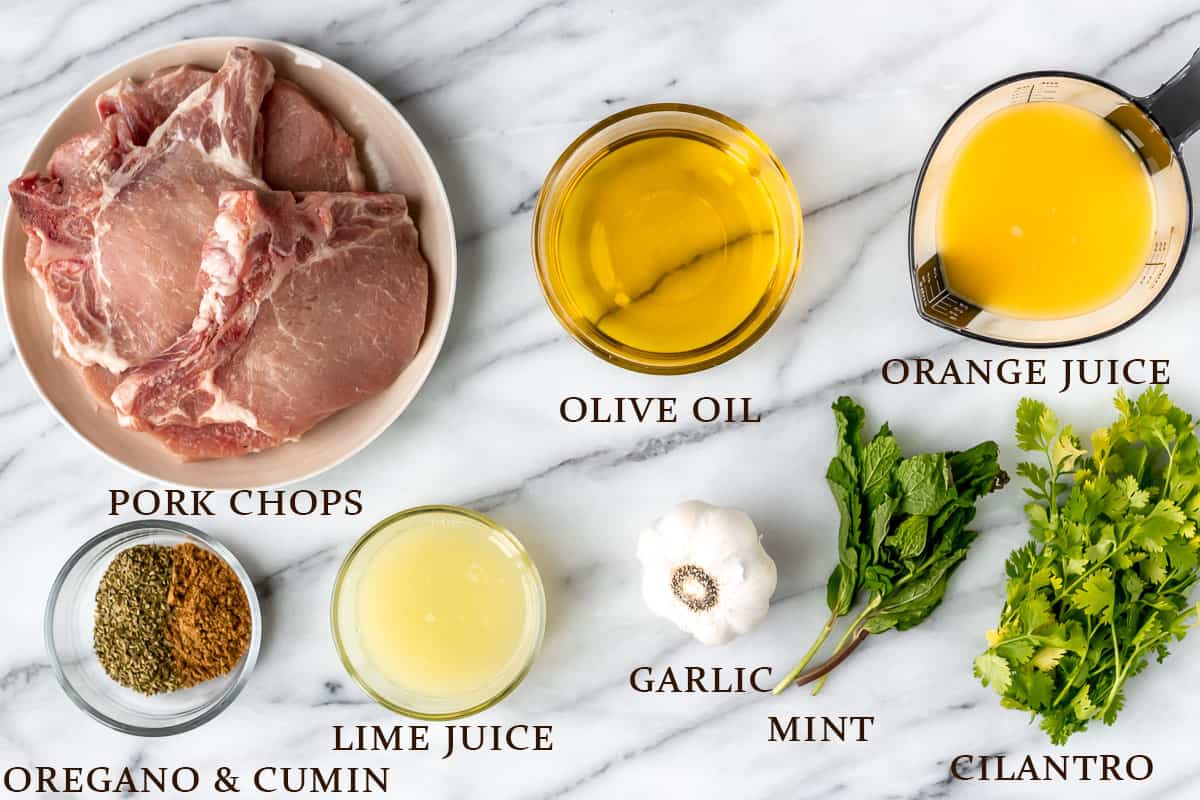 4 pork chops
1/2 cup extra virgin olive oil
1 cup fresh squeezed orange juice (add the zest as well, if desired)
1/2 cup fresh squeeze lime juice (add the zest as well, if desired)
1 cup cilantro
1/4 cup mint leaves
8 cloves garlic
2 teaspoons dried oregano
2 teaspoons ground cumin
The entire recipe and instructions can also be found in the recipe card at the bottom of this post. You can also print the recipe from the card, if needed.
Prep!
This recipe is really easy to make, but do keep in mind that the pork chops should really have all night (or at least 8 hours) to marinate for you to be able to get the most flavor, so plan ahead!
Once you are ready to begin cooking, you will need to zest and juice the oranges and limes, and mince and chop the garlic, cilantro, and mint.
Create!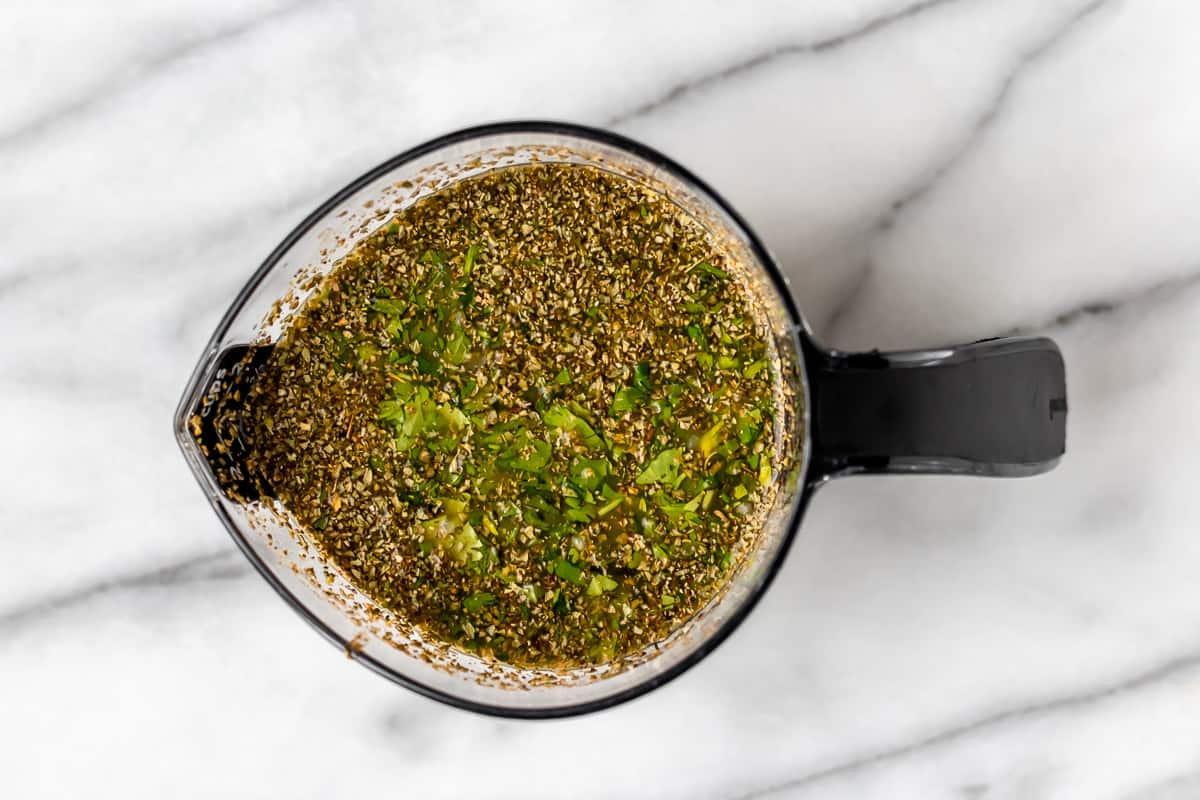 Whisk together the olive oil, orange zest, orange juice, lime zest, lime juice, cilantro, mint, garlic, oregano and cumin. Reserve 1/4 cup of the marinade.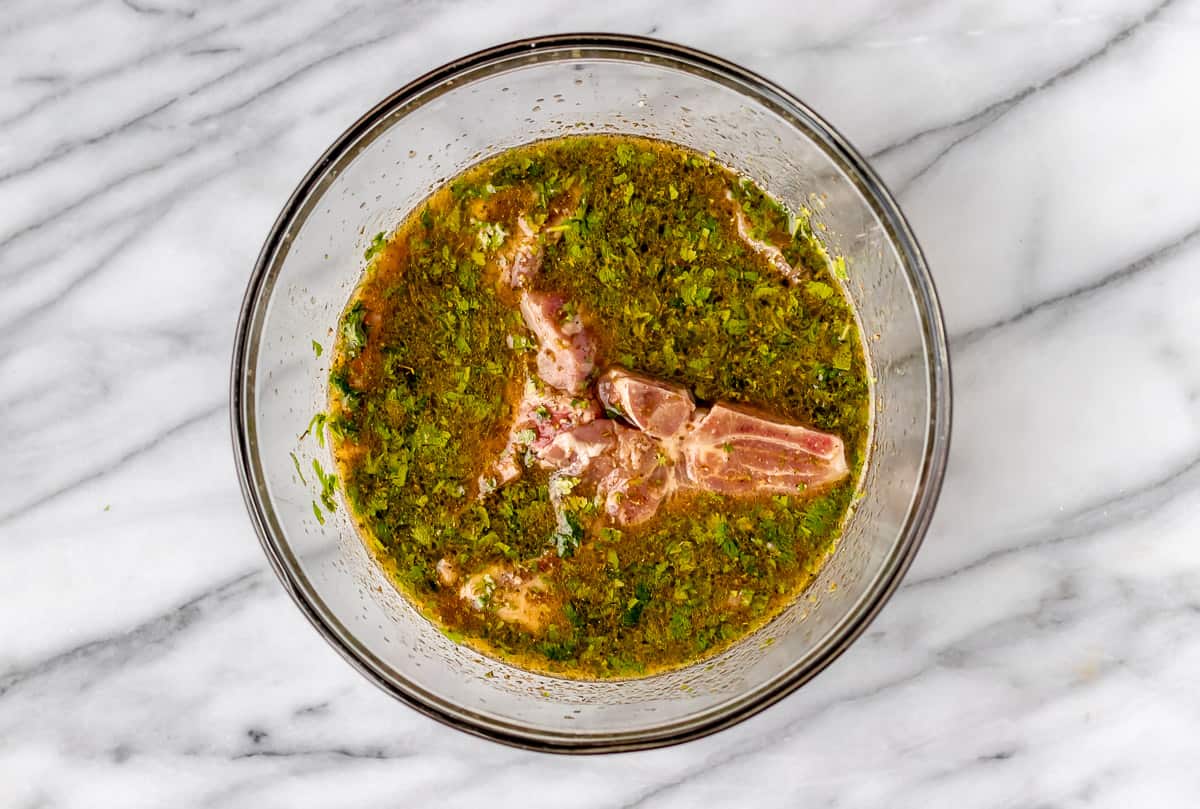 Pour the remaining marinade into a large zip top bag or bowl and add the pork chops. Close or cover and let the pork marinate in the refrigerator overnight, or for at least 8 hours.
Chef's Tip: fresh is always best! You can use dried herbs or bottled juices in a pinch, if needed, but the flavor may be slightly different.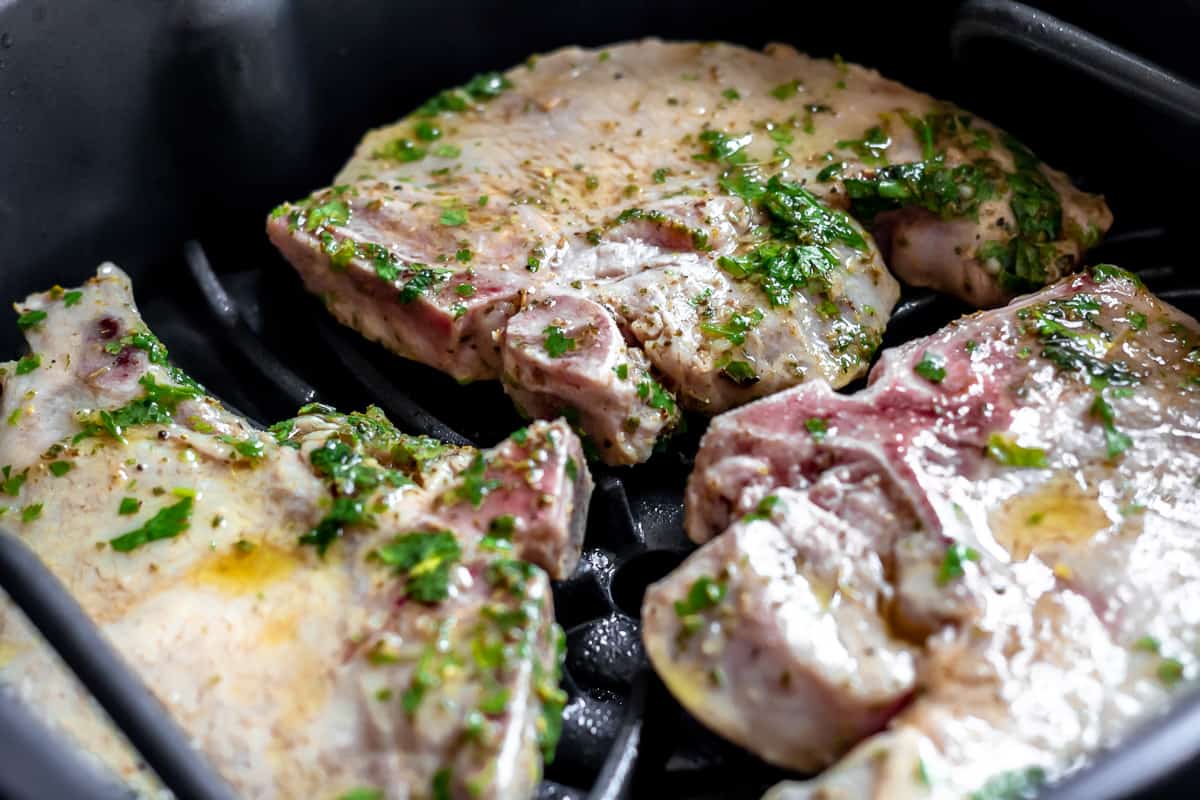 Set the temperature of your grill to high or 500ºF.
Once the grill is preheated, remove the pork chops from the marinade, letting the excess drip off before adding them to the grill. Press them down lightly.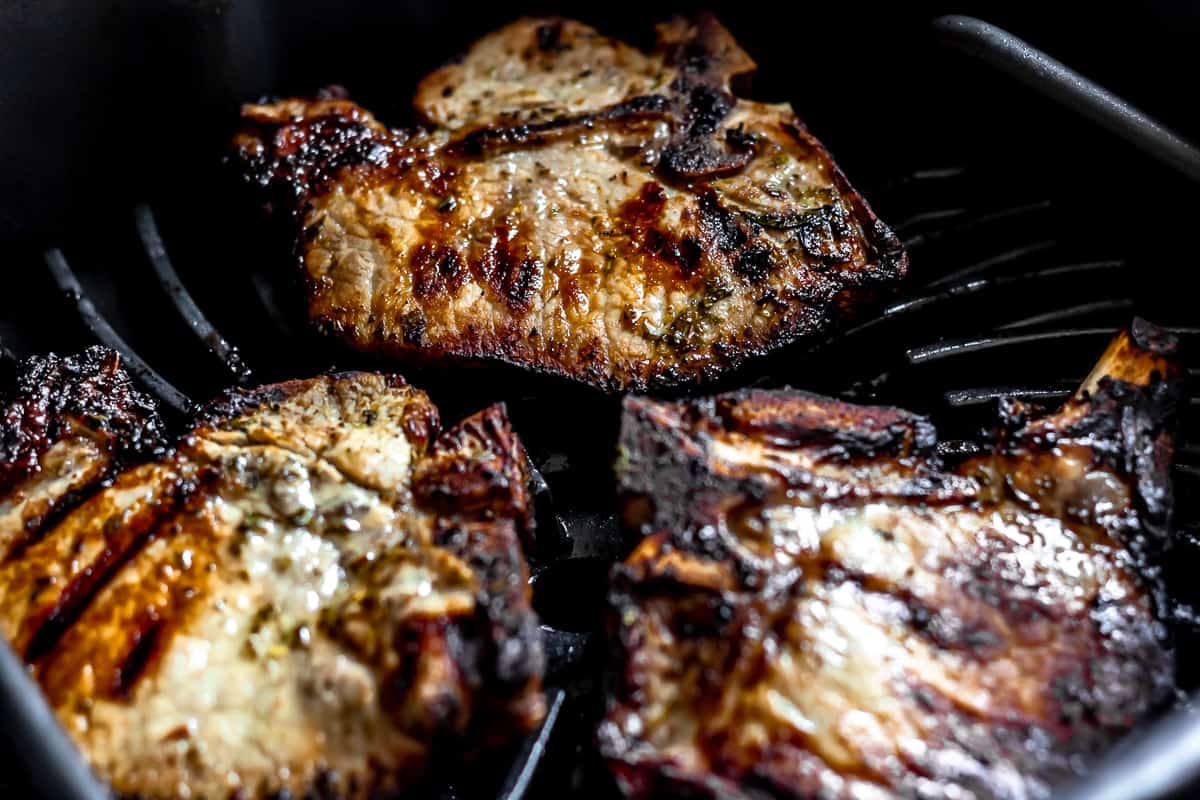 Close the lid and allow to cook for 5-7 minutes, depending on the thickness of the pork chops. Carefully open the lid, turn the pork chops over, and close the lid to cook another 4-5 minutes or until the internal temperature reaches 145°F on a meat thermometer inserted into the center of the thickest portion of the pork chops.
Remove the pork chops to a plate, cover with foil, and allow to rest for 5-10 minutes before serving
Present!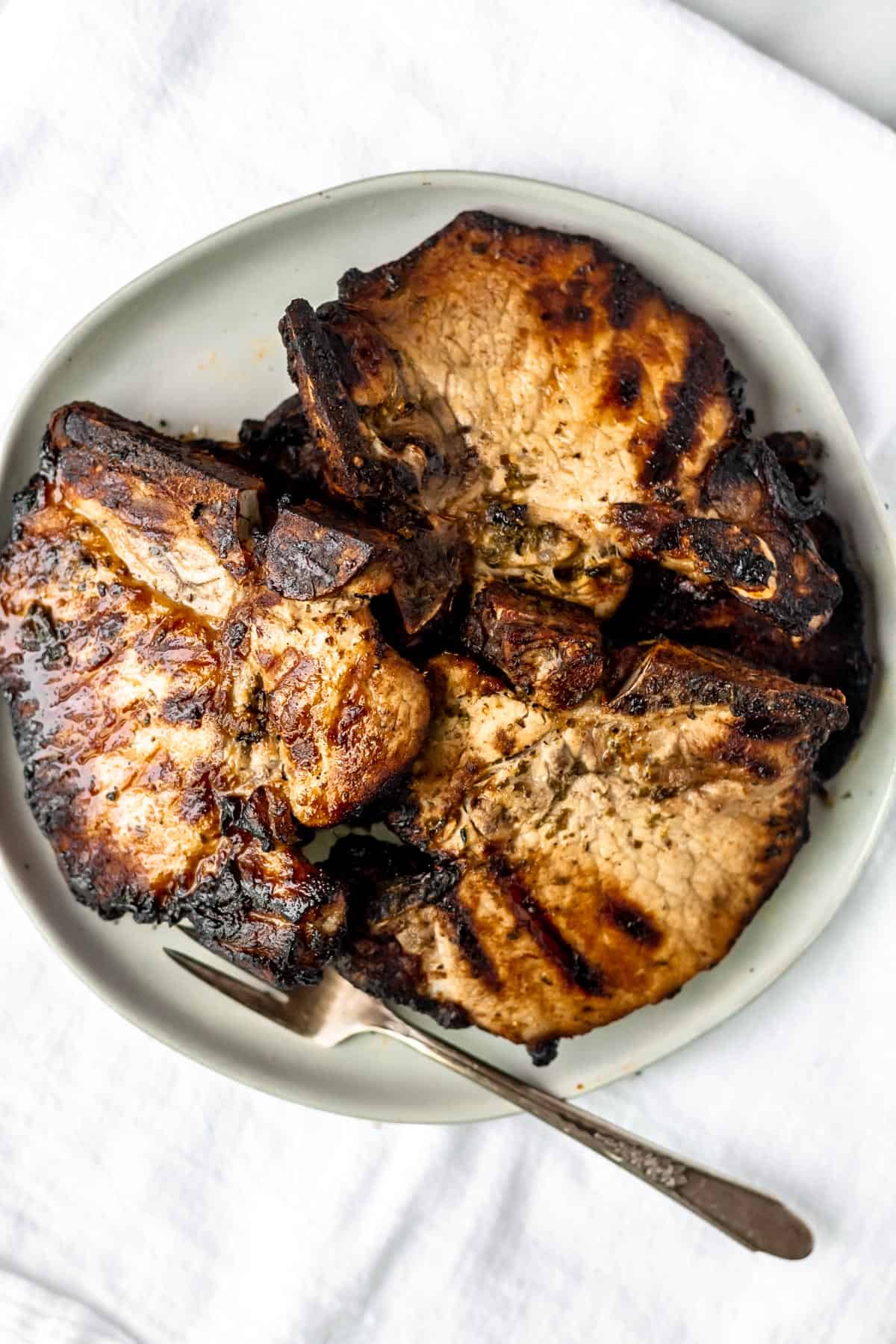 Serve the pork with the extra marinade, if desired.
Tips and Techniques
Marinate the pork chops for at least 8 hours for the most flavor.
Fresh is always best. Dried herbs and bottled juices can be used in a pinch.
Store leftover pork chops in an airtight container in the refrigerator. Consume within 3-4 days.
FAQ's
How Do You Know When Pork Is Done Cooking?
Use a meat thermometer to check the internal temperature of the pork. Once it has reached 145°F, it is done cooking. Be sure to let it rest for 5-10 minutes to allow the juices to disperse before serving.
What Do You Serve With Cuban Pork Chops?
Some other ideas for side dishes to serve with Cuban Pork are:
Black beans
Yellow rice
Salad
More Pork Chops Recipes
Love this Grilled Cuban Pork Chops recipe? Follow me on Pinterest, Instagram, and Facebook for more!
If you try this recipe, I would really appreciate it if you would please leave a comment and star rating. Thanks!
This recipe was originally posted on July 19, 2019. It was updated with an improved recipe, step-by-step instructions, tips, techniques and FAQ's in May 2022.