Fresh vegetables, herbs, and garlic butter are featured in this simple 30-minute side dish. This is an easy recipe for the holidays, but also pairs wonderfully with most entrees for a quick weeknight dinner. Roasted California Blend Vegetables with Garlic Herb Butter is a delicious and nutritional accompaniment to any meal.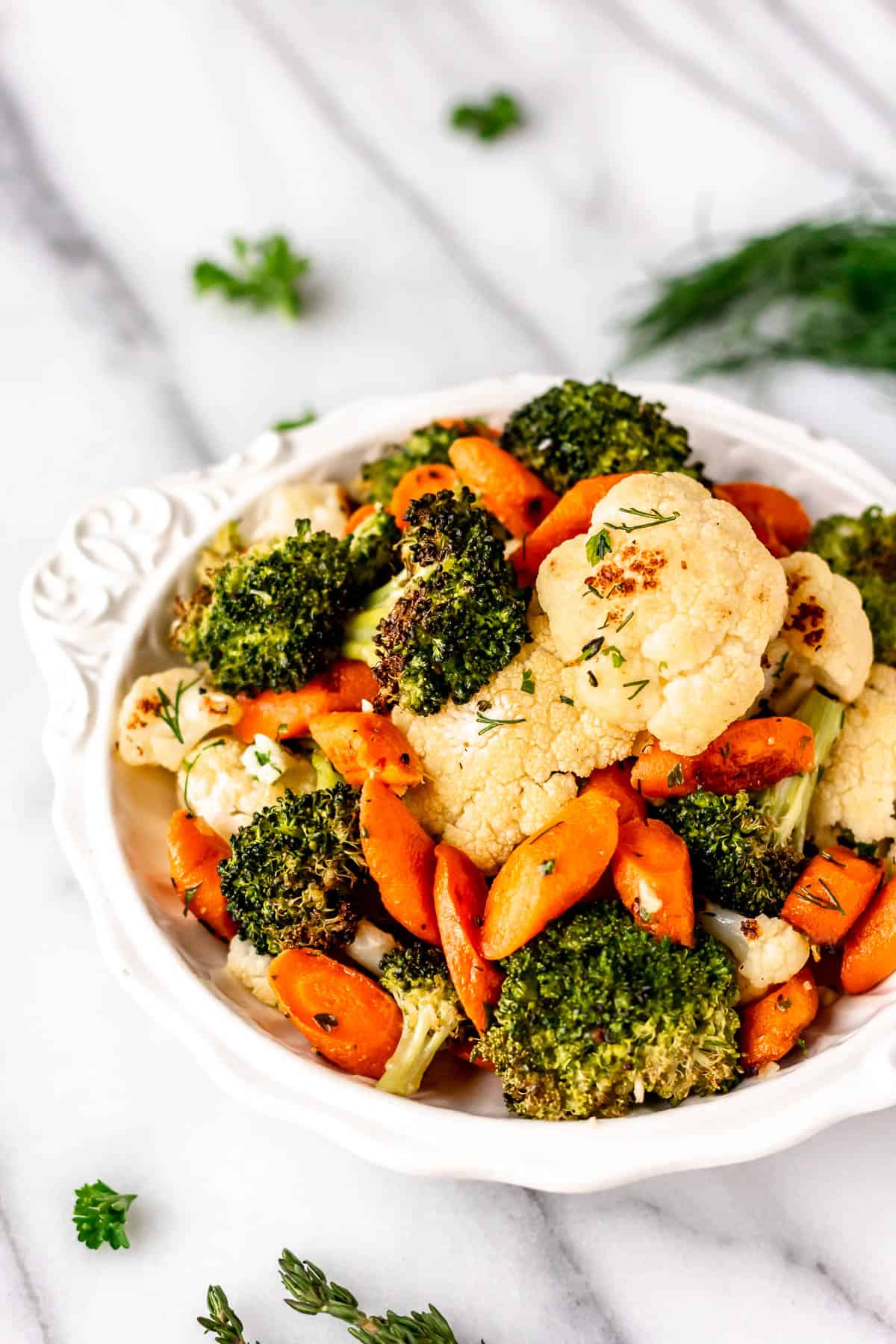 This post contains affiliate links. See our Disclosure Statement for more information.
This simple side dish is perfect for the holidays or to accompany most main dishes. Roasted California Blend Vegetables with Garlic Herb Butter is very easy to prepare which makes it an excellent side for Thanksgiving when you're already busy preparing a large dinner. This recipe comes together in 30 minutes or less, which makes it a great weeknight dish as well.
Fresh vegetables, herbs, and butter combine to make a flavorful and healthy addition to your meal. This vegetarian option is also gluten free, keto friendly, and low carb.
Broccoli and Cauliflower are cruciferous vegetables which have anti-inflammatory properties. The beta carotene found in carrots is an antioxidant which supports healthy vision and a healthy immune system. This is a side dish you can feel great about serving.
More than likely this recipe will leave you with a bit of extra herby garlic butter which can be used on any vegetable and is especially delicious with potatoes. This delish blend of roasted vegetables would be delicious paired with entrees such as Tuscan Steak and Pasta, Lemon Artichoke Chicken, and Potato Crusted Cod.
You can even take this dish up a notch, giving it extra crunch and texture, by making California Blend Vegetables with Parmesan Breadcrumbs.
Why This Recipe Works
Roasted California Blend Vegetables is a quick and easy side dish. You'll have this dish on the table in 30 minutes or less.
Fresh ingredients star in this dish, so it's a healthy recipe you can rely on for a good dose of nutrition. These roasted vegetables are low calorie but high in fiber.
It's a great holiday dish. This recipe uses a variety of vegetables, which creates a beautiful color palette. This side dish also pairs well with any entrée.
How To Make Roasted California Blend Vegetables and Garlic Herb Butter
Ingredients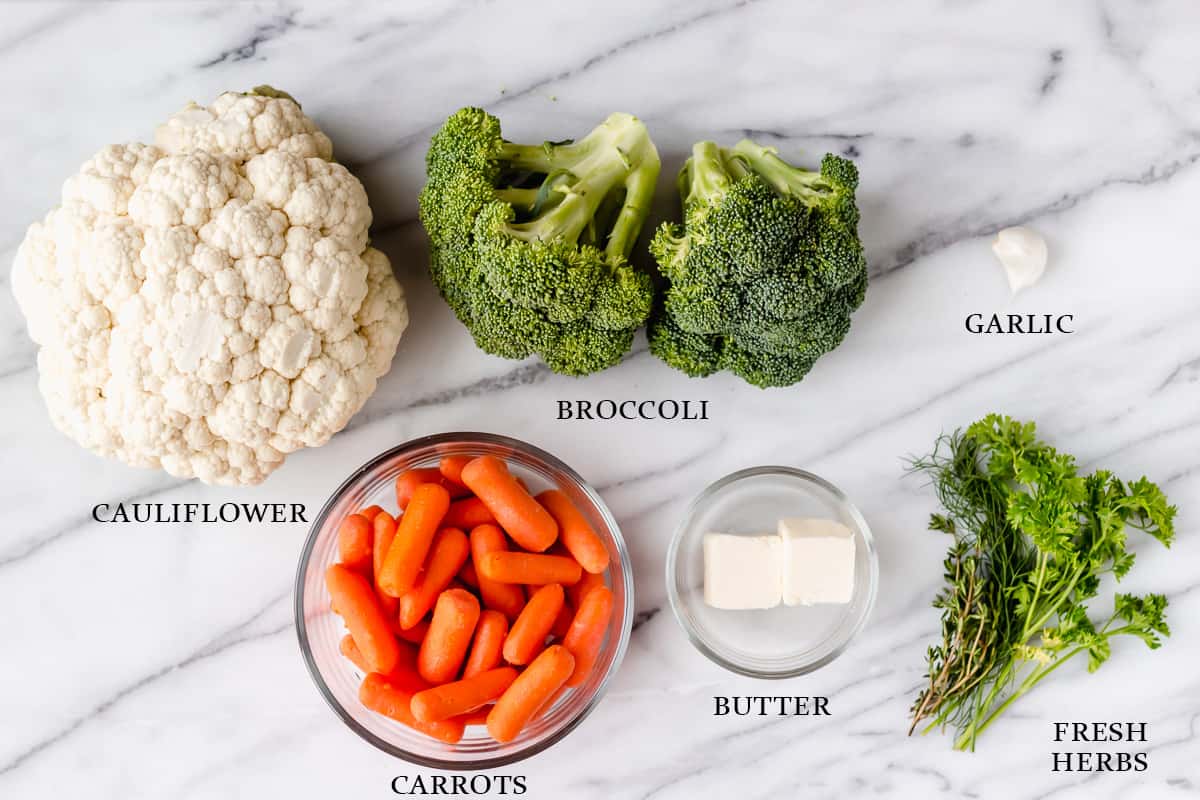 Vegetables: broccoli, cauliflower and carrots make up what is known California blend vegetables.
Butter: room temperature.
Fresh Herbs: I use parsley, dill and thyme, but you can use a single herb like parsley, or a combination of whichever herbs you prefer.
Olive oil, salt and pepper: needed for roasting.

The entire recipe and instructions can also be found in the recipe card at the bottom of this post. You can also print the recipe from the card, if needed.
Prep!
Set the butter out ahead of time to come to room temperature. If you forget to set the butter out, you can microwave it for 10 seconds to quickly soften it.
Preheat oven to 425°F.
Cut the broccoli and cauliflower into bite size florets. Cut the carrots into smaller, 1/2-inch pieces.
Chef's Tip: cutting the carrots smaller allows all of the vegetables to cook at the same rate.
Mince the herbs and garlic.
Create!
Toss broccoli, cauliflower and carrots with olive oil. Spread onto a sheet pan and season with salt and pepper.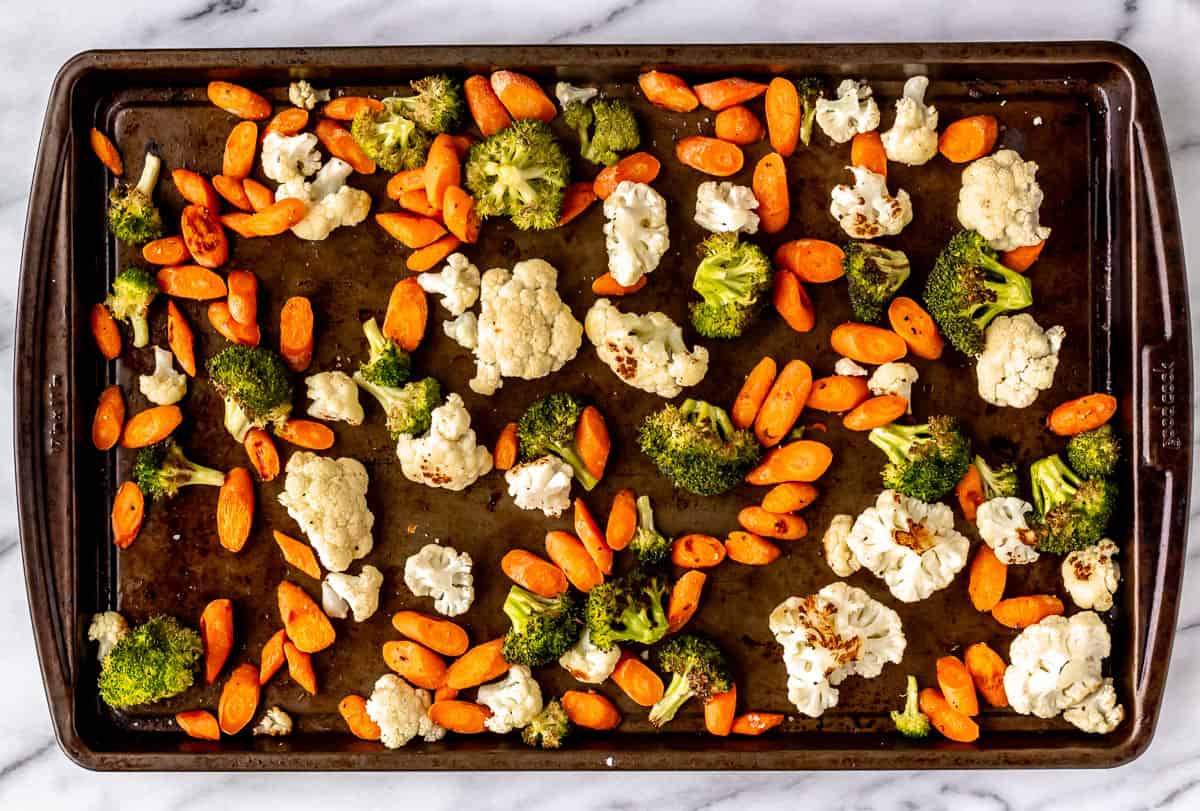 Roast 15-20 minutes, tossing once halfway, or until fork tender.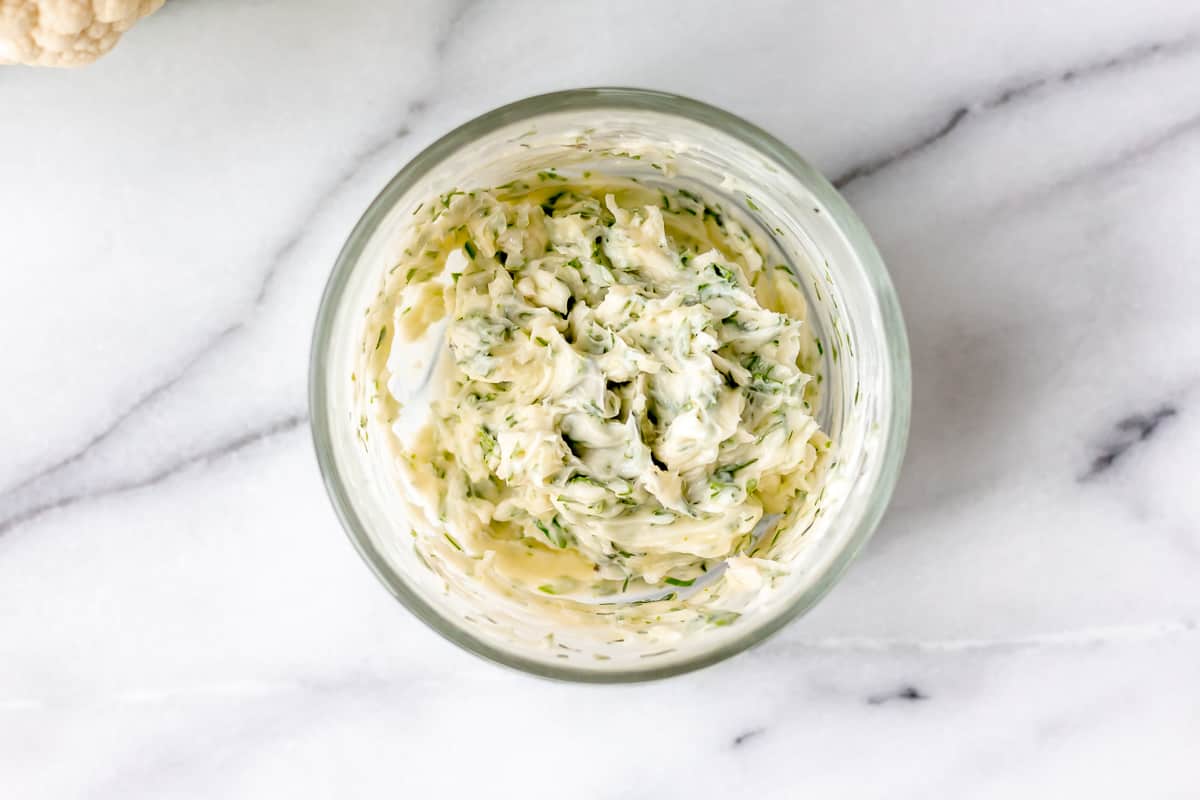 While the vegetables are roasting combine the butter, fresh herbs, and garlic until well blended.
Once the vegetables are done roasting, add 1-2 tablespoons of the butter and toss to melt and combine. Adjust seasoning or add more butter, if desired.
Present!
Garnish with additional fresh herbs, if desired.
Tips and Techniques
You can use a single herb or any combination of herbs that you like when making the butter.
If you would like to shape or mold the butter, please see this separate recipe for Garlic Herb Steak Butter.
Use any extra butter on steak, chicken, other vegetables or potatoes.
Store leftovers in an airtight container in the refrigerator. Consume within 3-4 days.
FAQ's
What Are California Blend Vegetables?
California blend vegetables are a combination of cauliflower, broccoli, and carrots.
Can You Use Frozen California Blend Vegetables?
While fresh is always best for taste and texture, you can use frozen vegetables, if needed.
More Vegetable Side Dishes
Love this California Blend Vegetables with Garlic Herb Butter recipe? Follow me on Pinterest, Instagram, and Facebook for more!
If you try this recipe, please leave a comment and star rating. I would really appreciate it!