Welcome to my first Fun Friday Finds and Life Happenings. I'll be sharing 5 things that I love plus a personal life update. Grab a cup of coffee or tea and feel free to join in the conversation!
This post contains affiliate links. See our Disclosure Statement for more information.
Hi there! Welcome to my new series, Fun Friday Finds + Life Happenings!
This is the first of this type of post, but I thought it would be a good way to share some of the products, services, and kitchen tools that I use all of the time or have gotten to try recently, but never seem to get around to sharing. The "finds" will likely be mostly food and cooking related.
I also thought it would be a fun way to connect on a more personal level and let you guys get to know more about me and hopefully share more about you. I think we all need connections more than ever right now.
I'm not sure yet what the frequency of these posts will be, but they will always be on a Friday and I'll do my best to send out a quick email letting you know when they are live, so if you haven't already, be sure to sign up for my email list!
Let's jump right in with my first 5 finds!
5 Fun Friday Finds
Most of my finds this week are food. I think being stuck at home has us shopping more than usual, plus sometimes food companies reach out to send me things to try in hopes that I'll share them. There seems to be an influx of these offers coming in lately.
I've had a string of good luck with the products and services that I've gotten lately. These are just a few of my absolute favorites!
1. Sitka Salmon Shares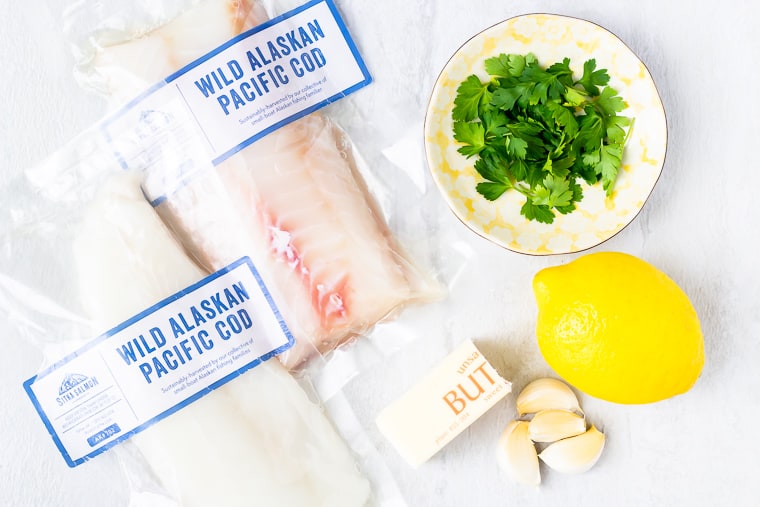 You may have seen me mention Sitka in my recent recipe for Broiled Cod with Lemon Garlic Butter Sauce or on my Instagram. I am LOVING this company.
Basically what it is is a seafood share that you buy into and then they send you seasonal seafood from Alaska right to your door. The season runs from March to December, but you can sign up well after the season has started. They send a huge variety of seafood, not just salmon.
I hadn't heard of them until they reached out to me and offered me the first two boxes of their current season complimentary in exchange for a mention on Instagram once a month. Seemed easy enough and we enjoy seafood, so I agreed.
After reading more about them, and trying the first box, I signed up (and paid!) for the rest of the year on their premium plan.
In their most recent email, they sent a breakdown as to why their seafood costs more and it's only made me even more happy and confident that it's money well spent.
If anyone would like to see the email and information, just let me know and I'll forward it along to you, but the 2 main takeaways for me are that their fisherman are getting paid more to fish sustainably, and the seafood is processed in the United States rather than being shipped to China, which is where the large majority goes before coming back here to be sold.
If you'd like to try Sitka Salmon Shares, you can use code DLB to save $25 off of your first box. It's only good until June 30, 2020.
2. Think! Bar in Chocolate Peanut Butter Pie
My fiancé recently went shopping at Sprouts (it's new to Delaware so we're pretty excited about it!) and picked me up a few keto-friendly bars to try.
I was hesitant to try the Think! bar because I thought it would be dense and dry like most chocolate-peanut butter flavored protein bars, but I was SO wrong.
This thing is GOOD. It's soft and creamy and tastes more like a candy bar, but only has 4 net carbs.
I immediately went to Amazon to try to order them and they are out of stock, but they are in stock on the Think! website (where you can also see what the wrapper looks like (I tossed mine before I decided to write this post!) in case you want to try to find them in store).
They are $14.99 for 10 bars but the shipping is $10 unless you spend $65. My fiancé said, "Well, spend $65 then." I haven't done that, but I really want more so I'll probably stock up the next time we head up to Sprouts.
The only con here is that it looks like this is the only flavor they offer for keto.
3. Super Fats Nut Butter Pouches
I love the names that keto companies come up with! I assume SuperFat means good fats in this case!
Long before I was following a mostly low carb/keto diet, I used to buy the individual pouches of Justin's nut butters for snacks, so these remind me of that but with healthy fats and less sugar.
They are great for grab-and-go (you know, when life gets back to "normal") because you don't need to refrigerate them or anything. Just throw it in your bag and it's there when you need it.
I've tried 5 flavors and the Cacao Coconut is my favorite, but they are all really good.
The pouches are cute, but getting that last bit out is a pain. I've been cutting them open or popping a straw down in there to get the last bite out – it's worth the extra bit of effort.
I checked out their website and found that not only do they have one other flavor – Coconut Cacao Mint – but they also have 3 different flavors of cookies!
4. Iconic Protein Drink
And now a little something different. A protein drink from Iconic Protein.
I don't love most protein drinks. I use a vanilla collagen powder in my tea and that's about it. We have some protein powders here that I might mix into baked goods or something just to use it up, but I just can't drink it. It's too gritty and the flavor isn't very good.
I will say the complete opposite about this Iconic Protein Drink. This is another product my fiancé grabbed for me at Sprouts. I love chocolate so he bought the Chocolate Truffle flavor.
I drank it one day when I was working on making recipes, lost track of time, and hadn't eaten all day. It was SO good. It's creamy and tastes good. There is no grittiness, I mean zero grit. And, it's low in sugar and even keto-friendly.
I'm disappointed that he only got one, but they are definitely on my list for the next time we make it to Sprouts, as well. They are also available on Amazon.
5. Meat Chopper
I don't want this section to be all food, and it won't always all be keto-friendly either – that's just how it worked out this time. This blog is about helping you make easy, delicious recipes and kitchen tools are a big part of that.
One tool to help make it easier is this meat chopper. I got this one from Pampered Chef, but the same exact one is offered on Amazon and then, of course, there are other brands too. The one from Pampered Chef is around $17, but there is one that looks very similar from Faberware for only $9.99 (prices may differ, as Amazon prices fluctuate all the time).
I hate breaking up ground beef with a spatula. It would never turn out as fine as I wanted it. Thing meat chopper thing makes it SO easy. I've only ever used it on ground turkey and ground beef, but I'm sure it has other uses.
Life Happenings
I guess you can say that there really isn't much happening for most people lately. I've been working from home the last few years, so that's nothing new for me. But, now my fiancé is here most days and both of my kids.
Home School + Summer Schedule
I usually work ahead on the blog to get most of the recipes done for the entire summer before school ends. Working from home with 2 rowdy boys home is hard plus it gives me more time to do things with them. That didn't happen this year (thanks to Covid-19), although most of June and August are done.
My oldest has been doing online school from pretty much the very start of all this. That is all over now, although his school does assign summer work and reading in a few weeks). He handled it almost entirely on his own and got straight A's!
Anyway, I'm trying to figure out a schedule of sorts for us for summer. With them both being home all day every day for the past few months, we're all getting tired of the same ole things. If you have any suggestions, send them my way please! We can only take so many walks and play so many board games. And, we've already broken out the old blow up pool once already haha!
Working Out
My health and fitness has become a priority again. It's always been hard to get into a routine since I first had my son. You know, your life just isn't your own anymore. But I do have PCOS (the reason I eat mostly low carb/keto) and when I'm not actively trying to conquer it, it makes my life 1000 times harder.
So, it had to be bumped up the list of things to do. I actually created a rewards system – anyone else do this?
Basically, if I work out 3 times a week, I let myself buy a new workout outfit. I signed up for Ellie – it's an activewear subscription, but much less expensive than Fabletics,  and so far the 3 outfits that I've gotten have been reallllly awesome quality. I love it, so it's been good motivation for me.
I'm going to need some other ideas though because I don't need that many workout outfits – ha!
A Side Project
As if being an at-home mom of 2, a business owner, and a Culinary Arts student wasn't enough, I started a little side project. It's nothing to really share yet, but I needed a different outlet and the idea had been brewing for over a year.
I'll share more when it's actually comes to life. I guess this is what happens when you're stuck at home all day every day.
Now that I've written a little mini story of my life, how have you been during this time? Have you navigated home school and keeping kids busy without so many electronics? Started a new hobby or side project? Read any good books?
Please share in the comments below – I'm sure we can all use a few new ideas right now!