Check out all of the winter weather pieces I received in this February 2019 Stitch Fix review plus how you can try Stitch Fix for yourself –  free!
This post contains affiliate links. I may receive a small commission at no additional cost to you if you make a purchase through one of my links. See our Disclosure Statement for more information.
When scheduling this February 2019 Stitch Fix box, I made a few requests – a puffer vest in dark blue or black, a duster-length cardigan, casual tops to pair with joggers, and any light-weight layering pieces.
Once again, my stylist did a really great job trying to provide me with something to accomodate every single one of my requests!
Before I get into the full review of the items I received, let me tell you a bit about Stitch Fix and how it works. If you are already familiar with Stitch Fix, skip on through until you get to the February 2019 Stitch Fix Review heading.
What is Stitch Fix
If you already know what Stitch Fix is all about, go ahead and skip over this part. If you're new to Stitch Fix, here is a brief summary of what you can expect.
Stitch Fix is a clothing subscription box. You can sign up to receive boxes on certain intervals, or just order a box whenever you want (this is the option I always choose so I don't have to remember to cancel etc.). There are now women's, men's, and children's Stitch Fix subscriptions available!
Each box you order will come with 5 items. These items are clothing, shoes, accessories, and jewelry. Stitch Fix now offers add-ons as well. These are items like camisoles, underwear, and bras that you can order in addition to your 5 items.
When you first sign up, you'll fill out a style survey. Be brutally honest with this section! You'll also have the opportunity to add any notes when you schedule your fix. I usually use this area to request certain items that I may have seen in other reviews or on Pinterest, or to request certain types of items. You definitely don't want to skip this part. I find that being really detailed in the notes section helps to ensure that you get items that you will love!
After everything is filled out, choose the date you'd like to receive your fix.
How Much Does Stitch Fix Cost?
You pay a $20 styling fee that is credited towards anything you purchase. Shipping is free both ways. Buy what you love, return what you don't. If you buy all 5 items, you'll also get a 25% discount! And yes, if you don't buy anything, the $20 fee is not refunded (as it goes towards the time to curate the items and their shipping costs). There has only ever been one time that I didn't buy a single item.
The cost of the items varies. You can set your price ranges in your survey. Stitch Fix even carries designer brands now!
Now that that is out of the way, check out everything I got this month below!
February 2019 Stitch Fix Review
Marc New York Skien Quilted Puffer Vest ($98.00)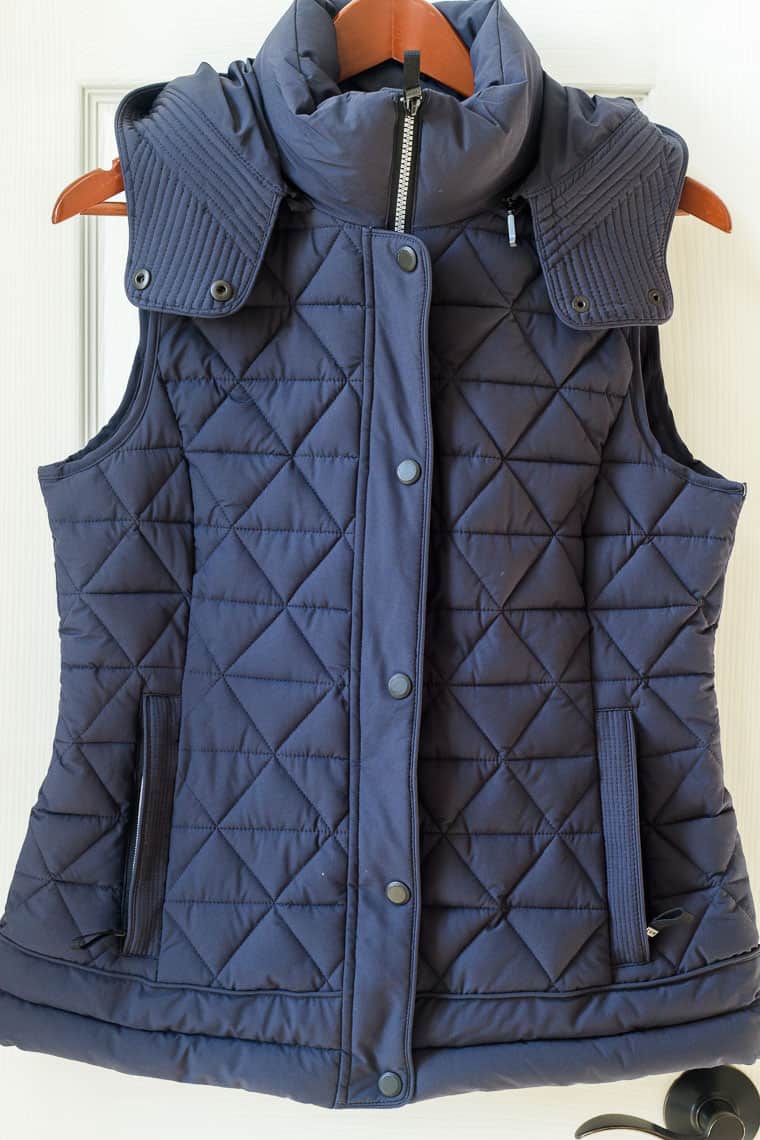 I have been wanting to try a vest for so long. When I saw the picture of this, I knew I didn't like the fact it had a hood. Thankfully, it was removable.
Unfortunately, my usual size was too tight across the chest and I felt a size bigger would make it look even bulkier on me than it already does. I'm sad to think that maybe these types of vests will never look good on my body type.
Verdict: returned.
Kut From The Kloth Boylen Flap Pocket Button Down Shirt ($68.00)
I loved this one on paper. And, I loved it in real life too!
The snap buttons are a nice change! And finally, a top in my size that doesn't peek open across the chest.
The best part about this shirt is how soft it is! It's amazing – and lightweight!  A win all around for me!
Verdict: kept.
Sophie Rue Demeter Cardigan ($48.00)
I absolutely love that this is a longer cardigan, but I was hoping for even longer when I requested a duster. In addition, this is a thicker material and I definitely always ask for lightweight.
I like the neutral gray color, but again – no pockets. I don't ever put anything in the pockets of my cardigans, but I still prefer them. Weird, I know.
Pink Clover Poplar Cowl Neck Knit Top ($44.00)
This top was really cute on paper and really soft in person. I liked that my stylist sent this to pair with my joggers, but unfortunately the fit wasn't quite right to me.
I felt the cowl neck was too big? It just hung awkwardly on me. And, even though the material was really soft, it had a bit of itchiness to it as well.
Verdict: returned.
Market & Spruce Edie Knit Dress ($68.00)
This is a knit dress. I really don't like knit dresses. They tend to ride up when worn with tights. I also didn't care for the print. It's stripped on the front and solid on the back, but it seemed one side showed the line where the two patterns meet more than the other.
Super picky, yes…but these things drive me crazy. In addition, I don't like form fitting clothes that show every little bump and lump.
Verdict: returned.
Final Thoughts on My February 2019 Stitch Fix Items
Overall, I think my stylist tried to hit on every one of my requests. I am definitely a picky shopper and often have fit issues. On paper, all of the items looked like things I would love.
The total for all of the items in this fix is $326.00. If I had bought all 5 items I would have received a discount of $81.50 which would bring the total to $244.50. Because I only kept the shirt, I paid $68.00.
For my next fix I have asked only for a lightweight black cardigan, preferably with pockets, and lightweight layering pieces. I am really looking forward to seeing what they send!
How to Try Stitch Fix for Free!
If this February 2019 Stitch Fix Review has you ready to try Stitch Fix for yourself, have good news!  The first 24 people to sign up under my link will receive a $25 credit on their account (new customers only). That basically waves the styling fee and then some! You need to click HERE to sign up to get the credit!
Make sure to be super specific about items you've seen and love. I would also definitely recommend linking an up-to-date Pinterest board that has Stitch Fix items you would love to get!
If you'd like to see more winter Stitch Fix items, you can check out my December 2018 Stitch Fix Review as well as my January 2019 Stitch Fix Review! Heads up – the links in these past posts may not give you the $25 credit. You will need to use a link within this February 2019 Stitch Fix Review post if you want to get the credit.