This Fall 2018 FabFitFun Review will show all of the items that I received in my box, other item options, and add-on items that I purchased at discounted rates! This box is packed with so many useful, beautiful items that are perfect for the fall season!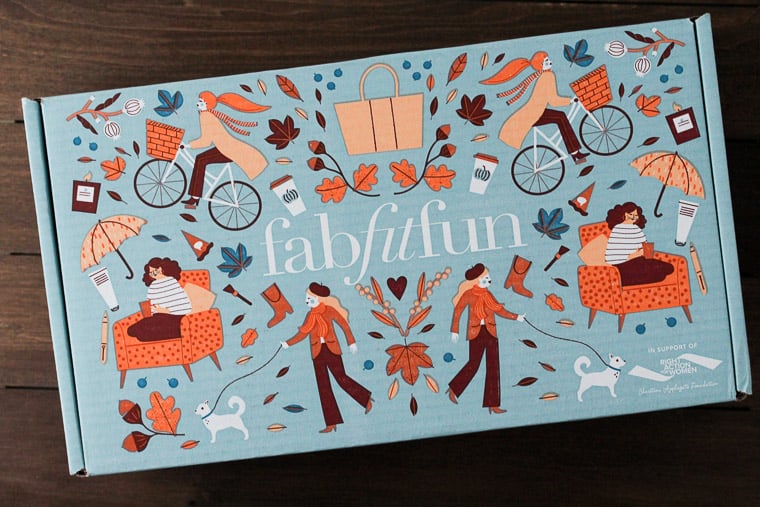 This post contains affiliate links. See our Disclosure Statement for more information.
Every quarter, I look forward to receiving my FabFitFun box. I used to subscribe to a ton of different boxes, but have cut back quite a bit. I am always happy with the majority of items that I receive in this particular subscription and the value far exceeds the cost! It's a treat for myself, but would also make a great gift for family and friends too!
For those not familiar with FabFitFun, I'll try to explain how it all works and answer any questions you might have. If you already know the deal, then skip on ahead to check out all of the items!
What is FabFitFun?
FabFitFun is a women's lifestyle subscription box that ships quarterly. Each box is curated for the season and contains fashion, beauty, home, travel, fitness, food items, and more!
Can I Customize My Box Contents?
Yes! Each quarter, subscribers get to choose some of the items they will receive. If you become an annual subscriber, you get to customize your box even more!
The window to customize is only open for a short period of time. If you subscribe after boxes start shipping, you likely won't have the ability to customize until the next quarter, but FabFitFun will randomly select items for you.
How Much Does FabFitFun Cost?
FabFitFun is regularly $49.99 a quarter. Each box contains over $200.00 in items (usually well over)! You can also pay for a year (4 boxes) upfront for a total of $179.99 which saves you $20.00 over the year and also gives you additional benefits including:
more custimization
access to Add-ons before anyone else
earlier shipping
You can save $10.00 off of your first box by CLICKING HERE!
Now that we got through all that, let's see what's in this season's box!
Fall 2018 FabFitFun Review
Each quarter, along with all of the goodies, FabFitFun also puts together a mini magazine.
Inside you will find all the details regarding the items you are receiving, helpful articles on how to use your new products, and other fun lifestyle articles. I actually look forward to reading this and prefer it over the small cards most other boxes include.
Items in Every Box
BeautyBlender ($20.00): I'm currently using a knock-off BleautyBlender, so I was really excited to see the real deal in this box! I've had a mini one and it worked so much better, but my toddler got a hold of it and I haven't seen it since. Needless to say, this is a great staple item to have included in this box!
Simply Whimsical Tea Towels ($14.99 for two): These tea towels are minimalist and simple, just like I like! I love that there are two of them. I have a bit of an obsession with tea towels since I started food blogging, but I think I'm going to save these for when we move next year. New kitchen, new dish towels.
Skin&Co Roma Blue in Capri Shower Gel ($22.00): I can always use a new shower gel. While I'd never pay this much for a shower gel, it is a nice treat! It has a very floral, girly scent to it. My blue-obsessed 10-year-old son asked me for it, until he smelled it. I'm glad I won't be fighting him for it!
GlamGlow Bubblesheet Oxygenating Deep Cleanse Masks ($18.00 for two): I'm a big fan of the original GlamGlow face mask, so I'm excited to try this sheet mask. Their products are always so amazing! I love a good mask and I think the bubbles will be kind of fun too!
Luna Rica Bar (no value, sponsored item): This is a cashew-filled fruit and nut bar. I received the flavor Salted Caramel Nut. Once again, my son tried to snatch this right up, but I got to try a good bit of it and it's delicious! I will definitely be buying more of these!
Subscriber Choice Items
These are the items that monthly and yearly subscribers can choose between. If you subscribe now, you might now have the option to choose, but will be able to customize more for the Winter box.
Vince Camuto Luck Tote ($128.00): this is a vegan leather tote. Subscribers could choose between the colors Black or Red Dessert. I have to say that I'm not really that impressed. The bag has a strong smell to it, which may or may not fade away. It also only has one smaller pouch inside at the top of the bag. Neither the small pouch, or the bag itself, has any type of closure. I feel like sometimes the prices of these types of items are pretty inflated, especially for "vegan leather."
I'm not sure that I'll use this much, and may decide to pass it along to someone else.
NOTE: This quarter, there was no option to add another tote or the second choice below for an additional discounted rate. 
Crown Brush 6 Piece Brush Set ($75.00): subscribers could have chosen to receive this make-up brush set instead of the Vince Camuto Luck Tote. This set of brushes comes in either black and rose gold or silver. It looks like a really nice set!
Alfred Teapot ($26.00): I chose to receive this Alfred Teapot because I am obsessed with tea! I have a cast iron teapot that will probably survive longer than me, but this one is so cute and will look much better on my stove top!
Alfred French Press ($22.00): Subscribers could chose to receive this French press to make coffee instead of the teapot.
Cylo Cobra Bluetooth Wireless Earbuds ($40.00): I chose to receive these earbuds in white, but there was also the option to choose black. I like that these are wireless, but rarely use earbuds. However, I thought they might come in handy for all the traveling we are doing for soccer games these days!
Catherine Malandrino Umbrella ($40.00): Subscribers could chose to receive this umbrella in either red or black and white floral designs instead of the earbuds. It's funny to me that I rarely use an umbrella (as in never), but the day I received this box, my fiancé bought me an umbrella from the drugstore because we were standing outside in the rain for 2 hours watching soccer games. Ah well!
Select Member Only Choices
Select Members are those that prepay for the entire year of FabFitFun upfront. These members can further customize their boxes. All subscribers will still randomly receive an item from each group of items. I am not a Select Member at this time so the items that I received were chosen at random. This quarter, I was really happy with what was chosen for me!
Grown Alchemist Polishing Facial Exfoliant ($67.00): I was SO happy to see this was the item I received! One of my add-on's below is a facial cleanser from the same brand so I was hoping I wouldn't get another one. This is also the highest value item of this first bunch.
This brand is free of pretty much all of the bad stuff – parabins, artificial fragrances, paraffins, and so on. I'm really excited to try their products!
The other items select members could choose from, or subscribers will receive at random, are the Hydra-Repair Day Cream ($49.00) or the Hydra-Restore Cream Cleanser ($49.00) from the same brand.
Farmacy Dew It All Eye Cream ($38.00): I absolutely love the Farmacy brand and what they stand for. Natural, quality ingredients, with none of the bad stuff.  Do I need another eye cream? Nope! But, this one is too good to let go! Again, I was so happy with the random choice that FabFitFun made for more!
The other items that Select Members could choose from or subscribers could receive at random are Touch in Sol Metallist Liquid Foil Lipstick Duo in "Penny" ($24.99) or Cucchio Somatology Yogahhh! Detox Bath ($39.95).
What Are FabFitFun Add-ons?
FabFitFun Add-ons are items subscribers can purchase at deeply discounted rates to be shipped with their quarterly box. There is always a huge selection of items including beauty, home, fashion, fitness and more!
An additional benefit, and maybe the best benefit, of being a Select Member is that you get access to Add-ons before everyone else. I find that the best items are usually sold out before Add-ons open to everyone. I can always find great deals on items I want anyway, but am considering upgrading my membership just for this reason!
This quarter, I purchased three Add-on items:
Tarte Hair Goals Dry Shampoo ($10.00 regularly $19.00): I have just started using dry shampoo recently and needed a full size bottle. I have really dark hair, so I'm hoping this one works just as good!
Grown Alchemist Age Repair Moisturizer ($19.00 regularly $99.00): My Murad moisturizer from the Summer FabFitFun box is almost gone, so I needed a new one and this deal was too good to pass up!
Tarte Tarteist Glossy Lip Paint in Obvi ($10.00 regularly $20.00): I love Tarte's glosses and wanted to try a more nude shade for fall since 95% of the lipsticks I have are either dark pink or coral colored. This one is perfect since it's a little darker, but still a very natural shade!
Final Thoughts
With the exception of the bag, I absolutely loved every item in this box, as well as the Add-on's that I chose. The bag might grow on me, but if not, it will make a nice gift for someone who I know will love it.
The total value of the items in my box (not including Add-on's) is almost $375.00! That's an incredible value for some really quality items!
How Can I Subscribe to FabFitFun?
Has this Fall 2018 FabFitFun Review got you itching to try it yourself? I don't blame you, this box is incredible and at the time of this post, it's still available!
You can join FabFitFun by CLICKING HERE! A $10.00 savings will also be applied to your first box!
Enjoy!