Chicken Potstickers are made with ground chicken, vegetables and Asian seasonings folded inside of gyoza or wonton wrappers. These tasty little bites are delicious as an appetizer to all of your Asian-inspired meals.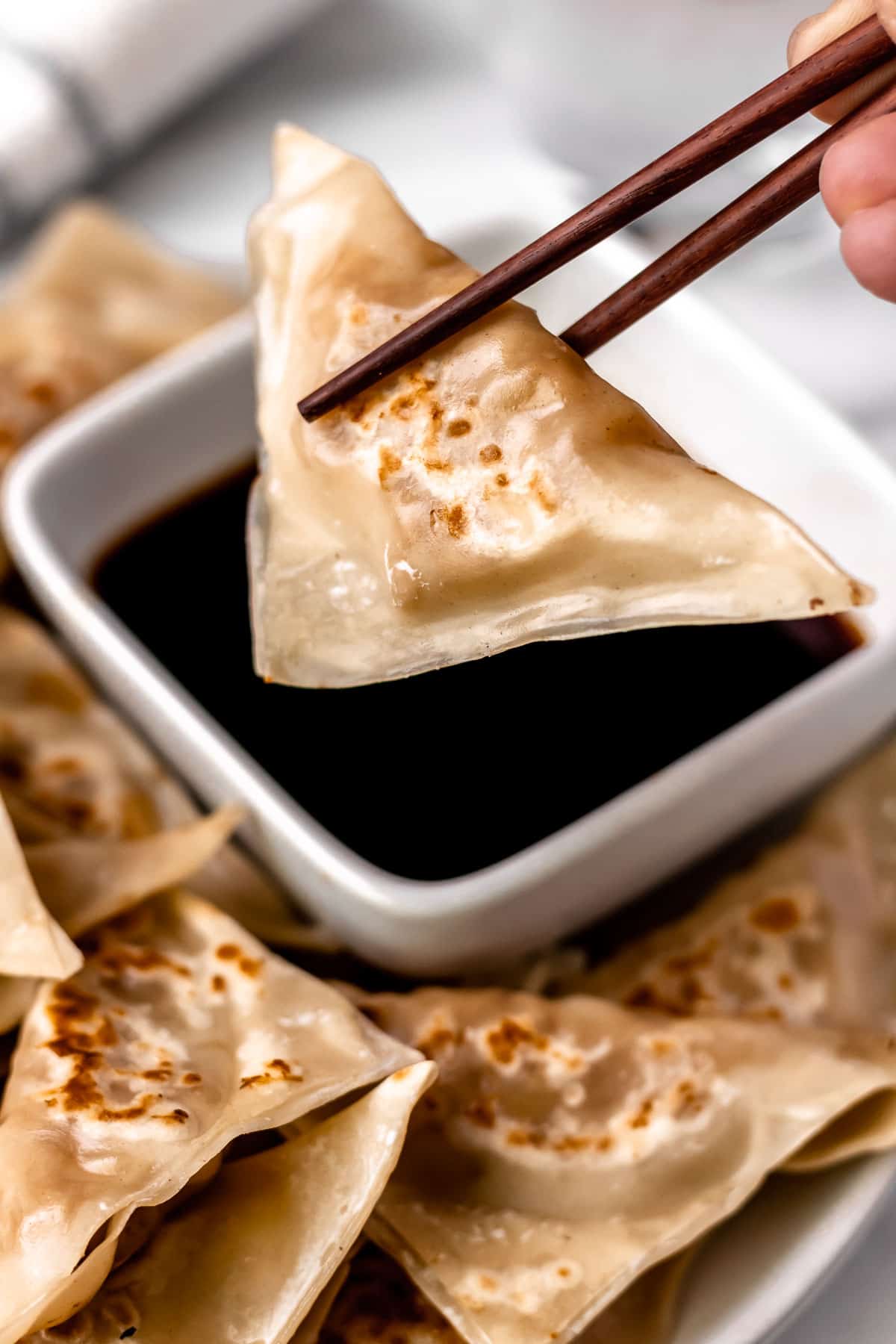 This post contains affiliate links. See our Disclosure Statement for more information.
Potstickers originated in China and are commonly served at Asian establishments, though you will often find them available at other types of restaurants more often now. They have become increasingly popular over the last several years.
Potstickers are little pockets of filled dough, similar to dumplings. They are often made with gyoza wrappers, but wonton wrappers can also be used and are often easier to find. The filling is typically made with a combination of ground meat, vegetables and seasonings.
This recipe calls for ground chicken, but ground turkey, pork or beef can be used, if preferred.
Serve potstickers as an appetizer to Asian-inspired main dishes like Mongolian Ground Beef, Asian Ground Pork Tacos, and Vegetable Stir Fry.
Why This Recipe Works
Homemade potstickers are very simple to prepare, but they do take some time. For the best flavor, the filling should sit in the refrigerator for at least 4 hours. Then, filling the wrappers can take some time, as well. They are well worth the wait and effort.
They are most commonly served as an appetizer, but can also be served as a main dish or side dish.
You can adapt the ingredients to fit into your own personal tastes.
How To Make Potstickers
Ingredients
2 tablespoons sesame oil, divided
1/2 pound ground chicken
2 cups cabbage, finely chopped
1 8-ounce can water chestnuts, drained and diced small
1/2 teaspoon onion powder
1 inch fresh ginger, peeled and grated
3 cloves garlic, minced
1/2 teaspoon salt
1/2 teaspoon granulated sugar
2 tablespoons hoisin sauce
50 wonton wrappers (gyoza wrapper can also be used)
The entire recipe and instructions can also be found in the recipe card at the bottom of this post. You can also print the recipe from the card, if needed.
Prep!
Drain and dice the water chestnuts and dice the cabbage. Peel and grate the ginger and mince the garlic, as well.
Create!
Heat 1 tablespoon of the sesame oil in a large skillet over medium-high heat. Once hot add the meat and cook, breaking up into fine crumbles, until no longer pink. Drain well.
In a medium bowl mix together the cooked chicken, cabbage, water chestnuts, onion powder, ginger, garlic, salt, sugar, remaining 1 tablespoon of sesame oil, and hoisin sauce. Refrigerate for at least hours to let the flavors blend together.
To fill the potstickers, place approximately of 1 tablespoon of meat mixture into the center of each wonton wrapper. Wet the edges lightly with water, fold in half, and press to seal.
To cook the potstickers, heat a large skillet over medium-high heat. Brush a very thin layer of oil onto the bottom of the pan.
Chef's Note: be sure to only use a very small amount of oil. You will be adding water to the pan so it's important that there not be much residual oil when the water is added to prevent splatter and possibly burning yourself.
Working in batches, place potstickers into the pan with a little space between them. Cook on the first side until browned, about 30 seconds, then flip and repeat on the other side. Carefully pour in about 1/3 cup of water and cover immediately.
Steam for 2-3 minutes, or until hot and tender, then remove. Repeat this process with the remaining potstickers.
Present!
Serve hot with the dipping sauce, if desired.
Dipping sauce can be made my mixing 1 tablespoon of soy sauce with 1 tablespoon of rice vinegar. You can add sriracha, wasabi paste or chili oil to make it spicy, if preferred.
Tips and Techniques
Any ground meat can be used as a substitute for ground chicken, if preferred.
Store leftovers in an airtight container in the refrigerator. Consume within 2-3 days.
FAQ's
Can Potstickers Be Made Ahead Of Time?
Yes. Potstickers can be assembled ahead of time and stored in the refrigerator until you are ready to cook and serve them.
Can Potstickers Be Frozen?
Yes. Potstickers can be frozen for up to 3 months. Place filled potstickers on a parchment paper lined sheet pan and place in the freezer. Once frozen, transfer to an airtight container or freezer bag.
More Recipes
Love this Chicken Potstickers recipe? Follow me on Pinterest, Instagram, and Facebook for more!
If you try this recipe, please leave a comment and star rating. I would really appreciate it!
This recipe was originally posted on September 15, 2016. It was updated with an improved recipe, new images, step-by-step instructions, tips, techniques and FAQ's in August 2022.