Ever since my first bite of these magical little dough purses of scrumptious deliciousness, I have been addicted to potstickers!  I had to learn how to make them at home and came up with this Easy Chicken Potstickers recipe!
I call this an Easy Chicken Potstickers recipe because it's simple to prepare, however, it's still time-consuming.  I usually serve them as our dinner, but you can make less and have them as an appetizer or side dish as well. I wouldn't plan to make these after a long day at work or whenever you're short on time. Hey, delicious food can't always be quick food, right?  When food takes longer to prepare, I expect it to taste good so I fill these potstickers will all my favorite flavors!
This post contains affiliate links.  See our Disclosure Statement for more information.
You can use any ground meat you prefer as a base.  I went with chicken this time since it has a mild flavor, and let the other ingredients shine a little more.  If you've seen my recipe for these Sesame Turkey Lettuce Wraps then you might remember my love of sesame oil.  Yes, it's definitely making an appearance here as well!  In fact, the filling in both of these recipes is somewhat similar, yet the end result is so different!
The first time I ever made potstickers was many years ago.  I was following a recipe I had found online and upon reading the reviews got super scared of cooking them.  People were complaining about how dangerous it is to mix oil and water.  I still went ahead with the cooking directions as listed and everything turned out fine, and has every single time I've made them since. I don't want anyone to be afraid to try to make the foods they love at home.  I can tell you from plenty of experience, that if you follow the directions I list for you below you will be just fine!  You just need to use the smallest amount of oil necessary to coat the bottom of the pan before frying each side of the potsticker.  It should be almost gone, if not completely gone, by the time you add the water to steam them.
I'm using wonton wrappers in these photos.  I have yet to find traditional gyoza wrappers near me so I have zero experience with them.  I think I could fit more filling in each, which would save some time!  I'd love to try them, but the wonton wrappers work well too.  If you can get gyoza wrappers, definitely try those as you will get a more traditional potsticker that way.
The dipping sauce is just a 50/50 combination of soy sauce and rice vinegar.  If you like it spicy you can add chili oil, siracha, or even wasabi paste to it!
So there ya go!  Now you can have Easy Chicken Potstickers at home too!  It just takes a little work, and a little more time to prepare them, but they are oh so worth it!  Hopefully, you'll try them and let me know what you think!
Try pairing these with Vegetable Tempura for a variety of Asian-inspired appetizers.
Fun Find!  Who knew they had dumpling makers!  If I ever find gyoza wrappers I am for sure getting this.  For me, the hardest part is getting a tight seal!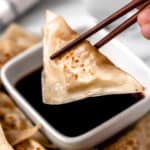 Print
Chicken Potstickers
Chicken Potstickers are made with ground chicken, vegetables and Asian seasonings folded inside of gyoza or wonton wrappers. These tasty little bites are delicious as an appetizer to all of your Asian-inspired meals.
Ingredients
2

tablespoons

sesame oil

(divided)

1/2

pound

ground chicken

2

cups

cabbage

(finely chopped)

1

can

water chestnuts

(drained and finely diced)

1/2

teaspooon

onion powder

1

inch

fresh ginger

(grated)

3

cloves

garlic

(minced)

1/2

teaspoon

salt

1/2

teaspoon

granulated sugar

2

tablespoons

hoisin sauce

50

wonton wrappers

(or gyoza wrappers - see notes)
Instructions
Heat 1 tablespoon of the sesame oil in a large skillet over medium-high heat. Add the chicken and cook, breaking up into fine crumbles, until no longer pink. Drain well.

2 tablespoons sesame oil,

1/2 pound ground chicken

In a medium bowl mix together the cooked chicken, cabbage, water chestnuts, onion powder, ginger, garlic, salt, sugar, remaining 1 tablespoon of sesame oil, and hoisin sauce. Refrigerate for at least hours to let the flavors blend together.

2 cups cabbage,

1 can water chestnuts,

1/2 teaspooon onion powder,

1 inch fresh ginger,

3 cloves garlic,

1/2 teaspoon salt,

1/2 teaspoon granulated sugar,

2 tablespoons hoisin sauce

To fill the potstickers, place approximately of 1 tablespoon of meat mixture into the center of each wonton wrapper. Wet the edges lightly with water, fold in half, and press to seal.

To cook the potstickers, heat a large skillet over medium-high heat. Brush a very thin layer of oil onto the bottom of the pan. See notes.

Working in batches, place potstickers into the pan with a little space between them. Cook on the first side until browned, about 30 seconds, then flip and repeat on the other side. Carefully pour in about 1/3 cup of water and cover immediately.

Steam for 2-3 minutes, or until hot and tender, then remove. Repeat this process with the remaining potstickers.

Serve hot with the dipping sauce.
Notes
Tips and Techniques
Be very careful to only use a very small amount of oil in the pan. Mixing oil and water can cause splatter which can burn you. The potstickers will absorb most of the oil before the water is added. This is a traditional method of cooking potstickers.
If you choose to use gyoza wrappers, the total amount of potstickers may vary.  Please refer to the package for cooking instructions as well, as they may differ from those listed above.
To make your own dipping sauce, mix together 1 tablespoon of soy sauce and 1 tablespoon of rice vinegar. For a spicier dipping sauce you can chili oil, sriracha or wasabi paste.
** Nutritional information is an estimate and may vary.
Nutrition
Serving:
1
potsticker
|
Calories:
39
kcal
|
Carbohydrates:
6
g
|
Protein:
2
g
|
Fat:
1
g
|
Saturated Fat:
1
g
|
Polyunsaturated Fat:
1
g
|
Monounsaturated Fat:
1
g
|
Trans Fat:
1
g
|
Cholesterol:
5
mg
|
Sodium:
80
mg
|
Potassium:
45
mg
|
Fiber:
1
g
|
Sugar:
1
g
|
Vitamin A:
4
IU
|
Vitamin C:
1
mg
|
Calcium:
6
mg
|
Iron:
1
mg