Cream Cheese Rice is a creamy dish made with rice, cream cheese, broccoli and sun-dried tomatoes. This easy-to-make recipe can be enjoyed as a side dish or as a vegetarian main dish.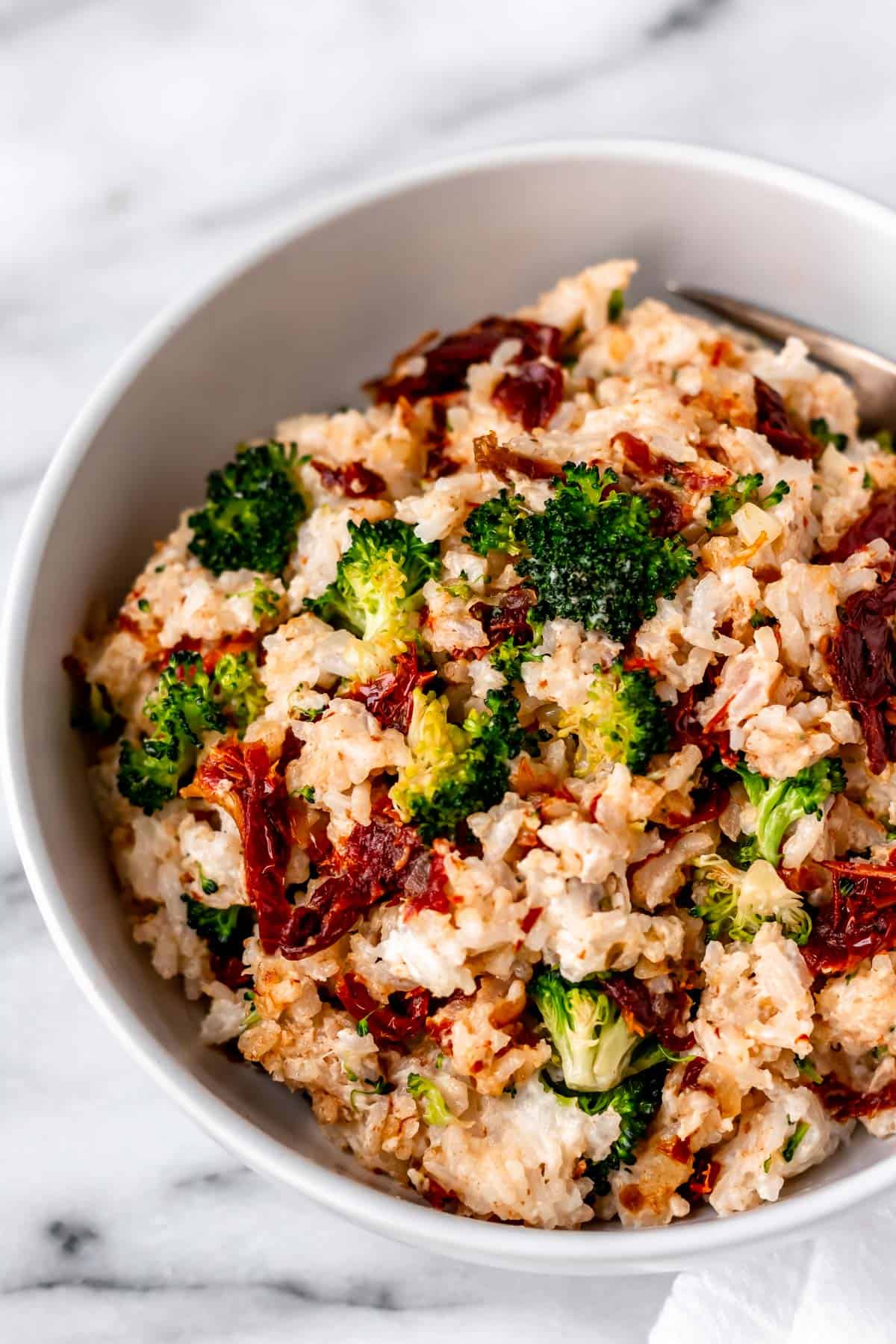 This post contains affiliate links. See our Disclosure Statement for more information.
Cream Cheese Rice with Broccoli and Sun-dried Tomatoes is a unique recipe. While many cheesy rice recipes use cheddar cheese or a combination of cream cheese and a second cheese, this one uses only cream cheese.
Cream cheese not only gives this rice dish great flavor, it also gives it a creamy texture.
Broccoli adds a dose of healthy vegetables and sun-dried tomatoes add a ton of flavor and contrast to this recipe.
If you are planning to make this recipe as a side dish, it pairs well with so many different main dishes. We love it alongside of Creamy Garlic Chicken, Grilled Cuban Pork Chops and Fried Cod to give you a few ideas.
Why This Recipe Works
This recipe is quick and easy to prepare.
It can be enjoyed as either a vegetarian main dish or a side dish.
This recipe is gluten free and a great way to get more vegetables. It's also kid-friendly.
Step-By-Step Instructions
Ingredients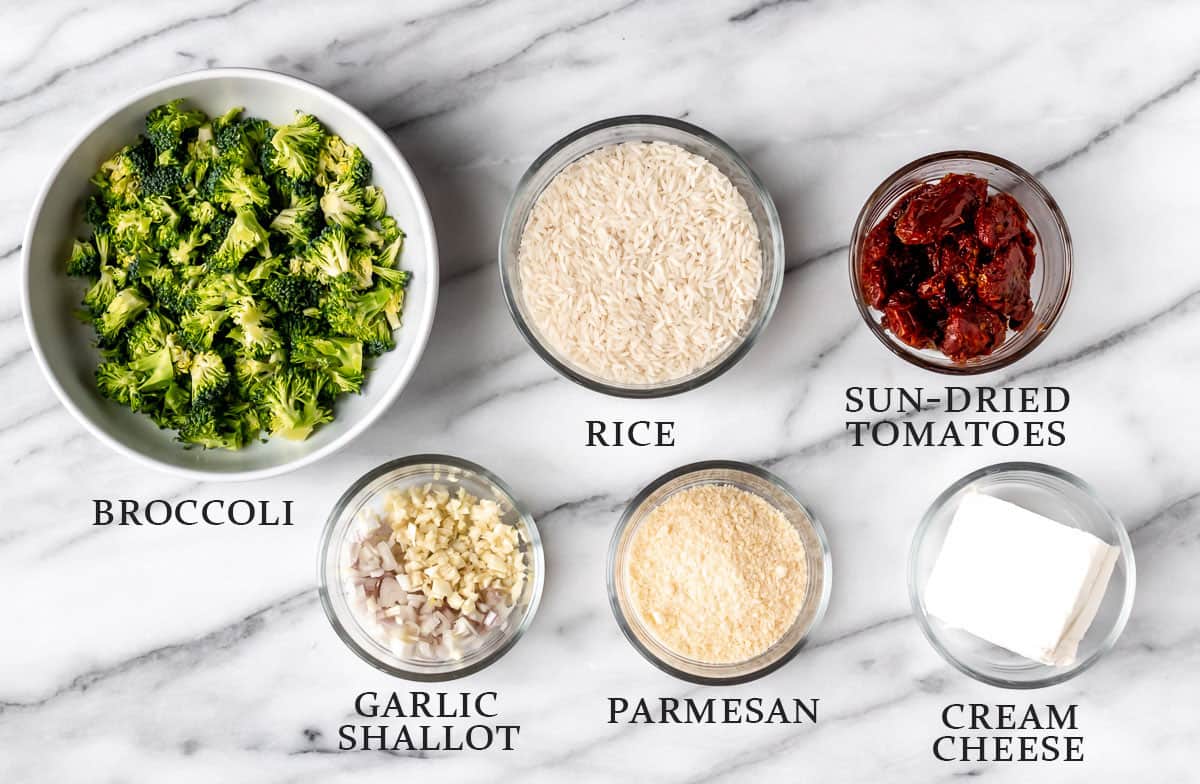 1 cup rice
2 teaspoons extra virgin olive oil
1 small shallot, minced
2 cloves garlic, minced
1 cup broccoli florets, cut very small
1/2 cup sun-dried tomatoes, packed in oil, julienne cut
4 ounces cream cheese
2 tablespoons Parmesan cheese
The entire recipe and instructions can also be found in the recipe card at the bottom of this post. You can also print the recipe from the card, if needed.
Prep!
Set the cream cheese out about an hour before you begin. This isn't completely necessary, but it does help the cream cheese melt into the rice much quicker.
Drain the oil from the sun-dried tomatoes and lay them on paper towels to absorb as much of the remaining oil as possible. Slice, if needed, into thin strips. You can often buy sun-dried tomatoes already julienne cut to save time.
Cut the broccoli florets into very small pieces.
Create!
Prepare the rice according to the directions on the package. Be careful not to overcook the rice. It's okay for a very small amount of liquid to remain as this will help the cream cheese melt better.
Chef's Tip: generally to cook rice, you add 2 cups of water for every one cup of rice and bring to a boil. Reduce the heat to low, cover and cook until most of the water is absorbed and the rice is creamy. There should not be pools of liquid left.
Meanwhile, heat a small skillet over medium heat and add the oil. Once hot, add the garlic and shallots and cook, stirring frequently for 30-60 seconds or until fragrant. Add the broccoli and sun-dried tomatoes and continue to cook 1-2 minutes longer or until the broccoli is bright green and crisp-tender.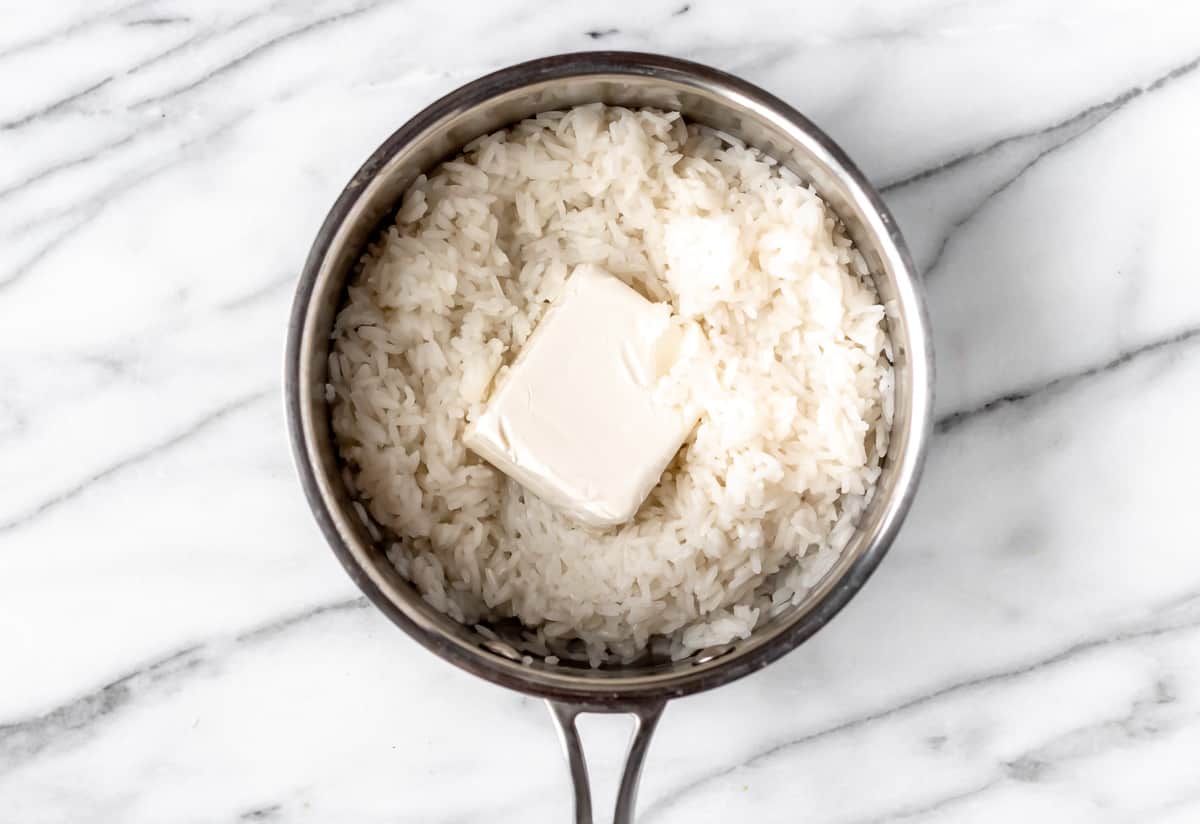 Once the rice is ready, stir in the cream cheese and Parmesan cheese until melted and smooth.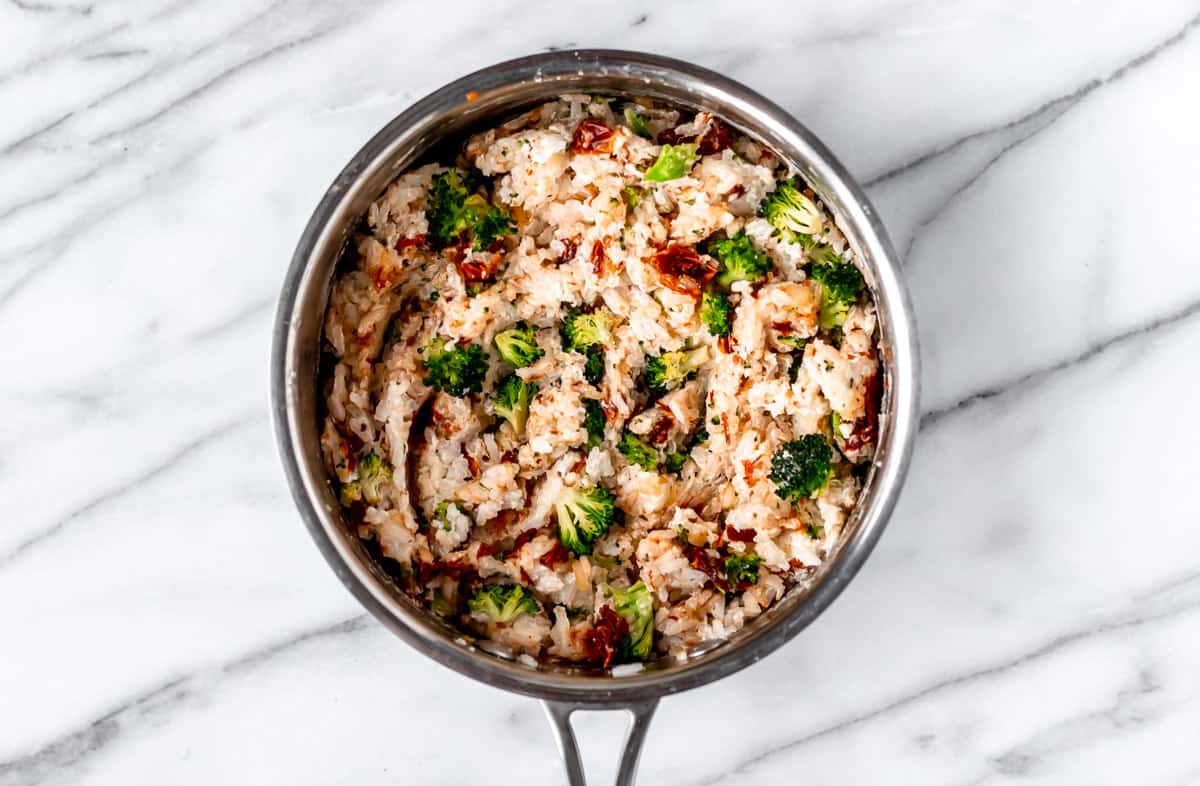 Finally, mix in the vegetables until evenly blended.
Present!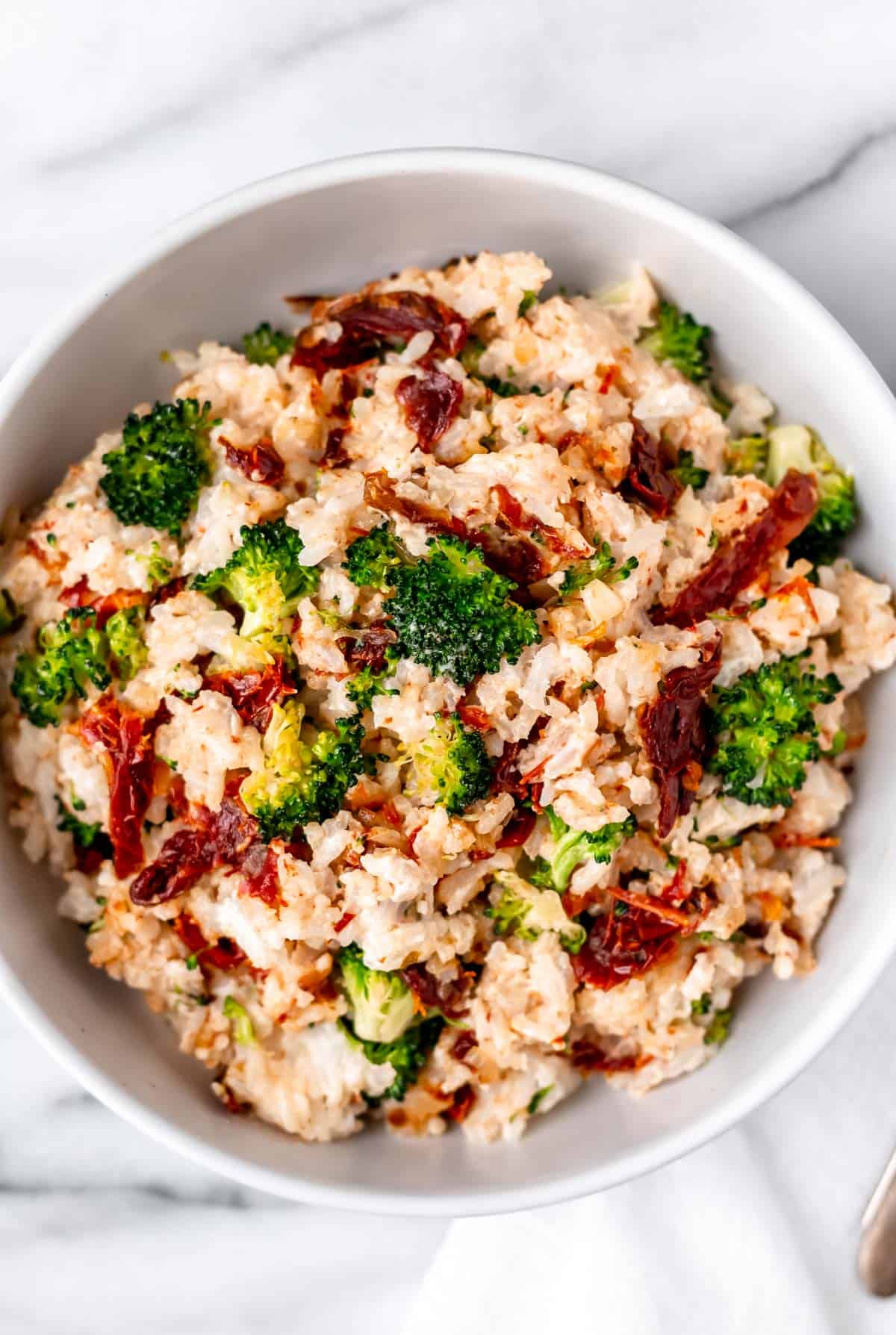 Serve as a vegetarian main dish or as a side.
Tips and Techniques
Setting the cream cheese out an hour ahead of time will help it melt much quicker when added to the hot rice.
To save time, you can buy julienne cut sun-dried tomatoes.
Store leftovers in an airtight container in the refrigerator. Consume within 3-4 days.
FAQ's
Why Isn't My Rice Creamy?
You may have overcooked the rice. This can happen if the temperature is too high and evaporates the water before the rice is tender, or if you let the pot sit for too long on the heat after the water is absorbed.
If the rice is fully cooked, you can add a little hot water or stock to try to break up any clumps.
More Rice Recipes
Love this Cream Cheese Rice with Broccoli and Sun-dried Tomatoes recipe? Follow me on Pinterest, Instagram, and Facebook for more!
If you try this recipe, I would really appreciate it if you would please leave a comment and star rating. Thanks!
This recipe was originally published on March 8, 2017. It was updated with an improved recipe, new images, tip, techniques, and FAQ's in July 2022.