Creamed Chipped Beef is a classic, comfort food recipe. It's made with a simple, rich and creamy béchamel sauce and salty pieces of thinly sliced dried beef. This budget-friendly, filling dish is traditionally served over toast for breakfast, but can be enjoy in a huge variety of ways for breakfast or dinner.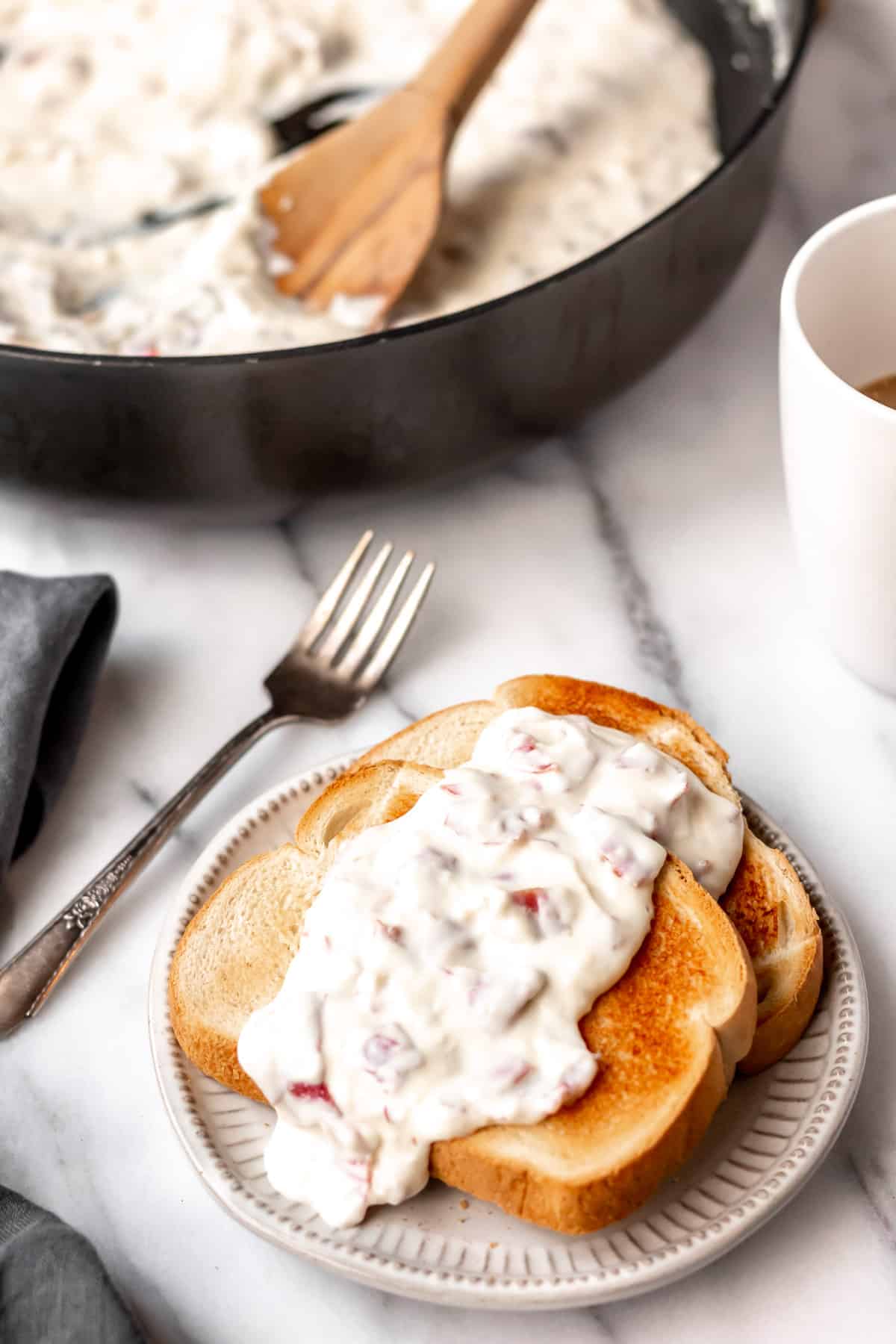 This post contains affiliate links. See our Disclosure Statement for more information.
No other recipe makes me more nostalgic than Creamed Chipped Beef. It was the dinner I requested for my birthday almost every single year of my childhood and teenage years. These days my requests are a little fancier, like Red Wine Braised Short Ribs, but Creamed Chipped Beef will always hold a special place in my heart.
Creamed chipped beef was actually a recipe developed for the U.S. Navy. Somewhere along the line, my grandmother got ahold of it. I guess my dad loved it too because he taught my mom about it and then it trickled down to me. I just introduced my teenage son to it recently and he was instantly hooked, as well.
This is definitely a classic, comfort food staple that will continue to be passed down from generation to generation.
Why This Recipe Works
It's a very quick and easy, budget-friendly recipe to make. A simple béchamel sauce, often referred to as a gravy, is made and dried beef is cut up and mixed into it.
Béchamel sauce is one of the 5 mother sauces in French cooking. It sounds fancy, but it's simply butter, flour and milk.
Dried beef can usually be found in the dairy aisle of the grocery store near the bacon, hotdogs and lunchmeat. My store carries Knauss brand, but many people prefer to use Buddig beef as it's less salty. Personally, I prefer to stick to the original.
Creamed Chipped Beef can be served in a huge variety of ways. Most often it's served as a breakfast recipe over toast. My mom always made it for dinner and served it over mashed potatoes. It would also be delicious over biscuits, English muffins, hash browns, fried potatoes, rice or noodles.
How To Make Creamed Chipped Beef
Ingredients
Dried Beef
Milk or Half-and-Half
Flour
Butter
Black Pepper
There are many different versions of Creamed Chipped Beef. This is a basic version. Some often seen additions include onion, garlic, mustard powder, Worcestershire sauce, celery, paprika and/or cayenne for a little kick.
My husbands family adds chopped hard boiled eggs to theirs, but I would never! He loves it and I prefer to stick to the original.
The entire recipe and instructions can also be found in the recipe card at the bottom of this post. You can also print the recipe from the card, if needed.
Prep!
The only prep work for this recipe is to dice the dried beef.
Create!
Melt the butter in a large, deep skillet over medium heat.
Whisk in the flour and cook for a minute or two, but do not brown.
Slowly whisk in the milk and continue to cook, whisking frequently, until thickened.
Stir in the dried beef and season with black pepper.
Taste and add salt, if needed. You likely won't need to add salt due to the saltiness of the beef.
Present!
Serve over toast, mashed potatoes, or any other way that you prefer.
Tips and Techniques
For a thinner sauce, slowly whisk in additional milk.
Double the amount of dried beef for a heartier dish.
Store leftovers tightly covered in the refrigerator. Consume within 4-5 days.
FAQ's
What Is Dried Beef?
Dried beef is simply salt-cured beef that has been sliced very thin. Drying the beef gives it a longer shelf-life, however it is much saltier than other types of beef lunchmeat.
What Is S.O.S. Gravy?
S.O.S. Gravy stands for "Stuff on a Shingle" but replace the word "stuff" with a 4-letter expletive. It's most commonly used to refer to creamed hamburger or sausage over toast (the "shingle"), but is sometimes used when referring to Creamed Chipped Beef, as well.
And yes, my grandmother also made Creamed Hamburger, but it did not go over nearly as well. However, the Creamed Chicken on Biscuits, was another winner.
More Comfort Food Dinner Recipes
Love this Creamed Chipped Beef recipe? Follow me on Pinterest, Instagram, and Facebook for more!
If you try this recipe, please leave a comment and star rating. I would really appreciate it!