Sweet and creamy Corn Soufflé is the perfect side dish to your holiday meals and family dinners. It's a simple, classic recipe that requires only a handful of ingredients, mostly pantry staples. You and your family are sure to love this recipe!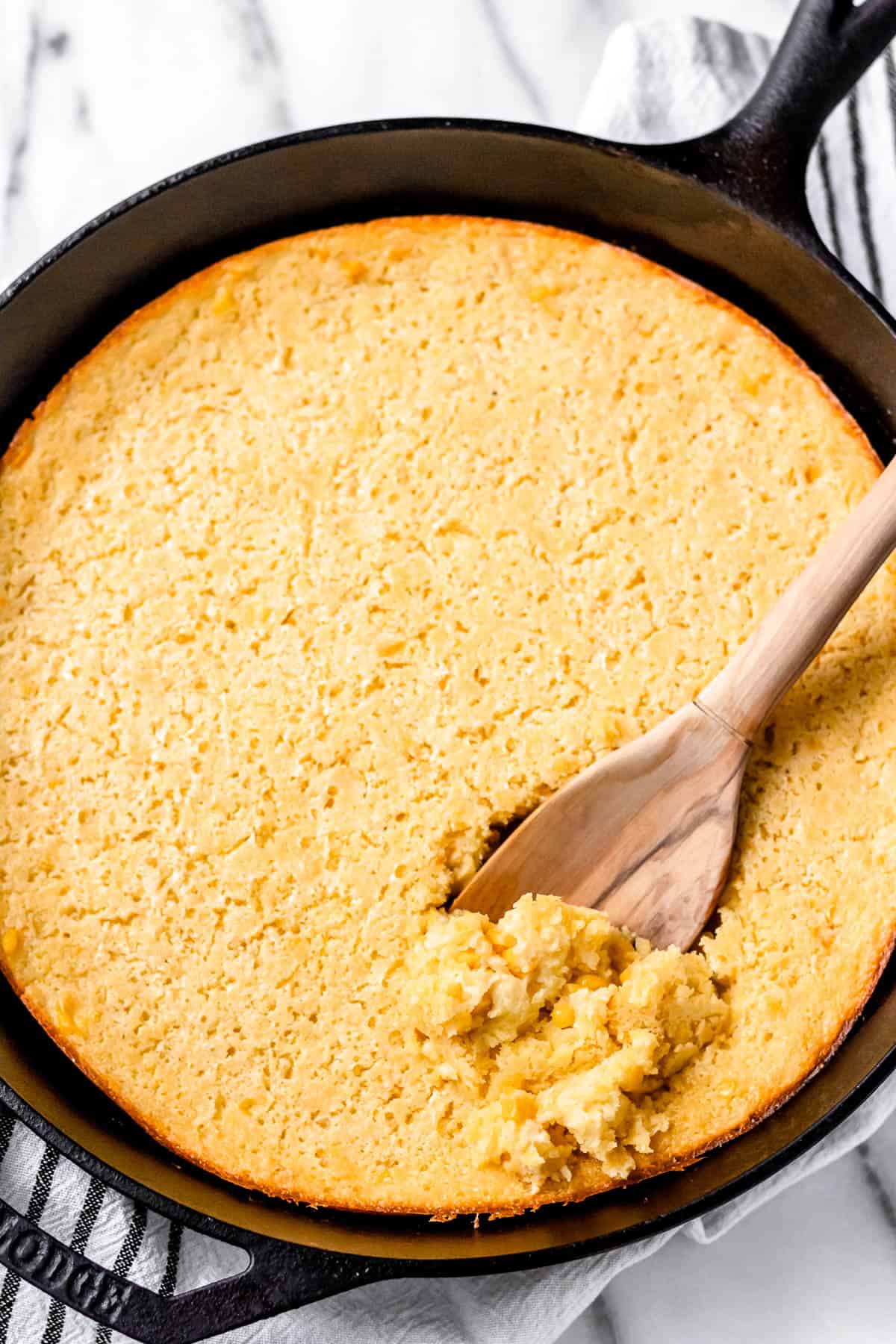 This post contains affiliate links. See our Disclosure Statement for more information.
Corn Soufflé is a dish that I had never had until I met my husband. His family makes it as a holiday side dish every year for Thanksgiving and for other family gatherings, but it's delicious anytime of the year.
I've always been a fan of cornbread and this soufflé is like a creamier version of that. It goes by many names, some you may be more familiar with:
Corn Casserole
Corn Pudding
Scalloped Corn
Corn Bowl
Spoon Bread
This is the recipe that they shared with me. After a little digging, I found that it's actually a very common recipe, but I wanted to add it to my own collection, as well.
If you are looking for more ways to enjoy corn, you may also like these Corn Fritters with Bacon and Cheddar Cheese.
Why This Recipe Works
This recipe uses just 6 ingredients – corn muffin mix, corn, creamed corn, sour cream, eggs and butter.
It's an incredible easy recipe and takes just minutes to prepare. Baking it does take about 45 minutes, but you can prepare it ahead of time if needed.
This is a very versatile recipe. Further down this post, I've included some ways you can modify the recipe to best suite your own tastes or to try a new spin on the traditional recipe.
How To Make Corn Soufflé
Ingredients
Jiffy Corn Muffin Mix: you can use the original, often labeled as "America's Favorite," Vegetarian or Honey flavors.
Whole Kernel Corn: you can use 1 1/2 cups of fresh corn instead of canned.
Creamed Corn
Sour Cream
Unsalted Butter
Eggs: you can use 1 egg for an even creamier result or 3 eggs for soufflé with more structure. I personally prefer to use 2 eggs so you get a little of both.
The entire recipe and instructions can also be found in the recipe card at the bottom of this post. You can also print the recipe from the card, if needed.
Prep!
The only prep work for this recipe is to melt the butter and preheat your oven to 350°F.
You will also need to spray a 13 x 9-inch casserole dish or a large cast iron skillet with non-stick cooking spray.
Create!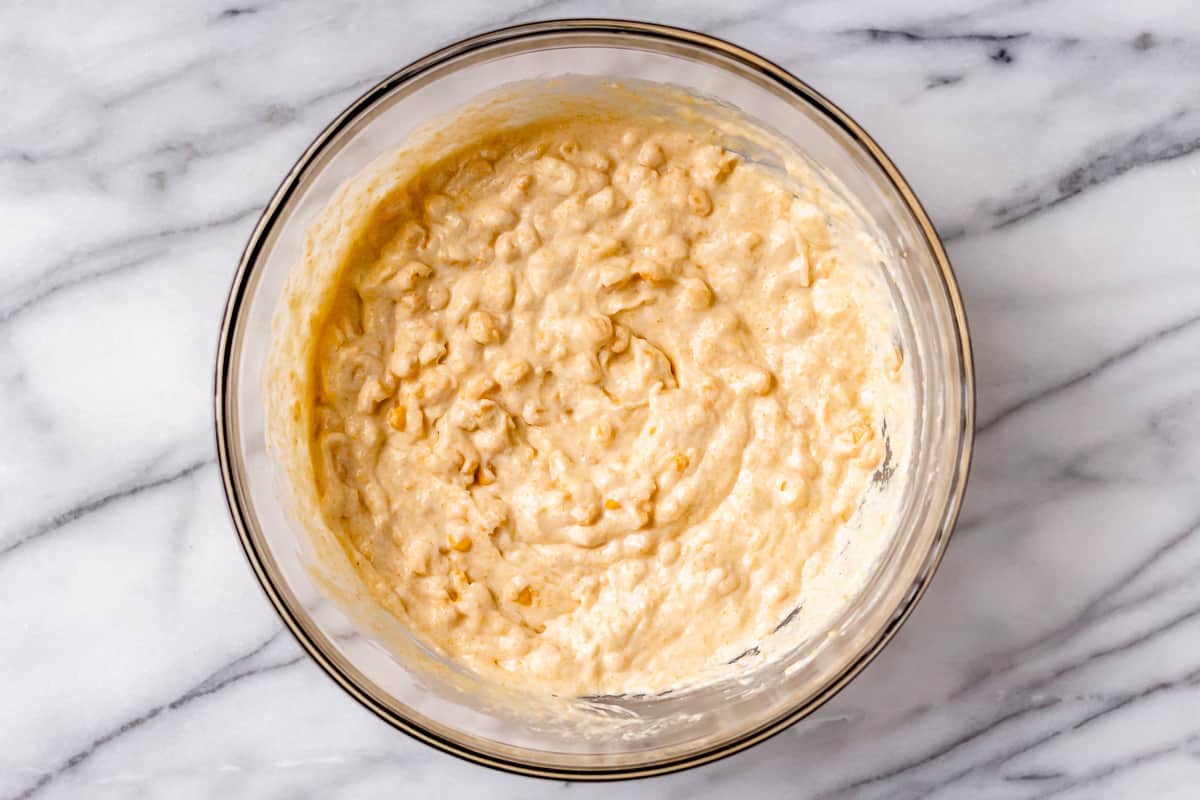 Combine the Jiffy mix, creamed corn, corn, melted butter, sour cream and eggs in a large mixing bowl, Stir until well combined.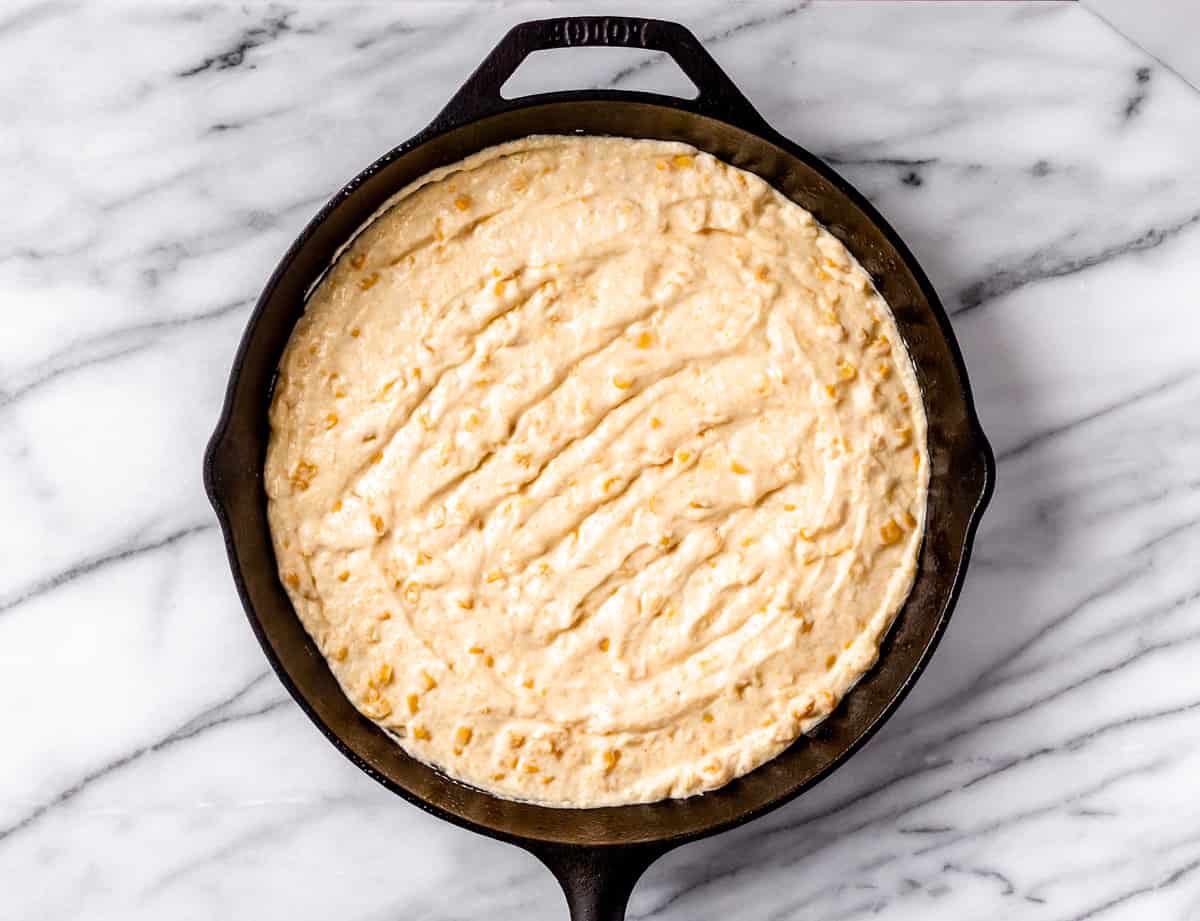 Spread the batter evenly into the prepared casserole dish or cast iron skillet.
Bake for 45 minutes or until lightly browned on the edges and bottom. The center may still be slightly jiggly but will set more as it cools.
Present!
Serve as is or with butter or honey. See below for more serving suggestions.
Serving Suggestions
Top with cheese and place back in the oven for 5 minutes to melt.
Mix in 2-4 tablespoons of sugar or brown sugar for an even sweeter dish.
Mix in diced poblanos or jalapeño peppers for a smokier, spicy result.
Add diced bell peppers and onion.
Top with crushed Ritz crackers or Saltines before baking for a crispy topping.
Tips and Techniques
The regular, vegetarian or honey Jiffy corn muffin mix varieties will all work just fine in this recipe.
You can use 1 egg for a creamier soufflé or 3 eggs for more structure, if preferred. 2 eggs gives you a creamy casserole with a light structure.
Store leftovers tightly covered in the refrigerator. Consume within 3-4 days.
FAQ's
Can You Freeze Corn Soufflé?
Yes, you can freeze a corn soufflé up to 3 months tightly covered in the freezer. Allow to thaw before reheating in the oven.
Can You Prepare Corn Soufflé Ahead Of Time?
You can prepare a corn soufflé a couple of days in advance, if needed. Simply cover and store in the refrigerator until needed. Reheat in the oven before serving.
More Holiday Side Dish Recipes
Love this Corn Soufflé recipe? Follow me on Pinterest, Instagram, and Facebook for more!
If you try this recipe, I would really appreciate it if you would please leave a comment and star rating. Thanks!